Custom Web Application Development Services
Custom Coding Is Quality-Assured with ScienceSoft
Achieve your business-specific goals with ScienceSoft, a leading custom web application development company with 1,900+ web apps released.
A custom web application is software (accessible via a web browser) developed specifically for a particular organization to meet its unique requirements.
A mature and impact-focused web app development consultancy, ScienceSoft can help throughout the entire custom web app development process, from ideation and planning to design, development, testing, and deployment.
Our 20-Year-Long Story Condensed into 6 Key Facts
1
We started our web development journey in 1999. And it has been really exciting – web technologies were developing by leaps and bounds, and we kept up with the pace.
2
Over these 24 years in custom web app development services, ScienceSoft have released 1,900+ web apps. 130+ satisfied clients generously shared their experience of working with our team.
3
Our business analysts are familiar with the specifics of 30+ industries – typical challenges, possible barriers and applicable regulations. This helps us expertly plan the features, deliver apps safely and ensure their full compliance.
4
As for now, we have a web development team of 200+ back-end and 40+ front-end developers. Clients who have worked with our custom web application developers speak highly of their programming expertise and the ability to find the solutions that don't overcomplicate the logic and UX of apps.
6
ScienceSoft is a partner to leading technology firms.
ScienceSoft Is Proficient in Full-Cycle Web Development
Our Custom Web Application Projects
Our Clients Are Our Top Priority
Pete Callaghan
CTO
InfoMentor Ltd
We needed help in revamping a web app for pre-school institutions. ScienceSoft's PHP team has fixed the app's security issues and has enhanced its features like financial reporting and attendance tracking to make the app more efficient and easy to use. We are fully satisfied with the current results, and we are going to continue our cooperation with ScienceSoft on this project.
Cindy White
Director of IT
Texas Methodist Foundation
We teamed up with ScienceSoft trusting a solid experience that the company had in the domain of web portal development, and never regretted the decision. ScienceSoft's team proved to be knowledgeable, thoughtful, and highly motivated.

Oisín Curran
CEO
Odyssey Validation Compliance
We entrusted ScienceSoft with the development of our web application for AWS cloud users to gather cloud instance monitoring metrics. ScienceSoft's team managed to bring to life our web application with full adherence to the requirements and within the optimistic project plan. Thanks to their solid experience in agile development, our web app was deployed in just 4 months.
Catherine Roller Tyrrell
Founder
The Beauty Interactive
We turned to ScienceSoft with the idea of creating an all-in-one web platform for all the key beauty industry stakeholders. ScienceSoft's team was proactive, professional, and highly responsive to our needs. They helped us create a clear product vision and prioritize key features. They also created clickable prototypes. Thanks to ScienceSoft, we now have everything we need to raise funding for the project and start MVP implementation.
View all customer reviews
How We Approach Custom Web Development Projects
How ScienceSoft Stands Out as a Custom Web Application Development Company
| | |
| --- | --- |
| | Certified in-house Scrum Masters to ensure in-time and on-budget delivery. |
| | |
| | DevOps engineers skilled in IaaC and CI/CD approaches. |
| | Integration and database architects with 7-20 years of experience. |
| | Mature quality management system in line with ISO 9001 guidelines. |
| | Data security practices, acknowledged by ISO 27001. |
| | HIPAA, GAMP, PCI DSS compliance. |
| | KPI-based reporting to ensure transparency and reliability. |
Creating Custom Web Apps for the Most Diverse Goals
We can create robust web apps for corporate use and SaaS products. Here is a map with areas of our most solid web development expertise:
Business apps for internal use
Apps for customer management
Digital service platforms
View all
Customer relationship management
Customer service (including call center & self-service)
Customer analytics
Advertising apps
View all
Custom vs. Off-The-Shelf Web Apps
| | |
| --- | --- |
| | |
| Designed and developed specifically for a particular organization. | Pre-built and are available for purchase and use by anyone. |
| Flexible to integrate with the existing systems and workflows of the business. | May not integrate well with existing systems and workflows, which can lead to inefficiencies and additional costs. |
| More expensive and time-consuming to develop. | Typically, less expensive in the short run, can be quickly implemented and used by businesses. |
| App support should be established from scratch. | Typically, an established support system is in place, including user forums, documentation, and customer service, making it easier for businesses to resolve any issues or problems that may arise. |
We are Experienced in Advanced Technologies
The Financial Times Includes ScienceSoft USA Corporation in the List of the Americas' Fastest-Growing Companies 2023
For the second year in a row, ScienceSoft USA Corporation ranks among 500 American companies with the highest revenue growth. This achievement is the result of our unfailing commitment to provide high-quality IT services and create best-value solutions that meet and even exceed our clients' expectations.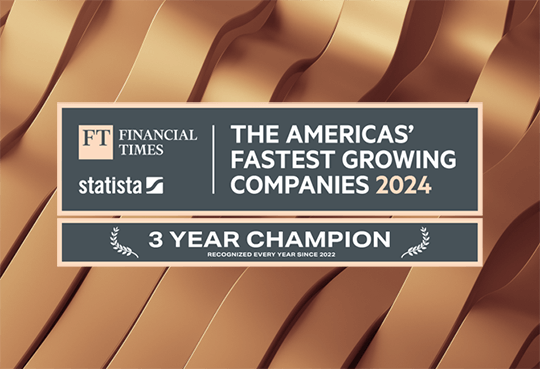 Is Custom Web Development Costly?
This is one of the most frequent concerns about custom development. We asked Vadim Belsky, our Head of Web Development Department, to clarify if this concern is grounded:
Based on ScienceSoft's experience, building a customer-facing web portal of average complexity costs around $70,000–$300,000, while the cost of an average enterprise web app can range anywhere between $50,000–$250,000. Whether it is costly or not – each company decides for itself. But I can say with certainty that we advocate custom development only if our meticulous business analysis proves a custom web app to be the most feasible solution for a company, even cost-effective in the long run.
We are ready to go the extra mile and help you optimize your investment by:
Prioritizing features and delivering an MVP first.
Adhering to the Agile methodology to provide quick fixes based on user feedback and speed up the return on your investment.
Reusing code and using ready-made components where possible.
How Much Will It Cost to Develop Your Web App?
Please answer a few quick questions about the web solution you're looking to build. This will help our experts better understand your needs and calculate a tailored estimate much faster.