IT Services and Solutions for Manufacturing
With 33-year experience in developing software for the manufacturing industry, ScienceSoft offers robust solutions and related services to support and modernize your enterprise's operations and ensure increased efficiency of operations and optimized business costs, all without IT budget overruns.
IT solutions for manufacturing are designed to streamline the operations of a manufacturer from supply chain management to sales management, which allows improving the company's productivity and reducing operational costs.
What Makes ScienceSoft a Reliable Partner
33 years in IT for manufacturing.
Partnerships with Microsoft, AWS, ServiceNow, Oracle, Adobe, Salesforce.
30+ business analysts and consultants.
15+ UX and UI designers.
550+ developers, more than 50% of them are Seniors.
3,300+ successful projects, including projects on diverse enterprise-level solutions, such as ERP, CRM, SCM, etc.
Mature quality management, backed by ISO 9001.
Robust security management, supported by ISO 27001.
What Our Customers Say

Donat Gaudreau
Electrochemical Cell Design and Test Engineer
We commissioned ScienceSoft to build a flexible database with user interfaces for managing our test data stored as time-based CVS files. ScienceSoft delivered a fully functioning solution regardless of the new requirements that appeared during the project. We are planning to extend the logic of our reports and dashboards and data processing options in our solution, and we'll definitely be considering ScienceSoft as our partner in this initiative.
Kristin Ventura
Marketing Operations Manager
We worked with ScienceSoft on building out our SharePoint Intranet company wide. Their team is very professional and responsive. They were great to work with and helped us build solutions that improved our infrastructure. We are continuing to consult with them as we grow.

Allison Lawrence
Business Relation Manager
We've been collaborating with ScienceSoft for many years now, and it has given us the ability to have stable & consistent support to ensure our Magento site is up-to-date and secure. They are the team who won't need your careful control – you just outline the task, and they deliver on it with stable quality and speed.
Moin uddin Mohammed
Group IT Manager & ERP Consultant
We commissioned ScienceSoft to implement a document management system. Under the project, ScienceSoft's team developed custom document approval workflows that provided automated protection of a document from modification after approval. Thus, the developed DMS solution helped us accelerate document-driven business processes and ensure data security and integrity.
Miguel Angel Ripoll
Director-General
We worked with ScienceSoft in developing our SharePoint Intranet. The development and implementation process was very smooth and delivered the exact results we were expecting. We will surely work with them in the future.
| | |
| --- | --- |
| | Full-cycle services. We offer comprehensive services from consulting to evolution and support of your solution. |
| | Estimation accuracy. Due to ample industry experience of our project managers, we can accurately estimate project costs and delivery time. |
| | Quality-first approach. We adhere to our established quality management practices to deliver services of consistently high and predictable quality and minimize project risks. |
| | Focus on security. We rely on comprehensive security policies and processes, advanced cybersecurity techs, and our skilled professionals to guarantee safety of our customers' data. |
| | Cost-efficiency. We use proven open-source components like frameworks and libraries and public APIs to reduce implementation costs and increase ROI of your solution. |
| | Minimized development risks. We adhere to the iterative development model that allows seeing first results early and get next versions of a solution delivered every 2-4 weeks. |
The Financial Times Includes ScienceSoft USA Corporation in the List of Americas' Fastest-Growing Companies 2022
ScienceSoft is one of 500 companies with the highest compound annual growth rate in revenue. This achievement is a result of our unfailing commitment to provide high-quality IT services and find best-value solutions to clients' needs.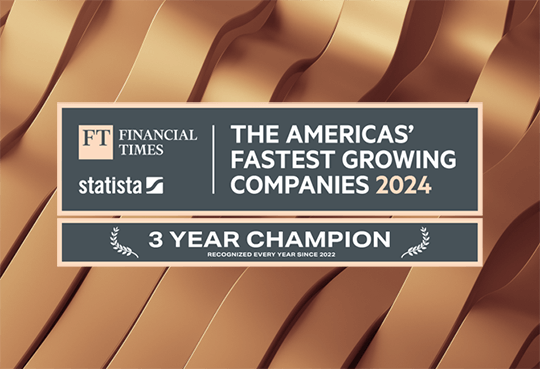 By leveraging IT at your manufacturing company, you can achieve a number of gains, including:
time to market for new products

sales due to marketing and sales automation

revenue due to new digital sales channels

employee productivity

business productivity

IT operating costs
All about Manufacturing
IT Services for Manufacturing
<![endif]--> <![endif]--> <![endif]-->