Mobile App Development Services
A Blend of High-Standard Mobile Programming and Creativity
In mobile development since 2005, ScienceSoft creates native, cross-platform and progressive web applications with stable performance, human-centered design and a unique selling proposition to stand out in a fierce market.
Brands Powered by Our Mobile Apps
Our Mobile Application Development Services
ScienceSoft assists in specific development stages as well as provides full-cycle mobile app implementation. Our mobile app development services include:
Mobile Apps We Develop
Mobile app development services are aimed at building iOS & Android applications that effectively complement or substitute web solutions. Having delivered 350+ mobile app development projects so far, ScienceSoft ensures app success by delivering striking UI, secure app code, and resilient back ends.
We provide professional development of the following app types:

We provide mobile app services for all platforms, devices, and audiences, including:
*PWAs (Progressive Web Apps) are responsive apps that can be accessed on mobile via a shortcut. PWAs help increase engagement by 90%+, cut load time by 2.5x, and make desktop & mobile conversions even. Learn more about PWAs.
Our Mobile Projects from Different Industries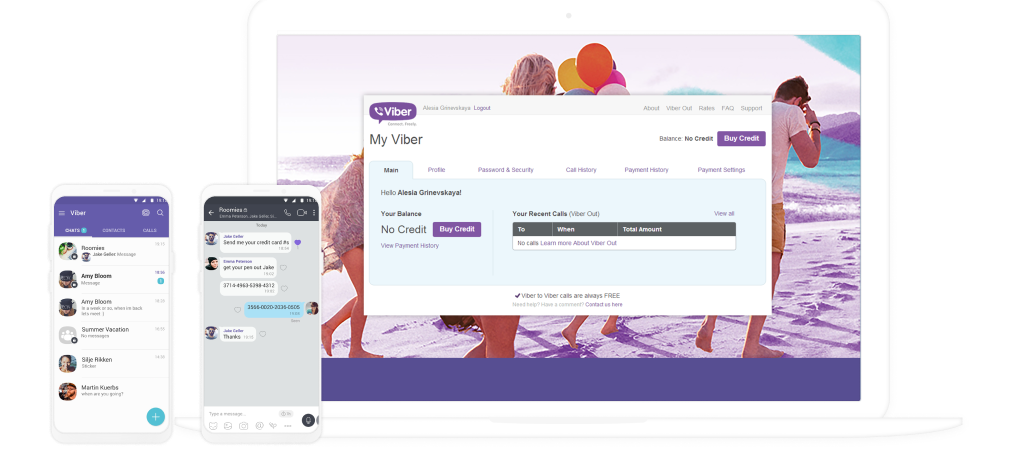 Android and Web Versions of Viber, a VoIP Messenger with 1B+ Users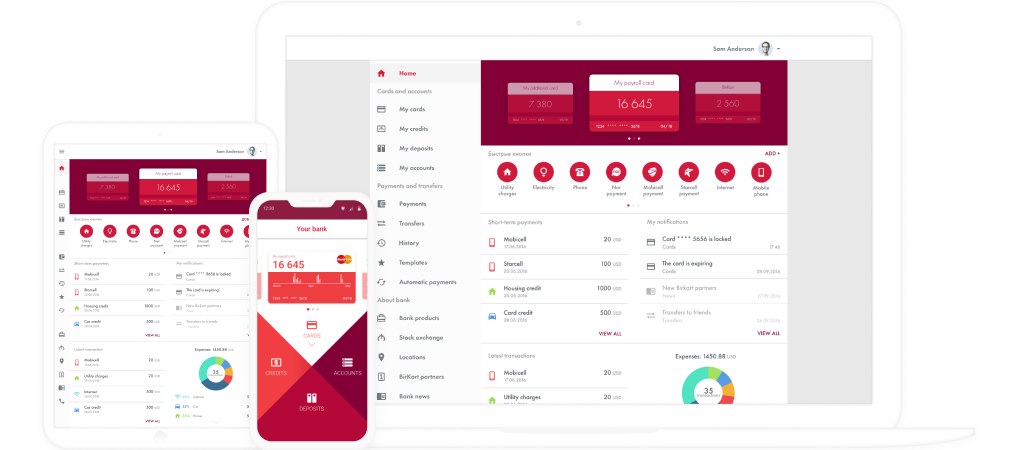 Web and Mobile (iOS & Android) Banking Apps for a Bank with 3M+ Clients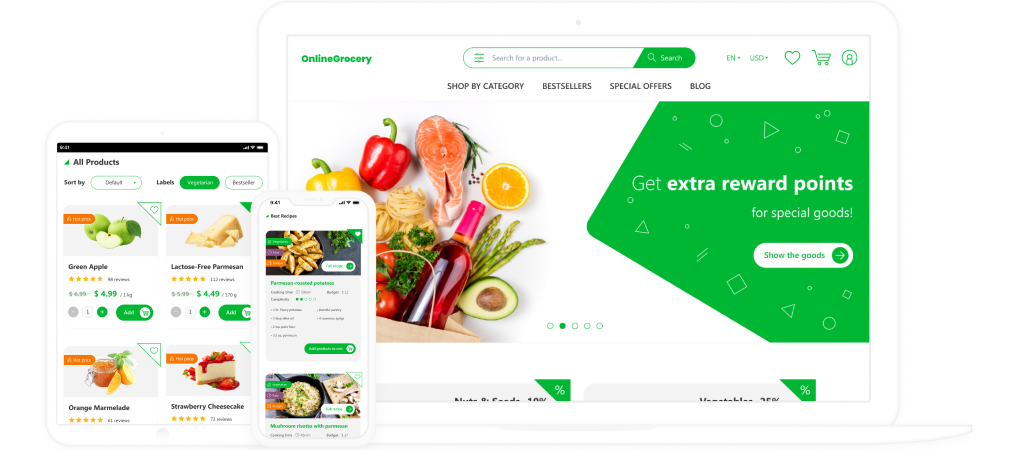 Grocery mCommerce and eCommerce Solution with Particularly Yummy Design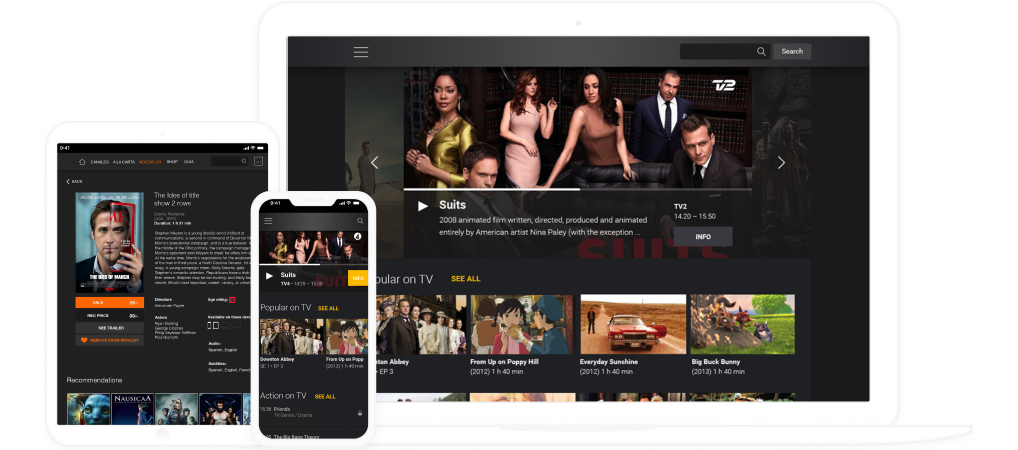 Mobile IPTV/SVOD Apps Enabling MTV and Orange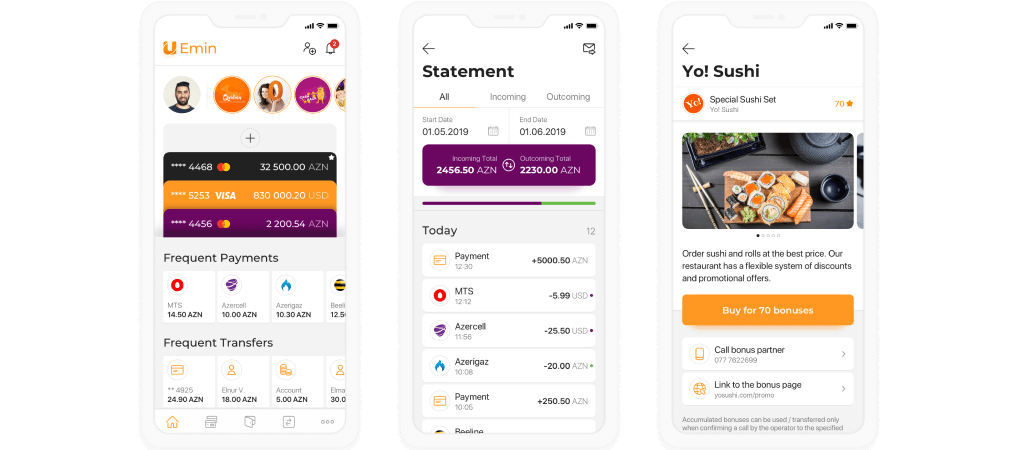 Deloitte-Approved Banking Apps (iOS & Android) with Fitness Tracker-Driven Loyalty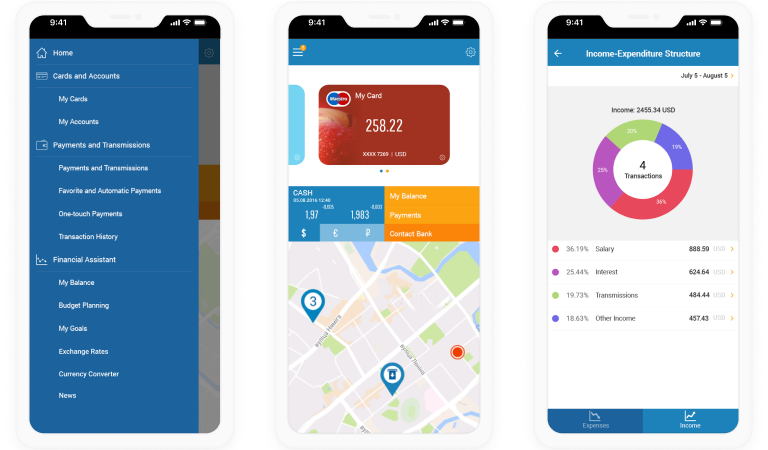 Award-Winning iOS/Android Banking App with AR-Powered Navigation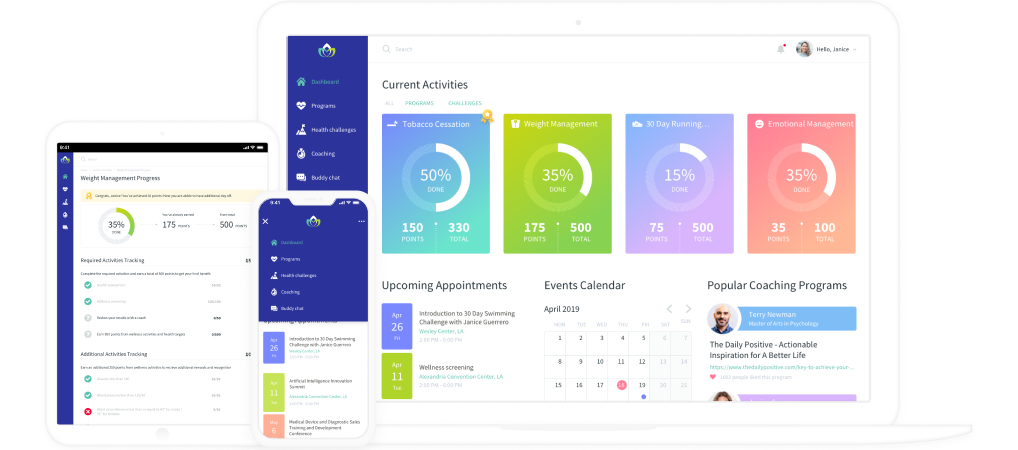 Web and Mobile Patient Portal Apps with Extended Possibilities for Patient Engagement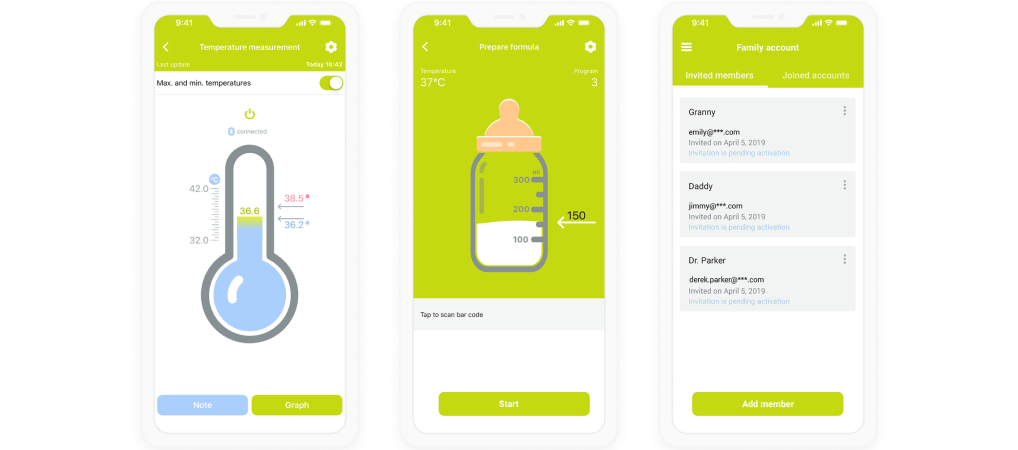 Remote Control App of a Smart Baby Care IoT System
Web and Mobile Multi-Brand Online Store with Intuitive Navigation across 10K+ SKUs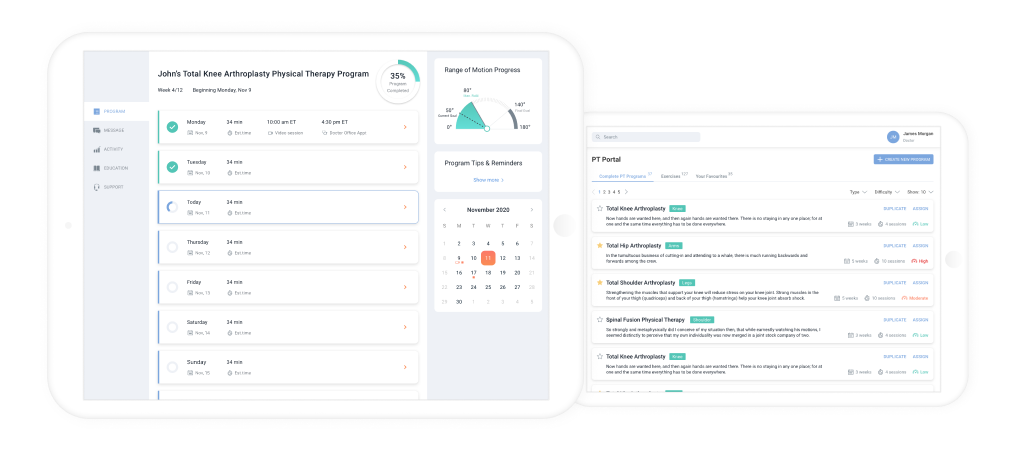 Telemedicine Rehabilitation Solution with UX-Wise Design
Building All Mobile Features Modern Users Need
Whether creating an enterprise or consumer mobile app, we rely on our expertise in different techs and tools to make an app truly helpful and worth taking your users' screen space. Though we can repeat the features, no two apps are identical: we find a unique value proposition for each app and tailor the functionality uniquely to its audience's needs.
Geolocation management
Payments
Messaging and voice/video calling
Multi-device synchronization
Voice recognition and recording
Chatbots
Immersive experience
Scheduling and booking
User experience personalization
Image recognition
QR code scanning
Push notifications
Integration with wearables and smart TV
Interaction with IoT-enabled devices
Mobile business intelligence
Costs of Mobile App Development
We provide the ballpark estimations for different types of mobile apps. In general, the cost of mobile app development varies between $30,000-$180,000.
Simple mobile apps with a back end: a mobile field service, booking apps.
Complex mobile apps with a back end: mCommerce
A mobile banking app / mobile telehealth app.
The Financial Times Includes ScienceSoft USA Corporation in the List of the Americas' Fastest-Growing Companies 2023
For the second year in a row, ScienceSoft USA Corporation ranks among 500 American companies with the highest revenue growth. This achievement is the result of our unfailing commitment to provide high-quality IT services and create best-value solutions that meet and even exceed our clients' expectations.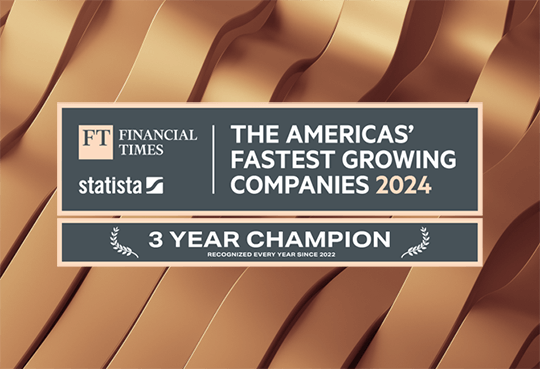 Our Clients Say
Justin Turner
CTO
Chiron Health
We engaged ScienceSoft to build an Android app that complements our web-based platform and they proved to be Android experts. ScienceSoft successfully lead the way from end to end, staying in daily contact with our developers. We have engaged them to introduce a few enhancements to the app and would certainly consider ScienceSoft as a technology partner in further initiatives.
Gerry Connolly
Director
Ascendas Business Solutions
ScienceSoft are a great company to work with. The guys really cared about the payment solution (a web app + iOS and Android apps) they developed for my company and weren't happy until they had it perfect. We first chose to go with Apache Cordova but switched to React Native. ScienceSoft were very patient with me when I would change my mind about requirements. I really like working with them.

Knut Vonheim
Client Partner
Albatross IT Consultants AS
AITC has worked with ScienceSoft on both product development and consulting with a focus on mobile and web-based CRM. We've seen quick understanding of requirements, deep technical skills, and commitment to time, price, and quality. We would be pleased to recommend ScienceSoft to anyone looking for outsourcing or extension of their own team.

Khalid Ahadov
Executive Director
Unibank
ScienceSoft brought to the table substantial expertise in iOS and Android application development and a customer-centered approach to the application design. They proved to be a reliable and agile technology partner. We appreciate their professional attitude to security.

John Andersson
Founder & CEO
Peek-A-Boo
ScienceSoft is a professional and dedicated mobile app development company. Over the past 10 years we've worked on about ten mobile app development projects with them. Their developers performed really well and have rescued us when we were late on delivery. We would certainly recommend ScienceSoft as a highly skilled and reliable service provider.
Abdullah Najashi
CEO
Tajammu' For IT Systems
In March 2022, we had a scheduled release of our iOS social networking app to the Gulf Region, US, and Canadian app stores. The cooperation with ScienceSoft was smooth and extremely transparent thanks to the regular reports and demo sessions every 1-2 weeks. ScienceSoft showed expert understanding of MVVM-C app architecture, Swift and Node.js development skills.
Alexander Riftine
CEO
Intellewave
ScienceSoft designed and developed a native iOS app that offers a quantitative assessment of users' physical fitness. I was impressed with the excellent level of responsibility, communication skills and mobile competences of both the management team and developers. All the tasks were completed accurately, promptly and efficiently.
View all customer reviews
Our Full Technology Stack for Mobile Projects
Advanced Technologies We're Skilled In
Click on the technologies marked with an arrow to learn more about ScienceSoft's related expertise.
ScienceSoft Answers Frequent Questions
I run a startup and need to launch a mobile app. What cost range can I expect?
We can't give you a precise cost, as it will depend on the app's functional scope as well as the techs chosen for its implementation. However, some rough estimates are possible. The price range for a native app of medium complexity is from $30,000 to $70,000.
What is an average duration of a mobile project? Are there any ways to speed up the development if I need to launch an app asap?
Depending on the scope and tech stack, mobile app development can take from 3 to 10 months (+ 2–4 months for a complementing web app). To reduce time-to-market, ScienceSoft prioritizes features, focusing on the core ones first. We roll out an MVP app in just 2–3 months and continue enhancing it iteratively.
How can I track the progress of my project if I outsource it to ScienceSoft?
ScienceSoft has a mature system of KPIs (budget required vs. budget remaining, cycle time, team's proactivity, etc.) that we use in managing our mobile app projects. At the start of cooperation, we give you access to our internal progress-tracking tools (Jira, Confluence) and discuss how often we will send you KPI reports.
Want to Understand Different Aspects of Mobile Development Better?
For 18 years in mobile development services, ScienceSoft continuously learns the specifics of mobile experience for different industries, markets and business functions. We share the knowledge in a dedicated blog.
Move Your Mobile Project On at Your Convenient Pace
Just know that with ScienceSoft, you can move as fast as that:
Up to 1 hour to get an initial response to your request and know a sales manager assigned to your company.
2–4 days to get CVs of mobile developers with the required skills and choose the best time for interviews.
1–2 weeks to assemble a full project team and set off.
2–3 months to get an MVP ready and launched.
3–10 months to get a full-fledged mobile app.
Lifetime to evolve your app following volatile market trends and user needs.
Let us know your business needs and plans, and our team will reply shortly to start the conversation.

<![endif]--> <![endif]--> <![endif]-->