Industrial IoT Services and Solutions
In manufacturing IT since 1989, ScienceSoft offers IIoT consulting and implementation to create robust and secure IIoT solutions
Industrial IoT (IIoT) solutions are used to support operations like equipment monitoring and maintenance, production process planning, control, and optimization via gathering, real-time processing, and analyzing sensor-generated data.
Since 2011, ScienceSoft delivers IIoT solutions for asset tracking, machine monitoring, predictive maintenance, and more for various industries including manufacturing, energy, oil and gas, construction, and agriculture.
Industrial IoT (IIoT) is used to implement various solutions.
ScienceSoft offers a full range of IIoT services from consulting to support of IIoT solutions. Depending on your business needs, you can either go for end-to-end IIoT services implementation or choose one or several specific components from ScienceSoft's offer.
Industrial IoT consulting
Analyzing your industrial needs.
IoT solution prototyping.
Feasibility analysis including calculating the potential investments, ROI, and payback period.
A detailed implementation roadmap.
IIoT solution's feature set.
Planning of IIoT integration with other software.
Planning of QA activities.
Data security strategy planning.
IIoT solution adoption planning.
Custom IIoT solution development
Creating a specification of an IIoT solution.
Modelling an IIoT solution consisting of data storage and processing environment, an analytics module, a machine learning module, data visualization apps, control apps, and IIoT devices.
Developing and testing of an IIoT solution.
Defining, setting up and configuring necessary IIoT devices and connecting them to your enterprise's network.
IIoT solution support.
IIoT hardware consulting and implementation
Selecting appropriate IIoT devices for your solution (sensors, GPS tags, active and passive RFID tags, RFID antennas, RFID readers).
Setting up and configuring the IIoT hardware.
Functional testing to check components of an IIoT solution, connectivity, etc.
Performance testing including load testing, to validate and ensure consistent performance of IIoT data reading, writing, and retrieval.
Integration testing to check joint functioning and data flows between devices, cloud gateways, the data storage and the analytics module, etc.
Security testing to eliminate vulnerabilities and maintain the integrity of IIoT data.
IIoT maintenance and support
Monitoring and performance management of an IIoT solution.
Proactive diagnosing and fixing defects.
Monitoring and optimization of cloud resources consumption.
IIoT solution administration including security updates, user and access management.
Industries We Develop IIoT Solutions For
Discrete manufacturing
Process manufacturing
Energy
Oil & Gas
Construction
Agriculture
Mining
Automotive
Railway
In data science since 1989.
Delivering IoT solutions since 2011.
Microsoft partner, AWS IoT partner, Oracle partner, and other partnerships.
Full-scale PMO to handle large and complex IoT projects.
ISO 9001-certified quality management system to fully meet our customers' quality, time, and budget expectations.
Guaranteed security of the customers' data we access proved by the ISO 27001 certificate.
Engaged in IoT projects for about 10 industries.
Featured among 10 Fastest Growing IoT Companies by the Silicon Review.
We closely collaborate with project stakeholders to specify the requirements at each layer of an Industrial IoT paradigm: connectivity, embedded software, and cloud software
We ensure smooth integration of an IIoT solution with ERP, MES, SCADA, SCM, etc.
Fast delivery of an IIoT solution
We start an IIoT project in under 1 week, develop an IIoT MVP in 3-6 months (agile development), and provide regular update releases every 2-4 weeks.
To save investments on large-scale implementation and get value faster, we start with core features and then enrich the solution functionality. Also, we leverage Microsoft Azure or AWS cloud services or open-source IoT platforms for IIoT development.
The Financial Times Includes ScienceSoft USA Corporation in the List of the Americas' Fastest-Growing Companies 2023
For the second year in a row, ScienceSoft USA Corporation ranks among 500 American companies with the highest revenue growth. This achievement is the result of our unfailing commitment to provide high-quality IT services and create best-value solutions that meet and even exceed our clients' expectations.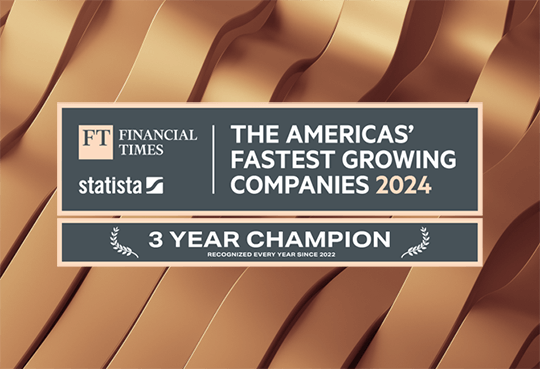 Industrial Internet of Things: Success Stories by ScienceSoft
Our Customers Say

Mikhail Anfimau
Senior Solution Architect
Leo Burnett
ScienceSoft proved to be a professional service provider from the outset. We appreciate their proactive approach and ability to suggest improvements to a prospective solution on both architectural and business levels. We know we can always rely on ScienceSoft's various competencies when our clients require quality software which would facilitate their business success.
Nader Afshar
President
Persis Consulting Co.
ScienceSoft is a highly skilled and uniquely capable firm with multitudes of talent on-board. We have collaborated on a number of diverse projects over the years all of which have been utmost success for both us and our clients.
IIoT services and solutions will help you get a number of benefits:
increase in overall business productivity due to manufacturing process optimization

inventory carrying costs due to automated inventory tracking and reporting

equipment maintenance costs due to predictive maintenance

supply chain productivity due to automated order fulfillment
All about Internet of Things
<![endif]--> <![endif]--> <![endif]-->