<![endif]-->
<![endif]-->
Design a Powerful SharePoint Intranet
A Microsoft Gold Certified Partner in Collaboration and Content, ScienceSoft applies their 13 years of expertise in SharePoint development to help organizations successfully implement and effectively use SharePoint intranets.
ScienceSoft delivers enterprise portals tailored to your specific collaboration, content management, and branding needs. We leverage SharePoint and Office 365 capabilities to create a powerful toolset to help your employees stay productive at any location while using any device.
SCIENCESOFT'S SHAREPOINT COMPETENCIES
31 years in IT.
13 years in SharePoint development.
8 Microsoft Gold Competencies, including Cloud Platform and Collaboration and Content.
40+ Microsoft-certified experts.
100+ successful projects with Office 365 and SharePoint.
OUR CUSTOMERS SAY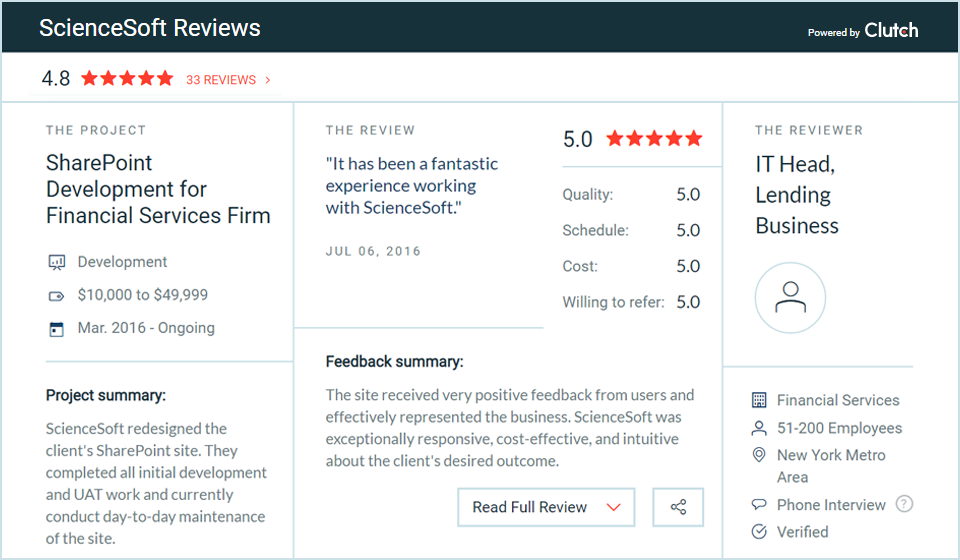 OUR SHAREPOINT INTRANETS GALLERY
All-Inclusive Services for Your SharePoint Intranet
Our offering includes a variety of SharePoint services to assist you at any stage of your intranet life cycle.
| | |
| --- | --- |
| | SharePoint intranet consulting. We know how to deliver an intranet aligned with a company's industry specifics and business operations. We will assist you in choosing the most relevant features that will bring value to your business and employees. We advise you on diverse SharePoint-related challenges, be they issues with intranet deployment, performance, content governance or user adoption. |
| | Architecture design. We prepare and implement an optimal SharePoint architecture that ensures error-free and stable performance of your intranet. We enable structured storage and easy access to the intranet content, which helps users save time on searching valuable information. |
| | Intranet UI/UX. We create SharePoint intranets that aren't just feature-rich but also intuitive, user-friendly and eye-catching. |
| | Intranet customization. We deliver custom features to align a SharePoint intranet with your organizational structure, business processes and employees' habits. |
| | Intranet testing: Our experienced testing team will check every detail of an intranet and reveal even the smallest issues that can hinder the solution's performance. |
| | Intranet support and maintenance: We ensure flawless operation and robust security of your SharePoint intranet, as well as provide training assistance for SharePoint administrators, developers, and end-users to help them enjoy the solution. |
SharePoint Intranet Types We Provide
Depending on the key goals a company wants to achieve with the help of an intranet, we offer three types of SharePoint intranets:
A business-oriented intranet
Centered around business operations and processes. This helps to streamline project management, and allows employees to fulfill their working tasks faster and more effectively as well as improve their performance.
A social-oriented intranet
Focused on the social life of employees. Such an intranet promotes corporate culture, increases employee loyalty and engagement, as well as supports employee recognition and retention.
A mixed intranet
Provides a combination of productivity and social features to an extent required for a particular company. We also build intranets integrated with other enterprise systems like DMS or HRS to bring maximum value to your business.
Intranet Capabilities We Offer
We aim at increasing the value of each SharePoint feature and making end users spend less effort on everyday tasks with better results. To achieve that, we build up SharePoint intranets for:
Collaborating without limits
We help you choose and implement the most relevant SharePoint collaboration tools that fit your employees' working style and communication patterns for them to work effectively and stay in touch with their colleagues wherever they need it.
We leverage SharePoint capabilities to allow your employees to easily manage projects, schedules, and team activities.
Reaching for information and people
We tailor SharePoint search capabilities to let users instantly find relevant information and connect to colleagues.
Spreading and augmenting corporate knowledge
We deliver knowledge management features to enable your employees to process, store and improve corporate knowledge, make it easily accessible and actively reused.
Supporting the sense of community
We add a corporate identity to your intranet and deliver engaging features that make your intranet your staff's favorite social hub.
Staying productive anywhere and at any time
We help you adapt an intranet to different devices and browsers so that end users can keep collaborating the way they like it.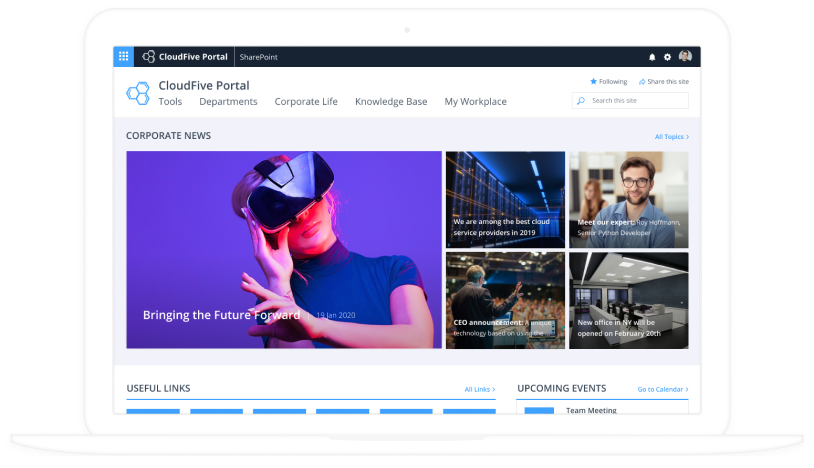 SharePoint Intranet Demo
ScienceSoft shows an example of a flexible, dynamic and responsive intranet with an eye-catching design.
SharePoint Intranet Service Options
ScienceSoft can provide differing SharePoint services depending on your business needs. We deliver SharePoint intranets according to the following service options:
SharePoint intranet development from scratch according to three deployment models:
On-premises (SharePoint Server 2016 or 2019).
Cloud (SharePoint Online).
Hybrid.
SharePoint intranet migration from and to:
Third-party platform – SharePoint On-premises.
Third-party platform – SharePoint Online.
SharePoint Server 2013, 2016, 2019 – SharePoint Online/Office 365.
Intranet branding to promote corporate values and maintain consistency of your digital environment.
Intranet redesign via creating custom web parts and add-ins to help it regain popularity among users.
ScienceSoft's team thoroughly analyzed our business needs and succeeded in meeting them all. The team leveraged SharePoint capabilities to create an attractive, functional, and easy-to-use intranet that is available in two languages: Arabic and English. The solution is integrated with multiple third-party systems, incorporates both out-of-the-box and custom-built functionality, and automates required business flows.
Tejas Gajjar, Chief Technology Officer at Meysan Partners
<![endif]--> <![endif]--> <![endif]-->