<![endif]-->
<![endif]-->
Design a Powerful SharePoint Intranet
A Microsoft Gold Certified Partner in Collaboration and Content, ScienceSoft applies their 13 years of expertise in SharePoint development to help organizations successfully implement and effectively use SharePoint intranets.
ScienceSoft delivers enterprise portals tailored to your specific collaboration, content management, and branding needs. We leverage SharePoint and Office 365 capabilities to create a powerful toolset to help your employees stay productive at any location while using any device.
SCIENCESOFT'S SHAREPOINT COMPETENCIES
31 years in IT.
13 years in SharePoint development.
8 Microsoft Gold Competencies, including Cloud Platform and Collaboration and Content.
40+ Microsoft-certified experts.
100+ successful projects with Office 365 and SharePoint.
OUR CUSTOMERS SAY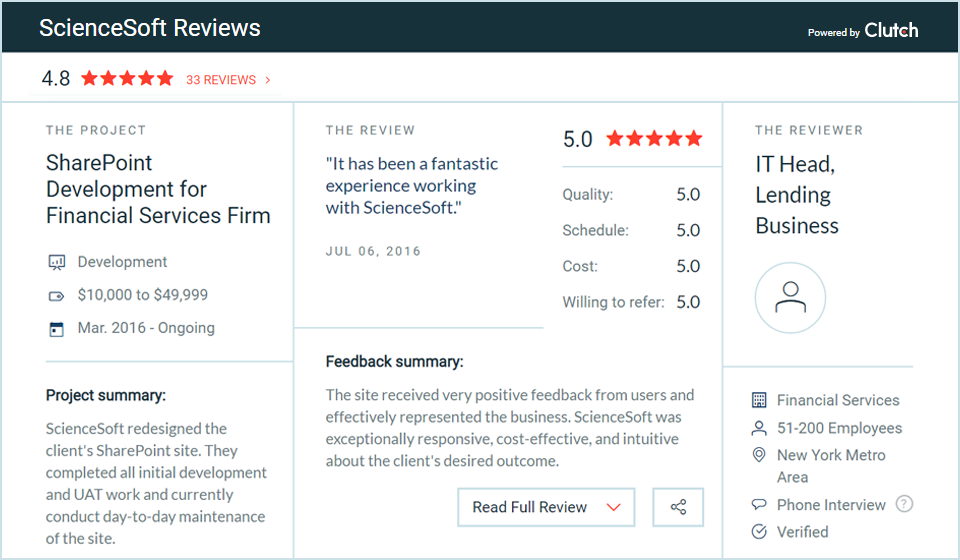 our SHAREPOINT INTRANETS GALLERY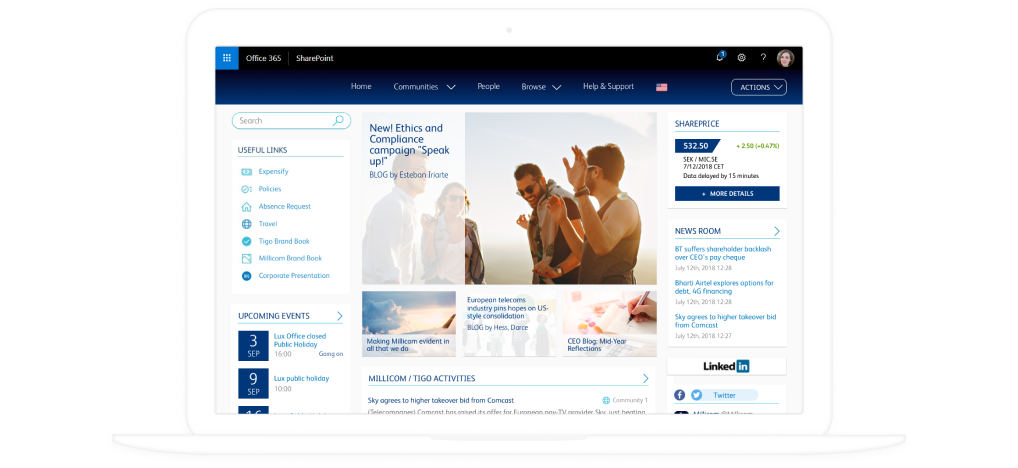 Intranet for an International Telecom Company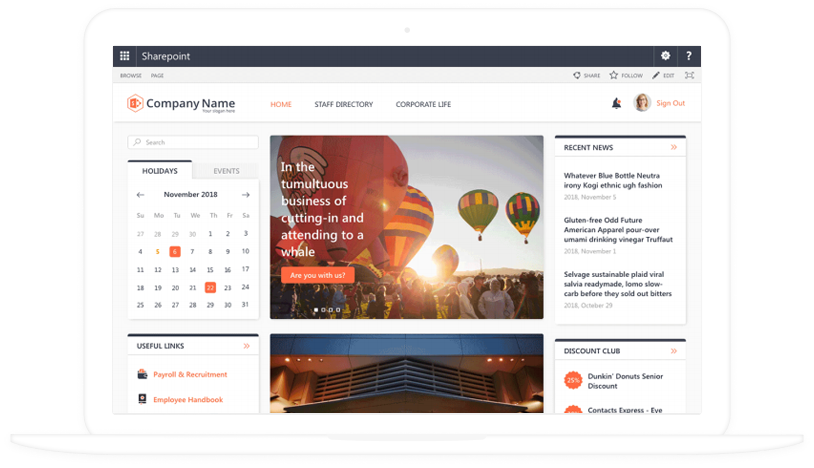 HR-Focused Intranet for a Construction Company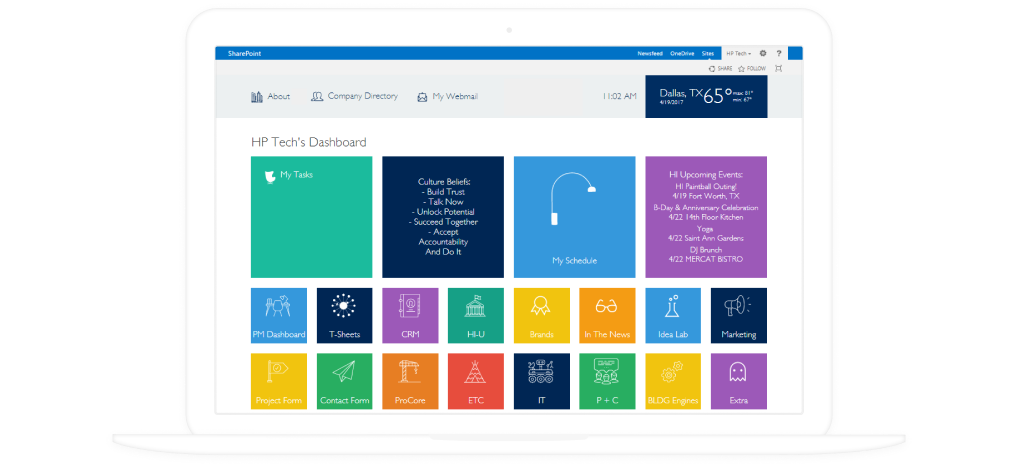 Intranet for an International Real Estate Company
Intranet for a UK Social Care Services Provider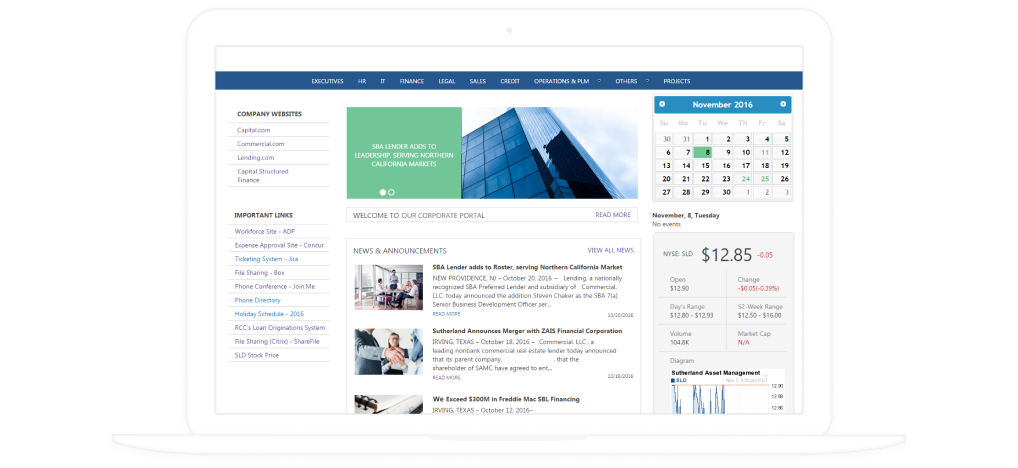 Intranet Migration and Redesign for a US Loan Provider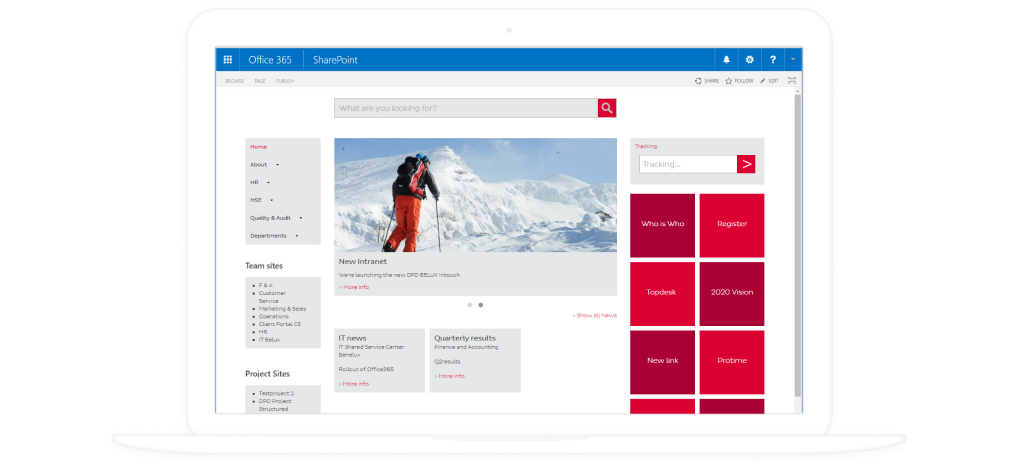 Intranet for an International Parcel Delivery Company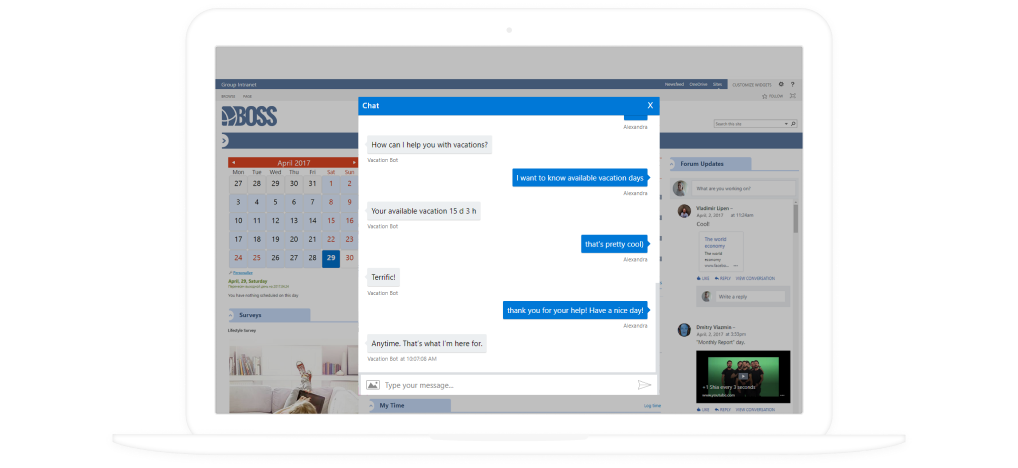 Vacation Chatbot for a SharePoint Intranet
All-Inclusive Services for Your SharePoint Intranet
Our offering includes a variety of SharePoint services to assist you at any stage of your intranet life cycle.
| | |
| --- | --- |
| | SharePoint intranet consulting. We know how to deliver an intranet aligned with a company's industry specifics and business operations. We will assist you in choosing the most relevant features that will bring value to your business and employees. We consult on diverse SharePoint-related challenges, be they issues with intranet deployment, performance, content governance or user adoption. |
| | Architecture design. We prepare and implement an optimal SharePoint architecture that ensures error-free and stable performance of your intranet. We enable structured storage and easy access to the intranet content, which helps users save time on searching valuable information. |
| | Intranet UI/UX. We create SharePoint intranets that aren't just feature-rich but also intuitive, user-friendly and eye-catching. |
| | Intranet customization. We deliver custom features to align a SharePoint intranet with your organizational structure, business processes and employees' habits. |
| | Intranet testing: Our experienced testing team will check every detail of an intranet and reveal even the smallest issues that can hinder the solution's performance. |
| | Intranet support and maintenance: We ensure flawless operation and robust security of your SharePoint intranet, as well as provide training assistance for SharePoint administrators, developers, and end-users to help them enjoy the solution. |
SharePoint Intranet Types We Provide
Depending on the key goals a company wants to achieve with the help of an intranet, we offer three types of SharePoint intranets:
A business-oriented intranet
Centered around business operations and processes. This helps to streamline project management, and allows employees to fulfill their working tasks faster and more effectively as well as improve their performance.
Explore our SharePoint business-oriented intranet solutions
A mixed intranet
Provides a combination of productivity and social features to an extent required for a particular company. We also build intranets integrated with other enterprise systems like DMS or HRS to bring maximum value to your business.
Intranet Capabilities We Offer
We aim at increasing the value of each SharePoint feature and making end users spend less effort on everyday tasks with better results. To achieve that, we build up SharePoint intranets for:
Collaborating without limits
We help you choose and implement the most relevant SharePoint collaboration tools that fit your employees' working style and communication patterns for them to work effectively and stay in touch with their colleagues wherever they need it.
Excelling at projects
We leverage SharePoint capabilities to allow your employees to easily manage projects, schedules, and team activities.
Reaching for information and people
We tailor SharePoint search capabilities to let users instantly find relevant information and connect to colleagues.
Spreading and augmenting corporate knowledge
We deliver knowledge management features to enable your employees to process, store and improve corporate knowledge, make it easily accessible and actively reused.
Supporting the sense of community
We add a corporate identity to your intranet and deliver engaging features that make your intranet your staff's favorite social hub.
Staying productive anywhere and at any time
We help you adapt an intranet to different devices and browsers so that end users can keep collaborating the way they like it.
SharePoint Intranet Service Options
ScienceSoft can provide differing SharePoint services depending on your business needs. We deliver SharePoint intranets according to the following service options:
SharePoint intranet development from scratch according to three deployment models:
On-premises (SharePoint Server 2016 or 2019).
Cloud (SharePoint Online).
Hybrid.
SharePoint intranet migration from and to:
Third-party platform – SharePoint On-premises.
Third-party platform – SharePoint Online.
SharePoint Server 2013, 2016, 2019 – SharePoint Online/Office 365.
Intranet branding to promote corporate values and maintain consistency of your digital environment.
Intranet redesign via creating custom web parts and add-ins to help it regain popularity among users.
First Financial Bank partnered with ScienceSoft in 2019 to help facilitate a complete redesign of our corporate intranet platform. Today, we have a powerful, flexible, easy-to-use intranet platform that supports the communication needs of our entire bank, including associates and facilities spread over a four-state region. We appreciate the professionalism, expertise and guidance of the ScienceSoft team throughout our redesign and deployment process.​
Tim Condron, Marketing Communications Manager at First Financial Bank, a regional bank headquartered in Cincinnati, Ohio
SharePoint Intranet Benefits We Guarantee
SharePoint intranet is a complex structure where each component defines the success of the entire solution. That's why when implementing a SharePoint intranet, we pay particular attention to ensuring:
User adoption
To provide users' buy-in, we keep in mind employees and their convenience when developing every component of an intranet. We guarantee that every feature of your solution will serve your company's business purposes and your employees' needs.
Data protection
We implement SharePoint intranets in line with the established information security standards and your corporate policies, as well as enable the latest security controls, set user permissions and activate advanced data administration capabilities.
Business continuity
We enable the integrity and continuity of your business processes by connecting your intranet with other enterprise systems. We allow employees to collaborate effectively even if they represent different departments and use different solutions.
Accessibility
In our changing world, employees should be able to do their work during flexible business hours and in any location. We see our mission in making your intranet flexible, dynamic and mobile to keep in step with your business pace and support employees' productivity.

<![endif]--> <![endif]--> <![endif]-->