A Microsoft Gold Collaboration and Content Competency partner, ScienceSoft applies their 30-year expertise in IT and 12 years of SharePoint consulting and development to help organizations all over the world to successfully implement and effectively use SharePoint intranets.
We deliver enterprise portals tailored to your specific business environment, working pace, collaboration style and corporate values. Our objective is to leverage each SharePoint and Office 365 capability and create a mighty working kit for your employees to stay productive in any location and on any device.
Our portfolio includes Office 365 and SharePoint corporate intranets for healthcare organizations, banks, financial institutions, manufacturing, retail, logistics companies and more. ​
Our SharePoint Intranets Gallery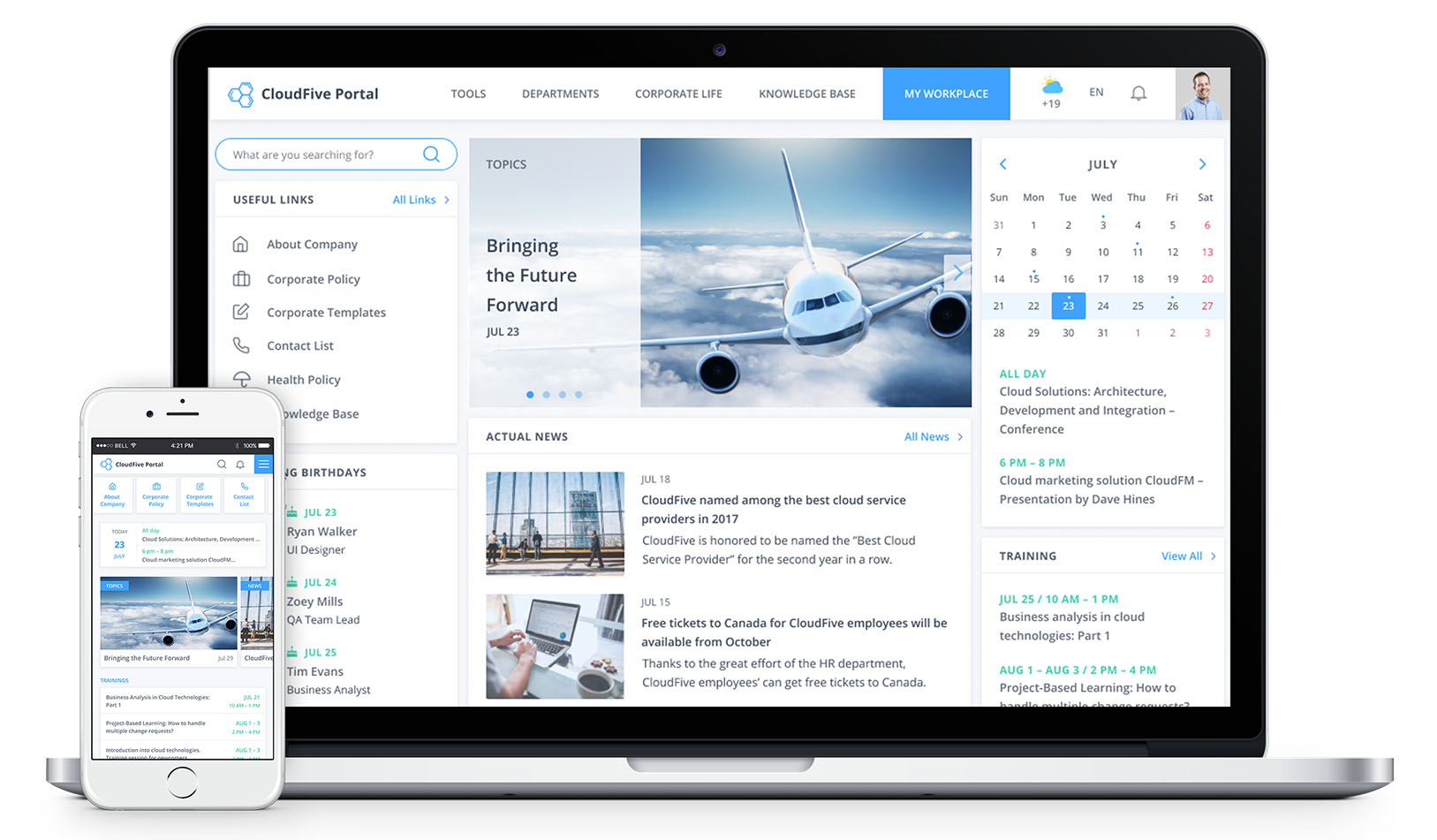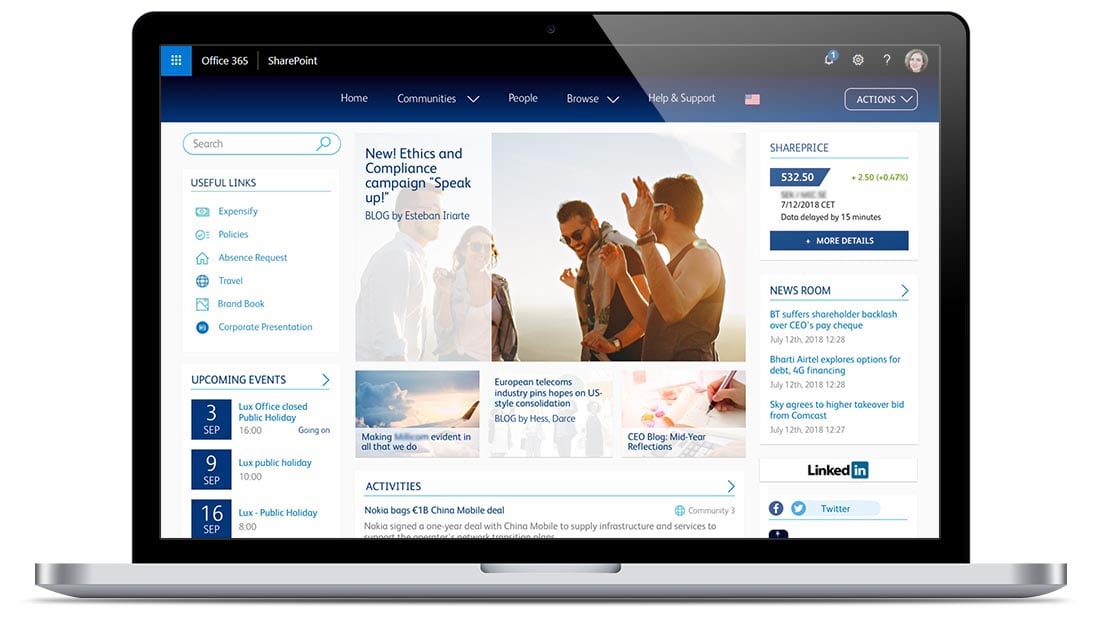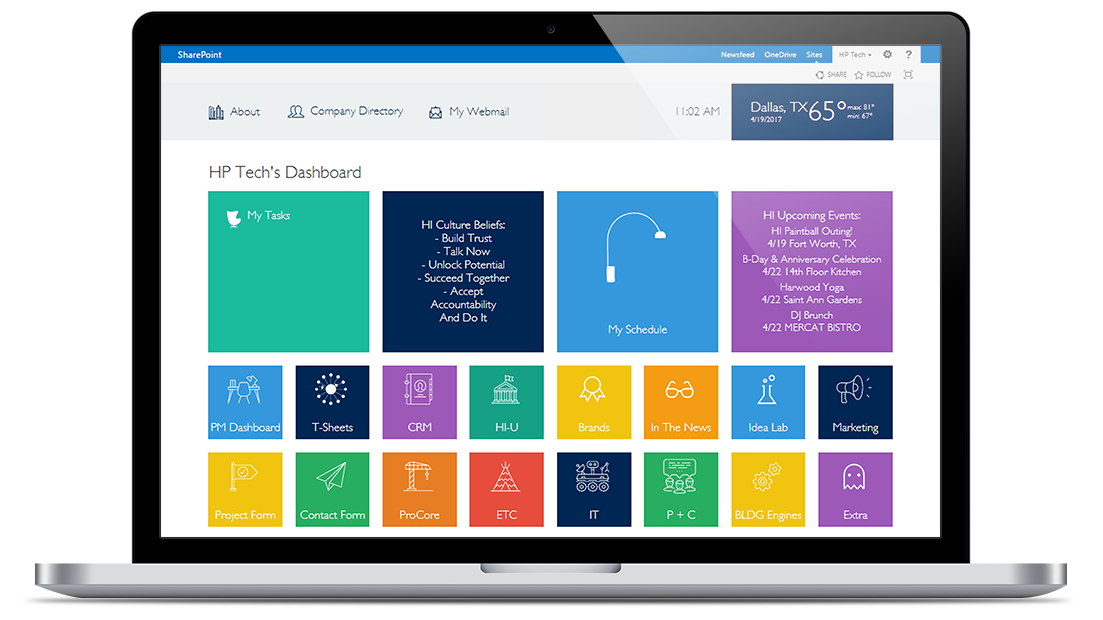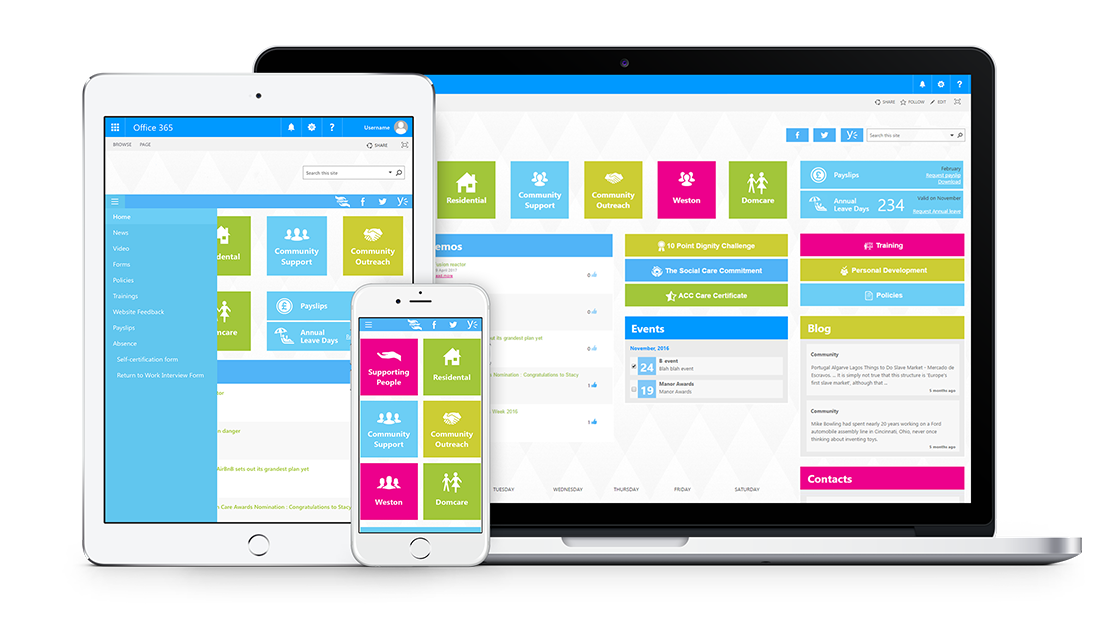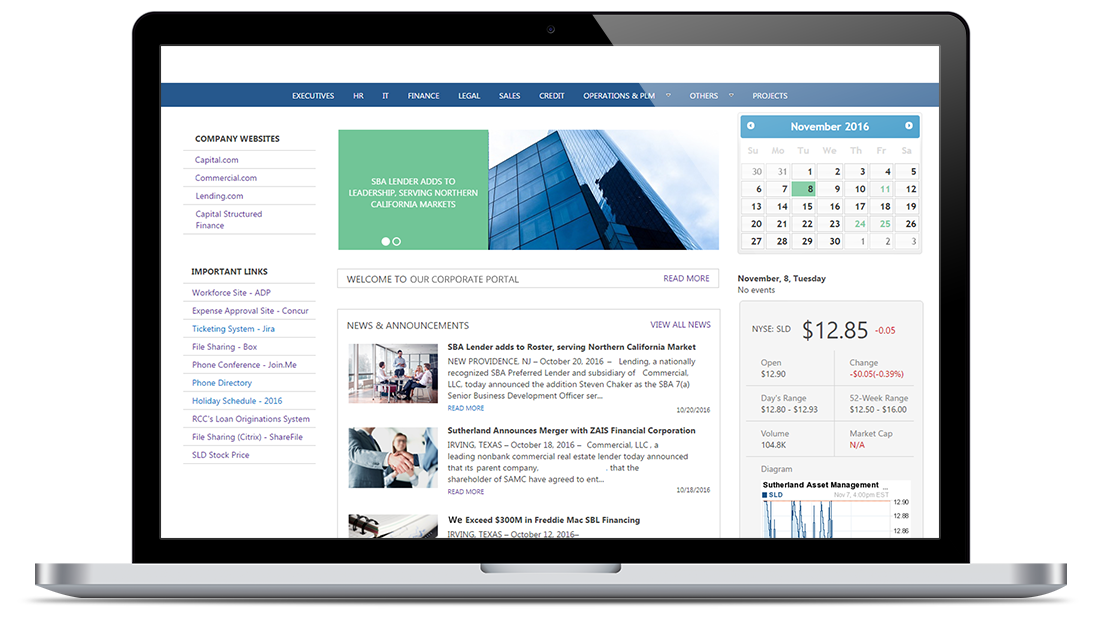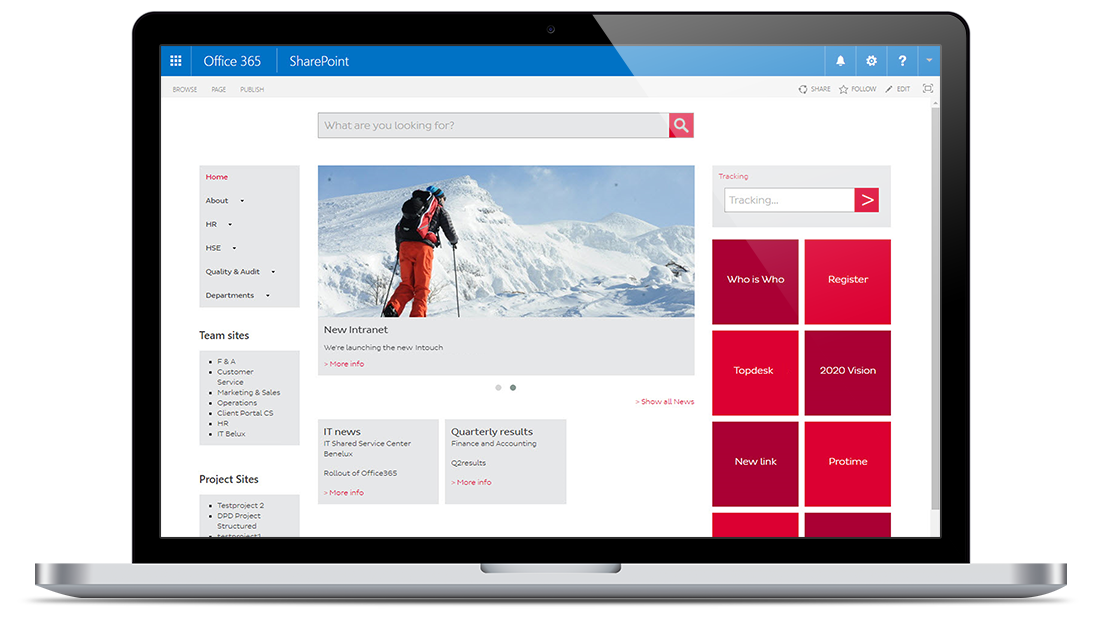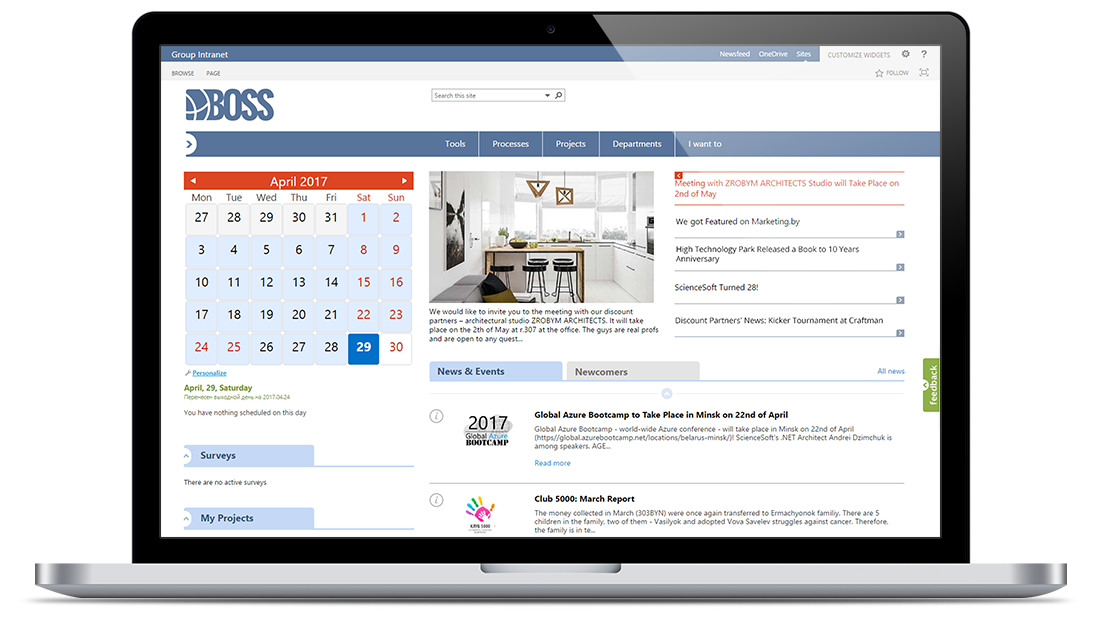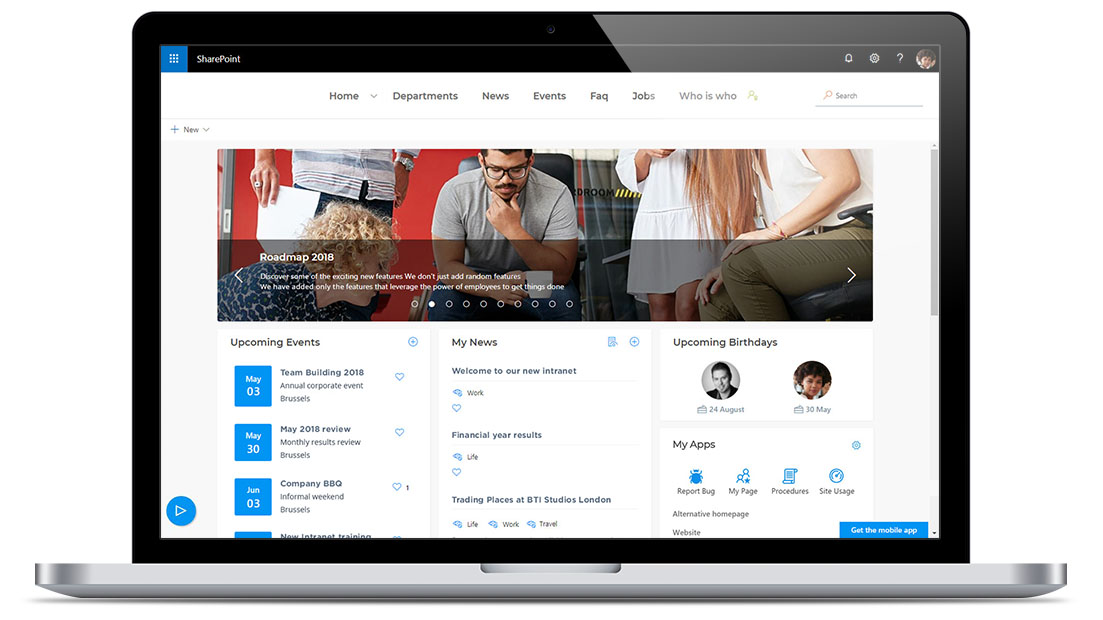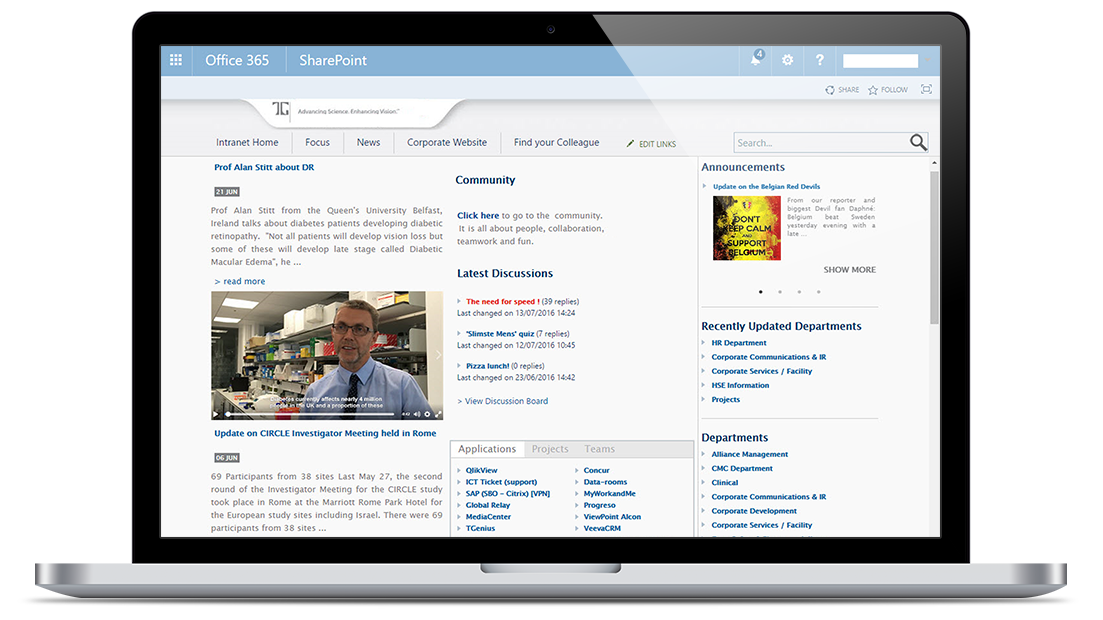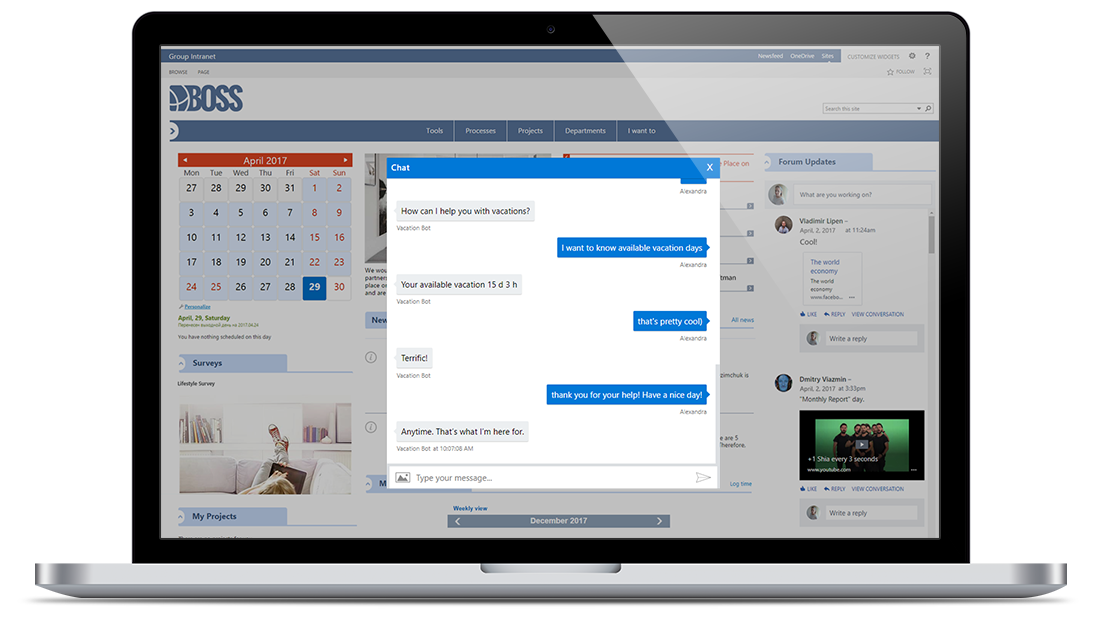 All-Inclusive Services for Your SharePoint Intranet
Our offering includes a variety of SharePoint services to assist you at any stage of your intranet lifecycle.
SharePoint Intranet Redesign
To help you create an intranet with unique look-and-feel, we offer SharePoint design and redesign services. You can turn to ScienceSoft at different stages of your intranet lifecycle:
To brand a newly launched intranet. We will bring your corporate branding to the out-of-the-box SharePoint in order to make your intranet an integral part of your corporate environment.
To redesign an outdated SharePoint intranet. We are here to give the second chance to every old-fashioned intranet. By reworking SharePoint homepages, sites and subsites, by delivering custom web parts and add-ins, we aim at giving your intranet the chance to regain popularity among end users.
To design particular components of a SharePoint intranet. While your intranet grows, you can extend it with new features and elements. We will assist you in applying a uniform style to all the components of your solution and in preserving the design consistency.
Focusing on Every Aspect of Your Intranet
SharePoint intranet is a complex structure where each component defines the success of the entire solution. That's why we pay a particular attention to such important aspects of an intranet as:
User adoption
You can only be sure your intranet is successful if it's used actively. To ensure users' positive buy-in, we develop every component of an intranet keeping in mind employees and their convenience. We guarantee that every feature of your solution will serve your business purposes and employees' needs.
Data protection
Your intranet hosts corporate data that have to be well-protected and shouldn't cross organizational borders unless permitted. For this reason, we implement SharePoint intranets in line with the established information security standards and corporate policies, as well as enable the latest security controls, set user permissions and activate advanced data administration capabilities.
Integration
A SharePoint intranet is at the heart of enterprise collaboration, so it can't be isolated from other enterprise systems. By integrating your intranet with other enterprise systems, we ensure integrity and continuity of your business processes. We enable employees to collaborate effectively even if they represent different departments and use different solutions.
Mobility
In our changing world, employees should be able to do their work at floating business hours and in any location. We see our mission in making your intranet flexible, dynamic and mobile to keep in step with your business pace and support employees' productivity permanently.
Transforming a SharePoint Intranet into Your Reliable Assistant
Creating SharePoint solutions since 2007, we understand that a successful intranet should support employees' daily activities. That's why we aim at increasing the value of each SharePoint feature and making end-users spend less effort on everyday tasks with better results.
To achieve that, we build up SharePoint intranets for:
Collaborating without limits. We help you choose and implement the most suitable SharePoint collaboration tools that fit your employees' working style and communication patterns to help them work effectively and stay in touch with their peers and teams wherever they need it.
Excelling at projects. By bringing project and task management capabilities to your intranet, you will enable your employees to easily manage projects, their personal timetables, and team activities.
Reaching for information and people. We tailor SharePoint search capabilities to let users find relevant information and get connected with colleagues instantly.
Spreading and augmenting corporate knowledge. We bring in knowledge management features to allow you to process, store and improve corporate knowledge, make it easily accessible and actively reused.
Supporting the sense of community. We add a corporate identity to your intranet and deliver engaging features that make your intranet your staff's favorite social hub.
Staying productive anywhere and at any time. We help you adapt an intranet to different devices and browsers so that end-users can keep collaborating the way they like it.
Time to Get Your Intranet
Do you consider implementing an intranet on SharePoint? Have you been already running a SharePoint intranet, but it goes through adoption issues? Do you want to refresh your solution and add new features or change a boring design? Whatever your challenge is, you are welcome to contact our consultants who are always ready to provide their assistance and help you get your best-fitting SharePoint intranet.