eLearning Software Development Services
Since 2015, ScienceSoft has been building eLearning solutions that drive digital transformation of corporate learning resulting in human capital ROI growth.
ScienceSoft's team is ready to streamline your corporate learning with technology or modernize your current eLearning software.
The goal of eLearning development is creating tools like LMS, LCMS, and LXP to help orgs increase learning efficiency and cut learning costs.
Types of eLearning Solutions ScienceSoft Develops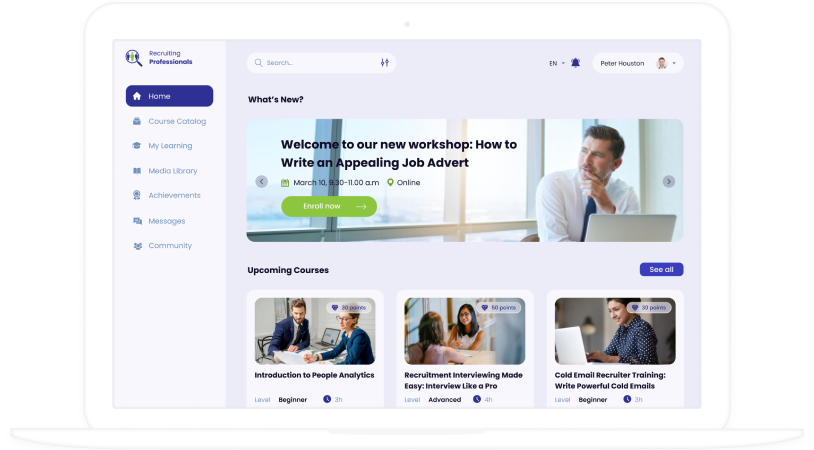 Learning Management System Demo
See how a learning management system can facilitate eLearning processes from course enrollment to learners' knowledge assessment.
Key Features of eLearning Software We Deliver
What Makes ScienceSoft an Experienced eLearning Software Developer
34 years in software development, data analytics, and AI.
8 years in eLearning software development.
30+ business analysts with 5–9 years of experience.
Expertise in 30 industries, including healthcare, manufacturing, oil and gas, banking, retail.
Microsoft Partner since 2008.
AWS Select Tier partnership.
For the second straight year, ScienceSoft USA Corporation is listed among The Americas' Fastest-Growing Companies by the Financial Times.
What Our Customers Say
Pete Callaghan
CTO
InfoMentor Ltd
We've cooperated with ScienceSoft on two projects involving apps for the education industry. The second project covers a web and mobile app for distance learning. The app is used by pupils, teachers, and parents for tracking learning activities, assignments, grades, and more. ScienceSoft's team has successfully extended the app's functionality with new modules that were required by newly arisen user needs.
View all customer reviews
See How You Benefit from Partnering with ScienceSoft
we Know Your Industry
We develop eLearning solutions for various industries:
Healthcare
Manufacturing
Professional services
Retail
Education
Construction
Oil & Gas
BFSI
Choose Your Service Option
Timeframes for Our eLearning Software Development Services
MVP development: 3–5 months
MVP with an innovative component to increase learner engagement: 4–6 months
Creation of an eLearning module with basic features or automation of one learning management process (e.g., performance assessment): 1–3 months
Investment payback period: 0.1–0.9 years (due to high value from innovative tech)
Releases: every 2–6 weeks
Minor changes and hotfixes: several times a day
Pricing Models for eLearning Software Development
Used for midsize and big projects with unclear scope and agile development to react to the eLearning solution's user feedback and changing requirements.
Used for small projects with a well-defined and stable scope. To reduce risks, the project can be divided into phases that are estimated separately.
Why Opt for eLearning Software Development Right Now
With a professionally implemented eLearning solution, you can get the following benefits:
Annual ROI of eLearning solutions due to an optimal feature value/cost ratio and use of innovative techs.

Learning costs due to saving money on materials, equipment, dedicated staff and trainers.

Employee productivity due to improved knowledge and skills, policy awareness and on-demand access to learning

Knowledge retention due to diversity of eLearning content and higher learning impact.
<![endif]--> <![endif]--> <![endif]-->