Augmented Reality Services
Augmented reality app development focuses on 3D model design and implementation of the algorithms, responsible for overlaying the scene in the device's camera lens with virtual content. With 26 years of experience in 3D modeling and 16 years in AR, ScienceSoft develops high-end AR software.
Our AR apps scan real-life surroundings with the camera lens, perceive gathered data as an image on a coordinate plane, and translate it into a depth map to ensure realistic 3D model placement.
Image and object recognition
Common for all smartphones and tablets, GPS, gyroscope, and accelerometer allow our AR apps dynamically resize and calibrate augmentations on the screen as you and your device move around.
With the help of smart light estimation algorithms, our AR apps can automatically adjust the lighting of the 3D model to naturally match that of the scene in the camera lens.
Ready to Leverage These AR Capabilities?
Partner up with ScienceSoft and let our professional AR app development services ensure the high quality and fast delivery of your augmented reality app!
We deliver ISO 13485-compliant augmented reality apps that assist young and experienced healthcare specialists in performing various types of procedures: from simple injections or blood drawing to surgeries. Supported by highly accurate AR data, health professionals feel less stressed and more confident in their actions.
From clothes and jewelry to furniture and cars, our AR retail apps help you boost sales regardless of the type of goods you sell. Introduce virtual fitting rooms and catalogues that allow to virtually place 3D models of products in the real world, offer AR-assisted navigation apps for supermarkets, or create an entire virtual store.
Training and education AR apps
ScienceSoft's AR training apps guide inexperienced specialists through product assembly, medical procedures, equipment installation, and other procedures by providing prompt text & visual tips. Such AR apps can support on-the-job education in different spheres, including manufacturing, construction, public services, healthcare, etc.
Thanks to the virtual interior design functionality, our real estate AR apps help to create a believable illusion of comfort that may be a defining point in sealing a deal. By turning an empty and lifeless house or apartment into an individually furnished, cozy living space, you will assist your clients in making the right real estate purchase.
Tourism and culture AR apps
AR apps bring your sightseeing tours or museum/gallery rounds to the next level: they guide tourists through specified locations, show directions and historical info, and even display useful ads. Such apps also enhance the impressions of the visitors of your museum/gallery by adding interactive and immersive content to selected showpieces.
AR helps you create marketing strategies that make an unforgettable impression on the audience. Overlay real-time live streaming with your sponsorship assets, install interactive AR screens in popular locations to enhance brand recognition, or go beyond and come up with a creative AR-advertising idea of your own!
AR apps drive process improvements for manufacturing engineers and technicians who can work with digital models of physical assets to prototype and assemble new complex equipment and machinery. These lifelike simulations reduce manufacturing costs due to fewer product redesign cycles and faster employee training and performance.
AR apps help create immersive and delightful experience in online games, theater performances, social media, on live events. Whatever unique ideas you have to use AR to set your brand apart from the competition and amaze your audience, we will help them take real shape.
AR-powered auto dashboards
AR dashboards capture and visualize data collected from sensors and cameras installed inside and outside vehicles. This informs drivers instantly on danger signs (human or animal presence on the road, worsening road or weather conditions, vehicle damage) and makes the driving more secure.
Want to discuss your AR solution?
Having worked with AR in so many exciting projects, we can't wait to hear your idea of using this tech and are ready to bring in our whole expertise to help you.
Discuss my AR project
Our Customers Say
Supponor is a global leader in virtual advertising for televised sport. Driven by advanced computer vision and AI algorithms, our platform enables inserting brand advertising into sports broadcasts in real time.

ScienceSoft has been assisting Supponor in the ongoing development for the past 11 years. Their experience in cross-platform, real-time systems, and computer graphics as well as robust skills in integrations across a wide range of highly specific hardware helps to ensure consistently high performance and wide compatibility of our products.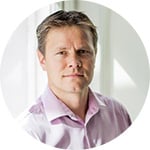 Vesa Suontama, CTO, Supponor
Such apps recognize a specific, custom marker – a pictogram or a QR-code – and then substitute it with pre-set data on the device screen. There can be infinite numbers of both codes and assigned augmentations. Marker-based apps work best when augmentations are tied to a specific object, for instance, a human anatomy model for medical education or a particular art piece in a gallery.
Markerless (location-based)
To realistically position AR model without using any markers, apps use GPS, built-in sensors, as well as complex computer vision algorithms. This type is used when augmentations are supposed to adapt to various locations and, for instance, accurately place a furniture piece in a room, show navigation arrows in a tourist spot or point at the best bargain on a product shelf.
AR development tools
Hardware
3D modeling
Image analysis
Machine learning platforms and services
Creating AR Solutions – from Product Vision to Product Release
We help you verify the feasibility of your idea before you commit to full-scale development and create a full functional specification of your future app.
We create realistic 3D assets to be used in your AR app and make the whole user experience lifelike and aesthetic.
AR app back-end development
We create a database of 3D models and metadata, and set up algorithms to power AR features.
AR app front-end development
We design a client app that scans the view in the camera lens, retrieves 3D models of requested objects and overlays them on top of scanned environment.
We incorporate AR functions into your existing software (e.g., training apps, ecommerce storefronts).
The biggest challenges in any AR app development process are associated with object/scene recognition, occlusion, and content creation & maintenance. We skillfully handle all these tasks and provide content-rich and reliable AR solutions.
Scene understanding and occlusion
We make sure that your app precisely recognizes scenes and objects in various conditions and places 3D models with realistic occlusion. The learning of our object/scene recognition and depth perception algorithms doesn't end with the release: while apps are being used, they gather new data that we tap in our update packages to make the apps even smarter.
Content implementation
Whether you want an app that augments reality with 3D models or with overlaying textual data, we offer all-round assistance in implementing your AR app's content. Our designers create detailed 3D models based on photos, illustrations or even rough sketches, while UI/UX experts plan the layout of the augmenting data to make it display conveniently on any mobile device.
Regular content updates and maintenance
It's only natural for your app's metadata, 3D model database or pool of images for auto-recognition to require changes and expansion over time. As we always look forward to steady and long-term cooperation, we offer a continuous update of your app's content and help your app grow along with your business.

Let's Make It Happen!

Reach out to us to get your own augmented reality app or consult with our AR development specialists. An existing specific use-case or a high-level idea for a future app – we welcome both and look forward to working with you.

<![endif]--> <![endif]--> <![endif]-->