Business Automation Services
Fast and Error-Free Business Processes
In software development since 1989, ScienceSoft offers full-scale business automation services to help companies streamline the fulfillment of repetitive tasks, reduce human error, and create full visibility into business processes
Business automation services (also known as 'business process automation services') include business automation consulting as well as implementation and evolution of business automation solutions. These services are aimed at improving business processes and overall business productivity.
ScienceSoft offers consulting assistance and practical help with implementation and evolution of workflow automation solutions based on SharePoint, Office 365, Power Apps, and Power Automate, custom solutions for end-to-end process automation, and self-service portals across industries and business functions.
Business Automation Use Cases ScienceSoft Covers
By industry
Banking, financial services and insurance
Bank account opening.
Credit approval.
Cost estimation and tracking.
Customer background checking (banking and insurance).
Customer self-service via virtual agents (banking and insurance).
Premium calculation (insurance).
Claims processing (insurance).
Tracking of product design revisions.
Inventory tracking.
Asset inspections.
Work order management.
Quality control.
Equipment calibration.
Remote equipment condition monitoring.
Employee health and safety monitoring.
Appointments scheduling.
Patient admission.
Patient records management.
Remote patient health tracking.
Smart lighting scheduling in hospitals.
Medical billing and payment automation.
Healthcare claims automation.
Healthcare audits.
Product catalog management.
Warehouse navigation.
Inventory tracking.
Return processing.
Customer self-service.
Reporting on store sales, sales trends, etc.
Network performance monitoring.
Media content delivery.
Purchase order creation and tracking.
Billing automation.
Expense control.
FCC compliance tracking.
Monitoring of inventory levels.
Automated alerting on low stock.
Order fulfillment tracking.
Supplier portal.
Contract management.
AP/AR tracking.
Expense approval and reporting.
Tax calculation and reporting.
MORE USE CASES
Automated invoicing.
Financial reporting.
Automated payment collecting.
Automated price calculation.
Tracking actual costs, committed costs, and variances.
Real-time revenue calculation.
Real-time cash flow monitoring.
Scheduled cash transfer.
HR document management.
Candidate sourcing.
Applicant tracking.
Employee on/offboarding.
MORE USE CASES
Employee training and development.
Employee request management.
Employee performance review scheduling.
Payroll management.
Work scheduling.
Benefits tracking.
Time-off tracking.
Employee self-service portal.
Marketing and sales management
Marketing content publishing/distribution.
Lead nurturing (e.g., via social media).
Marketing campaign automation.
Email automation.
MORE USE CASES
Lead conversion.
Claims processing.
Pricing calculation.
Quote/proposal approval.
Product discounts calculation.
Customer service management
Customer self-service (e.g., a portal, a knowledge base).
Email scheduling.
Customer communication (e.g., live chat, chatbots, virtual assistants).
Support ticket creation and tracking.
Why Choose ScienceSoft as Your Business Automation Partner
years in IT

years in data science and AI

years in IoT

years in big data

years in DevOps
Strategic partnerships with Microsoft, AWS, and Oracle.
ISO 9001 certified quality management that allows us to implement projects fully meeting our customers' quality expectations.
Guaranteed security of the customers' data we access proved by ISO 27001 certificate.
Compliance with HIPAA, GAMP, PCI DSS, and other regulations.
Benefits of Business Automation Services by ScienceSoft
Focus on value of business automation
We don't offer automation for the sake of it. Our consultants thoroughly analyze your business processes and suggest the most suitable use cases for automation.
Holistic approach to business automation
We start with mapping out your business processes to establish a clear picture of each process step and identify potential bottlenecks. We can also redesign the processes to ensure their efficient automation.
Applying 114 security controls required by ISO 27001, we safeguard the information assets that we access during the business automation project.
Optimized implementation time and costs
We apply CI/CD and DevOps methodologies to reduce the time of business automation solution implementation. Besides, we leverage low-code development tools where applicable to achieve fast and cost-effective business automation.
The Financial Times Includes ScienceSoft USA Corporation in the List of the Americas' Fastest-Growing Companies 2023
For the second year in a row, ScienceSoft USA Corporation ranks among 500 American companies with the highest revenue growth. This achievement is the result of our unfailing commitment to provide high-quality IT services and create best-value solutions that meet and even exceed our clients' expectations.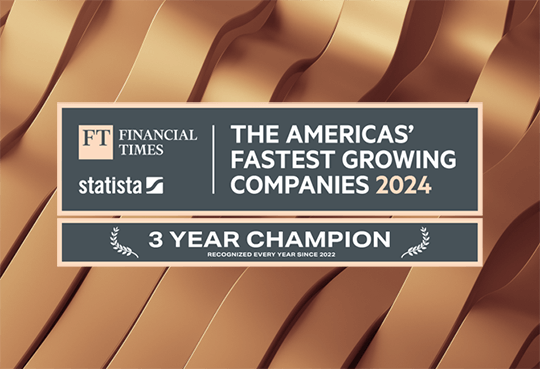 Technologies We Apply in Business Automation Services
Business Automation Success Stories by ScienceSoft
ScienceSoft's Offerings on Business Automation Services
Business automation consulting
Analyzing your business automation needs and evaluating your current business processes.
Defining business processes suitable for automation.
Elaborating on an automation strategy, including redesign of your business processes.
Prioritizing features for a business automation solution.
Designing automated workflows.
Advising on suitable automation technologies and solution type.
Suggesting useful integrations (e.g., enterprise systems, data sources, email services).
Drawing a business automation project plan.
Business automation solution implementation
Analyzing your business automation needs and current business processes.
Eliciting technical requirements for a business automaton solution.
Redesigning business processes to adjust them to automation.
Choosing a solution type and a suitable tech stack to build the solution.
Designing the solution's UX and UI.
Developing the solution and integrating it with enterprise systems, data sources, email services, etc.
Quality assurance and support of the solution.
Comprehensive user training.
Business automation solution evolution
Evaluating the current business process automation solution and detecting bottlenecks.
Conducting feasibility studies and solution ROI calculation.
Suggesting and implementing new functional modules, individual features, UX/UI improvements, etc.
Solution re-architecting and modernization.
Adding new integrations with third-party software.
Introducing advanced technologies (e.g., image analysis, IoT) to the solution.
Why It's Time to Leverage Business Automation
Businesses can lose up to 20 to 30% in revenue each year due to inefficient processes, so more and more businesses turn to business process automation companies to get benefits, such as:
process error rate due to automated workflows

faster business processes due to centralized data storage and automated data search

employee productivity due to reduced time spent on repetitive tasks
All about Operations Management
<![endif]--> <![endif]--> <![endif]-->