Custom Vendor Management Software
Since 2005, ScienceSoft helps businesses optimize their vendor management processes with state-of-the-art vendor portals.
Vendor Management System: Key Facts
A vendor management system (VMS) helps businesses onboard, interact and transact with their external workforce, such as materials' vendors (suppliers), wholesalers, service contractors, freelancers, and more. A custom vendor management system is a way for companies to improve the efficiency of their unique vendor-associated workflows and leverage a consistent and well-regulated approach to vendor selection, collaboration and assessment.
The implementation of a vendor management system pays off as:
Time savings due to vendor self-onboarding and elimination of in-person negotiations and email-based document exchange.
Cost savings due to transparent price bidding and low-risk vendor contracts.
Functionality Needed for Effective Vendor Management
Below, ScienceSoft have summarized functional capabilities that form the core of a vendor management solution.
Vendor self-registration workflow
You can define what information you need from your vendors to work with them productively ever after and include relevant steps/fill-in fields/document requirements in the registration process.
Vendor onboarding workflow
By setting a vendor assessment framework, you can have a VMS to automatically score registered vendors against needed criteria. Such a pre-onboarding step helps create a low-risk vendor portfolio.
Vendor profile management
In a VMS, vendors are offered to manage their business information independently. This helps maintain vendor profile information up-to-date and doesn't require direct control from your team.
You can plan and implement the best-suited segmentation model for your supplier base, for example you can give the highest strategic priority to suppliers of high-volume or high-value products.
A purchase requisition form
A document that describes required products/services. You can create as many requisition templates as needed for different department and procurement purposes.
A VMS routes a requisition through the approval process and sends automated notifications to responsible employees according to the rules you have set in the system. Approval mechanisms can be multi-level and span different departments.
Request for quote (also called Invitation for bid)
Suppliers are notified when they are invited to participate in a bidding process. They can further submit their offering for price competition.
Upon the expiry of the bid submission period, you evaluate the bids and decide for a vendor of choice. No need for manual tracking of emails from vendors and no risk to miss a price quote.
Automated purchase order creation from a requisition
If you are not interested in price bidding, you can set to have purchase orders created automatically from approved requisitions and sent to a vendor of choice. Thus, you avoid one manual step and prevent procurement delays.
An invoice is created automatically from an approved purchase order or for a part of an order. Taxes are applied based on origin- and destination-based tax rules. The invoice is immediately available for you to pay.
Via a VMS, you gain full visibility into all your procurement orders. You can track order progress, contact vendors for explanation of delivery delays, and access shipment documents.
An in-built tool to analyze vendor performance data and uncover opportunities for cost savings and risk mitigation.
Helps create a talent pool to manage contingent workers and service providers. When a job position is opened in a VMS, relevant candidates from a talent pool are immediately notified and can apply for it, which makes the hiring process really fast.
Check out helpful features
Full visibility into available external workforce: experience, certifications, work expectations, contacts.
Automated onboarding processes.
Digital document exchange allowing for space and time savings.
VMS for direct procurement (to manufacture products)
Helps create a supplier base for raw materials and ingredients, and make procurement requests online. Less reliance on in-person supplier communication and email messaging helps not be late with raw materials or ingredients supply and allows for uninterrupted manufacturing processes.
Check out helpful features
Faster requisition flow: online creation of purchase requisition, approval notifications, automated creation of purchase order from an approved requisition.
Volume-based price bidding.
Online billing and payment.
VMS for indirect procurement (for non-production-related needs)
Helps create a unified base of all suppliers of goods and services needed to maintain your organization's life. In this case, the system targets to support internal processes and contributes to staff satisfaction, comfortable working conditions, timely facility maintenance, and more.
Check out helpful features
The list of suppliers for each provision need and supplier rating.
Scheduled reorders for recurrent supplies.
Role-based access and approval permissions.
Importing of spreadsheets with supply requests to a VMS.
Useful Integrations for Different Vendor Management Systems
As far as the processes assisted by a vendor management system are from different business areas (human resources, manufacturing, office administration), various business systems may be involved. We at ScienceSoft have thought of the most important system integrations for a VMS, yet your particular situation may require a different integration map.
VMS + accounting software
To deliver invoices directly to the responsible team, thus eliminating protractions usually caused by manual transfers.
To pay contractors.
To rely on manufacturing capacity plans for raw material procurement, avoiding understocks and overstocks.
To provide visibility into procurement order statuses for the staff without access to a VMS (e.g., a procurement planning team).
VMS + HR management software
To provide information on current talent gaps and vacant positions needed for a limited period of time (e.g., for a project).
To collect office supply requests from the staff and organize them into requisition lists.
to create, e-sign, and exchange documents with vendors digitally.
Vendor rating functionality
to automatically score vendors based on user-defined vendor performance assessment criteria.
Maximized workflow automation
to eliminate manual efforts across all kinds of vendor-associated approvals, vendor payments initiation and control, escalation of challenging situations and delays, and other rule-based vendor management tasks.
Well-designed onboarding and offboarding checklists
that cover documentation requirements, work instructions, access to corporate resources, and introduction to the team for various team roles, different company's subsidiaries, remote and in-office positions to streamline administrative processes and set positive work experience.
Vendor Management Software Implementation: Success Story by ScienceSoft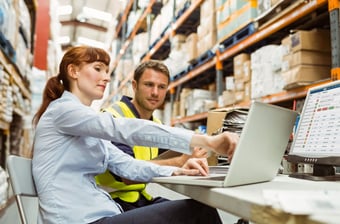 Supply chain e-collaboration network for 1,700-store retailer
Trackable communication with suppliers via a vendor portal.
Real-time monitoring of vendor performance.
Template-based creation of purchase orders, emails to suppliers, and more.
Role-based access control for category managers, store managers, suppliers, etc.
Customer's benefit: improved supplier collaboration, enhanced visibility into supplier performance.
How to Develop Vendor Management Software
Vendor management software development requires an accurate action plan to ensure smooth project flow and prevent financial and technology risks. Below, ScienceSoft describes key project steps to provide you with a general idea on how your custom vendor management software development process may look.
1
Business needs analysis and requirements engineering for the custom vendor management system.
2
Designing the functionality, architecture, and tech stack.
3
Project planning: deliverables, KPIs, duration, budget, team composition, etc.
4
Vendor management software development (from scratch or platform-based).
5
Quality assurance in parallel with development.
6
Vendor data migration (from spreadsheets or a previously used vendor relationships management tool).
7
Integration with the required internal and third-party systems.
9
Continuous support and evolution of the vendor management solution (optional).
Investment and ROI
For a mid-sized business, a project covering (1) the analysis of your current vendor management practices and collection of software requirements, (2) the implementation of a vendor management system, and (3) its core integrations with related business tools and systems may start at $70,000. A larger company size, growing number of vendors, uniqueness of your vendor management workflows, a vaster integration map are among the factors affecting the VMS solution complexity and, thus, driving the cost up.
The ROI for vendor management software implementation can be measured in:
Time savings. Your team will spend less time managing vendor relationships if the process is standardized and its part is given for vendors' self-service.

Cost saving. Naturally, disorganized processes don't leave a chance to see a big picture and make strategic decisions regarding vendor selection and contract negotiations. Operating in a vendor management system, you can assess vendors against your quality criteria from the start.
SAP Fieldglass
Best for: contingent staff management
Description
A cloud VMS intended for contingent workforce management.
Built as a multi-tenant SaaS, SAP Fieldglass puts in place reliable information security system certified according to ISO 27001:2005 standard.
Leading software for contingent workforce management according to Forrester Research.
States to have clients among Global 2000 firms, the Forbes list of the largest public companies in terms of assets, market value, sales, and profits.
Supports different labor payment schemes like deliverables-based payments, fixed and recurrent fees, etc.
In-built analytics is robust.
A parent company, SAP, is a recognized leader in enterprise application software. It offers a suite of business applications powering more than 437,000 companies worldwide.
Pricing
By request to the vendor.
Power Apps
Best for: small-to-midsize company, most likely with <1,000 vendors
Description
A development platform for business apps, including apps for external users like vendor management systems.
Most commonly used for low-code app development via a user-friendly drag-and-drop functional builder, still deeper customization is also possible.
A leading platform for low-code development according to Forrester.
Offers 400+ pre-built connectors to Microsoft and third-party data sources, and allows for custom connectors built with REST APIs.
Hosted on Microsoft Azure, guarantees service quality and reliability with 99.9% uptime and 90 compliance certifications (including ISO 27001, ISO 27018, SOC 1, SOC 2, SOC3, FedRAMP, and more).
Consulting for the project start
Analyzing current vendor management practices adopted in your company.
Interviewing your stakeholders as for what improvements and transformations in business processes they envisage.
Compiling a business requirements specification covering VMS functionality and required integrations.
Helping you choose an optimal platform or tech stack for custom development
Providing estimates of project cost and time.
Request project consulting
Implementation of a vendor management system
Compiling a business requirements specification covering VMS functionality and required integrations.
For platform-based VMS development – covering maximum possible business requirements by setting proper platform configuration and achieving the rest with coding.
For custom VMS development – coding a solution end-to-end.
Integrating a VMS with related business apps and tools.
Testing the solution: functioning, usability, integrations.
Request VMS development
About ScienceSoft

ScienceSoft renders web development services to businesses across 30+ industries. Providing professional web portal solutions, we digitally transform and optimize the cost of daily business transactions and processes.

<![endif]--> <![endif]--> <![endif]-->