Enterprise Software Development Services
Feel Big Difference with Robust Enterprise Software
As an enterprise software development company, ScienceSoft builds multi-faceted enterprise solutions that can easily withstand the highest loads, scale up in line with your business growth, and provide 99.98% availability.
Enterprise software development services are aimed to build enterprise applications that help companies automate and optimize complex business processes, like finance and accounting, HR, supply chain, and more.
ScienceSoft company provides services that cover all aspects of enterprise application implementation. You can either choose one or several components from our offer to get a unique service pack fully covering your enterprise needs.
Enterprise application planning
Eliciting your enterprise software needs.
Mapping out functional and technical requirements.
Mapping security and compliance (e.g., with HIPAA, FDA, GLBA, PCI DSS) requirements for the application and the development process.
Business case delivery with TCO and ROI estimation.
Setting project goals and milestones.
Setting project KPIs.
Creating a detailed project roadmap with deadlines for each project stage.
Enterprise application architecture design
Deciding on enterprise application architecture (point-to-point/event-driven service-based architectures, microservices, etc.).
Planning enterprise app architecture that meets industry-specific regulations (i.e. HIPAA, FDA, PCI DSS).
Creating user stories.
Creating UX mockups and wireframes.
Designing GUI that matches enterprise needs.
Enterprise application development
Front end and back end development.
Preparing guidance materials for end users (in parallel with design and development).
Testing and QA strategy planning.
Conducting functional, compatibility, performance, usability, accessibility, security and compliance testing.
Enterprise software and user support
User training.
Application administration and monitoring.
L1 - L3 application support.
Evolution (adding new features and integrations).
Legacy enterprise software modernization
Examining architecture and infrastructure of a legacy enterprise application.
Application reengineering and recoding.
Containerization.
Cloud migration based on a fitting approach (re-hosting, re-platforming, or re-factoring).
Cloud usage optimization.
Enterprise app integration
Defining and examining software to integrate and the data to be shared.
Analyzing integration risks and constraints.
Choosing integration approach (common data storage, point-to-point, or mediated integration, robots usage) and tech stack.
Integrated system implementation and testing (at system and component levels).
After-launch support, user and admin training.
33 years in IT and 20 years in enterprise software development.
700+ experts onboard, including project managers, business analysts, architects, developers, data scientists, QA, security, DevOps, and support engineers.
Competencies in advanced techs like IoT, big data, AI/ML, AR/VR, blockchain, image analysis, etc.
Expertise in custom enterprise software development for 30+ industries, including healthcare, banking, manufacturing, marketing, etc.
Gold Microsoft Partner with 9 competences, AWS Select-Tier Partner, Oracle Partner.
ISO 9001 and ISO 27001-certified to ensure service quality and customer data security.
The Financial Times Includes ScienceSoft USA Corporation in the List of Americas' Fastest-Growing Companies 2022
ScienceSoft is one of 500 companies with the highest compound annual growth rate in revenue. This achievement is a result of our unfailing commitment to provide high-quality IT services and find best-value solutions to clients' needs.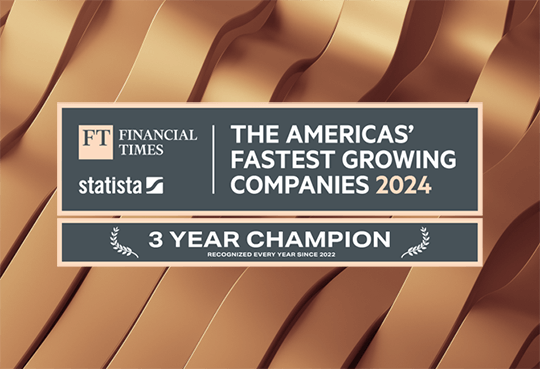 What Makes Our Cooperation so Special: In the Eyes of Customers
Heather Owen Nigl
Chief Financial Officer
ScienceSoft's team members proved to be extremely flexible and responsive. They stayed in daily contact with us, which allowed us to adjust the scope of works promptly and implement new requirements on the fly. Additionally, the team delivered demos every other week so that we could be sure that the invoicing system aligned with our business needs. The invoicing system created by ScienceSoft automates data integration from different sources and provides visibility into the invoicing process.
Mikhail Anfimau
Senior Solution Architect
The client needed complex trade promotion management software to serve as trade marketing planning system. The solution needed to be easily customizable, as the client operates in over 180 countries and needs to adjust the software to the local requirements. ScienceSoft proved to be a professional service provider from the outset. The team ramp-up was smooth. The .NET developers engaged in the project were skilled and experienced.
Luke Walther
Business Development Director
Due to our business growth, we decided to outsource the continuous development, support and maintenance of our proprietary internal systems. As our development partner, ScienceSoft coordinated knowledge transfer, discovery of our internal systems, then transitioned into supporting those systems and taking on projects to evolve their functionality. We've already improved our ability to track our complex commission structure and added a test environment to enhance our release process.
Shorouq Basnawi
Commercial Applications Sr. Analyst
We commissioned ScienceSoft to build a Dynamics 365 customer portal to help our sales team streamline communication with B2B customers. The B2B customer portal meets our business needs of enhanced pricing invoicing and contracting and overall client communication. We are fully satisfied with the solution and the assistance of ScienceSoft's team.
Efficient Enterprise Software Development: What Is It Like?
Businesses that have entrusted their enterprise app projects to ScienceSoft get:
cost reduction (compared to in-house enterprise application development)
user satisfaction score
enterprise application availability (during development)
Frequent Questions: Let's Clarify Them Together!
How can I control the development process?
At ScienceSoft, we provide our clients with anytime access to a shareable knowledge base and our project progress tracking systems (Jira, Confluence, etc.). Besides, our project manager will regularly report to you on project KPIs.
Is it possible to switch to another development company or proceed with enterprise software development in-house?
To ensure your independence from the vendor, we provide:
Thorough documentation on each development step.
High-quality code that can be easily read and modified by new developers, if needed.
Comprehensive knowledge transfer.
Should I go for custom development or choose a ready-made product?
Enterprise-scale applications often support multiple business processes, combining the functionality of different software types. It may be impossible to find a product that would successfully cover specific enterprise needs.
How can I make sure the enterprise software will be cost-efficient?
To help the clients reduce risks, ScienceSoft offers an opportunity to start our cooperation with a PoC. We can prepare a feasibility study with business outcomes bound to each project stage and provide the client with free project estimates.
How much can enterprise software cost?
Major cost factors specific for enterprise software development include:
The number and complexity of business processes covered.
The number of user roles.
The number and complexity of integrations with other custom/third-party systems.
Want Objective Cost Estimate for Your Enterprise App?
ScienceSoft's consultants, architects and certification experts can help you calculate the costs and ROI of your future enterprise app.
Technologies and Platforms We Work With
DevOps
Containerization
Automation
CI/CD tools
Monitoring
Machine learning
Programming languages
Frameworks and libraries
Cloud services
Platform engines
IoT
AWS
Azure
Architecture patterns (Front end)
Progressive web app (PWA)
Single-page application (SPA)
Micro-frontend architecture
Model-view-controller (MVC)
Model-view-viewModel (MVVM)
Architecture patterns (Back end)
Service-oriented architecture (SOA)
Microservices architecture
Cloud-native architecture
Decoupled/Headless architecture
Traditional 3-layer architecture
Event-driven architecture
Domain-driven design (DDD) pattern
Invigorating Your Business With Cutting-Edge Techs
Let us be honest, we are passionate about turning your most ambitious enterprise plans into reality with advanced techs:
ScienceSoft's Hallmark Enterprise Software Development Projects
We can plan, implement, and support your enterprise solution or provide consulting assistance throughout the software development life cycle, guaranteeing high-quality deliverables and efficient collaboration.
End-to-end enterprise application development
Full-cycle enterprise software development – from needs analysis to the implementation and adoption of the new enterprise app. We can offer support and evolution to ensure your app keeps in step with your business growth.
GO FOR DEVELOPMENT
Enterprise application development consulting

Guidance on all enterprise software development steps, from shaping app vision to nuances of application maintenance. Consultancy on project feasibility and possible cost reduction.

GO FOR CONSULTING

Best for: Large Agile enterprise application development projects with changing requirements.

Enterprise application development with well-defined and stable scope.

The project can be divided into phases estimated separately.

Mature enterprise application development projects in support mode.

Want an Enterprise App to Reinforce Your Business?

ScienceSoft leverages advanced development practices to build a large-scale tailored enterprise solution with excellent performance, multiple levels of security and ample interconnectivity. Our team can launch your project in ~ 4 weeks.

<![endif]--> <![endif]--> <![endif]-->