Large-Scale Software Development
Large-scale software development services help address possible risks and staff long-lasting enterprise projects. At ScienceSoft, we provide consulting, development and team augmentation services to build large-scale apps, including for Fortune 500 companies.
Risk of volatile project scope
Solution:
Modeling of app features and feature dependencies.
Feature prioritization for agile development and fast app deployment.
Risk of software overcomplexity
Solution:
Sustainable software architecture with well-planned dependencies between layers and modules.
High-quality and easily maintainable code due to extensive code reuse, unit testing and code reviews.
Risk of poor process coordination
Solution:
Development project split in sub-projects with dedicated PMs.
Tailored instruments for high-level project coordination.
DevOps practices to eliminate infrastructure-related issues.
Risk of lack of resources
Solution:
Team augmentation services.
Continuous hiring process and an uninterrupted project flow.
Quick scaling up and down the team on demand.
Knowledge transfer and retention.
Risk of cost and time overruns
Solution:
Accurate project scoping.
Involvement of senior developers to ensure minimal learning curve and prevent rework.
Employing proven third-party components and public APIs.
Cloud-native architectures.
Proprietary approach to testing for optimized QA efforts.
Risk of a lagging app
Solution:
Optimal app architecture.
Integrated application performance monitoring.
Continuous performance testing as a part of CI/CD.
Risk of problematic security and compliance
Solution:
Component-level software security.
Integration of security practices throughout the development lifecycle (DevSecOps).
Regular security and compliance testing.
Enterprise resource and process management software
Challenge: multi-task multi-users systems
ScienceSoft helps investigate the use context of software and plan its functionality and architecture
Software we build:
ERP
Finance, accounting, invoicing, billing, and budgeting
Supply chain management
Sales, marketing, and customer service
Procurement and vendor management
Inventory and asset management
Project management
Product lifecycle management
HR and talent management
Challenge: process-specific software
ScienceSoft provides custom software development services and experts specializing in different industries
Software we build:
Smart factory management
Equipment monitoring, maintenance, and OEE management
Quality management
Field service
Industrial analytics
Smart connected solutions
Challenge: processing large volumes of heterogeneous data
ScienceSoft applies advanced tools and techniques for data analytics: machine vision, machine learning, data science
Software we build:
Remote monitoring
Connected cars
Smart transportation
Smart home
Video surveillance
Incident and situation management
Challenge: complexity of calculations, the need for excellent operational accuracy
ScienceSoft delivers software with complex financial logic that smoothly handles even highly specific operations and ensures 100% accuracy of financial calculations.
Software we build:
Challenge: strict regulations, sensitive and high-value data
ScienceSoft provides in-house compliance experts and helps set up rigorous security controls
Software we build:
Government portals
Document management
Financial management
Security information and event management
Partnerships and recognitions
Key company numbers
Since 1989 in software development.
Over 3,600 successfully fulfilled projects.
1,200+ clients, including Fortune 500 companies.
750+ full-time IT professionals on board.
Headquarters in the US and operating offices in Europe and the UAE.
62% of our revenue from the customers we serve for more than 2 years.
Software architectural patterns
Microservices architecture
Cloud-native architecture
Tiered architecture
Reactive architecture

Vesa Suontama
CTO
Supponor
ScienceSoft's C++ developers have been assisting Supponor in the ongoing development of the software for the past 11 years. ScienceSoft's experience in cross-platform, real-time systems, and computer graphics helps to ensure consistently high performance and wide compatibility of Supponor's products. We know we can rely on ScienceSoft's experts and trust their excellent understanding of what our clients demand from Supponor software.
Mikhail Anfimau
Senior Solution Architect
Leo Burnett
The challenge [of the projects] was not only to provide quality development services but to collaborate with two international teams engaged in the project implementation. ScienceSoft accomplished this task in a highly productive and efficient way.
Luke Walther
Business Development Director
Give Back Wireless
Due to our business growth, we decided to outsource the continuous development, support and maintenance of our proprietary internal systems. We engaged ScienceSoft as our development partner. ScienceSoft coordinated knowledge transfer, discovery of our internal systems, then transitioned into supporting those systems and taking on projects to evolve their functionality.
The Financial Times Includes ScienceSoft USA Corporation in the List of the Americas' Fastest-Growing Companies 2023
For the second year in a row, ScienceSoft USA Corporation ranks among 500 American companies with the highest revenue growth. This achievement is the result of our unfailing commitment to provide high-quality IT services and create best-value solutions that meet and even exceed our clients' expectations.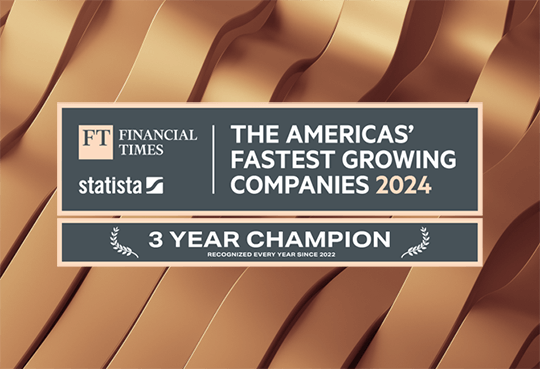 All about Software Development
<![endif]--> <![endif]--> <![endif]-->