Application Support and Maintenance Services
Enjoy Your App Running and Evolving Smoothly
With well-established ITIL 4 processes, ScienceSoft provides app support and maintenance services to businesses from 31 industries, guaranteeing >97% app user satisfaction rate.
Our Service Promise in Numbers
Application support and maintenance services are aimed to ensure that your apps are highly available, reliable and keep up with your ever-evolving business needs.
ScienceSoft provides app support and maintenance services since 2007. We help our customers from 30+ industries free up their IT staff and fully focus on the creative side of the business to achieve sustainable growth.
application user satisfaction rate

for response on 90% of calls

for a hot-fix deployment

for a minor app upgrade
See How We Address Support and Maintenance Challenges
High costs of maintenance and support services?
Our smart issue escalation matrix, cloud resource optimization, and proactive issue resolution help achieve 1.5-2x cost reduction.
Fix it with ScienceSoft
Rare updates and slow backlog implementation?
We roll out updates every 2-4 weeks and ensure their 40% smoother and faster deployment thanks to the CI/CD pipeline.
Fix it with ScienceSoft
Lack of progress visibility and transparency?
ScienceSoft relies on mature KPI metrics, shares access to logging tools, and sends elaborate reports for full service clarity.
Fix it with ScienceSoft
| | |
| --- | --- |
| | 34 years in IT, 16 years in help desk, 15 years in ITSM. |
| | Established ITIL 4 processes. |
| | Certified personnel: Microsoft Certified Professionals, AWS Certified SysOps, Red Hat Certified Cybersecurity, experts with ITSM-related certificates, etc. |
| | 62% of revenue is from long-term partners (2+ years of cooperation). |
| | Experience with complex, large-scale apps. |
| | |
| | |
Apps We Support and Maintain
Web apps
Cloud apps & SaaS
Database apps
Mobile apps
AR/VR apps
Desktop apps
Our Customers Say
Peter Hermann
CEO
ZEITundZUTRITT GmbH
For the past 6 years, ScienceSoft has been a reliable partner in supporting and maintaining our HR software product. They have fixed hundreds of bugs in the product's performance since the start of our cooperation back in 2016 and keep modernizing HR on our demand, introducing new features and tweaking existing functionality to let us better cater to our growing client base.

Alex Gudkov
Chief Information Officer
TruConnect
I would happily recommend ScienceSoft to anyone looking for a transparent, reliable IT support vendor. They helped us deliver several PHP-based projects, mobile applications, refactored and improved the performance of our .NET code, provided L3 support for our web services. They're very effective and consistently meet all the required KPIs: we were guaranteed hotfix rollouts in under 24 hours, and they delivered on the promise.

Gordon Seipold
CEO
3steps2web
ScienceSoft has been providing an excellent level of service maintaining the application's AWS infrastructure. During our cooperation, ScienceSoft's team has built a fault-tolerant and highly available application infrastructure with automatic crash recovery capabilities, which makes our web application stable and high-performing. We would certainly recommend ScienceSoft as a reliable service provider.
Luke Walther
Business Development Director
Give Back Wireless
Due to our business growth, we decided to outsource the continuous development, support and maintenance of our proprietary internal systems. ScienceSoft coordinated knowledge transfer, discovery of our internal systems, then transitioned into supporting those systems and taking on projects to evolve their functionality. We recommend them as a trustworthy partner with skilled technical specialists on board.

Jarod Joyce
Creative Director
Dot It Restaurant Fulfillment
ScienceSoft has been vital to our company's growth in ecommerce over the last 3 years. We rely on the team for a variety of Magento support tasks, and they always deal with our problems fast. They are a very versatile company in terms of the number of services they provide. With their help, we've successfully upgraded our platform, improved our front-end UI, and developed a more efficient internal workflow to support our customers.
Colin Short
IT Director
AL Tamimi & Company
After the intranet migration was finished, we engaged ScienceSoft to provide maintenance and break-fix support for 10 months with monthly system health checks. We'd like to point out that ScienceSoft remained highly responsive during the support cooperation (2 hours to respond, max 4 hours to address a downtime issue).
View all customer reviews
The Financial Times Includes ScienceSoft USA Corporation in the List of the Americas' Fastest-Growing Companies 2023
For the second year in a row, ScienceSoft USA Corporation ranks among 500 American companies with the highest revenue growth. This achievement is the result of our unfailing commitment to provide high-quality IT services and create best-value solutions that meet and even exceed our clients' expectations.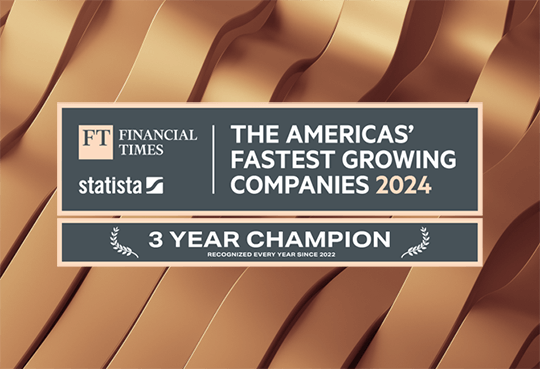 Maintenance vs. Support: Feel the Difference
Both application support and application maintenance play a crucial role in ensuring smooth long-term performance of a software app. While often used interchangeably, these terms refer to distinct activities having different goals and encompassing different task scopes.
Application maintenance is focused on the regular activities required to keep the app stable, smoothly operating, and aligned with the evolving business needs. Bug fixing, security and compliance monitoring, app scaling and upgrading with new features are some examples of maintenance flows.
Application support primarily serves to assist end users in smooth app utilization and solving any arising issues. It covers troubleshooting, incident management, user education, and UX improvement and aims to enhance app user satisfaction.
The Scope of Our Services
Application support services
Application maintenance services
Web application maintenance services cover a range of specific activities like maintaining cross-browser compatibility and responsive design. Make sure your team is aware of the specific considerations to ensure smooth web app performance across different web browsers, devices, and screen sizes.
Additional services for maintenance facilitation
CI/CD and DevOps implementation
Applying the Infrastructure as a Code (IaaC) approach.
Setting up and maintaining CI/CD pipelines.
Ensuring test and update deployment automation.
Migration strategy and plan tailored to your application needs.
Cloud-specific knowledge transfer after application migration.
Cloud resource management
Examination of the cloud environment and identification of deficiencies.
Resource consumption optimization to reduce cloud costs.
On-demand cloud resource management.
Continuous analysis of the entire IT infrastructure.
Management of servers, network, cloud and on-premises data centers, and cloud services.
24/7 monitoring to avoid downtime.
How We Set Up Cooperation
1. Analysis of your request (< 2 days)
We examine your business needs, app requirements, architecture, tech stack, functionality, and backlog of defects & change requests to define the scope of app support and maintenance services.
2. Application maintenance and support services planning, SLA preparation (~5 days)
We discuss the details of the needed services and formalize them in a service level agreement (SLA). Depending on the scope of app support and maintenance services rendered, the SLA may outline:
App support terms: support hours e.g., 8/5, 12/5, 24/5, 24/7, required levels of support (L0-L3), size of a support team, communication channels, software used, KPIs, etc.
App maintenance terms: app evolution roadmap, existing feature backlog, app performance requirements and expectations, planned security activities, KPIs, schedule, etc.
3. Responsibility transfer (~4 days)
Based on the SLA and its objectives, we work together with you and your team (or, possibly, with your previous vendor) to prepare standard operating procedures (SOPs) and instructions to stipulate all support and maintenance activities.
4. Support and maintenance launch (1 day) and continuous reporting
Our team gets down to providing the services outlined in the SLA. As part of our service, we provide clear and detailed reports, including:
Reports on team productivity and service quality KPIs (service level reports, support team performance).
Incident reports with root cause analysis.
Security audit reports, test execution and testing summary reports
Workload reports (actual versus planned).
Existing app problems or potential risks.
Revised risk management strategy, acceptability of the risks.
5. Scaling the service up or down (2-4 days)
At your request, we quickly scale our support and maintenance teams to better fit your needs. No complex or lengthy processes required - we just sign a short addendum to the main SLA.
KPIs for Result-Oriented Cooperation
ScienceSoft builds all its support and maintenance services around the KPIs defined in the SLA. Upon defining custom sets of goals to track the quality of our maintenance and support services, we analyze information needs of each stakeholder and discuss the best means and frequency to communicate information. We track the KPIs' fulfillment internally and send detailed reports at a schedule convenient for you.
What our KPI system typically includes
Note: We welcome KPI suggestions and tailor the metrics to each project individually.
Continuous Improvement of Service Delivery
To make sure that our clients derive maximum value from our services, we perform quarterly roadmap reviews (stated business needs vs. current business needs; value we bring vs. the highest possible value). We also regularly analyze our experts' performance as well as your direct feedback to further cater our services to your individual business needs.
Technologies We Work With
Learn Your App Support and Maintenance Costs
Please answer a few simple questions about your needs. This will help our team calculate the cost for your unique case much quicker.
ScienceSoft's experts will study your case and get back to you with the details within 24 hours.
<![endif]-->