Vendor Portal Development
A vendor portal is a web platform owned by a buyer that aggregates functionality for vendor management and bidding. Since 2005, ScienceSoft provides vendor portal development services from portal consulting to development and integration with your or your vendors' software and third-party apps.
B2B vendor portal for manufactures
Allows more efficient and accelerated supply chain management.
B2B vendor portal for non-manufactures
E.g., banks, education institutions, government institutions.
Leads to increased healthy competition among the company's vendors, objective assessment of a current market offer and smarter procurement decisions.
B2B vendor portal for GPO
Provides a great opportunity for small and mid-sized companies to enjoy the reduced prices and other benefits of group purchasing.
How Do You Know You Need a Vendor Portal
The benefits you can expect from your new solution:
Better purchasing conditions
You enjoy better prices, smarter delivery and lower risks with comprehensive information of your broader supplier base.
Local small and medium-sized companies become visible and easier to reach.
A B2B portal eliminates slow paperwork and email-based collaboration, bringing all the communication in one place and allowing to reduce inventory costs.
B2B portal becomes your new open working environment, that allows newfound process transparency and strengthened connection with your vendors to leverage their valuable experience in the company's R&D process.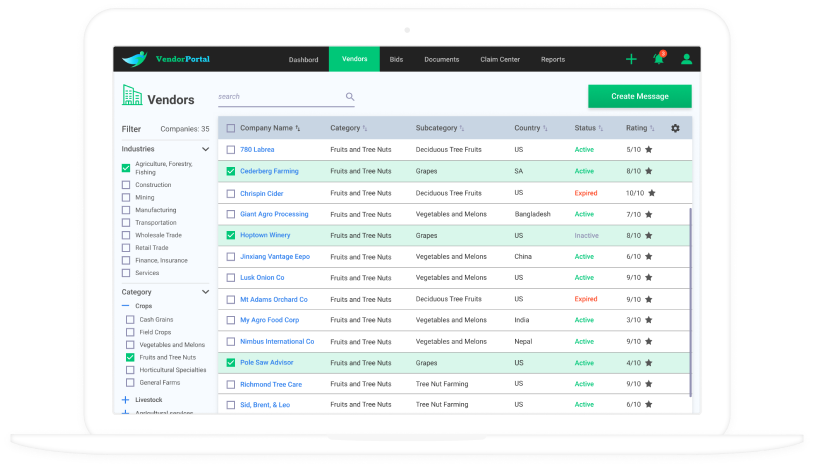 B2B Vendor Portal Demo
See a buy-side portal in action browsing our sample portal for an F&B manufacturing company.
Key Functionality ScienceSoft Delivers
Consolidated vendor database
Get quick insights with all vendor information and interaction history brought in one place and wisely structured.
Easily navigate through huge bodies of data on your suppliers and their products/services.
Track the status of your invoice/order, define repeated/group/scheduled orders.
Track the market trends and find the best opportunities in a few clicks.
Make more considered decisions evaluating earlier performance of your vendors.
The Financial Times Includes ScienceSoft USA Corporation in the List of the Americas' Fastest-Growing Companies 2023
For the second year in a row, ScienceSoft USA Corporation ranks among 500 American companies with the highest revenue growth. This achievement is the result of our unfailing commitment to provide high-quality IT services and create best-value solutions that meet and even exceed our clients' expectations.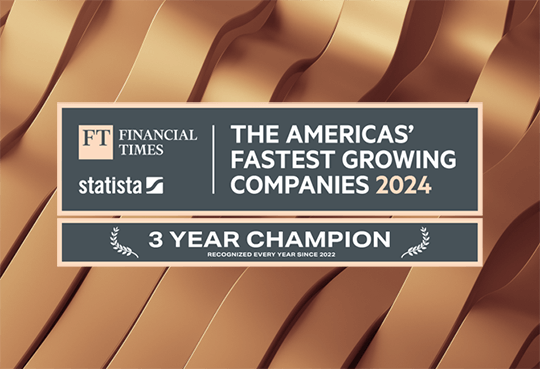 Cooperation Models We Offer
Vendor portal development from scratch
We cover end-to-end development of supplier portals:
Elicit vendor portal requirements.
Write a requirements specification.
Create UX/UI design.
Develop and test your new vendor portal software.
Integrate with your or your vendors' software and third-party tools.
Conduct IT staff and end-user training.
Platform-based vendor portal development
Our platform-based vendor portal development service includes:
Platform choice (Dynamics 365, Salesforce, SharePoint).
Platform-based vendor portal planning and design.
Platform-based vendor portal development and customization.
Platform-based vendor portal integration with custom/third-party tools.
Vendor portal migration between platforms or to the latest platform version.
Vendor portal development based on ready specifications
Our web developers build supplier portal software rigidly following the provided specifications about intended functionality.
Legacy vendor portal modernization
We enhance the performance of your existing solution, ensure its smooth integration with elements and safe data migration.
After the portal is launched, our team will continue maintaining and supporting the B2B portal software to ensure its high relevance in the future.
Troublesome ERP integration
The integration of the portal with ERP system is often long, complicated and painful process. But if you want to get truly automated business processes, reduce a great volume of routine manual actions and track relevant info on the business needs, a deep ERP integration is essential for your B2B Vendor portal, thus we ensure seamless integration with this internal system for you to get the most of the new solution.
Big and slow solution
As vendors differ in size, offering and collaboration model, to avoid unnecessary complexity, we keep what suits exactly for your business. Moreover, we can introduce various vendor account options, e.g. you can provide limited functionality for your minor vendors or integrate with the internal systems of your key suppliers.
Buyer-vendor communication failure
As any communication gap may cause massive loses (imagine a delivery delay notification being lost), we ensure that you're kept up-to-date and nothing is left unnoticed with automated alerts, notification and live charts.

<![endif]-->