IT Solutions for Oil and Gas Companies
Since 2010, ScienceSoft offers IT solutions for the oil and gas industry by employing cloud, IIoT, big data, advanced analysis, virtual and augmented reality. We will gladly provide you with a tailored IT solution for improved petroleum exploration and production processes and data-driven decision-making.
IT Solutions for Oil and Gas We Offer
IT solutions for oil and gas help the industry embrace digital transformation for improved drilling quality and efficiency, optimized reservoir management, enhanced oil recovery, reduced operational costs, and more.
Business management
Advanced operational analytics
Data ingestion and storage (including reservoir and well data).
Operational alerts, performance predictions, operational risk estimation.
Operational cost analytics.
Capital project execution analytics.
Exploration progress analytics.
Supplier analytics.
Supply chain status analytics.
Drilling analytics.
Equipment performance and failure analytics.
Workforce analytics.
Health, Safety and Environment (HSE) analytics.
Procurement/Supplier management
Supplier assessment and management.
Supplier risk management.
Supplier portals.
Inventory management.
Purchase order automation.
Integration with project management and maintenance processes.
Capital project management
Project document and digital asset management.
4D/5D building information modeling (BIM), VR.
Planning and scheduling.
Quality assurance.
Project cost management.
Project risk management.
Project progress control and reporting.
Project execution analytics with predictions (equipment failures/downhole problems).
Integration with procurement and knowledge management processes.
Integrated oil and gas resources database with advanced visualization
Geological information ingestion and storage.
Seismic data ingestion and storage.
Data access with strong security.
Seismic attribute calculation.
Data interpretation (manual and automated).
Advanced data visualization, including VR.
Reservoir modeling, monitoring and management
Enhanced reservoir monitoring.
Fracture and fault detection in reservoirs.
Reservoir modeling and simulation.
Real-time remote monitoring of changes in big reservoirs.
Advanced visualization, including VR.
Data access with strong security.
Remote operations center (ROC)
Remote monitoring of drilling and well operations.
Automated alarming (e.g., in case of high fault probability).
Advanced data visualization, including VR.
Drilling optimization via evaluation of multiple decision-making scenarios and selecting the best one.
Equipment maintenance management and field service
Long-term maintenance planning (with resource leveling and optimization).
Short-term work order planning.
Worker-amplified intelligence (AR-based visual clues and indicators, process steps, repair instructions for field service, etc.).
Equipment and sensor data ingestion and storage (cloud big data storage).
Machine-learning-based predictive failure modeling in real-time.
Drill bit defect recognition based on image analysis.
VR-based immersive training
Operational training (introductory training, training on new equipment/sites, etc.).
Emergency training.
Safety training.
Knowledge resources extraction and storage (daily drilling reports, regular project reports, incident reports, etc.).
Knowledge source screening and annotation (manually and using AI).
Semantic search across the knowledge base.
Why ScienceSoft
13 years of experience in IT for oil and gas.
34 years in data analytics and data science.
Big data services since 2013.
IoT expertise since 2011.
3D modeling since 1996.
Experience with major public cloud platforms, including Amazon Web Services, Microsoft Azure, and Google Cloud Platform.
Quality-first approach based on a mature ISO 9001-certified quality management system.
Robust data security management supported by an ISO 27001 certificate.
Benefits of Building Your IT Solution for Oil and Gas with ScienceSoft
Solid experience in advanced technologies
Being experts in cloud, IIoT, big data, advanced analytics, VR, and AR, we choose the best-fit advanced technologies for your IT solution to address your specific needs (predictive equipment maintenance, remote asset monitoring, drilling costs reduction, etc.).
Joint work with industry experts
We cooperate with your scientists and engineers to create efficient, innovative solutions well-integrated into your business practices and processes.
The Financial Times Includes ScienceSoft USA Corporation in the List of the Americas' Fastest-Growing Companies 2023
For the second year in a row, ScienceSoft USA Corporation ranks among 500 American companies with the highest revenue growth. This achievement is the result of our unfailing commitment to provide high-quality IT services and create best-value solutions that meet and even exceed our clients' expectations.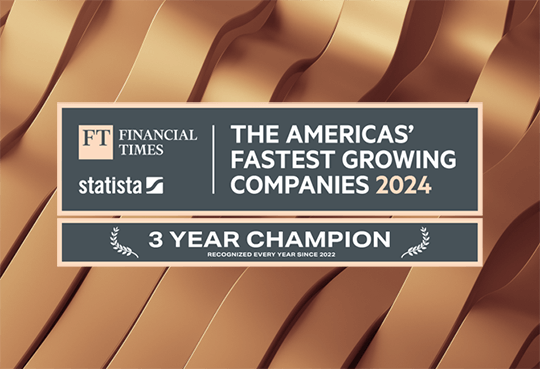 Choose Your Service Option
Our Project Portfolio in Oil and Gas
Benefit from Digitizing Your Oil and Gas Operations
Digital transformation in the oil and gas sector may bring such significant benefits* as:
drilling speed due to using advanced analytics for suggesting optimal drilling parameters.

productive drilling time due to enabling remote and automatic drilling.

upstream revenue increase due to using 4D seismic imaging for measuring and predicting fluid changes in reservoirs.

equipment maintenance costs due to predictive maintenance.

field operations cost thanks to using augmented visual technologies, e.g., 'connected worker' solutions.

asset inspection costs due to gathering and analyzing data from fixed cameras, drones, etc.
<![endif]--> <![endif]--> <![endif]-->