<![endif]-->
<![endif]-->
Web Application Development Services
Our dedicated web application development team of 700+ experts brings in over 21 years of domain experience. More than 800 web applications delivered by ScienceSoft power businesses across various industries: healthcare, banking, retail, manufacturing, and telecommunications.
Want‌ ‌to‌ ‌improve‌ ‌internal/external business ‌operations with a powerful and reliable custom web software solution?
Want ‌to‌ ‌launch a quality and high-performing ‌web‌ ‌application‌ ‌‌to‌ ‌market‌ ‌and‌ ‌distribute it to enterprises/consumer users?
We are convinced that a professionally developed single-page web app can offer impressive and secure web experience. By designing and developing interactive SPAs, we ensure responsiveness and cross-browser compatibility, as well as live up to users' high expectations in agility and performance.
According to Gartner, PWAs will replace more than 50% of existing mobile apps by the end of 2020. We develop mobile-enabled progressive web apps in line with Google's definition of 'progressiveness', making them fast even on 2G networks, offline-available, and easily installable on a user's home screen.
Our selected web projects
Web Applications We Create
Enterprise systems
We create order-, asset-, and process management systems, as well as other web-based enterprise apps that become an intrinsic part of your business workflow. Thanks to the intuitive UI and stable operation of our enterprise web apps, your staff will find more comfort in completing their daily activities, while you will enjoy their boosted performance.
Web portals
ScienceSoft develops company- and customer-focused, partner/vendor, learning, healthcare and other types of web portals that unify all the necessary functionality in a convenient and easy-to-use way. We make sure that all the multiple features work great independently, are smoothly coordinated and do not overwhelm their users as a whole.
Ecommerce
To improve the online presence of your business, we create e-shops and B2B ecommerce portals, implement cashback services, develop booking and payment systems.
Industry-specific business solutions
Our rich industry knowledge allows us to deliver solutions that solve business challenges in healthcare, banking, retail, and manufacturing. Working closely with the customers, ScienceSoft's BAs define their needs and devise effective automation tool concepts. Our designers and developers are the ones who implement these concepts and integrate them with existing systems.
Choose your service option
We help you envisage a web app that addresses your unique needs and translate your vision into detailed requirements. We also assess the project feasibility, provide cost & time estimates, consider suitable architecture, design and hosting options for seamless software operation and evolution.
We help you seamlessly implement a new web application. With a wide pool of skilled IT professionals, we're ready to satisfy the most sophisticated demands of your project at every stage of SDLC – from needs analysis to support and evolution.
Legacy Software Modernization
We help you improve your existing custom software with the newest web technologies, web design and development practices. We can re-code or re-architect your legacy software, migrate it to the cloud, add new functionality, and more.
Why ScienceSoft?
Ample experience: 31 years in IT, 15 years in web application development;
Business insight: ~30 BA professionals with extensive knowledge of your industry;
Mature processes: Complex architecture planning, high quality coding, and thorough testing;
User-friendly UI: Eye-catching and intuitive designs that ensure high user satisfaction;
Smooth integration: Web solution integration with ERP, CRM, PLM and other business systems;
Profound cooperation: Reliable long-term partnership, continuous maintenance and 24/7 customer support.
What Our Customers Say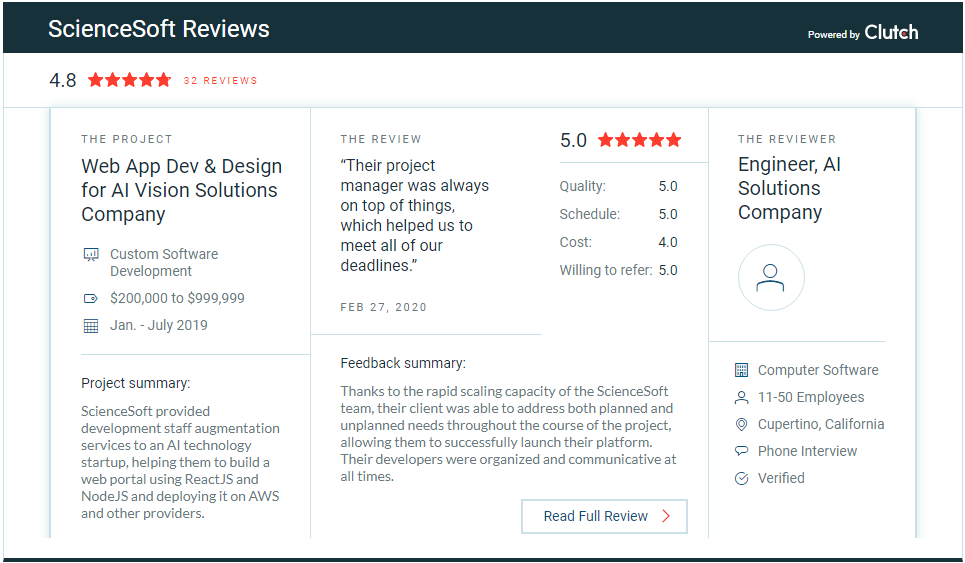 TECHNOLOGIES we use
The way we distribute business logic between a front- and backend is individual for every web app. This flexible approach demands skillful and thorough architecture planning, which eventually helps us achieve the necessary balance in interactivity and stability.
Back end
Click on the technology to learn about our capabilities in it.
Platforms
For convenient further administration, we offer deployment and customization of a suitable content management system.
Database development
Whether you already have a database and simply need integration, or cannot decide on your app's initial database, our specialists are ready to help. ScienceSoft works with all the most widely known SQL and NoSQL databases.
DIVE DEEPER INTO OUR WEB DEVELOPMENT PORTFOLIO

<![endif]--> <![endif]--> <![endif]-->