Cloud Migration Services
Cloud migration services are aimed at moving companies' applications and databases to the cloud environment to achieve greater flexibility and cost-effectiveness. ScienceSoft's cloud migration services span from migration planning and design up to the support of the migrated solution until full migration success.
Rely on 10-Year Cloud Migration Expertise
ScienceSoft's team is ready to cover end-to-end migration of your application(s) or DWH to the cloud for reduced cloud infrastructure costs and higher software performance.
Migration strategy and plan tailored to your business needs.
Application(s) and data warehouse architectures adapted to the cloud.
CI/CD pipeline design for quick development.
Modernized application(s) or DWH.
Integration of cloud and on-premises environments to form a hybrid cloud infrastructure, if required.
CI/CD implementation.
Test strategy, test plan, test cases. Automated tests.
Data migration scripts, data migrated.
Setup of monitoring tools to measure cloud app/DWH performance, load, etc.
Cloud operating cost optimization strategy.
*Subsequent apps are moved faster due to the experience gained, e.g., with established migration processes dozens of applications can be moved to the cloud in a 6-month period or hundreds in a year.
Why Choose ScienceSoft
33 years in IT.
Microsoft Gold Partner with 9 Gold Competencies.
AWS Select Tier Services Partner with access to additional AWS discounts and advisory assistance directly from Amazon.
10-year experience in cloud consulting and migration services.
9-year experience in DevOps practices.
10+ years in infrastructure services, including 9-year experience with AWS infrastructures and 10-year experience with Azure infrastructures.
Multi-industry experience – healthcare, retail, manufacturing, financial services, marketing and advertising, etc.
Mature quality management system confirmed by the ISO 9001 certification allowing to implement projects fully meeting customers' quality, time, and budget expectations.
Guaranteed security of the customers' data we access proved by ISO 27001 certificate.
Reduced migration time and costs
Selecting a cost-optimal cloud platform for migration.
CI/CD implementation for faster development in the cloud.
The use of cloud services to reduce development efforts.
Optimized monthly cloud cost
Auto-scalable architectures and fitting cloud services to reduce cloud consumption.
High cloud performance
Auto-scaling routines, performance testing.
Reliability
Maximum isolation of app microservices infrastructure components to retain the overall operability if a failure occurs.
Application performance management to detect and terminate problems early.
Enhanced security
Access management and component-level security and encryption of stored and transferred data.
The Financial Times Includes ScienceSoft USA Corporation in the List of Americas' Fastest-Growing Companies 2022
ScienceSoft is one of 500 companies with the highest compound annual growth rate in revenue. This achievement is a result of our unfailing commitment to provide high-quality IT services and find best-value solutions to clients' needs.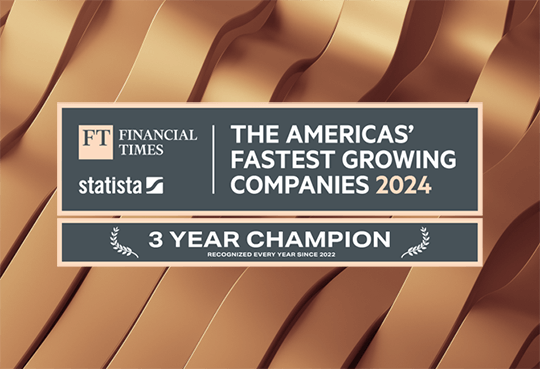 Common Questions about Migration Services Answered
How can I be sure that my migration investments will pay off?

As a rule, we start with cloud migration consulting and assess the feasibility of your migration project based on the anticipated TCO, ROI, development time and cost.

How can a migration service vendor understand our app well enough to re-implement it in the cloud?

We can restructure your app without affecting its business logic:

Splitting an app into microservices corresponding to the app modules.
Stateless implementation of an app, if possible.
Use of cloud PaaS services for data storage instead of DBMS software.

Can cloud migration result in application misbehavior?

We provide automated testing to check app business logic, thus, we can continuously monitor how introduced changes influence it at no additional cost.

How can I control the migration project's progress?

We ensure cooperation transparency to give you full visibility into the project progress. Thus, we work in adherence with SLA that outlines expected timelines, responsibilities, deliverables and KPIs to measure the quality of these deliverables, the team's speed and responsiveness, and provide regular reports on the completed work.
Our Hallmark Cloud Migration Projects
Application migration
(single or multiple apps)
We plan, design and implement your app(s) in the cloud, leveraging cloud services and efficient CI/CD pipelines to deliver high-performing and cost-effective apps. We carry out both single- and multi-app migrations of any complexity.
GO FOR APP MIGRATION
We plan, design and migrate your DWH using cloud services and serverless ETL models to reduce cloud consumption costs and increase DWH performance.
GO FOR DWH MIGRATION
Migration Pains ScienceSoft Cures
High cloud consumption costs
Autoscaled resource consumption without performance trade-offs. Optimal use of cloud services.
Push to see it cured
Inefficient development in the cloud
Mature CI/CD pipelines for fast app delivery. Integration of cloud services over writing own code.
Push to see it cured
Poor performance of cloud apps
Automated resource orchestration to withstand load surges.
Push to see it cured
Frequent failures of cloud apps
App performance management and automated testing to handle problems at the early stages.
Push to see it cured
Non-secure cloud environment
Well-tuned access management and component-level security. Automated backups and encryption for data safety.
Push to see it cured
Expensive migration beyond the due terms
Pragmatic migration to a cost-optimal cloud platform adherent to your needs while leveraging cloud services (e.g., managed PaaS environments) to reduce development efforts and cloud costs.
Push to see it cured
Opt for Cloud Migration Services NOW
app performance

IT infrastructure costs

IT infrastructure team's productivity

Migrate to the Cloud Smoothly

ScienceSoft's team carries out cloud migration with minimum disruption and reduced risks and ensures you get sustainable business outcomes by leveraging cloud environments.

<![endif]--> <![endif]--> <![endif]-->