Cloud Migration Services
Cloud migration services help companies move their applications and databases to the cloud. Since 2012, ScienceSoft's cloud experts plan and carry out risk-free, cost-effective cloud migration projects that help boost app performance and significantly reduce IT infrastructure costs.
34 years in IT, 11 years in cloud database and application migration services.
10-year experience in DevOps practices.
31 industries covered: healthcare, financial services, retail, manufacturing, marketing and advertising, telecoms, and more.
ISO 9001-certified quality management system based on mature practices and policies, result-oriented people and transparent collaboration with clients.
Security of the customers' data we access guaranteed by ISO 27001-based information security management system.
62% of our revenue is coming from partnerships that last for more than 2 years.
Trusted by global brands:
Clouds We Work With
AWS
Microsoft Azure
Google Cloud Platform
DigitalOcean
The Scope of Our Services
Migration strategy and plan tailored to your business needs.
Application(s) and data warehouse architectures adapted to the cloud.
CI/CD pipeline design for quick development.
Modernized application(s) or DWH.
Integration of cloud and on-premises environments to form a hybrid cloud infrastructure, if required.
CI/CD implementation.
Test strategy, test plan, test cases. Automated tests.
Data migration scripts, data migrated.
Setup of monitoring tools to measure cloud app/DWH performance, load, etc.
Cloud operating cost optimization strategy.
Choose Your Cloud Migration Option
Benefits of Cloud Migration with ScienceSoft
Optimized cloud costs
According to Flexera's 2021 State of the Cloud Report, on average, 35% of an enterprise cloud bill is wasted. Often, overspending reaches 70% and more! At ScienceSoft, we're for reasonable IT investments only. We apply different tactics to help you get the most each dollar spent on cloud services.
See the tactics we use
Tactics we use:
Choosing the right migration option (rehost, replatform, re-architect).
Using the right cloud services.
Continuously rightsizing the cloud resources.
Pausing/terminating the unused ones.
Using Reserved and Spot Instances.
Choosing the right storage, and more.
State-of-the-art reliability and low latency
Actively working with business-critical systems, we know how important it is to ensure the maximum availability and performance of your apps in any circumstances and spotless work of your time-sensitive apps.
See the tactic we use
Tactics we use:
Eliminating a single point of failure.
Distributing workloads across different availability zones.
Introducing automated moving of an infrastructure(s) to a different location.
Setting up a load balancer.
Setting up automated IT infrastructure scaling.
Setting up IT infrastructure performance monitoring and management.
Planning data backup and recovery.
Isolating app microservices/infrastructure components to retain the overall operability if a failure occurs.
Superior security
According to the 2022 Cloud Security Report, the top cloud security threats are unauthorized cloud access (42%), insecure interfaces (42%), misconfiguration of the cloud platform (40%), and account hijacking (39%). Since 2003, ScienceSoft's security experts help businesses monitor, prevent, detect, and manage security incidents.
See the tactic we use
Tactics we use:
Establishing identity and access management.
Choosing and configuring cloud security services.
Encrypting data in transit and at rest, and more.
Applying the latest patches and updates if they are missing.
Establishing network security.
The Financial Times Includes ScienceSoft USA Corporation in the List of the Americas' Fastest-Growing Companies 2023
For the second year in a row, ScienceSoft USA Corporation ranks among 500 American companies with the highest revenue growth. This achievement is the result of our unfailing commitment to provide high-quality IT services and create best-value solutions that meet and even exceed our clients' expectations.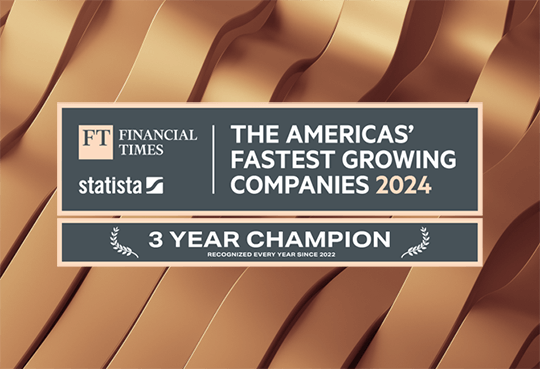 The Key Stages of Our Cloud Migration Projects
1
Project discovery
Application/DWH audit.
Security and compliance assessment.
Dependencies mapping.
Requirements gathering.
Preparing cloud migration project plan.
2
Data migration
For complex and data-intensive migrations, our team works out a strategy and chooses optimal data migration tools. In addition, we:
Create scripts to perform data extracting, cleaning, and loading to the target environment.
Build a tool or create a script to automate data migration (automation is optional and depends on the data availability requirements).
Perform and validate trial data migration.
Execute massive data migration and test the results.
3
Updating application/DWH architecture and code, if required
4
Mock or pilot migration (optionally)
To reduce the potential risks, we can start the migration with:
Moving your application or DWH to a beta environment before migrating to the production instances in order to test and fine-tune their functionality and cloud services configuration (mock migration).
Migrating a small sample to the production environment to identify the impact on the to-be-migrated application, the applications it is integrated with and other existing infrastructure component (pilot migration).
5
Phased migration of all chosen workloads
7
Maintenance and continuous support (optional)
Get more details about ScienceSoft's approach to:
Rehost vs. Replatform vs. Re-archictect: What's the Difference
Selected Cloud Migration Projects by ScienceSoft
How Long Does Cloud Migration Take?
| | |
| --- | --- |
| | |
| | There are multiple factors that influence the migration timeline, e.g., the chosen cloud migration method, the complexity or workloads and data volume to migrate, the scope of the target infrastructure, the required code and configuration changes. Based on ScienceSoft's experience, a typical migration of a simple app takes ~2–2.5 months, medium and complex apps – 6+ months, a DWH – ~2–8 months. |
| | |
How Much Does Cloud Migration Cost?
For a medium/large application.
For a large app with deep modernization (e.g., re-architecting into microservices).
For the migration to a cloud DWH like Azure Synapse or Amazon Redshift (for a company with 500–1,000 employees).
For the migration to a cloud DWH like Azure Synapse or Amazon Redshift (for a company with 1,000+ employees).
Delaying Cloud Migration due to Uncertainty?
ScienceSoft's cloud consultants and architects can accurately calculate your migration project timelines and costs.
Get a cost estimate
Common Questions about Migration Services Answered
How can I be sure that my migration investments will pay off?
As a rule, we start with cloud migration consulting to assess the feasibility of your migration project and calculate the TCO and ROI of the solution-to-be.
How do you choose the best cloud option for a specific migration project?
Each cloud provider offers different IaaS, PaaS, and SaaS services. It's our job as a vendor-neutral cloud migration company to be proficient in the cloud offerings and help you find the best match for your needs. Our recommendation will be a result of a thorough analysis of your budget constraints and requirements for the cloud infrastructure, compliance, security, performance, availability, and many other factors.
Should a legacy data warehouse continue working simultaneously while the data is being migrated?
When it comes to large and complex data migrations, we tend to have both cloud and on-premises data warehouses running simultaneously during the migration and a short period after. This makes us always ready to roll back in case we face issues that cannot be solved immediately, thus avoiding business disruptions.
Can cloud migration result in application misbehavior?
We provide automated testing to check app business logic, so we can continuously monitor how introduced changes influence it at no additional cost.
How can I control the migration project's progress?
We ensure cooperation transparency to give you full visibility into the project progress. We work in adherence with an SLA that outlines the expected timelines, responsibilities, deliverables, and KPIs. You also receive regular reports on the completed tasks.
Migration Pains ScienceSoft Cures
High cloud consumption costs
Autoscaled resource consumption without performance trade-offs. Optimal use of cloud services.
Click to see
Inefficient development in the cloud
Mature CI/CD pipelines for fast app delivery. Integration of cloud services over writing own code.
Click to see
Poor performance of cloud apps
Automated resource orchestration to withstand load surges.
Click to see
Frequent failures of cloud apps
App performance management and automated testing to handle problems at the early stages.
Click to see
Non-secure cloud environment
Well-tuned access management and component-level security. Automated backups and encryption for data safety.
Click to see
Expensive migration beyond the due terms
Pragmatic migration to a cost-optimal cloud platform adherent to your needs while leveraging cloud services (e.g., managed PaaS environments) to reduce development efforts and cloud costs.
Click to see
Get the Most Out of Cloud
app performance

IT infrastructure costs

IT infrastructure team's productivity
<![endif]-->