Custom ERP Software Development Services
In enterprise software development since 1989, ScienceSoft offers end-to-end ERP development and support to help companies boost the efficiency of their unique business workflows, minimize operational risks, and optimize costs.
Custom ERP is designed to provide tailor-made functionality to address an enterprise's unique operational and strategic needs. ScienceSoft's custom ERP software development is aimed to build a scalable business-tailored system that integrates all business management functions and facilitates data-driven decision-making.
Custom vs. Off-the-Shelf ERP: Detailed Comparison
Upfront investments + the cost of after-launch support and the evolution of the ERP.

Lower TCO and higher ROI in the long run, compared to ready-made ERPs.

Initial setup costs + customization and integration costs + subscription or licensing fees that scale as the number of ERP users grows.

Defined by customers and fully tailored to their needs and specific processes.

The ability to use advanced techs (AI/ML, IoT, blockchain, etc.) for maximized business efficiency.

Defined by an ERP product vendor.

Non-restricted and can be introduced on demand as the customer's business scales or transforms.

Restricted to third-party plugins and add-ons.

Limited capabilities, may require substantial investments.

Seamless connection to all required systems, including legacy software.

API-enabled integration with popular software products. Integration with custom and legacy systems may be complex or impossible.

Short due to convenient UX and intuitive UI tailored to various user roles.

May be lengthy due to complicated, standardized UX and UI.

Restricted to the vendor's platform capabilities.

Minimized risks due to custom code design and the ability to add powerful security features.

Fully depends on the vendor's security measures and cannot be controlled by the customer.

Compliance with all required regulations (global, regional, and industry-specific).

Typically limited to compliance with global data protection standards.

Performed by an in-house team or an outsourced vendor, the customer decides on a preferred option.

Provided by an ERP product provider.
Functional ERP Modules ScienceSoft Develops
Depending on your business needs and budget, we can cover the development of the following ERP modules to automate and raise the efficiency of your workflows:
Financial planning and analysis, accounts payable and accounts receivable tracking, general ledger management, billing automation.
HR policy management and personnel management from recruitment and onboarding to payroll, attendance, learning, and employee request management.
Production planning, scheduling and control. It may include sub-modules for product lifecycle management and quality assurance.
Functionality for automating customer order management, planning data-driven marketing campaigns, communicating with the customers and getting visibility into the sales dynamics.
Inventory planning, optimization, and control, management of warehouse operations, vendor management, sourcing and procurement automation.
Service operations management
Planning, control, and optimization of service-related workflows. Service level agreement management. Conducting polls and e-voting to gather service improvement ideas.
Project planning and monitoring, tasks assignment and tracking, team collaboration tools (instant messaging, shared file space, etc.).
Centralized storage of multiple document types, easy document navigation and sharing, document templates.
Centralized knowledge repository with a powerful search engine, automated knowledge classification, knowledge sharing and collaboration tools.
Chatbots and virtual assistants for users
Chatbots help users navigate ERP, while virtual assistants can automate basic tasks, e.g., update customer info, send alerts on low inventory levels, capture data on order shipment.
Comprehensive data analysis and visualization functionality for monitoring, measuring and optimizing the performance of every business department.
Alongside with business-tailored ERP functionality, our custom ERP development company implements:
ScienceSoft's Featured Success Stories
We build ERP software for various industries:
Manufacturing
Retail and Ecommerce
Finance
Construction

Professional Services
Information Technology
Healthcare
Pharmaceuticals

Logistics
Oil and Gas
Education
Why Turn to ScienceSoft for Custom ERP Development
34 years of experience in enterprise software development.
Microsoft partner since 2008; AWS Select Tier Partnership.
Mature quality management confirmed by an ISO 9001 certificate to meet our enterprise clients' highest and specific quality needs and expectations.
ISO 27001-certified security management based on well-established policies and processes, advanced security techs, and skilled professionals.
Strong background in microservices, DevOps, CI/CD.
Experience in creating complex ERP systems with 500+ forms.
What Our Customers Say
Luke Walther
Business Development Director
Give Back Wireless
By working with ScienceSoft, we've been able to achieve exactly what we set out to accomplish, and we recommend them as a trustworthy partner with skilled technical specialists on board.
Mikhail Anfimau
Senior Solution Architect
Leo Burnett
The client needed complex trade promotion management software to serve as trade marketing planning system. The solution needed to be easily customizable, as the client operates in over 180 countries and needs to adjust the software to the local requirements. ScienceSoft proved to be a professional service provider from the outset. The team ramp-up was smooth. The .NET developers engaged in the project were skilled and experienced.
Heather Owen Nigl
Chief Financial Officer
Alta Resources
ScienceSoft's team members proved to be extremely flexible and responsive. They stayed in daily contact with us, which allowed us to adjust the scope of works promptly and implement new requirements on the fly. Additionally, the team delivered demos every other week so that we could be sure that the invoicing system aligned with our business needs. The invoicing system created by ScienceSoft automates data integration from different sources and provides visibility into the invoicing process.
View all customer reviews
The Financial Times Includes ScienceSoft USA Corporation in the List of the Americas' Fastest-Growing Companies 2023
For the second year in a row, ScienceSoft USA Corporation ranks among 500 American companies with the highest revenue growth. This achievement is the result of our unfailing commitment to provide high-quality IT services and create best-value solutions that meet and even exceed our clients' expectations.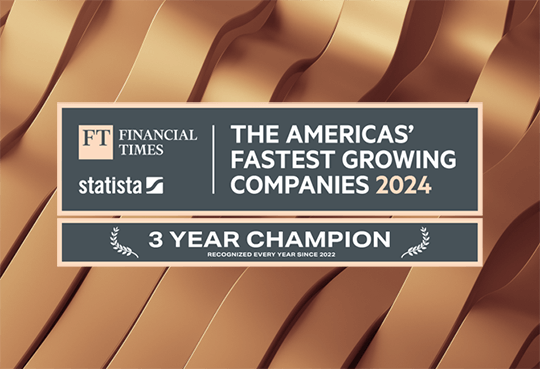 ScienceSoft's ERP Development Service Scope
Our custom ERP development services are closely bound to our clients' needs and can be related to:
We design the optimal feature set, architecture, UX and UI of ERP software with your unique needs in mind. Our consultants introduce the best-fitting tech stack for ERP implementation and provide expert advice on security and compliance. You also receive a detailed ERP project plan for risk-free implementation.
We cover all stages of ERP development, from design to deployment in production. Our ERP talents integrate the new software with your existing corporate systems and run the necessary quality assurance procedures. You also benefit from user training in a preferred format and get after-launch support.
We revamp your legacy ERP software's architecture, codebase, and tech stack and upgrade it with the required features. Our service can comprise cloud migration and data migration to the new modules. You get a modern solution promptly and with minimal disruption to your business operations.
We Ensure Smooth Integrations
| | |
| --- | --- |
| Integrations with popular enterprise platforms such as Salesforce, Magento, Office 365. | API for smooth integration between ERP modules. |
| Security policies for securing API traffic and easily apply custom policies. | Integrations with IoT and blockchain. |
ERP Development Steps
At our ERP software company, ERP development process typically covers the following major steps:
1
Discovery. Business needs analysis and ERP requirements engineering.
2
Technical design. Designing the optimal feature set, secure and scalable architecture, role-specific UX and UI of ERP software. Tech stack selection for ERP implementation.
3
ERP project planning. Determining a clear project scope, case-specific success measures, team composition, timelines, budget, risks and ways to mitigate them.
4
ERP development. Building a new solution from scratch, modernization of the existing ERP system, or market-available ERP customization.
5
Quality assurance. Running rigorous testing in parallel with coding.
6
Integration. Establishing integrations between the ERP modules and ERP integration with the required systems.
7
Data migration. Enterprise data migration from spreadsheets or a previously used resource planning system to ERP.
8
Deployment. ERP infrastructure configuration, solution deployment in the production environment, and knowledge transfer.
9
User training. Drawing end user manuals and maintenance guides for the IT team. Conducting user training in a preferred format (in-person or remote).
10
(optional) After-launch ERP services. Continuous support and evolution of ERP software.
Perks of ScienceSoft's ERP Software Development Services
Having vast experience in implementing ERP projects of various complexity, we can precisely estimate project costs and delivery time.
Revamp of the existing ERP and its extension with new modules usually offer a more affordable way to get a modern enterprise system. However, in some cases, fixing the accumulated technical debt requires way larger investments than building ERP from scratch. We always conduct a feasibility study before starting a project to weigh the benefits of ERP upgrading vs. replacement and define a more economically feasible approach for each client.
Choose Your ERP Development Service Option
Developing an ERP system from scratch
You get an all-in-one ERP system to digitally transform the entire business process.
Request ERP development
You get one or several specialized ERP modules to digitalize particular operations.
Request ERP module development
Custom ERP Development Cost and Timelines
From ScienceSoft's experience in custom ERP software development, building an MVP of custom ERP takes around 3–5 months. Implementing an ERP system for a midsize company may require 1–3 years, depending on the solution complexity, supported regions, and regulatory compliance requirements.
Average costs for building a standalone ERP module (e.g., for corporate finance or supply chain management) vary from $200,000 to $500,000. Companies looking to develop an all-in-one ERP system should expect to invest $1,500,000+.
Technologies We Use in ERP System Development
ScienceSoft's ERP developers are proficient in the following technologies:
Get ERP That Fits Your Specific Workflows
Delegate ERP development to ScienceSoft and get a flexible bespoke system that addresses all your unique business needs. Custom ERP implementation brings the following benefits:
+20–30% business productivity

via enhanced collaboration and tailored functionality

due to enterprise process automation

due to streamlined workflows
More Services & Solutions for Enterprises
<![endif]-->