Web Development Services
Contemporary web design and clean coding
Web development services help create all types of web-based software and ensure great experience for web users. At ScienceSoft, we professionally design, redesign and continuously support customer-facing and enterprise web apps to achieve high conversion and adoption rates.
Our Latest Awards and Recognitions
The Financial Times Includes ScienceSoft USA Corporation in the List of Americas' Fastest-Growing Companies 2022
ScienceSoft is one of 500 companies with the highest compound annual growth rate in revenue. This achievement is a result of our unfailing commitment to provide high-quality IT services and find best-value solutions to clients' needs.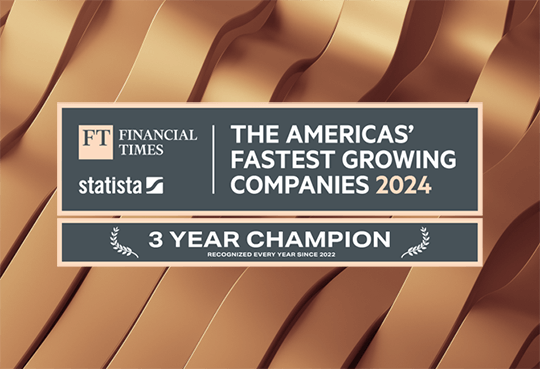 Web development / launch of a web app
We take a proactive approach to web development and elaborate on ways to uncover less obvious business requirements, save costs and envisage risks for your project.
Why choose ScienceSoft:
Skilled UX researchers.
Hands-on consulting expertise in 30+ industries including healthcare, finance, manufacturing, retail.
Experience with all the major app architecture types: microservices-based, traditional 3-layer, cloud native, event-driven, serverless, headless, service-oriented architectures.
Full-stack development of web apps.
Request the service
Web redesign / modernization
We improve visual appeal, functional fullness and usability of existing web apps. As a result, our clients see increased web conversions, reduced maintenance costs, better ROI from optimized business operations.
Redesign and modernization possibilities we bring to life:
Revamp of a legacy technology stack.
Web app re-architecting to enable greater scalability.
Delivery of UX and UI innovations for better user appeal and usability.
Delivery of new web app features.
Incorporation of disparate business modules into a single web application.
Request the service
Our Web Design Portfolio: UI and UX Elements We Create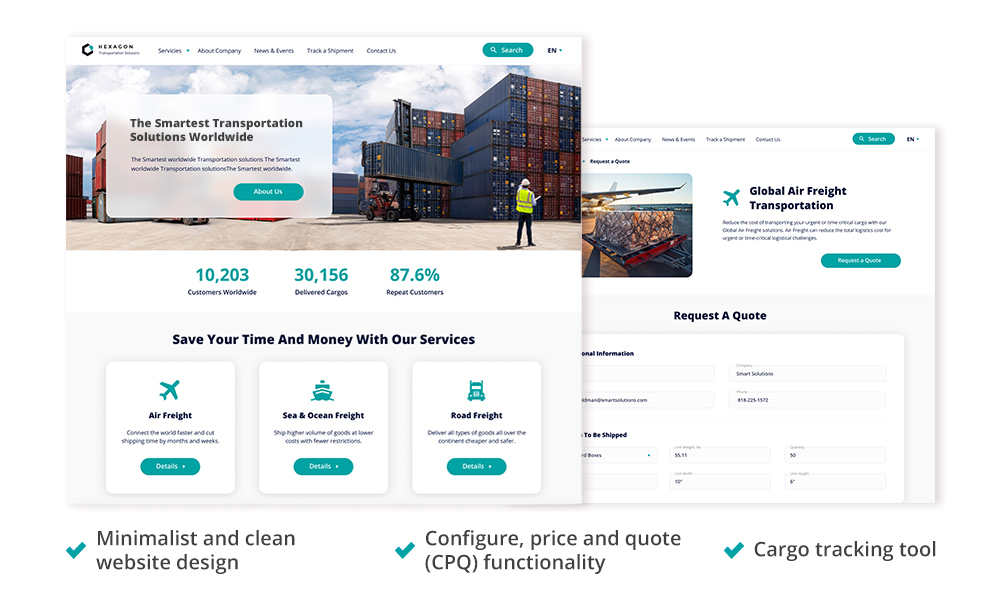 Website for a Transportation Company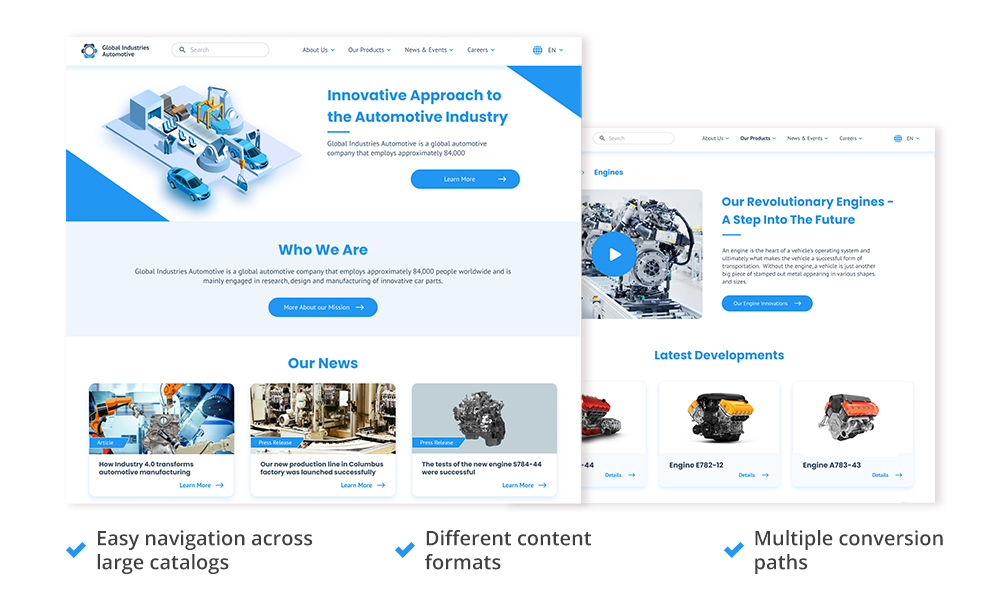 Website for a Manufacturing Company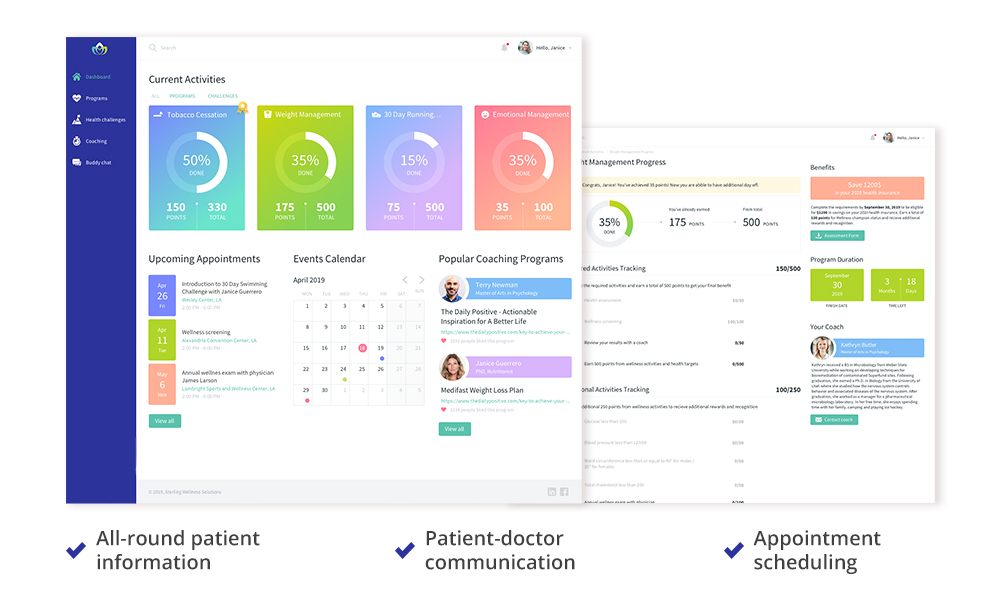 Patient Web Portal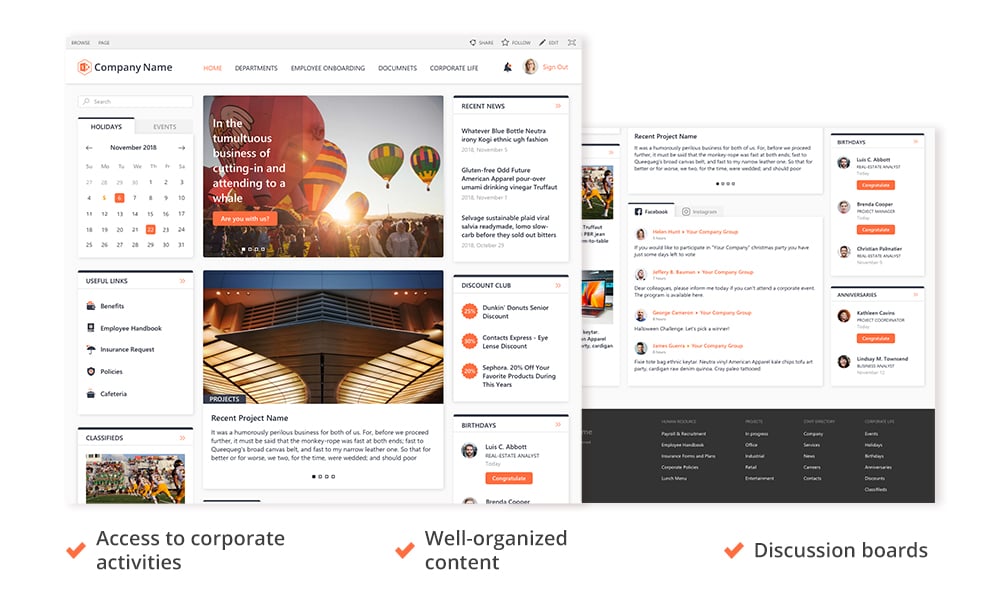 Employee Web Portal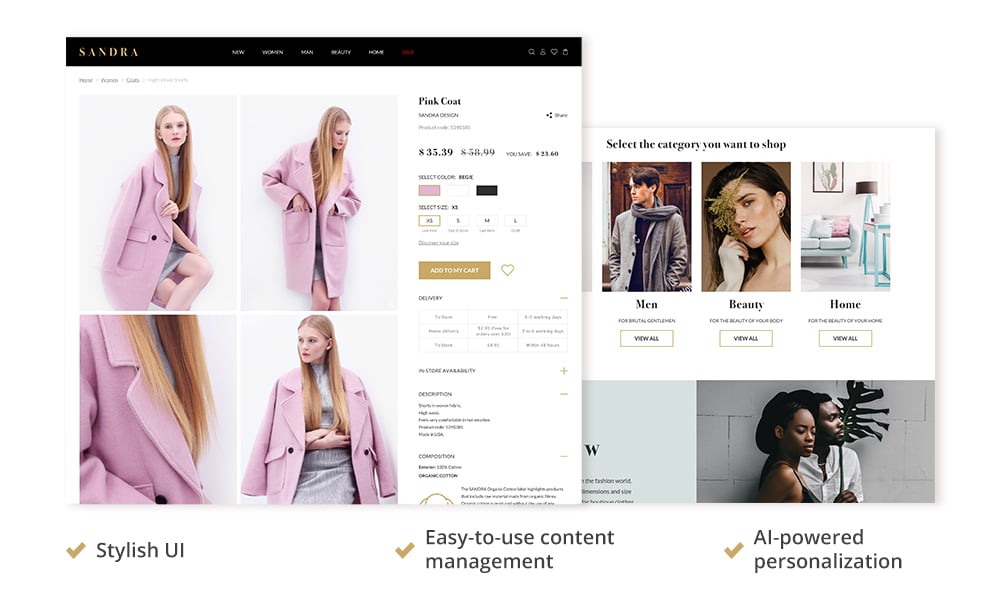 B2C Ecommerce Website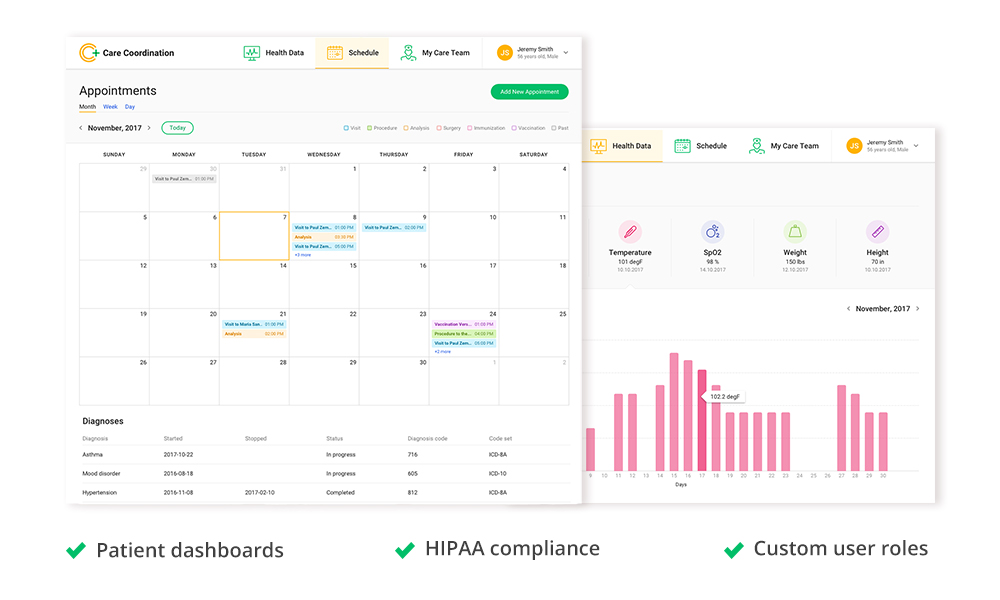 EHR Web Application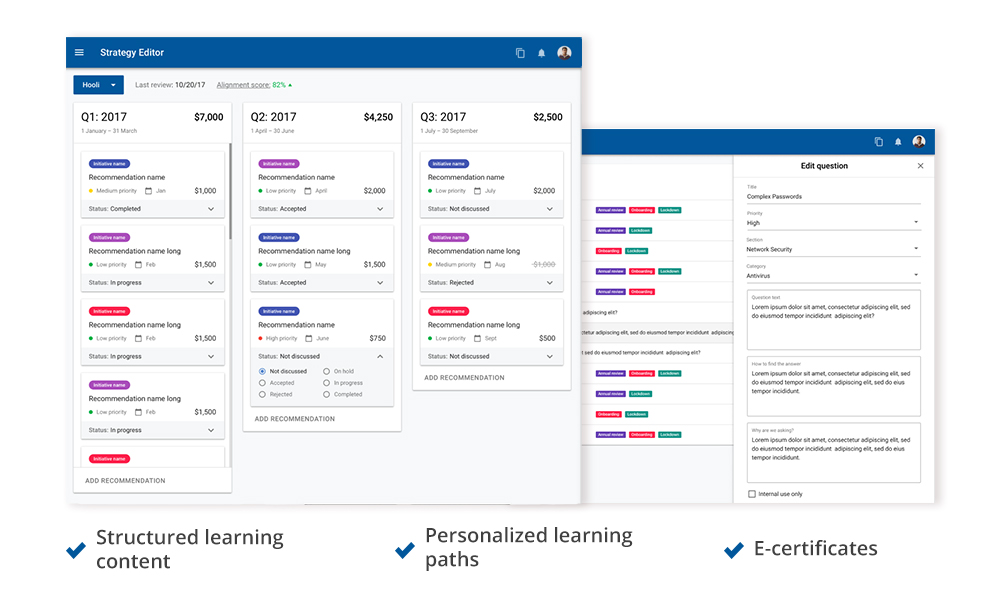 SaaS for eLearning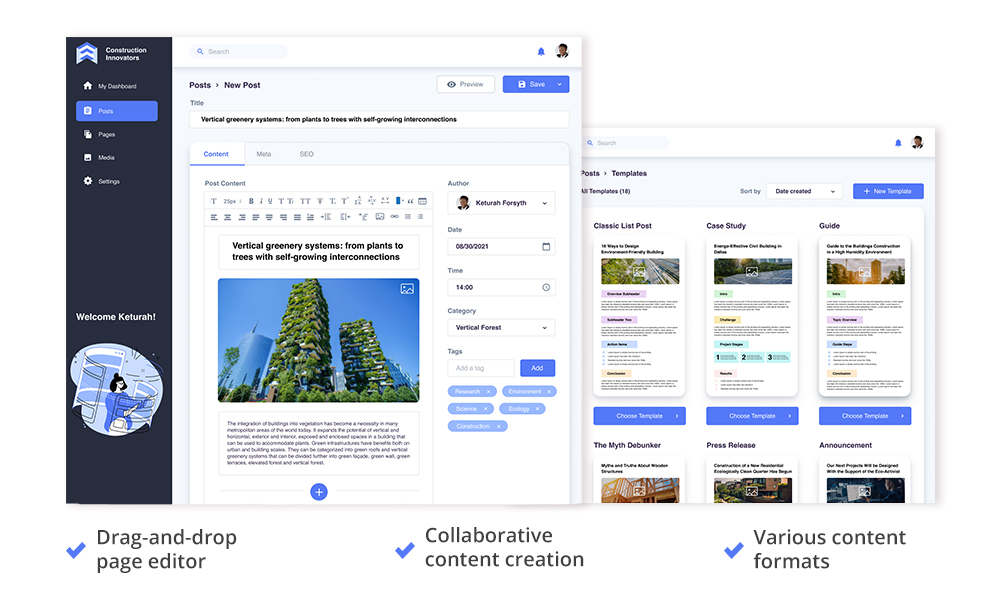 Content Management System
Partner with ScienceSoft for Web Development
With 700+ employees on board, we can staff a full team for a custom web development project or provide experts with the skills and competencies you lack in your current resources. The team roles we cover:
UX designers who use various techniques to research target audience and design superior user experience. ScienceSoft has been rendering professional UX services since 2016.
UI designers who wrap UX recommendations into a beautiful interface design.
200+ back-end developers coding in .Net, Java, Python, Node.js, PHP, Go.
40+ front-end developers using modern JavaScript frameworks: Angular, React, Meteor, Vue, Next, Ember.
Web architects with 7-20 years of experience.
75+ software testers and QA engineers working with different types of web applications.
Our business analysts focus on the needs of your target audience to perform requirements engineering and outline the scope of the solution. They also bridge the gap between business stakeholders and an IT team to keep all the involved parties aligned.
Front-end design and development
Our web designers closely analyze the user audience to understand their needs and reflect these findings in UI design. Having agreed on the look and feel of a web app with project stakeholders, we bring it to life with front-end coding.
Our developers accurately implement the business logic of your web app on the back end. We rely on proven frameworks to ensure fast and quality coding.
We set up APIs to integrate your web app with corporate or third-party systems and services. App integration ensures immediate data synchronization across systems.
Providing L1, L2 and L3 support services, we deliver hot-fixes within 24 hours to prevent or resolve any issues in usage, technology and code that may arise. We help you provide high availability and trouble-free functionality of your web app.
Continuous support and evolution
We advance your web-based software to keep it efficient, competitive on the market, and compliant with all your evolving business needs. Our well-established DevOps processes let us roll out urgent updates within 1-2 days and release new, planned functional modules every 2-6 weeks.
Our Clients Say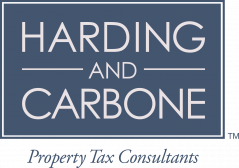 Wadih Pazos
Chief Operating Officer
ScienceSoft's developers used the microservices approach to ensure our Azure-based software's scalability; selected and implemented techs that guaranteed high availability and fault-tolerance. The new software performs stably even under heavy load, which helps provide high-quality user experience. ScienceSoft proved to be a reliable tech partner.
Roman Haraja
Tooling Engineer
As our original site demanded a lot of manual effort, we asked ScienceSoft to make a more user-friendly website. ScienceSoft understood and implemented everything I requested. They never pushed back on any of my requirements – instead, they managed to accomplish all of them. We're very satisfied.
Amber Amescua
Director of Operations
Harding and Carbone has been very pleased with selecting ScienceSoft as a web app development company for developing a web portal for our customers. Their professionalism, expertise, guidance, organization, and timing has been wonderful. They were also very patient with explaining their process and the next steps if we ran into any issues that we did not understand.
Heather Owen Nigl
Chief Financial Officer
ScienceSoft's consultants analyzed our workloads, documentation, and the existing infrastructure and provided us with a clear project roadmap. They delivered demos every other week so that we could be sure that the [web-based] invoicing system is aligned with our business needs. We have already engaged ScienceSoft in supporting the solution.
Best for relatively small & short projects with well-defined requirements that won't change (websites with <50 pages; small company web portals, simple web solution MVPs).
Best for medium to large, long projects with high requirement flexibility (websites with 200+ pages; enterprise web solutions with complex integrations).
Best for medium to large projects that would allow for trading some level of flexibility for reduced financial risks (websites and web portals for startups; SaaS products).
| | | |
| --- | --- | --- |
| Insightful business analysis for spot-on concept creation | Intuitive UX to minimize the bounce rate or user errors | Modern UI to raise engagement and conversions |
| Fail-proof performance for rewarding digital experience | Smooth integration to streamline workflows | Timely updates to keep your web solution on-stream and on-trend |
Please fill in the form below – and our rep will get back to you in under 30 minutes to schedule the initial discussion with our web solution and business experts.

<![endif]--> <![endif]--> <![endif]-->