<![endif]-->
<![endif]-->
Full-Cycle Web Development Services
Web development services imply designing, building, integrating, scaling and maintaining dynamic software solutions that work via intranet or internet.
A full-stack web development company with 21 years of experience in the field, ScienceSoft delivers highly available, functional and visually engaging web products and both platform-based and custom web solutions for enterprises.
Choose WEB SOLUTION type you need
Full-service software development company.
31 years in IT.
Over 700 employees.
700-employee business partner network.
2,695 success stories (including projects for Walmart, eBay, NASA JPL, PerkinElmer, Baxter, IBM, Orange, BBC, MTV).

7 years in DevOps practices.
9 years in IoT consulting.
7 years in big data.
What Our Customers Say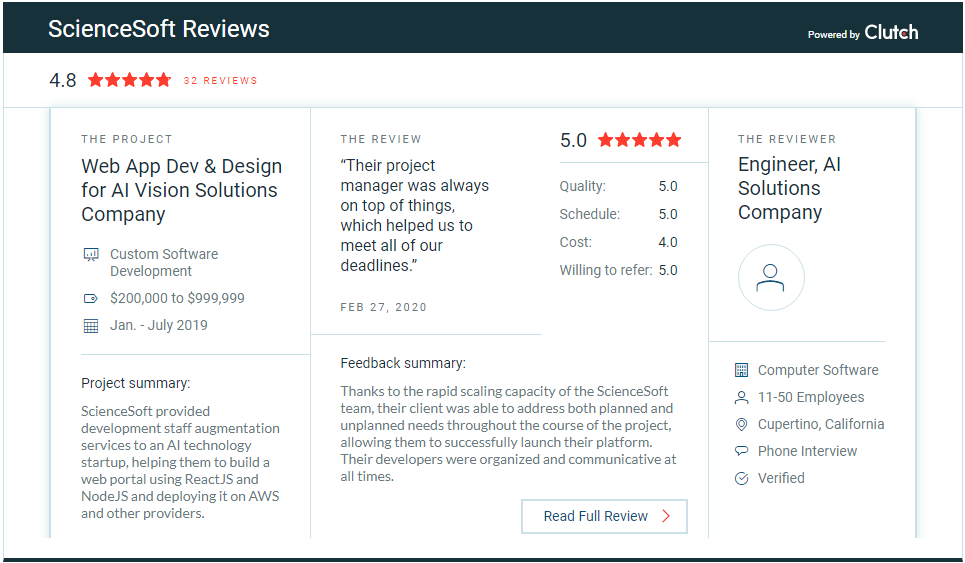 WHY YOU BENEFIT WITH SCIENCESOFT'S WEB DEV
We Make Apps Future-Proof
We construct web applications to be:
Inherently scalable to serve increasing complexity of transaction and number of users, also due to employing modular architecture designs, scalable cloud resources, publish-subscribe messaging, etc.
Fault-tolerant to automatically recover from failures.
Auditable due to centralized monitoring systems showing the evolution of component states to allow for quick and easy recovery.
Modifiable to easily adopt updates due to layered/modular architecture, clear separation of concerns (SoC), standardized APIs, etc.
Highly available due to consistent redundancy, backup of critical components, clustering, isolation, automated operations, and more.
We Make Apps Act Modern
We drive innovation with AI and machine learning, big data, IoT, and blockchain and enable applications to:
Forecast and make smart choices.
Understand the image and video content.
Empower smart, connected products (devices) and environments.
Dynamically learn from experiences and hold human-like conversations.
Create personalized customer experiences in real time, and more.
OUR CORE WEB TECHS AND ARCHITECTURE PATTERNS
Back end
Click on the technology to learn about our capabilities in it.
Cloud databases (DBaaS)
AWS
Azure
Google Cloud Platform
Real-time data processing
DevOps
Architecture designs and patterns
Traditional 3-layer architecture
Microservices-based architecture
Cloud-native architecture
PWA
Reactive architecture
Service-oriented architecture (SOA)
Various approaches to enterprise application integration
OUR HALLMARK WEB DEVELOPMENT PROJECTS
WEB DEVELOPMENT SERVICES WE OFFER
We help you:
Form a product idea and decide on "killer features"/ envisage a web app meeting your business needs.
Assess the project's technical feasibility.
We deliver:
App concept design for smooth operation and evolution.
UX and UI mock-ups.
Cost & time estimates.
Full-cycle web app dev and support
We provide an end-to-end web dev service that includes:
App ideation.
App architecture design.
UX/UI design.
App development.
Integration with back-end solutions.
Continuous app support and management.
Using your requirements specification, our team creates a scalable, portable, reliable and secure software ready to enter the market or address your specific business needs.
On demand:
Add advanced techs (AI, VR, data science, IoT).
Integrate the app with third-party systems.
Dive Deeper into Our Web Software Development Portfolio
OPT FOR SMOOTH ONLINE OPERATIONS WITH FAST AND RELIABLE RELEASES
ScienceSoft offers well-established agile development processes and DevOps culture, latest software design patterns, cloud-native architectures, regular code reviews, and a high degree of automation.

<![endif]--> <![endif]--> <![endif]-->