<![endif]-->
<![endif]-->
Full-Cycle Web Development Services
Web development services imply designing, building, integrating, scaling and maintaining software that work via intranet or internet. A full-stack web development company with 21 years of experience in the field, ScienceSoft delivers highly available, functional and visually engaging web products and both platform-based and custom web solutions for enterprises.
Full-service software development company.
31 years in IT.
Over 700 employees.
700-employee business partner network.

2,695 success stories
7 years in DevOps practices.
9 years in IoT consulting.
7 years in big data.
Back end
Click on the technology to learn about our capabilities in it.
Real-time data processing
DevOps
| | |
| --- | --- |
| Web services/microservices/serverless software architecture design. | Seamless integration with custom and third-party software. |
| Cloud-native development in accordance with practices and tools defined by Cloud Native Computing Foundation (CNCF). | Mobile-first, responsive and intuitive UI design. |
| Deep background in containerized environments and a mature DevOps culture. | Agile methodologies (Scrum, Kanban, etc.): major releases every 2-6 weeks, minor updates up to several times a day. |
| Regular status reports and regular project progress review. | |
What Our Customers Say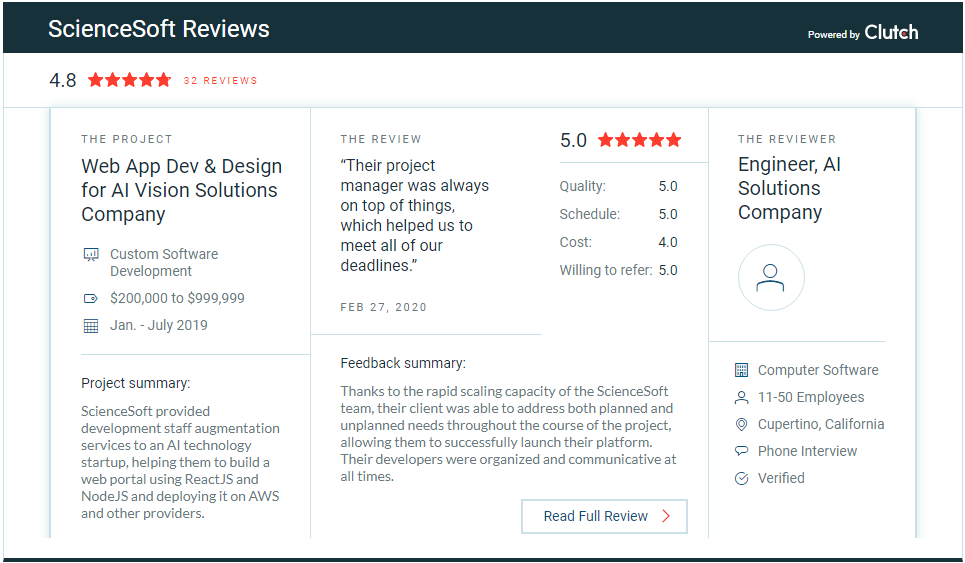 Our Hallmark Web Development Projects
We help you:
Form a product idea and decide on "killer features"/ envisage a web app meeting your business needs.
Assess the project's technical feasibility.
We deliver:
App concept design for smooth operation and evolution.
UX and UI mock-ups.
Cost & time estimates.
Full-cycle web app dev and support
We provide an end-to-end web dev service that includes:
App ideation.
App architecture design.
UX/UI design.
App development.
Integration with back-end solutions.
Continuous app support and management.
Using your requirements specification, our team creates a scalable, portable, reliable and secure software ready to enter the market or address your specific business needs.
On demand:
Add advanced techs (AI, VR, data science, IoT).
Integrate the app with third-party systems.
Dive Deeper into Our Web Software Development Portfolio
OPT FOR SMOOTH ONLINE OPERATIONS WITH FAST AND RELIABLE RELEASES
ScienceSoft offers well-established agile development processes and DevOps culture, latest software design patterns, cloud-native architectures, regular code reviews, and a high degree of automation.
<![endif]--> <![endif]--> <![endif]-->