<![endif]-->
<![endif]-->
Information Technology Consulting
With IT consulting services, you revamp your IT environment to make it go in hand with your business needs. Leveraging 31-year experience in IT, ScienceSoft offers consultancy on holistic, fast, and cost-effective optimization of IT systems and processes to ensure tangible business outcomes.
SCIENCESOFT'S APPROACH TO IT CONSULTING
We don't introduce new technologies just to make your company "modern": the primary aim is to bring noticeable business outcomes with IT.
We optimize IT services to make them more reliable and cost-effective and help introduce new IT services fast.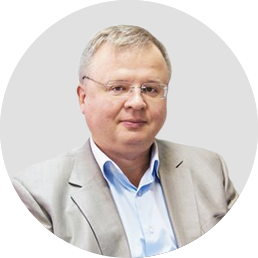 Nikolay Kurayev, CEO at ScienceSoft
"I always find inspiration in thinking how much we at ScienceSoft can help companies achieve more in business via doing the right IT and doing IT right.
Every process can be improved or transformed digitally. There's always a way to achieve a much higher return on employees' efforts and a company's resources. A company can grow irresistibly. And a company can make its customers and employees more satisfied and even happier.
What I like is that success can be measured. It's possible to determine it as the increase in revenue, ROA, RPE, CSAT, employee performance metrics."
INDUSTRIES WE SERVE
We have expertise in 23 domains, including experience in information technology consulting for:
Professional services
Manufacturing
Retail
Logistics
Healthcare
Telecommunications
SELECTED IT CONSULTING PROJECTS
BENEFITS OF IT CONSULTING WITH SCIENCESOFT
More than just consultants

ScienceSoft is a full-service IT company with 700+ employees on board. We can combine IT consulting with end-to-end IT services: implementation, support, managed services.

Fast service results

We advocate incremental and steady changes to help you get the first positive outcomes within 2-6 months and continue increasing them further.

Cost-effective IT optimization

We apply our 31-year experience in information technology to achieve substantial results for your business at a reasonable budget.

KPI-measured IT effectiveness

We define target KPIs together with you and build our consulting services around these targets. KPIs may be of 2 types:

Business KPIs, e.g. increase in sales, ROA, RPE.
IT KPIs, e.g., operating costs, services availability, Mean Time to Resolve (MTTR), user satisfaction.

Balanced approach to changes

We explore interdependencies between your IT systems and analyze the impact of potential changes for each platform, service, application or application module to define and prioritize the scope of changes for reliable yet powerful improvements.
DON'T SETTLE FOR MEDIOCRE BUSINESS RESULTS
Underperforming IT leads to losing a competitive edge in a 3-5-year perspective. While modernized IT in tune with the business reality can bring breakthrough results in various business aspects:
Business KPIs:
increase in revenue from new digital sales channels

shorter time-to-market due to well-organized workflows in all processes

increase in RPE via performance transparency on all management levels

increase in sales via marketing and sales automation

reduction of IT operating costs

of service availability

reduction of Mean Time to Resolve

in CSAT

<![endif]--> <![endif]--> <![endif]-->