<![endif]-->
<![endif]-->
Information Technology Consulting | Get Your IT Challenges Solved
Information technology (IT) consulting services allow companies to implement IT strategies and solutions to achieve business-IT alignment, and drive max value from the current IT initiatives.
ScienceSoft as an IT consultancy
32 years in software development.
14 years in help desk and application support.
11 years in IT infrastructure management.
9 years in cloud consulting and migration.
BAs, PMs, solution architects, software developers covering a variety of technology stacks, DevOps engineers, QA professionals, and other roles.
Platform-based and custom software development, web development, data analytics, cybersecurity, and more.
Information technology expertise in healthcare, manufacturing, retail, telecoms, professional services, and more.
Trusted by 950+ customers
our Typical IT consulting project
Your business goals shape the project scope – we may focus our entire attention on the advisory stage if you need to work through IT challenges and lay down the strategy for positive IT transformation. Also, we provide a full-service package of assistance for IT projects – we plan, design, implement and continuously support technology-powered solutions.
Our IT consulting services
To formulate a strategy or design a solution bringing your IT resources into agreement with business needs.
Auditing your IT environment: IT applications, network complexity, application integrations, databases and data warehouses, development infrastructure.
Exploring business processes and uncovering process inefficiencies hampering business performance or new business initiatives.
Devising a full-scale IT strategy working either for modernization of your existing IT or introduction of new digital technologies.
IT solution implementation
More than 50% of our software developers are of senior level, thereby securing coding excellence.
Analyzing your business needs.
Proposing an IT solution and delivering a well-structured clear plan for its implementation: project timeline, budget, required IT resources defined.
Installing, configuring and customizing all the software components constituting the solution.
Integrating software components in a compound IT environment.
To optimize costly maintenance of obsolete technologies and improve their impact on your business efficiency.
Investigating the code and infrastructure of long-running applications.
Planning improvements: software re-architecting, re-coding, platform migration, containerization.
Implementing the changes.
To maintain scalable and secure IT infrastructure and let you save on in-house IT workforce.
Providing functional and technical application support.
Monitoring, upgrading and supporting enterprise systems: data centers, directory services, intranet and collaboration solutions, CRM systems, e-mail and VoIP systems, etc.
Monitoring the performance and security of corporate e-solutions.
Administering cloud infrastructures and continuous cloud optimization.
Maintaining network security.
On-demand and proactive handling of all IT-related operations and maintenance activities.
Introducing minor and major upgrades to your business applications.
IT infrastructure administration.
Cloud usage optimization.
Maintenance activities: performance, security, capacity, issues, patching, backups.
Help desk.
Virtual CIO (vCIO) services.
To achieve higher performance, flexibility and cost-effectiveness for your infrastructure and applications in cloud environment.
Assessing your infrastructure, applications and data.
Planning application and data warehouse architectures adapted to the cloud.
Deciding on an optimal cloud model and migration strategy.
Cloud deployment and testing.
Related IT consulting services
We take a significant load off planning and launching new software products by:
Analyzing the target market.
Productizing a software idea.
We plan and implement a cybersecurity strategy to proactively identify and protect your IT environment against cyber threats.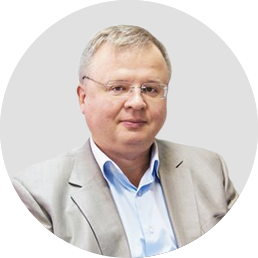 Nikolay Kurayev, CEO at ScienceSoft, talks about our approach
"I always find inspiration in thinking how much we at ScienceSoft can help companies achieve more in business via doing the right IT and doing IT right.
Every process can be improved or transformed digitally. There's always a way to achieve a much higher return on employees' efforts and a company's resources. A company can grow irresistibly. And a company can make its customers and employees more satisfied and even happier.
What I like is that success can be measured. It's possible to determine it as the increase in revenue, ROA, RPE, CSAT, employee performance metrics."
We prove solid IT expertise across industries
ROI benefits of IT consulting
Underperforming IT leads to losing a competitive edge in a 3-5-year perspective. While modernized IT in tune with the business reality can bring breakthrough results in various business aspects:
Business KPIs:
increase in revenue from new digital sales channels
shorter time-to-market due to well-organized workflows in all processes
increase in RPE via performance transparency on all management levels
increase in sales via marketing and sales automation
reduction of IT operating costs
of service availability
reduction of Mean Time to Resolve
in CSAT
<![endif]--> <![endif]--> <![endif]-->