Investment and Wealth Management Software Development Services
Since 2005, ScienceSoft designs and builds custom wealth management solutions to help investment companies optimize their business processes and deliver seamless client experience.
Wealth management software development services are aimed to create custom IT solutions that help investment companies improve operational efficiency, minimize risks, provide top-notch investor experience, and guarantee regulatory compliance.
With 34 years in AI and over 11 years in cloud techs, ScienceSoft delivers forward-looking solutions that offer 99%+ accurate analytical insights, seamless automation of investment processes, and a secure and scalable technological framework for digital investment operations.
Whom We Serve
Open-end management investment companies (mutual funds)
Closed-end management investment companies
Exchange-traded funds (ETFs)
Unit investment trusts (UIT)
Wealth management and investment advisors
Investment banks
Private equity firms
Pension funds
Hedge funds
Investment software product companies
Let Us Meet You Where You Are
ScienceSoft's investment software development services are fully tailored to our clients' needs. We are ready to offer:
Investment software consulting
We can design an optimal feature set, architecture, UX and UI, and a tech stack for your unique solution. For software product companies, we are ready to conduct TA and competitor analysis and define a USP for the product. You also receive a project roadmap with cost and time estimates, a risk mitigation plan, and expert advice on security and compliance.
I need this!
Investment software development
Having 750+ development, BA, PM, QA, and data science professionals on board, we can cover all aspects of investment software creation and take over your project at any implementation stage. You benefit from quick project start (1–2 weeks), frequent releases, and transparent service pricing under a T&M model.
I need this!
Investment software modernization
Already have investment software that underperforms but can't be replaced yet? We can revamp your legacy software's architecture, codebase, and tech stack and evolve it with the required features. You get a modern investment solution promptly and with minimal disruption to your business operations.
I need this!
Explore ScienceSoft's Featured Success Stories
Here are some of our hallmark projects for the investment and wealth management domain:
Investment Software ScienceSoft Delivers
From multi-functional wealth management systems to specialized solutions that automate particular investment operations – ScienceSoft can assist in designing and building software of any complexity to meet your unique needs. The examples of investment solutions we create include:
Investment portfolio management software
Automation of a company's unique portfolio modeling, monitoring, and performance reporting workflows, which brings improvement in operational efficiency. Advanced analytics to accurately forecast the financial market and investment performance and minimize risks. Seamless and legally compliant digital trade execution.
Investment accounting software
Eliminated manual routines across the major accounting operations like transaction recordkeeping, billing, payouts, and financial reporting to free the fund managers' time for high-value tasks. Support for all required accounting methods to accurately recognize the income from company-specific types of investments.
Investment compliance monitoring software
Real-time monitoring of the wealth management operations' compliance with the internal policies and required legal standards, including local standards. It helps prevent improper investment practices and avoid the risk of penalties for non-compliance.
Client lifecycle management software
Facilitated investor data and relationships management and 100% visibility of investor interactions across the entire client lifecycle. Automated KYC/AML verification of new investors to prevent unauthorized access to services.
Investor reporting software
Streamlined generation and distribution of financial disclosure reports to timely meet the fiduciary responsibility to the investors and keep them up to date on their asset performance.
Vast self-service options for investors, including self-registration, account management, investment transaction management, and more. Instant and secure access to real-time portfolio performance information and reports.
Providing investors with a convenient and secure way to manage trading transactions with no intermediary services. Introducing AI-based guidance on the optimal investment strategy to increase platform value for end users and spur the revenue growth.
Web and mobile client-facing apps enabling seamless 24/7 investment operations across multiple asset classes, including alternative assets: real estate, renewable energy, crypto assets (crypto securities, tokenized commodities, NFTs), and more.
Why Build Investment Software with ScienceSoft
Since 2005 in financial software development.
Hands-on experience in creating solutions with complex business logic that seamlessly automate highly specific wealth management workflows and ensure high accuracy of investment calculations.
Practice-proven expertise in advanced techs: cloud, AI and ML, big data, blockchain.
Financial IT compliance experts with 5–20 years of experience to guarantee investment software compliance with the required legal standards.
Since 2003 in cybersecurity to ensure world-class protection of investment software.
Focus on long-lasting, mutually beneficial collaboration – 62% of our revenue from the customers we serve for more than 2 years.
Transparent KPI-based reporting on the accomplished tasks and consistent knowledge sharing.
Quality-first approach based on a mature ISO 9001-certified quality management system.
Robust security management supported by ISO 27001 certification.
The Financial Times Includes ScienceSoft USA Corporation in the List of the Americas' Fastest-Growing Companies 2023
For the second year in a row, ScienceSoft USA Corporation ranks among 500 American companies with the highest revenue growth. This achievement is the result of our unfailing commitment to provide high-quality IT services and create best-value solutions that meet and even exceed our clients' expectations.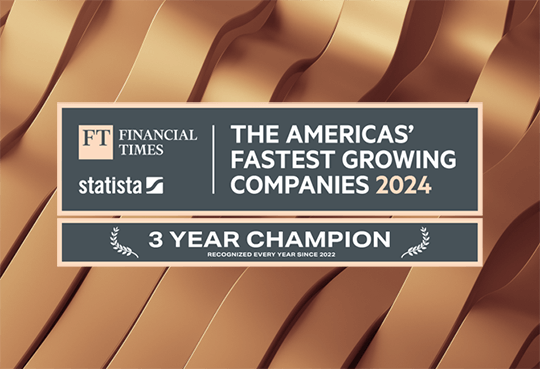 Get All Important Investment Software Aspects Covered
Future-ready architecture
With hands-on experience designing and implementing modern cloud-based architectures, we build agile digital investment systems and deliver custom asset management solutions that provide scalability and flexibility to support long-term business growth.
In data science and AI since 1989, we help our clients implement advanced analytics to obtain comprehensive insights into the expected performance of the financial market and asset prices. It helps ensure the high value of wealth management and advisory services and maximize investment profitability.
Excellent investor experience
We help integrate investment software with the required corporate systems (e.g., CRM, accounting software), banking systems, credit rating platforms, trading platforms, financial data marketplaces, and more. We can also develop ready-to-use APIs to extend your solution's integration capabilities.
We implement advanced security features, such as AI-powered fraud detection, biometric authentication, investment transaction data hashing, and more to ensure that your investment solution and any sensitive data are protected from unauthorized access and malicious attacks.
ScienceSoft's Tech Stack to Build Robust Investment Software
All about BFSI and Investment
<![endif]-->