Custom Telecom Software Development
Telecommunications software is used to organize and manage all aspects of electronic data (text, voice, video, etc.) exchange. A software development partner of T-Mobile, Orange, and Viber with 18 years in telecom software development, ScienceSoft builds OSS, BSS, customized VoIP/IPTV software, etc.
Operations Support Systems (OSS)
ScienceSoft helps telcos ensure that their networks run like clockwork.
VoIP-based services

With an extensive experience of delivering VoIP solutions, we create:

Server-side applications for softswitches;
Customized SIP-clients.

Monitoring

Based on BMC Remedy or ServiceNow® platform, our customized solutions allow for managing multiple operations effectively:

Network resources inventory;
Performance management;
Fault management;
Trouble ticketing;
Fraud protection.
Business Support Systems (BSS)
Witnessing the ever-growing transformation of the telecom industry, our clients are able to run their businesses in step with the change and create completely new business models thanks to:
Charging and billing systems

Flexible and real-time billing and charging solutions that enable:

Subscribers to have instant control over their plans as well as benefit from multiple offerings;
Operators to create various pricing models and personalized offers for several customer segments (thanks to CRM integration).

CRM systems

Engage with subscribers in multiple ways:

Customer account management: tracking order history, channel activity, promotion response and others;
Loyalty program management: creating tailored offers, promotions and information on services and products;
Customer retention: predicting customer churn as well as increasing customer value and loyalty by using advanced analytics.

Check out our CRM consulting expertise.

Customer self-service portals

Modern and interactive portals that are:

Profile-based and personalized;
Secure, powerful and scalable;
Integrated with business systems, data analysis tools and social media;
Optimized for mobile phones and tablets.

Read more on web portal development at ScienceSoft.

All-round data analysis and reporting

Improve the performance of data-rich business processes through:

Data warehousing: aggregating data from multiple sources into a single, quick and safe database – we do the design and implementation;
Advanced reporting and visualization: customizable reports to evaluate campaign effectiveness, predict churn and gain strategic insights for further improvements;
Predictive analytics: optimizing marketing strategy by analyzing customer behavior through segmentation and history.

Corporate portals

Fast and secure portals to help your team benefit from:

Business workflow automation;
Project and task management;
Corporate knowledge base;
Workforce management;
Document management.

Custom web and mobile applications

Increase business agility with a custom application that is tailored to meet your specific needs. Here are some examples of the custom applications that we have implemented recently:

Mobile number portability system;
Sales force automation system.
Customized VAS (Value Added Services) Software
We help telcos extend their offerings with:
What Our Customers Say
Luke Walther
Business Development Director
Give Back Wireless
Due to our business growth, we decided to outsource the continuous development, support and maintenance of our proprietary internal systems. We engaged ScienceSoft as our development partner. ScienceSoft coordinated knowledge transfer, discovery of our internal systems, then transitioned into supporting those systems and taking on projects to evolve their functionality.

Alex Gudkov
Chief Information Officer
TruConnect
I would happily recommend ScienceSoft to anyone looking for a transparent, reliable IT support vendor. They helped us deliver several PHP-based projects, mobile applications, refactored and improved the performance of our .NET code, provided L3 support for our web services. They're very effective and consistently meet all the required KPIs: we were guaranteed hotfix rollouts in under 24 hours, and they delivered on the promise.
Mauricio Campos
Director of Information Technology
Phoenix Tower International
PTI has a very aggressive strategy of growth continuing the expansion worldwide. We've chosen ServiceNow as a business platform for this goal. ScienceSoft's has been key to assist us building our journey. They created a portal based on ServiceNow to streamline collocation management of wireless infrastructure sites and managing our site access requests providing to our partners visibility and self-service. They also implemented Legal Catalog Items on the ServiceNow Service Portal to help our Legal Department employees adopt and efficiently use it.
Fuad Mammadov
Project Office Manager
R.I.S.K. Company
We cooperated with ScienceSoft as a technology partner on a SIEM deployment project for one of the leading mobile operator in Azerbaijan. Our primary vendor selection criterion was the solid experience in deployment, configuration and fine-tuning of IBM SIEM solution - QRadar. ScienceSoft team's professionalism ensured smooth three-party collaboration during the project implementation. All the business applications critical for customer were successfully integrated with QRadar.

Ilya Ostrovskiy
Chief Product Officer
Apifonica
ScienceSoft's team found 18 vulnerabilities, delivered a detailed report on all the detected issues, and provided recommendations on how to improve the security of the tested objects. They also provided comprehensive answers to all our questions during and after testing and assisted with remediation of the discovered vulnerabilities.
View all customer reviews
The Financial Times Includes ScienceSoft USA Corporation in the List of the Americas' Fastest-Growing Companies 2023
For the second year in a row, ScienceSoft USA Corporation ranks among 500 American companies with the highest revenue growth. This achievement is the result of our unfailing commitment to provide high-quality IT services and create best-value solutions that meet and even exceed our clients' expectations.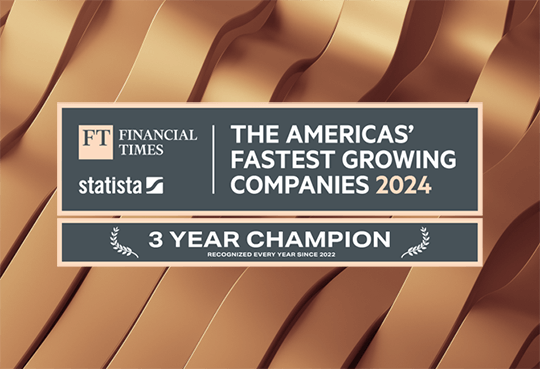 <![endif]--> <![endif]--> <![endif]-->