Custom LMS
Key Features, Benefits, Development Costs
Having experience in building solutions for academic learning and corporate training since 2015, ScienceSoft offers all-round consultancy on custom and platform-based learning management systems (LMS).
custom LMS: the Essence
Custom LMS is software that meets specific eLearning needs with customizable course building tools, interactive eLearning content, gamification features, custom reports and dashboards, and more.
Custom LMS: Key Features
Based on ScienceSoft's ample experience in LMS development, we can shortlist the core functionality of a custom learning management system.
Support of diverse content (text, images, video, audio).
Authoring learning content using built-in or third-party tools.
Embedding content from external sites.
Advanced search.
Assigning and enrolling learners to training.
Scheduling training sessions.
Tracking training activities.
Alerts and notifications.
Virtual classroom.
Mobile learning.
Learning assessment and feedback
Tests and quizzes.
Polls and surveys.
Certification management.
Competency management.
Reporting.
RSS feeds.
Forums and discussion boards for sharing knowledge and resources.
Content ranking and commenting.
Mini-games simulating real-life scenarios.
Storytelling.
Interactive videos.
Reward points.
Leaderboards.
Badges.
Auditable compliance reports.
Diagnostic tools to identify compliance and competence gaps.
Support of eLearning technical standards like SCORM and xAPI.
Examples of Custom LMS Capabilities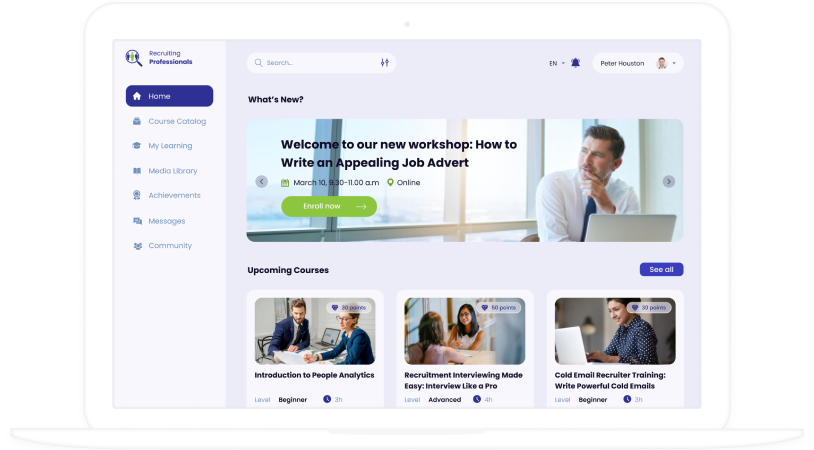 Custom LMS Demo
See how custom LMS can facilitate eLearning processes from course enrollment to learners' knowledge assessment.
Useful Integrations for Custom LMS
ScienceSoft recommends integrating custom LMS with relevant corporate systems to streamline eLearning delivery, increase eLearning efficiency, and improve learners' experience.
CMS - to facilitate LMS content management, including eLearning content creation, editing, storage and search.
Video conferencing software - to easily schedule and conduct online instructor-led training in LMS.
HRIS or a talent management system - to maintain data consistency in both systems, for example, changing HRIS data like an employee's position leads to automated changes in permissions and assigned training in LMS. Also, employee records in HRIS are updated based on training passed and competencies assessed.
CRM - to deliver training to sales teams right through CRM interface, drive customer education by connecting with customers before, during and after a sale to facilitate product onboarding, ensure product feature adoption, and more.
Factors That Determine Custom LMS Success
As an experienced eLearning software consultant, ScienceSoft knows how to make the most of custom LMS. And below is the list of factors we leverage during custom LMS implementation.
| | | | |
| --- | --- | --- | --- |
| | A high level of automation of eLearning management, which increases the productivity of trainers and trainees. | | Intuitive built-in content editing tools that allow non-technical users to easily create diverse and interactive eLearning content. |
| | Advanced reporting and analytics to create full visibility into the training process, which allows finding bottlenecks and improve the training process. | | A mobile version of a learning management system to enable learning at any time and any place. |
Custom LMS Costs and ROI
Custom learning management system development costs depend on the functionality and required IT services:
For midsize businesses:
LMS implementation.
Data and eLearning content migration.
Integrations with HRIS, Single Sign-On systems, and more.
For large enterprises:
The same as for midsize businesses plus:
Integration with CRM, ERP, ecommerce software.
Multi-tenancy (individual sub-portals according to the organizational structure).
Multilingual support.
AI integration (e.g., learning path personalization).
Key financial outcomes:
Reduced training costs via learning online, mobility and reusable training content.
Increased training coverage of employees.
Reduced time and costs of employee onboarding.
Improved training efficiency.
Higher employee productivity via increased engagement and personalized learning paths.
Custom LMS implementation can show the following economic impact:
payback period

annual ROI
When Custom LMS Is Your Best Choice
ScienceSoft recommends building a custom learning management system when you:

Need tailored user-friendly UI.
Should adhere to strict security and compliance requirements.
Look for specific functionality that off-the-shelf LMSs usually lack.
Custom LMS Development with ScienceSoft
With 34 years in custom software development, ScienceSoft knows well how to deliver a robust, tailored LMS. We offer you the following services:
Analyzing eLearning needs.
Selecting an optimal set of LMS features.
Recommending integrations (CRM, HRIS, ecommerce systems).
Choosing technology and implementation methodology for a solution.
Drawing a project plan.
Elaborating user-friendly UX/UI design.
Request consulting
Business analysis and design.
End-to-end development.
Data migration.
Integrations.
Quality assurance.
Post-implementation support.
User adoption and training.
Request development
About ScienceSoft

ScienceSoft is a global IT consulting and IT service company headquartered in McKinney, TX, US. We advise our customers on the implementation of custom and platform-based LMS and offer full-cycle LMS services, including development, integration, QA, training and post-implementation support. Being ISO 9001 and ISO 27001 certified, we guarantee high-quality IT services and security of our customers' data. If you are interested in custom LMS, feel free to consider our LMS consulting offer.

<![endif]--> <![endif]--> <![endif]-->