How to Build an Online Marketplace and Make It Attractive for Sellers
Building a Marketplace: Is the Idea Commercially Viable?
An online marketplace is a webstore that aggregates product or service offerings from different sellers. Customers may not notice the difference, however a required ecommerce solution and business management logic will be totally specific.
Online marketplaces amount to almost a half of global e-sales (47% in 2019) making the market attractive to enter, though promising tough competition. As one of the prominent success stories, Amazon has monetized a marketplace model superbly – the share of sales made by independent sellers is second only to e-sales under Amazon's own brand in the company's total revenue.
7 Steps to Create an Online Marketplace App with Success
Research the target audience: vendors and end customers.
Set up a marketplace pricing strategy.
Choose marketplace software for cost-efficient website implementation.
Plan vendor capabilities and their level of control.
Create product image guidelines to keep the UI consistent.
Design and launch a marketplace website.
Focus on quick marketplace advertising.
Choose a Revenue Model for Your Marketplace Startup
Constant traffic generation is required.
Monthly or yearly fees.
Popular in C2C business.
A fee is charged from each transaction.
Fixed or variable fees.
Fees for services are usually higher than for physical goods.
Listing fee and advertising
A fee is charged for each digital piece posted.
Works well when sellers need a quick sale instead of continuous subscription.
Only a large number of listings/ads can generate meaningful revenue.
Free core offering with additional paid features or services.
Hard to monetize.
Mostly used as an additional revenue model
Marketplaces use fixed or mixed revenue models
How to Build a Marketplace: Required Functionality
For a marketplace owner:
Management of required and optional product attributes.
For sellers:
Product data import/export.
Inventory management.
Promotional pricing.
Rule-based merchandising.
SEO management.
Branding attributes.
Order and return management.
For a marketplace owner:
Visibility into marketplace transactions.
For sellers:
A separate admin panel for product, customer and order management.
Role-based access.
Real-time business performance monitoring.
For a marketplace owner:
A self-service knowledge base on seller onboarding.
Seller registration and approval.
Seller segmentation.
Automated subscription billing.
Tiered commission system.
Automated alerts on service terms violation.
For end customers:
Responsive website design.
Faceted navigation and product search.
Comprehensive product pages.
Product rating and reviews.
Upsells and cross-sells.
Logged-in and guest checkout.
Online payment processing.
Concurrent checkout with products from different vendors.
Buyer-seller communication.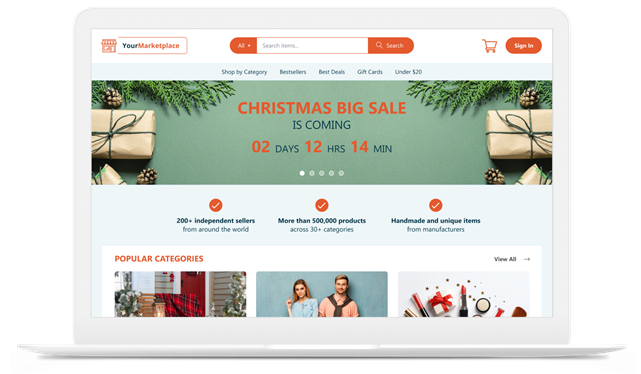 An Online Marketplace Demo
Take a few minutes to explore our interactive demo and learn what functional capabilities you will need to make a marketplace attractive for sellers and convenient for customers.
How to Make a Marketplace Competitive
Packing your marketplace app with must-have features alone won't keep it ahead of intense competition. For that, employ some higher-level capabilities.
| | |
| --- | --- |
| | Use an advanced web analytics tool to understand where your traffic generally comes from and strengthen those marketing channels. |
| | With a marketing tool, you can keep diverse and frequent marketing and advertising activities under control. |
| | Help your sellers increase conversions and reduce returns with 360° and 3D product photography. |
| | Employ advanced search by voice and image for more user journeys to end with a buy. Don't forget – your marketplace business is as successful as your sellers are. |
Marketplace Integrations for Omnichannel Commerce
As a marketplace owner, you sell a digital space to vendors and help them reach a consumer audience that your marketplace attracts. In fact, a seller's presence on a marketplace is rarely their single sales channel – they may also sell via a branded e-store, in social media or offline. You win increased interest of potential vendors when you picture how a marketplace space for sale will make up a part of their omnichannel ecosystem and help them achieve consistent customer experience and well-organized internal business processes.
Why Trust Your Digital Commerce Success to ScienceSoft?
| | | | |
| --- | --- | --- | --- |
| | 20 years in ecommerce consultancy and development. | | Experience with multi-vendor marketplace setup. |
| | Consulting assistance for trouble-free market entry. | | |
Marketplace Investments and How to Get the Payback Faster
From relevant experience, we give a ballpark estimation of $250,000 for a project of a marketplace solution for the mid-market with expert involvement in strategizing and technical implementation. Still, your business requirements may vary both ends from general standards. To get a precise calculation, you are welcome to contact our team directly.
The trick with upfront investment is that it's usually pretty large and still gives no absolute certainty in business success. To start an online marketplace cost-effectively, you should consider an MVP (Minimum Viable Product) as a way to get faster ROI and break the investment down into smaller parts.
You get a viable online solution rolled our fast (the development and launch time starts from 3 months and depends on the agreed feature set for the first release).
You can test your business concept in the real market at minimum cost.
You improve the product based on real customer reaction.
You get income early and support further marketplace development.
Launch Your Marketplace Project with ScienceSoft
At ScienceSoft, we offer 20 years of experience in ecommerce consulting and development to make your marketplace business a success.
ScienceSoft as a consulting partner for a marketplace launch
Being in the process of an online marketplace launch, we looked for a consulting partner to help us shape a final product vision with strong competitive advantages.

Having accomplished all the market research activities, the <ScienceSoft's> consultant provided a report featuring our core competitors: their products' efficiencies and drawbacks, and monetization models. The consultant also did a great job creating a dynamic UX prototype of our marketplace and planning integrations important for fast and effective business workflows.
Bader Alhamdan, Managing Director, Deyarat Trading Co.

About ScienceSoft

As digital presence becomes a must-have across business verticals, ScienceSoft builds on 20 years of experience to deliver quality ecommerce implementation services to our customers. We house consulting and development competencies to assume full ownership over ecommerce business launch.

<![endif]-->