Blockchain Development Services
A software development company with 33 years of experience, ScienceSoft offers end-to-end blockchain application development services to help product companies and non-IT enterprises build reliable blockchain solutions.
Blockchain development services help create decentralized apps that provide increased traceability and security of data and transactions.
Private blockchain networks
Secure and scalable permission-based ecosystems with minimized downtime.
Decentralized apps (dApps)
Encrypted peer-to-peer apps with no single point of failure and zero downtime.
Protocols that guarantee the integrity of multi-party agreements and automatically enforce fixed obligations.
Digital wallets for storing and manipulating cryptocurrencies (Bitcoin, Etherium, Ripple, etc.).
Asset tokenization platforms
Decentralized platforms that allow users to create, manage and trade their tokens (including NFT platforms).
Blockchain-based market platforms
Peer-to-peer platforms (e.g., lending plaftorms, blockchain-based marketplaces, etc.) for transparent, fraud-free transactions between the involved parties.
Decentralized autonomous organizations (DAOs)
Blockchain-based platforms for collaborative decision-making that drive high productivity, transparency and trust across communities with no central authority.
The Financial Times Includes ScienceSoft USA Corporation in the List of Americas' Fastest-Growing Companies 2022
ScienceSoft is one of 500 companies with the highest compound annual growth rate in revenue. This achievement is a result of our unfailing commitment to provide high-quality IT services and find best-value solutions to clients' needs.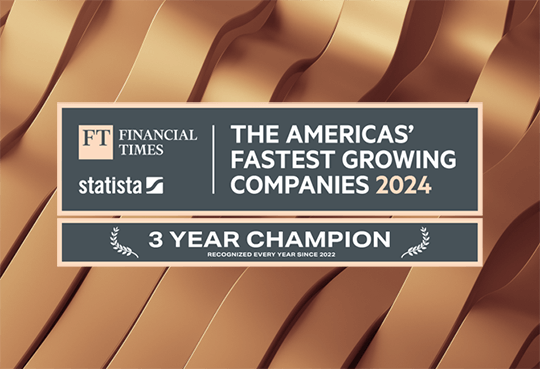 A Sample Blockchain Architecture
Below, ScienceSoft shares a sample multi-layer blockchain architecture we rely on in our blockchain development projects and describes key capabilities of each layer.
Presentation layer enables user interaction with the blockchain network via web and/or mobile applications.
Application layer (business logic) provides instructions for transactions defining, invoking and execution.
Distributed computing layer enables transaction e-signing, validation, execution and recording, comprises data block hashing and auto-updates across nodes' copies of the shared ledger.
Platform layer ensures communication between blockchain and other applications and blockchain-to-blockchain interoperability.
Infrastructure layer defines the type of network utilized by the blockchain, participating nodes, virtual and physical storage for the blockchain ecosystem.
Get Expert Help to Roll Out Blockchain Software
ScienceSoft is ready to build:
Blockchain-based products for product companies to generate revenue fast.
Tailored blockchain solutions for non-IT enterprises to improve the trust, transparency and security of their businesses.
Supply chain and logistics management
Financial transaction management
Secure and fast payment, currency exchange, lending transactions, including cryptocurrency transactions, with no intermediary services. Reduced fraud, minimized delays, and zero lost agreement opportunities in trade finance and commodity trading (including oil & gas trading) due to the use of smart contracts.
Unchangeable, HIPAA-compliant keeping of health records, secure transfer of sensitive medical data between multiple healthcare providers for quick and accurate patient diagnosis and effective treatment. Safe and easy medical record sharing with patients.
Immutable asset records for various industries, from media and luxury retail to real estate and additive manufacturing. It helps provide proof of ownership and prevent fraud and counterfeiting.
Safe document sharing, guaranteed regulatory compliance, easy record validation due to end-to-end traceability of document manipulations, from document creation and editing to document viewing by authorized parties.
Insurance claim management
Fast and accurate insurance claim validation, assessment and payment, transparent resolution of claim disputes with reduced manual work to cut claim handling process costs.
Identity and access management
Irrevocable credential data and a zero-knowledge proof encryption scheme to prevent unauthorized access to the company data, networks, apps or devices.
Ecommerce marketplace management
Secure multi-seller access, immutable record of all marketplace transactions for improved order and payment traceability, faster and less costly payments with no intermediary services.
Easy vote verification, secure vote storage and transparent vote counting for credible, incorruptible voting and improved voter engagement.
450+ software developers on board.
Software development expertise in 30+ industries, including banking and financial services, retail and wholesale, healthcare, telecoms.
Experience with leading blockchain frameworks: Ethereum, Hyperledger Fabric, Graphene.
Cloud services we use: Amazon Managed Blockchain, Google Cloud Platform, Oracle Blockchain, IBM Blockchain.
C++, Golang, Node.js, Java, Python, and JavaScript developers in the team.
A mature quality management system and data safety backed up by ISO 9001 and ISO 27001 certifications.
Selected Blockchain Projects
Our Customers Say
For our project – building a Bitcoin mobile wallet on Cordova – we needed the assistance of a skilled mobile developer. ScienceSoft promptly provided us with an expert who joined our project team and quickly got up to speed with our Scrum processes. The developer managed to quickly understand the existing code base and proceeded to modify and evolve it according to our requirements. Together, we released our app on time and budget.
Devin Hanchar, Director of Technology, Ghostlab Inc.
Owing to ScienceSoft's expertise in Blockchain-based software development, we chose them as a technology partner for the CoolWallet SDK development project. ScienceSoft was to integrate our core product CoolWallet – a hardware crypto wallet – with the NEAR network to enable support for the NEAR coin.

We were pleased with the outcomes of the project, as well as with the transparent and responsive collaboration from the vendor.
Yuhan Cheng, Business Development Manager, CoolBitx
Developing a business case for blockchain implementation.
Suggesting optimal blockchain network type (private, public, consortium, hybrid), architecture design, and tech stack.
Providing a detailed feature set for a blockchain system.
Preparing an integration plan with required software.
Blockchain security consulting.
Delivering a roadmap for blockchain system implementation, including a risk mitigation plan.
Blockchain development consulting.
Blockchain software conceptualization.
Blockchain architecture design.
Blockchain development.
Integrating the blockchain system into an existing software ecosystem.
Testing and quality assurance.
User training.
Blockchain FAQs: Feasibility, implementation time, ROI

Explore more

We are not sure blockchain is the right technology for our business. How can we assess its viability?

We analyze the feasibility of blockchain use for each company based on their business situation and company-specific needs.

Blockchain implementation is cost-intensive. Can you guarantee the ROI?

On average, companies see the payoff of custom blockchain development in 12-18 months.

How long does it take to implement a blockchain-based application?

We can provide a blockchain app MVP in 1-4 months and consistently grow it to full-blown software with major releases every 2-4 weeks. For example, in our blockchain-based supply chain software development project, we built an MVP in 3 months.

Is there a particular project flow your blockchain software development company sticks to?

We guarantee a quick project start (1-2 weeks) and apply well-established Lean, Agile and DevOps culture to ensure the implementation of high-quality blockchain projects on time and within budget.

How can you ensure the privacy and security of data stored in blockchain?

Our blockchain development company devises a strategy to prevent technology risks and stay compliant with GDPR, HIPAA, PCI DSS, FINRA, ISO 27001/27002, and other relevant standards and regulations. We also enforce policies to confirm transaction validity, implement authorization controls for APIs, set up privileged access management, and apply other security-boosting strategies.

Leverage Effective Blockchain Solutions

ScienceSoft is ready to provide blockchain app development services to deliver reliable blockchain systems which allow for enhanced traceability, security and faster processing of data and transactions.

<![endif]--> <![endif]--> <![endif]-->