B2B Portal Development
Launch a Digital Channel to Advance Business Relationships
B2B portal development is used to create a digital platform for interactions between your business and your partners, business buyers, vendors. ScienceSoft provides B2B portal development services and builds effective self-service and collaboration capabilities for business users.
ScienceSoft in Brief
Full-cycle development of complex web portals since 2005.
Web developers with 5 – 15 years of experience.
2 – 8 weeks for a B2B portal prototype.
Spotless integrations with custom and platform-based software.
ISO 9001 and ISO 27001 certified assuring the service quality and data security.
Match Your Business Goals with the Right B2B Portal Type
We Adjust the Service to Your Specific Needs
Custom B2B portal development
We bring to life all the functions and UX elements you want, and create unique workflows for your users. We opt for a modular architectural approach to compose your portal from functional blocks and easily modify/upgrade/evolve them in the future.
Value: a purpose-built portal, infinitely scalable, independent of commercial software, able to be integrated with the intended IT environment (even with legacy software).
Platform-based B2B portal development
We build your portal on top of rich functionality of commercial platforms and individualize it to the specificity of your requirements. We work with market-leading platforms: Dynamics 365, Salesforce, ServiceNow, Pimcore, SharePoint, to name a few.
Value: a portal with a reasonable total cost of ownership (development and support), fast time-to-market, reliance on field-proven technologies and architecture patterns.
B2B portal modernization/redesign
We determine the pain points of your portal and lay out a strategy to revive it into a more user-friendly and contemporary solution relevant to your current business processes and goals. Our service focuses both on the technology core of the portal (architecture, code) and its user-facing cover (UX and UI design).
Value: a revamped portal with flexible and fault-tolerant architecture, readable and maintainable code, higher user adoption due to improved UX and UI.
We re-architect and re-factor your portal to move it to a new cloud environment or break a monolithic portal solution into microservices. We migrate your business data fully and ensure little-to-no interruption of your business processes during the migration.
Value: a scalable portal and reduced IT costs due to optimal usage of cloud resources.
Check B2B Portals in Action!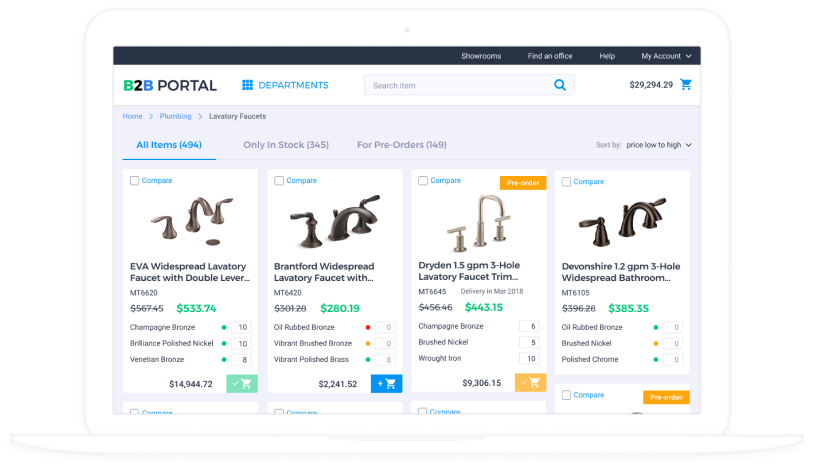 B2B Ecommerce Portal Demo
Browse our demo to explore B2B ecommerce portal functionality and understand how it helps sell to businesses.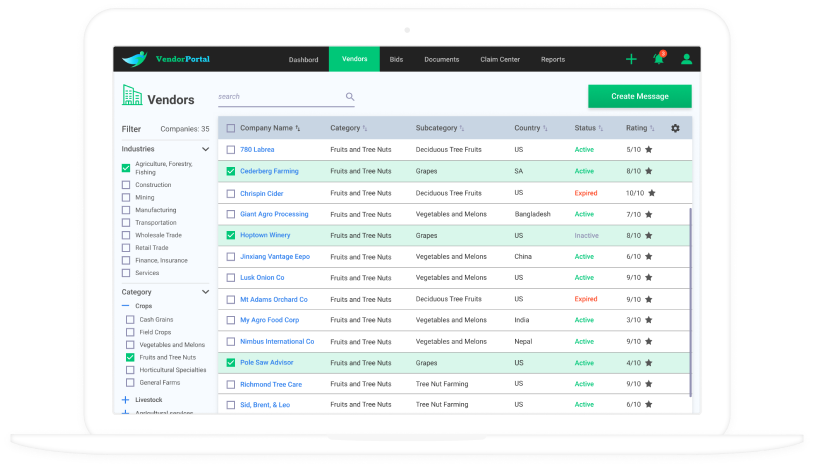 B2B Vendor Portal Demo
See a buy-side portal in action browsing our sample portal for an F&B manufacturing company.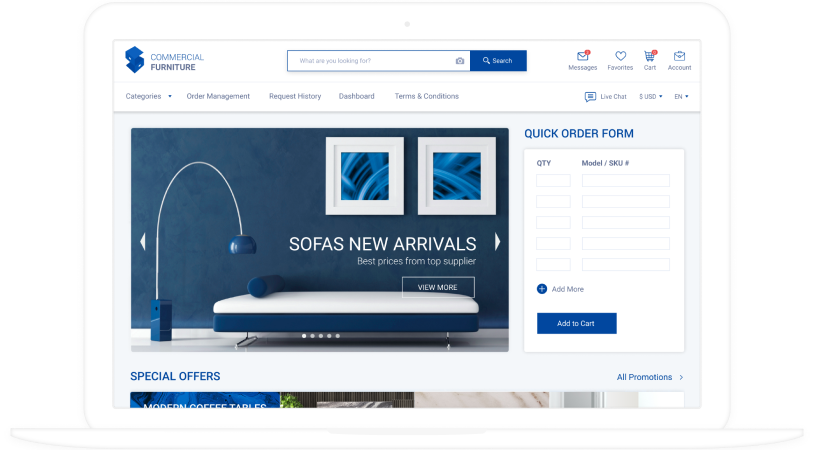 B2B Customer Portal Demo
Get a hands-on experience with sell-side portals browsing our sample portal for a furniture manufacturer.
B2B Portal Development Process – from a Concept to a Powerful Business Tool
We don't commit to a rigid development process as each company has thought out their idea of the portal they need to a different degree. You may come with just a blueprint or an elaborate functional specification. However, our sample end-to-end portal development process looks as follows:
1
Portal concept development
We start with thorough research and profiling of your company. The aspects we bring into focus are your current business processes and improvements you want to introduce, team size, challenges your team faces, software and tools they use.
If your portal is an external customer-facing system (like a marketplace or an aggregator), we research the competitive market and summarize opportunities, risks, and barriers.
We plan the functionality to achieve your goals.
Knowing the required functionality, we proceed with UX and UI design. We map user journeys up to details like which buttons users may click and which workflows will follow.
We move on to a technical specification that details the portal's functions and how each is implemented, the architecture, programming tools to be used, required integrations, implementation team composition, timelines and cost.
2
Portal implementation
We create the portal components and apply unit tests to validate the code.
We assemble the components into a coherent system.
If the portal is a part of the corporate software ecosystem, we set up API gateways for the integration.
When the coding work is done, we rigorously test the performance, functioning, integrations, and security of the system.
We migrate your business data from the sources you previously used, e.g., spreadsheets and legacy systems.
We schedule day X and bring your B2B portal to life.
To prompt the adoption by your users, we create short and clear user guides and, if needed, explain the challenging parts.
Unstable business environment
The world never stands still. To stay ahead of the game, businesses should be able to react to changes promptly and wisely. To make innovations work for you, we pay special attention to the application's flexibility. Our developers create an application with the architecture that provides an option to extend and change the functionality dynamically. Our solutions are open to AI implementation and mobile app integration
Infuriating UI and UX
Crowded screens, ill-marked buttons, irrelevant design, ill-structured content and other usage inconveniences may well deter the user from ever coming back. We build strong customer engagement to ensure the success of your B2B portal. Our skilled UI/UX designers recognize the high importance of application user-friendliness and regularly respond to the customer feedback developing clear, intuitive, elegant and full of energy UI.
Prime cyber-attack target
Due to a high concentration of valuable data, B2B portals often become a priority hacking target. We keep track of constantly evolving security needs and use best practices of automated multi-level control to guarantee the reliability of both web-application and its infrastructure. New cryptography techniques provide a bulletproof armor for your system, making it almost unhackable and introducing the highest standard of confidentiality, integrity and authentication.
Get access to automated discount system, personalized specials and news
Smoothly navigate through personalized catalogs, partnership and franchise offers
Participate in tendering and reverse auctions
Place orders 24/7 from any location
Engage themselves in group purchasing
Check in-stock availability
Download and print invoices
Track the order status
Get quick automated notifications
Avoid service calls for basic order questions
Sell 24/7
Set unique price lists
Find the best possible value for the product through auctions
Automate order processing
Reduce errors in documents and avoid "lost" invoices
Leverage the information of ERP/CRM system
Live-chat with customers to give a quicker response than the competitors
Support all popular e-payment systems and automatically manage deferred payment
Check payment status
Technologies

We apply leading-edge technologies and tools to ensure smooth integration with other systems and develop your application in the best way possible:

<![endif]--> <![endif]--> <![endif]-->