B2B Portal Development
A web-based B2B portal aggregates functionality to coordinate specific processes (buying, selling, marketing, etc.) between businesses.
ScienceSoft provides B2B portal development services from portal consulting to development and integration with custom and platform-based software.
Level Up Your B2B Interactions with a Portal
We can help you plan and develop a quality B2B portal with the best speed:
2 – 8 weeks for the B2B portal prototype.

3 – 4 months for the first working B2B portal version.

ISO 9001 and ISO 27001 certified to assure the quality of the services and the security of the customers' data that we access.
B2B ecommerce portal (B2B trading portal)
B2B ecommerce portal is used to manage wholesale orders and shipping. The B2B trading portal can be owned by one big seller or a group of sellers who look for potential buyers online or by a party not directly involved in the transaction process.
B2B vendor portal belongs to a single big buyer or a group of buyers and is used for providing comprehensive vendor information, organizing bidding, managing repeated B2B supplies, etc.
B2B customer portal provides customers with access to structured information on your products or services, offers self-service functionality, and the ability to request or schedule needed services.
According to the roles the owners take on
A single big buyer or a group of buyers operate a portal and thereby can engage themselves in purchasing and reverse auctions, benefit from e-procurement methods (e-tendering, e-sourcing, e-MRO) and avoid maverick buying.
These are B2B portals owned by one big seller or a group of sellers who look for potential buyers online. A supplier-oriented application contributes immensely to the company's recognition and customer retention, as well as opens new trade options (such as auctions). Buyers take advantage of supplier directories, as they get access to comprehensive information on profiles of suppliers and related products and services.
This type of B2B portals is controlled by a party not exactly involved in the transaction process. Such a portal provides much space for collaborative business processes through secure buyer-seller qualification, integration with multiple internal systems of its members, industry analysis, bid coordination and escrow service.
According to the portal content
Our team design an online working site that links all supply chain segments of one industry or industry sector. Such portals enhance your operating efficiency, lower intermediary costs and considerably reduce order cycle time.
ScienceSoft will develop an architecture of a huge open market with advanced search options, which concentrates on a service, material or a product, bringing together buyers and sellers from different industries in both domestic and international markets.
B2B portal development from scratch
ScienceSoft's team will:
Conduct professional analysis of B2B portal-related needs.
Write a B2B portal requirements specification.
Create UX/UI designs.
Develop and test your new B2B portal.
Integrate the B2B portal with other custom or third-party tools.
Conduct IT staff and end-user training.
Platform-based B2B portal development
Our platform-based B2B portal development service includes:
Platform choice (Dynamics 365, Salesforce, SharePoint).
Platform-based B2B portal planning and design.
Platform-based B2B portal development and customization.
Platform-based B2B portal integration with custom/third-party tools.
B2B portal migration between platforms or to the latest platform version.
B2B portal development based on ready specifications
Our web developers build B2B portals rigidly following the provided specifications about intended functionality.
Legacy B2B portal modernization
Our experts will fix an existing system, enhance its architecture, seamlessly implement new elements and arrange safe data migration.
After the portal is launched, our team will continue maintaining and supporting the B2B portal software to ensure its high relevance in the future.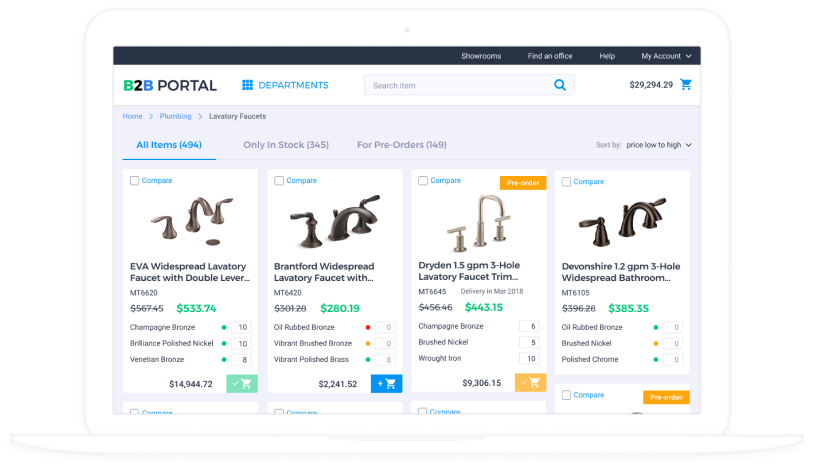 B2B Ecommerce Portal Demo
Browse our demo to explore B2B ecommerce portal functionality and understand how it helps sell to businesses.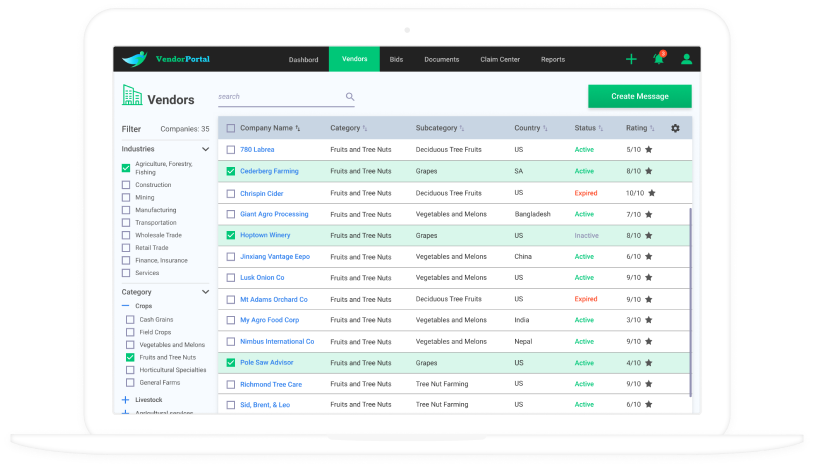 B2B Vendor Portal Demo
See a buy-side portal in action browsing our sample portal for an F&B manufacturing company.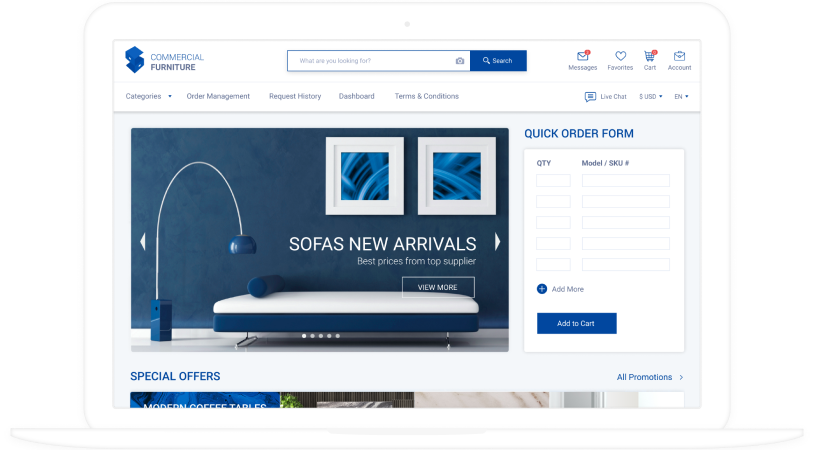 B2B Customer Portal Demo
Get a hands-on experience with sell-side portals browsing our sample portal for a furniture manufacturer.
Wonder How Much Your B2B Portal Will Cost?
ScienceSoft's consultants, web portal architects and compliance experts can help you with the custom quote for your B2B web portal development project.
Unstable business environment

The world never stands still. To stay ahead of the game, businesses should be able to react to changes promptly and wisely. To make innovations work for you, we pay special attention to the application's flexibility. Our developers create an application with the architecture that provides an option to extend and change the functionality dynamically. Our solutions are open to AI implementation and mobile app integration

Infuriating UI and UX

Crowded screens, ill-marked buttons, irrelevant design, ill-structured content and other usage inconveniences may well deter the user from ever coming back. We build strong customer engagement to ensure the success of your B2B portal. Our skilled UI/UX designers recognize the high importance of application user-friendliness and regularly respond to the customer feedback developing clear, intuitive, elegant and full of energy UI.

Prime cyber-attack target

Due to a high concentration of valuable data, B2B portals often become a priority hacking target. We keep track of constantly evolving security needs and use best practices of automated multi-level control to guarantee the reliability of both web-application and its infrastructure. New cryptography techniques provide a bulletproof armor for your system, making it almost unhackable and introducing the highest standard of confidentiality, integrity and authentication.
Get access to automated discount system, personalized specials and news
Smoothly navigate through personalized catalogs, partnership and franchise offers
Participate in tendering and reverse auctions
Place orders 24/7 from any location
Engage themselves in group purchasing
Check in-stock availability
Download and print invoices
Track the order status
Get quick automated notifications
Avoid service calls for basic order questions
Sell 24/7
Set unique price lists
Find the best possible value for the product through auctions
Automate order processing
Reduce errors in documents and avoid "lost" invoices
Leverage the information of ERP/CRM system
Live-chat with customers to give a quicker response than the competitors
Support all popular e-payment systems and automatically manage deferred payment
Check payment status
We apply leading-edge technologies and tools to ensure smooth integration with other systems and develop your application in the best way possible:

Benefit from a World-Class B2B Portal Solution

Our web portal development team is ready to translate your business needs, trends of your industry, and specifics of B2B interactions into a powerful B2B portal to enable faster, smoother, and more effective communication with your partners and enterprise customers.

<![endif]--> <![endif]--> <![endif]-->