Healthcare CRM Software
Healthcare CRM helps systematize interaction with patients and referring providers, personalize medical services promotion, improve care quality and patient satisfaction. In healthcare IT since 2005, ScienceSoft delivers CRM solutions based on Microsoft Dynamics 365 and Salesforce Health Cloud.
Gain, Engage and Retain More Patients with CRM
ScienceSoft can help you employ healthcare CRM to gain in-depth visibility in relationships with your patients and influence them across various communication channels – website, live chat, call center, social media, etc.
ScienceSoft Is a Leader in Healthcare IT Services Market in 2022 SPARK Matrix
ScienceSoft is featured as a leading healthcare IT services provider, along with Athena Health and Oracle Cerner. This achievement is a result of 17 years of tireless pursuit of technological innovation, made possible by ScienceSoft's passionate team of healthcare IT experts who always strive to make a difference for patients and caregivers alike.
All-round profiling of prospective and current patients
Outcome-focused management of referring providers
Facilitation of pre- and post-treatment communication with patients
Measurable patient experience

Improved chronic disease management through automated notifications and alerts
Web content personalization based on website-CRM-EHR interaction
Email marketing automation
Healthcare CRM enables clever, targeted referral management to build long-term relationships with referring professionals, such as primary care physicians, and thus maximize the influx of patients from your referral sources.
Within holistic profiles, a CRM system will keep track of the complete interaction history with each member of your referral network. This includes visit scheduling via online forms, phone or fax and sending automatic appointment reminders.
Optimized for acquisition and retention of referring professionals, the system will also tie your personnel's activities to the outcomes and efficiency that can be monitored and assessed through custom reporting dashboards.
Although both systems store patient data, enable internal collaboration and focus on a personalized approach to caregiving, it is healthcare CRM software that helps to increase patient satisfaction and sustain relationships through better experience.
We integrate CRM with EHR so that you can drive more value from the data stored in both systems. This results in presenting information scraped from patients' records and communication history across channels as a pool of essential facts to be used for targeted campaigns and content personalization.
Caregiving

first, tailored to patient treatment
Used

by qualified clinicians only
No

actionable data on referrals
High

level of manual procedures, prone to human errors
Outgoing communication with patients shifted to a patient portal
Little or no measurable insights into patient and referral relationships
Com

munication first, tailored to customer service
Op

timized for use by marketing and sales specialists
Com

plete profiling of patients, referring institutions and affiliated physicians
Aut

omated, policy-based workflows
Aut

omatic notifications sent two-way, both to caregivers and their patients (e.g. appointment reminders or test results)
Aut

omated analytics and reporting, including monitoring of patient satisfaction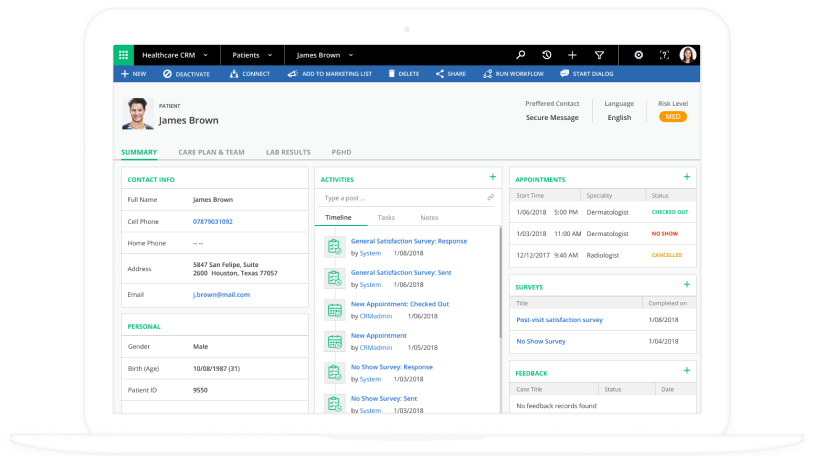 Wonder How Healthcare CRM Works in Real Life?
Watch ScienceSoft's demo to see how it facilitates patient service, aggregates patient data, and provides meaningful insights to improve care.
Why ScienceSoft
Rich experience in developing HIPAA-compliant software.
UX and UI design aimed at convenience for patients and medical staff.
ScienceSoft USA Corporation is listed among The Americas' Fastest-Growing Companies 2022 by Financial Times.
ISO 13485-certified to design and develop medical software according to the requirements of the FDA and the Council of the European Union.
In healthcare, CRM can do so much more than just replace sticky notes on caregivers' desks, and our CRM consultants know how to unfold the system's potential with an eye on your budget and project timelines.
Full-cycle competencies
We start with CRM consulting and a free proof-of-concept to align your expectations and requirements. We then take you through the project stages, from Business Analysis to Maintenance, with minimum efforts on your side
Multi-platform CRM
We have the resources and expertise to deliver healthcare CRM solutions across desktop, web and mobile platforms, including cloud-based options
Integration
We integrate CRM solutions with existing enterprise-level systems such as EHR, PMS, RMS and patient support facilities (online appointment booking, patient portals, live chat, call center)
Website personalization
From the first website visit on, we help you build trust, increase engagement and stimulate conversion by serving only relevant content. This includes personalized landing pages, promotions, services and educational materials selected on the basis of each visitor's or registered patient's unique story.
years in software engineering
years in healthcare IT
years in CRM consulting
professionals and growing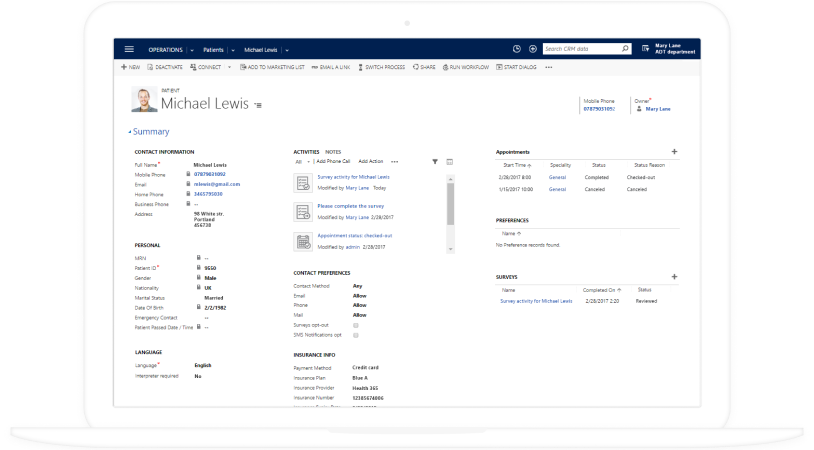 Healthcare CRM Implementation for a Medical and Research Center
ScienceSoft implemented a customized healthcare CRM system integrated with the Customer's EHR and PMS, which allows scheduling and tracking interaction with patients, sending automated patient notifications and asking patients for feedback over customizable surveys.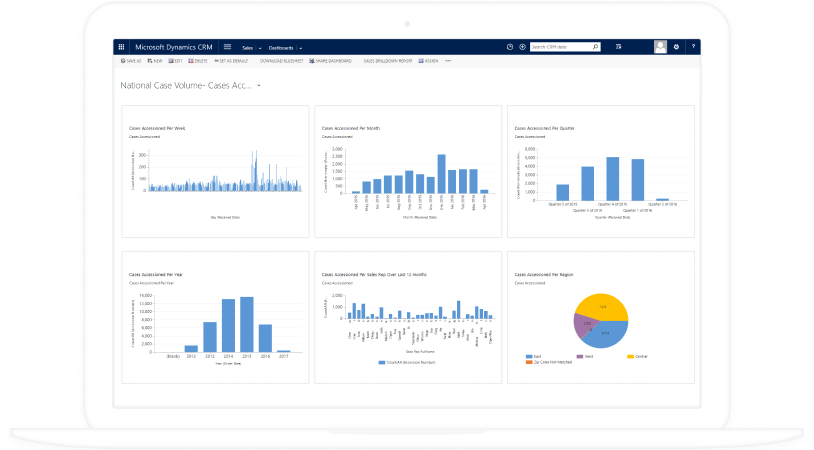 Microsoft Dynamics CRM Implementation for a US Market Leader in Cancer Diagnostics
ScienceSoft customized Microsoft Dynamics CRM to enable sales management and performance analytics by US geographic regions and designed a range of reporting dashboards.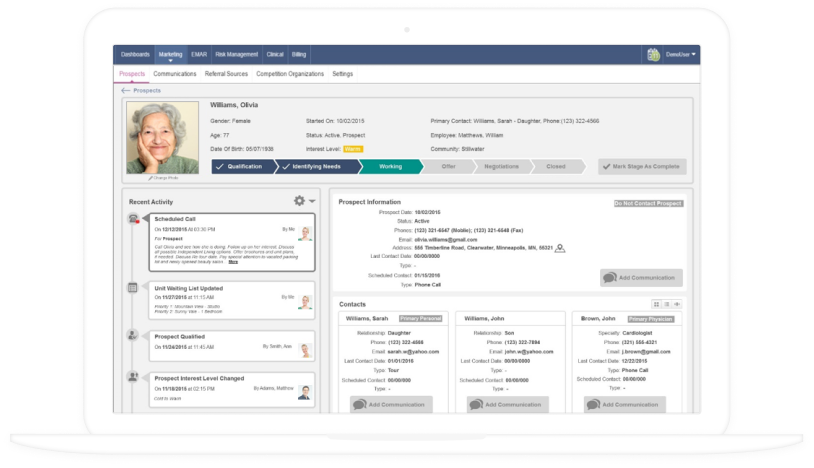 Development of Marketing Software for Assisted Living Providers
ScienceSoft built the marketing module for assisted living facilities to allow for effective prospect management and marketing task scheduling.
Find Out Whether to Invest in Healthcare CRM!
ScienceSoft is ready to assess your healthcare organization's needs and prepare a healthcare CRM feasibility study with ROI calculation.
Data security as the priority, from strict NDAs to HIPAA-compliant data management
ISO 13485 certification proving our ability to develop high-quality healthcare software compliant with the requirements of the FDA and the Council of the European Union
Deep CRM customization when applicable, including custom add-ons and tailored workflows
Projects of various complexity, from thousands to millions of active profiles in a CRM system
Rely on Expert Help to Get Healthcare CRM!

ScienceSoft's team will help you choose and tailor CRM to provide your patients with personalized, high-quality services and build up patient satisfaction.

<![endif]--> <![endif]--> <![endif]-->