Dynamics 365 for Healthcare
Guide to a Value-Bringing Solution
Bringing in 18 years of experience in medical IT, ScienceSoft delivers reliable and practical Microsoft Dynamics 365 solutions for healthcare since 2008.
Dynamics 365 for Healthcare in Brief
Using software products from the Microsoft Dynamics 365 suite, healthcare organizations can manage their operations, improve patient satisfaction, and up the quality of care. ScienceSoft's decades-long experience in the healthcare industry proves that Dynamics 365 is a powerful tool that brings tangible results to healthcare organizations: from consistent patient data and reduced no-shows to better patient experience and optimized retention of referring professionals.
Check the Highlights of a Dynamics 365-Based CRM Solution for Healthcare
Core Features of a Value-Bringing Dynamics 365 Solution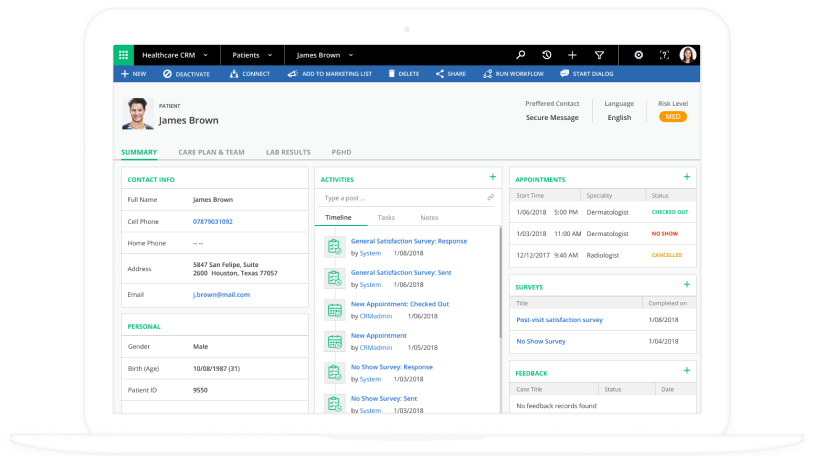 Explore a Demo of Dynamics 365 Healthcare CRM
Watch a sample demo of Healthcare CRM based on Dynamics 365 to see how it facilitates patient service, aggregates patient data, and provides meaningful insights to improve care.
Integrations to Get the Most Value from Dynamics 365 for Healthcare
EHR/EMR software - to exchange actual health information, treatment plan, and communication history to help foster treatment adherence.
Patient portal, patient app, telehealth app, or website - for smooth interaction with patients, including appointment scheduling, questionnaires and surveys filling, sharing of educational content, as well as fostering engagement and care continuity.
Practice management system - to help plan medical staff shifts based on appointment demand and notify them of schedule changes (e.g., a canceled telehealth appointment).
Email services - to automate the send-out of email notifications, reminders, special offers, and personalized content.
Business intelligence - to get insights based on the data stored in the integrated systems and visualize the results as interactive dashboards.
Microsoft Partner since 2008

With a strong team of Dynamics 365 professionals experienced in the healthcare domain, ScienceSoft is a trusted Microsoft solution partner. We provide consulting, implementation, and support services to help healthcare providers accelerate their operations using a set of neat and powerful Dynamics 365 tools.

ScienceSoft's healthcare IT consultants pinpoint the business needs of your medical organization and help bridge the gap between your workflows using future-proof technology.
Join Our Happy Customers
Shorouq Basnawi
Commercial Applications Sr. Analyst
SAL Saudi Logistics Services
The team implemented a robust customer portal integrated with the Dynamics 365 Sales module. They also conducted training on all scenarios of using the portal for our sales team, which encouraged high user adoption of the solution. The B2B customer portal meets our business needs of enhanced pricing, invoicing and contracting and overall client communication. We are fully satisfied with the solution and the assistance of ScienceSoft's team
Maria Zannes
President & CEO
bioAffinity Technologies
ScienceSoft has been a competent partner for medical software development. We would recommend them as a trustworthy vendor. They are reliable, thorough, smart, available, extremely good communicators and very friendly. We would recommend hiring ScienceSoft to anyone looking for a highly productive and solution-driven team. We look forward to working with them over the long-term.

Knut Vonheim
Client Partner
Albatross IT Consultants AS
AITC, and me personally, has worked with ScienceSoft on both product development and consulting engagements with a focus on mobile and CRM. We have experienced great cooperation from management in both departments, quick understanding of requirements, deep technical skills from assigned resources, and the company's commitment to time, price, and quality.
View all customer reviews
Why Choose ScienceSoft as a Microsoft Solutions Partner
Vast experience in developing HIPAA and GDPR-compliant software.
For the second straight year, ScienceSoft USA Corporation is listed among The Americas' Fastest-Growing Companies by the Financial Times.
ISO 13485-certified to design and develop medical software according to the requirements of the FDA and the Council of the European Union.
15 years in CRM implementation.
34 years in IT and 18 years in the healthcare domain.
Working experience with Dynamics 365 since 2008.
Deep knowledge of the healthcare IT environment helps us integrate Dynamics 365 with any required IT system.
Dynamics 365: Projects Examples for Healthcare

St. Luke's University Health Network with 300 locations across Pennsylvania and New Jersey implemented Microsoft Dynamics 365 CRM to improve patient management and support. To achieve data consistency, the provider connected their electronic health records system from Epic with Microsoft Dynamics 365 CRM. St. Luke's achieved a 360-degree patient view by using Dynamics 365 to access health data and accelerated the digital transformation.
More about the project

GIRA DENTAL, one of the top Spanish companies for dental clinic management, connects a network of oral health providers and their insurance company customers through a variety of web platforms. They implemented a suite of Microsoft Dynamics tools, including Dynamics 365 CRM, Customer Engagement, and Power BI, to optimize processes for insurance companies and dental clinics while staying focused on customer experience. Now, 12 of the largest international insurance companies currently use the implemented solution.
More about the project
About ScienceSoft
Established in 1989, ScienceSoft is an international IT consulting and software development company headquartered in McKinney, Texas, US. Working with Microsoft Dynamics CRM for 15 years, ScienceSoft offers consulting and implementation services to healthcare providers to help build up patient satisfaction, improve referral management, and marketing campaigns efficiency.
All about our Healthcare IT services
<![endif]--> <![endif]--> <![endif]-->