IT Services and Software for Transportation and Logistics Companies
Digital Transformation in Transportation and Logistics Operations
Since 2015, ScienceSoft provides tailored IT solutions and dedicated services for the transportation and logistics (T&L) industry, which propel digital transformation across business management and all major T&L activities.
IT services for transportation and logistics (T&L) focus on consulting, implementation, support and evolution of T&L solutions and aim to help T&L companies streamline and reduce costs of logistics operations, enhance asset efficiency, and improve customer experience.
The dedicated IT services also cover consulting on the use of advanced techs (cloud, IoT, AI and ML, blockchain, AR, etc.) for T&L operations, IT infrastructure support, quality assurance, help desk, and cybersecurity services for T&L companies, and more.
Companies ScienceSoft Serves
Logistics service providers (LSPs)
Freight forwarders, third-party and fourth-party logistics service providers.
Courier express parcel (CEP) companies
CEP services providers operating in B2B and B2C segments.
Providers of digital platforms that enable direct interaction between multiple T&L providers and buyers of T&L services.
Companies looking to develop software products for the T&L industry.
Enterprises involved in T&L activities
Non-T&L companies that need to manage large T&L teams and in-house fleet.
IT Solutions for T&L by ScienceSoft
Business management
T&L operations and asset management
Why Choose ScienceSoft as a Technology Partner in T&L
Since 1989 in software development.
Since 2015 in designing and building transportation software, including fleet management solutions.
34 years of experience in data science, 12 years in IoT, 10 years in big data, 17 years in AR to introduce T&L solutions powered up by advanced technologies.
Since 2003 in cybersecurity to ensure world-class protection of T&L solutions.
Since 2010 in IT infrastructure services to cover administration, monitoring, troubleshooting, and optimization of IT infrastructures for T&L companies.
Quality-first approach and a mature security management system backed up by ISO 9001 and ISO 27001 certifications.
For the second straight year, ScienceSoft USA Corporation is listed among The Americas' Fastest-Growing Companies by the Financial Times.
Benefits of Building IT Solutions for Transportation and Logistics with ScienceSoft
Optimized software implementation cost
We define an accurate scope of T&L solution functionality based on our customers' needs not to implement unnecessary features.
We rely on iterative development to introduce essential T&L software features first and enable faster payback from software implementation.
We use proven frameworks and ready-made components where possible to streamline development and ensure high T&L software quality.
We opt for cost-efficient cross-platform techs (React Native, Flutter, Xamarin, etc.) to develop mobile T&L apps.
Bringing business value with advanced technologies
We choose the best-fitting advanced technologies (AI, ML, big data, IoT, blockchain, AR) for each IT solution to deliver additional value across transportation and logistics workflows for our customers.
Optimal cooperation model
We offer full IT outsourcing, dedicated teams, and team augmentation to provide companies with the precise level of cooperation they need.
We define tailored sets of metrics to track the quality of services we deliver and ensure service transparency by submitting regular reports on service quality KPIs, use of resources, potential risks, and more.
Flexible pricing options
Depending on the required kind of service, we offer:
Time & Material, Time & Material with a cap pricing model – for advisory activities, agile implementation of a T&L solution with frequently changing requirements.
Fixed price model – for a feasibility study and PoC development, T&L solution implementation divided by stages to fix the price for each stage.
A monthly subscription fee – for IT support activities for T&L companies.
Security and compliance
We implement intelligent fraud detection algorithms, authorization controls for APIs, data validity confirmation mechanisms, and other robust security mechanisms to ensure protection of data stored in a T&L solution. Our logistics software development company also helps achieve and maintain compliance with SOX, SOC 1 and SOC 2, WTO regulations, ISO standards, DOT requirements, and other necessary global and regional regulations.
The Financial Times Includes ScienceSoft USA Corporation in the List of the Americas' Fastest-Growing Companies 2023
For the second year in a row, ScienceSoft USA Corporation ranks among 500 American companies with the highest revenue growth. This achievement is the result of our unfailing commitment to provide high-quality IT services and create best-value solutions that meet and even exceed our clients' expectations.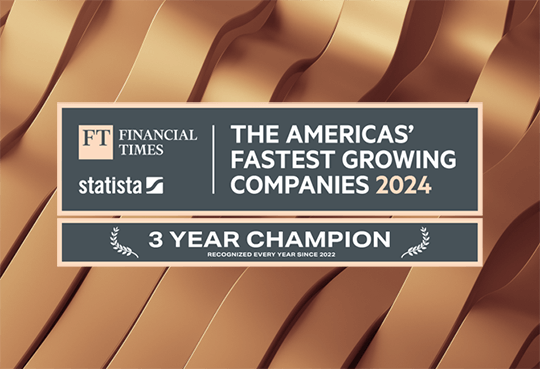 Selected Transportation and Logistics Projects by ScienceSoft
Our Customers Say

Bader Alhamdan
Managing Director
Deyarat Trading Co.
Relying on ScienceSoft's experience in software development and practical knowledge of the transportation and logistics sector, we commissioned them the end-to-end design and development of our shipping services marketplace. We appreciated their client-oriented approach, consistent collaboration across all the project stages, and flexibility to adjust to changes. We believe ScienceSoft has contributed a lot to speed up our marketplace's release and would certainly recommend them as a reliable tech partner.
Shorouq Basnawi
Commercial Applications Sr. Analyst
SAL Saudi Logistics Services
We commissioned ScienceSoft to build a Dynamics 365 customer portal to help our sales team streamline communication with B2B customers. The team implemented a robust customer portal integrated with the Dynamics 365 Sales module. The B2B customer portal meets our business needs of enhanced pricing invoicing and contracting and overall client communication. The project continues on the support level, and we are glad to continue our cooperation with ScienceSoft.

Hendrik Riemeier
Managing director
Contex Shipping
Working with ScienceSoft has been an enriching experience for our organization. From the outset, their expertise was evident. Entrusting them with the construction of our SharePoint Online site was one of the best decisions we've made. We wholeheartedly recommend ScienceSoft to any business looking to optimize their digital infrastructure. Their professionalism and proficiency truly set them apart.
Sultan Masad
Group IT Manager
Ayedh Dejem Group
We partnered up with ScienceSoft for building a SharePoint document management system to streamline document storing, search, approval, and archiving. One of our core requirements was DMS user-friendliness. To meet this requirement, ScienceSoft's team implemented custom look and feel features. The DMS developed by ScienceSoft helped us ensure document integrity and security and accelerate document-related business processes.
View all customer reviews
Choose Your Service Option
Benefit from Digitizing Your Transportation and Logistics Operations
Based on ScienceSoft's experience in transportation and logistics, companies operating in this sector may reap the following benefits with digital transformation:
reduction in time for transportation planning and control due to automation

improvement in the on-time delivery rates due to accurate order fulfillment planning and execution

efficiency and extended lifespan of fleet and warehouse equipment due to enabled predictive maintenance

operational costs, including labor costs, fuel expenses, fleet maintenance costs, due to the analytics-driven optimization of T&L operations
All about Transportation and Logistics
<![endif]--> <![endif]--> <![endif]-->