IT Services and Software for Transportation and Logistics Companies
Digital Transformation in Transportation and Logistics Operations
Since 2015, ScienceSoft has provided tailored IT solutions and dedicated services for the transportation and logistics (T&L) industry, which propel digital transformation across business management and all major T&L activities.
IT services for transportation and logistics (T&L) focus on consulting, implementation, support and evolution of T&L solutions and aim to help T&L companies streamline and reduce costs of logistics operations, enhance asset efficiency, and improve customer experience.
The dedicated IT services also cover consulting on the use of advanced techs (cloud, IoT, AI and ML, blockchain, etc.) for T&L operations, IT infrastructure support, quality assurance, help desk, and cybersecurity services for T&L companies, and more.
Logistics service providers (LSPs)
Freight forwarders, third-party and fourth-party logistics service providers.
Trucking, rail freight, sea freight and air freight companies, including last-mile delivery providers.
Courier express parcel (CEP) companies
CEP services providers operating in B2B and B2C segments.
Providers of digital platforms that enable direct interaction between multiple T&L providers and buyers of T&L services.
Companies looking to develop software products for the T&L industry.
Enterprises involved in T&L activities
Non-T&L companies that need to manage large T&L teams and in-house fleet.
Advanced financial analytics
Consolidation and analysis of financial big data to reveal key T&L cost and revenue drivers.
AI-powered analysis and trend-based forecasting of operational and strategic T&L expenses; suggestions on spend optimization.
Calculation of operational and strategic T&L savings.
Revenue calculation (by period, customer, region, etc.), analysis and forecasting.
Spend planning and control
Calculation of transportation cost based on the delivery mode, shipment distance, fuel cost, cargo weight and size, number of stops, etc.
Automated allocation of transportation costs to individual orders.
Planning operational expenses based on the analysis of historical spend data, data on customer demand, current fuel and services prices.
Real-time tracking of operational spend by category (fuel, fleet maintenance, driver payroll, etc.).
Labor planning (by period, type of activity, region, etc.) based on the analysis of historical data on resource requirements for customer order fulfillment.
Automated task assignment (for drivers, warehouse staff, etc.) based on the employee availability and operational schedules.
Real-time labor performance monitoring against pre-defined KPIs.
Customer relationship management
Centralized storage of customer-related data (general customer information, interaction history and ongoing activities, etc.).
Creation, editing, approval, and centralized storage of customer documents (contracts, invoices, etc.).
Customer claim management.
Customer portal with self-service capabilities.
Customer order management
Automated aggregation of customer orders from a customer portal, third-party ecommerce platforms, etc.
Prioritization of customer orders based on customer value, order date, item category, and more.
Analytics-based assignment of preferred carriers to customer orders.
Real-time tracking of customer order fulfillment progress.
Automated calculation of due amounts and submission of customer invoices.
Vendor relationship management (for LSPs)
Managing RFxs, e-auctions, e-tenders.
AI-enabled cost-benefit analysis and carrier bid/rate compliance scoring.
Creation, editing, approval, and centralized storage of carrier contracts and transport orders.
Automated validation of carrier invoices and submitting them for payment.
Real-time monitoring of carrier performance against pre-defined KPIs.
Vendor portal for carrier self-registration and facilitated communication with carriers.
Logistics operations and asset management
Advanced operational analytics
Automated aggregation, processing, and AI-powered analysis of operational big data (transactional data, transportation process data, fleet data, labor performance data, etc.).
Scheduled and ad hoc analytical reports.
Trend-based forecasting of customer demand, fleet utilization, labor utilization, etc.
What-if scenario modeling and operational risk management.
AI-powered recommendations on optimal storage conditions for different goods, item putaway and picking routes, type and amount of order packing.
AR-enabled order picking (pick-by-vision).
Barcode/RFID-enabled monitoring of warehouse inventory levels.
AI-powered planning of warehouse labor resources and equipment, operations in yard, loading docks, etc.
Transportation management
Transportation demand planning.
AI suggestions on optimal transport modes and vehicles, shipping routes, item consolidation, transportation rates. and more.
Real-time tracking of transportation progress.
RFID-enabled monitoring of goods transportation conditions (e.g., temperature, humidity, vibration, etc.).
ML-powered forecasting of shipping time and estimated time of arrival.
Creation, editing, approval, and centralized storage of transportation documents (bills of lading, commercial invoices, etc.).
Automated reverse logistics.
Template-based creation of fleet schedules and task lists for drivers.
Real-time tracking of vehicle location, fuel consumption, driver's behavior, tachograph data compliance with applicable regulations (e.g., DOT requirements for the US), and more.
A mobile application for last mile carriers to enable easy updates on order shipment status.
Predictive fleet maintenance suggestions powered by IoT and AI technologies.
Fleet maintenance monitoring in real time and reporting upon completion.
Since 1989 in software development.
Since 2015 in designing and building transportation software, including fleet management solutions.
33-year experience in data science, 11 years in IoT, 9 years in big data, 16 years in AR to introduce T&L solutions powered up by advanced technology.
Since 2003 in cybersecurity to ensure world-class protection of T&L solutions.
Since 2010 in IT infrastructure services to cover administration, monitoring, troubleshooting, and optimization of IT infrastructures for T&L companies.
A mature quality management system and customer data safety backed up by ISO 9001 and ISO 27001 certifications.
Named among the Americas' Fastest-Growing Companies 2022 by the Financial Times.
Benefits of Building IT Solutions for Transportation and Logistics with ScienceSoft
Optimized software implementation cost
We design T&L solution functionality based on our customers' business needs not to implement unnecessary features.
We use ready-made components where possible to streamline development and introduce essential T&L software features first to enable faster payback from software implementation.
We use proven software development frameworks to ensure high T&L software quality.
We opt for cost-efficient cross-platform frameworks (React Native, Flutter, Xamarin, etc.) to develop mobile T&L apps.
Bringing business value with advanced technologies
We choose the best-fitting advanced technologies (AI, ML, big data, IoT, blockchain, AR) for each IT solution to deliver additional value across transportation and logistics workflows for our customers.
Optimal cooperation model
We offer full IT outsourcing, dedicated teams and team augmentation to provide companies with the precise level of cooperation they need.
Transparent collaboration
We define tailored sets of metrics to track the quality of services we deliver and ensure service transparency by submitting regular reports on service quality KPIs, use of resources, potential risks, and more.
Flexible pricing options
Depending on the required kind of service, we offer:
Time & Material, Time & Material with a cap pricing model – for advisory activities, agile implementation of a T&L solution with frequently changing requirements.
Fixed price model – for a feasibility study and PoC development, T&L solution implementation divided by stages to fix the price for each stage.
A monthly subscription fee – for IT support activities for T&L companies.
Security and compliance
We implement robust fraud detection algorithms, authorization controls for APIs, data validity confirmation mechanisms, and other security measures to ensure protection of data stored in a T&L solution. Our logistics software development company also devises a strategy to stay compliant with SOX, SOC 1 and SOC 2, WTO regulations, ISO standards, DOT regulations (for the US), and other relevant standards and regulations.
The Financial Times Includes ScienceSoft USA Corporation in the List of Americas' Fastest-Growing Companies 2022
ScienceSoft is one of 500 companies with the highest compound annual growth rate in revenue. This achievement is a result of our unfailing commitment to provide high-quality IT services and find best-value solutions to clients' needs.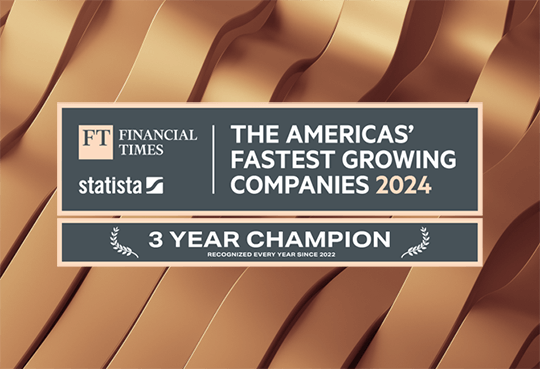 Our Customers Say

Bader Alhamdan
Managing Director
Relying on ScienceSoft's experience in software development and practical knowledge of the transportation and logistics sector, we commissioned them the end-to-end design and development of our shipping services marketplace. We appreciated their client-oriented approach, consistent collaboration across all the project stages, and flexibility to adjust to changes. We believe ScienceSoft has contributed a lot to speed up our marketplace's release and would certainly recommend them as a reliable tech partner.
Shorouq Basnawi
Commercial Applications Sr. Analyst
We commissioned ScienceSoft to build a Dynamics 365 customer portal to help our sales team streamline communication with B2B customers. The team implemented a robust customer portal integrated with the Dynamics 365 Sales module. The B2B customer portal meets our business needs of enhanced pricing invoicing and contracting and overall client communication. The project continues on the support level, and we are glad to continue our cooperation with ScienceSoft.
Sultan Masad
Group IT Manager
We partnered up with ScienceSoft for building a SharePoint document management system to streamline document storing, search, approval, and archiving. One of our core requirements was DMS user-friendliness. To meet this requirement, ScienceSoft's team implemented custom look and feel features. The DMS developed by ScienceSoft helped us ensure document integrity and security and accelerate document-related business processes.
Benefit from Digitizing Your Transportation and Logistics Operations
Based on ScienceSoft's experience in transportation and logistics, companies operating in this sector may reap the following benefits with digital transformation:
operational costs, including labor costs, fuel expenses, fleet maintenance costs, due to the analytics-driven optimization of T&L operations

reduction in time for transportation planning and control due to automation

improvement in the on-time delivery rates due to accurate order fulfillment planning and execution

efficiency and extended lifespan of fleet and warehouse equipment due to enabled predictive maintenance
All about Transportation and Logistics
IT Services for Transportation and Logistics
<![endif]--> <![endif]--> <![endif]-->