Supply Chain Software Development Services
Supply chain software development services are a way for any company to get a robust supply chain solution bound to its unique needs while ensuring optimized project costs and minimized implementation risks.
Since 2012, ScienceSoft helps companies from 30+ industries design and implement reliable supply chain management software.
| | | |
| --- | --- | --- |
| Increased precision of demand forecasting and eliminated stockouts and overstocking | Full visibility into an extended supply chain and high efficiency of risk management activities | Enhanced accuracy of inventory planning and lower inventory carrying costs |
| Optimized resource utilization (labor, transportation, etc.) | Streamlined fulfillment of sales orders | Improved collaboration with suppliers |
Supply Chain Solutions and SCM Software Features ScienceSoft Delivers
We offer full-cycle development services to plan and implement one or several integrated supply chain software solutions that introduce powerful functionality for the necessary SCM areas:
SCM software integrations we recommend
To introduce a cohesive supply chain automation environment, our supply chain development company helps integrate SCM software with the following systems:
| | |
| --- | --- |
| | With ERP, MES, OMS, accounting software, and other relevant business systems – to improve supply chain planning and control. |
| | With third-party software, e.g., supplier or distributor systems – for seamless collaborative supply chain management. |
| | With hardware (barcode scanners, RFID readers, computer vision systems) – to automate employee workflows across inventory identification, counting, and tracking. |
| | With a business intelligence (BI) solution – to leverage supply chain data for enterprise-level analytics. |
Our SCM Software Development Service Scope
Supply chain management software consulting
We create an optimal technical design for your SCM solution, provide expert advice on the project cost optimization, and introduce a detailed implementation plan for minimized risks.
Go for consulting
End-to-end supply chain management software development
We design and build your SCM solution, integrate it with the required systems, and run all necessary QA procedures. We can also provide user training and after-launch software support.
Go for development
Why Trust SCM Software Development to ScienceSoft
Since 1989 in IT and 750+ professionals on board.
Since 2012 in supply chain software development.
Practical knowledge of 30+ industries, including manufacturing, retail, healthcare, construction, energy.
Proficiency in advanced techs, including AI, big data, IoT, AR and VR, blockchain.
In-house project management office to run large-scale supply chain digital transformation projects.
Quality-first approach based on a mature ISO 9001-certified quality management system.
Robust security management supported by ISO 27001 certification.
What Our Customers Say

Bader Alhamdan
Managing Director
Deyarat Trading Co.
We commissioned ScienceSoft the end-to-end design and development of our shipping services marketplace. ScienceSoft's team managed to fully cover our needs and tech requirements to the platform and deliver the solution on time and within budget. We appreciated their client-oriented approach, consistent collaboration across all the project stages, and flexibility to adjust to changes. ScienceSoft's expert advice helped us reveal cost optimization opportunities and define the functionality to increase the solution's value for all target user groups.
Catherine Roller Tyrrell
Founder
The Beauty Interactive
We turned to ScienceSoft with the idea of creating an all-in-one web platform for all the key beauty industry stakeholders. ScienceSoft's team was proactive, professional, and highly responsive to our needs. They helped us create a clear product vision and prioritize key features. They also created clickable prototypes. Thanks to ScienceSoft, we now have everything we need to raise funding for the project and start MVP implementation.

Martins Kalva
Digital Transformation Manager
Skonto Plan
ScienceSoft positively surprised us with cooperation approach already from the beginning. Firstly, initial agreement stage was easy, understandable and we are able start working on our requirements as fast as possible. Secondly, we are able to create more thoughtful solution because of available expertise of allocated resources. Finally, that especially positively resonates with us is that, if there are any cooperation issues, we are able to be fully open from both sides and solve them effectively.
View all customer reviews
How to Develop Supply Chain Software
Below, ScienceSoft describes key steps that our teams perform to introduce reliable, future-ready supply chain software:
Business analysis and requirements engineering
Analyze your supply chain strategy and operations, define how well they align with your overall business strategy.
Evaluate how your supply chain operations are currently supported with the technology. Identify the areas of improvement and map them to possible technology solutions.
Define software requirements in collaboration with your subject-matter experts (planners, procurement specialists, inventory managers, etc.).
Introduce a high-level solution vision and scope reflecting our assumptions on how the SCM software should work. Provide discovery estimates.
For custom software: Create an optimal feature set for your SCM solution. Design software architecture in accordance with the performance, scalability, security, and compliance requirements. Choose a technology stack. Prepare UX and UI mockups. Introduce a plan of integrations with the required systems.
For platform-based software: Select the best-fitting products and prepare configuration and integration specifications.
We suggest creating a proof of concept if you want to build an innovative Supply Chain 4.0 solution like a SCM blockchain or a computer vision system for inventory counting. It helps easily test the software usability, assess its viability for business needs, and avoid costly redevelopment at later project stages.
Define project objectives, deliverables, and tailored sets of KPIs to evaluate success.
Determine the project scope, duration, schedule, and budget.
Decide on the roles in the project team and design efficient collaboration workflows.
Identify possible SCM software implementation and adoption risks, create a risk mitigation strategy and plan.
Establish IT automation (CI/CD pipelines, cloud automation, etc.) to streamline development, testing, integration, and releases.
Develop a custom supply chain management solution OR select and set up off-the-shelf software.
Run system testing (covers functional, performance, usability, security testing) in parallel with coding.
Migrate necessary data from the currently used SCM systems.
Integration and deployment
Integrate your SCM solution with the required software and hardware systems.
Configure the software infrastructure, implement robust security mechanisms.
Deploy the solution to the production environment.
Provide all necessary software documentation (documented source code, a maintenance guide, tutorials for end users, etc.).
Conduct user training in a preferred format.
An enterprise-wide SCM system should be first deployed to one of the target employee groups or facilities for a pilot run. This way you'll be able to handle possible issues and change requests before rolling out the solution at the enterprise level.
Support and evolution (optional)
Monitor SCM software performance and handle operational issues.
Provide L1–L3 user support.
Scale the software to process a growing volume of supply chain data.
Perform regular security and compliance audits and deliver comprehensive reports.
Upgrade the software with new functionality to support your evolving needs.
Technologies & Tools We Use
Our supply chain software development company relies on the following proven techs and tools to speed up SCM software implementation and optimize cost:
The Financial Times Includes ScienceSoft USA Corporation in the List of the Americas' Fastest-Growing Companies 2023
For the second year in a row, ScienceSoft USA Corporation ranks among 500 American companies with the highest revenue growth. This achievement is the result of our unfailing commitment to provide high-quality IT services and create best-value solutions that meet and even exceed our clients' expectations.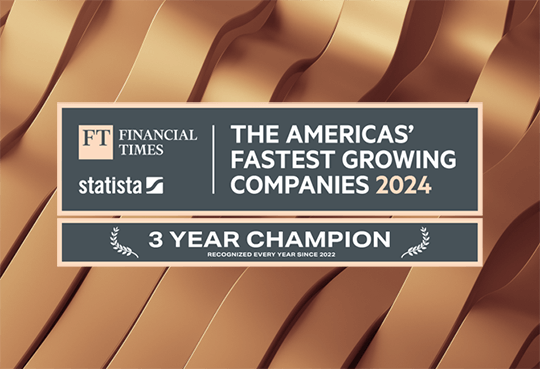 Explore ScienceSoft's Featured SCM Projects
Supply Chain Software Development Costs
To estimate the cost of supply chain management solutions, ScienceSoft takes into account the following factors:
The number and complexity of SCM functional modules.
The scope and complexity of integrations with the required software.
Data volume used for analytics, the need to implement machine learning algorithms and their complexity.
Required application types – web, mobile, desktop – and a number of platforms supported (for mobile apps).
Non-functional requirements: availability, performance, scalability, security, and compliance.
How we optimize the cost of supply chain software implementation
Define optimal SCM functionality drawing on real business needs – no irrelevant features to pay for.
Develop software iteratively to implement essential functionality first and enable faster payback from software implementation.
Use proven frameworks and ready-made components where possible to streamline development and ensure superior software quality.
Define different targets for the availability and performance of the solution's modules depending on how business-critical the processes the module covers are.
Learn the Cost of Your Supply Chain Solution
Answer a few questions about your business requirements, and our consultants will provide a free cost estimate for your custom supply chain software.
ScienceSoft's experts will study your case and get back to you with an answer within 24 hours.
All about Supply Chain Management
<![endif]--> <![endif]--> <![endif]-->