SharePoint Document Management System
SharePoint Document Management System (DMS): the Gist
SharePoint document management system digitalizes the document lifecycle from creation to archiving, thus improving employee performance by 20% and reducing operational costs by 55%. SharePoint DMS can be deployed on-premises (SharePoint 2013 DMS and SharePoint 2016 DMS) and in the cloud (SharePoint Online DMS).
SharePoint is a Leader in Gartner's Magic Quadrant for Content Services Platforms in 2020 for the fourth consecutive year. Today, 250,000+ organizations are using SharePoint as a document management system, an intranet or other solutions.
SHAREPOINT DMS FEATURES
Document creation and document processing automation
Digitalizing paper documents and converting electronic documents in different formats (e.g., TIFF, JPG, PNG) into a uniform readable and searchable format (e.g., PDF) using OCR software to reduce data entry errors via automated data extracting.
Automated check of scanned documents for misspelling, missing symbols, words, and signatures for subsequent automatic fixing of these issues or highlighting questionable words for manual fixing by user.
Reusable templates for fast and easy creation of typical documents like letters, contracts, policies, invoices, etc.
Authoring a document by several users simultaneously. DMS tracks the time of access to the document by users and marks modifications made by co-authors in different colors.
Automated routing of documents for collecting approvals, feedback or signatures.
Automated sending of notifications about any document-related changes (e.g., creation of a new document, update of a document, end of an approval workflow) to required or authorized users.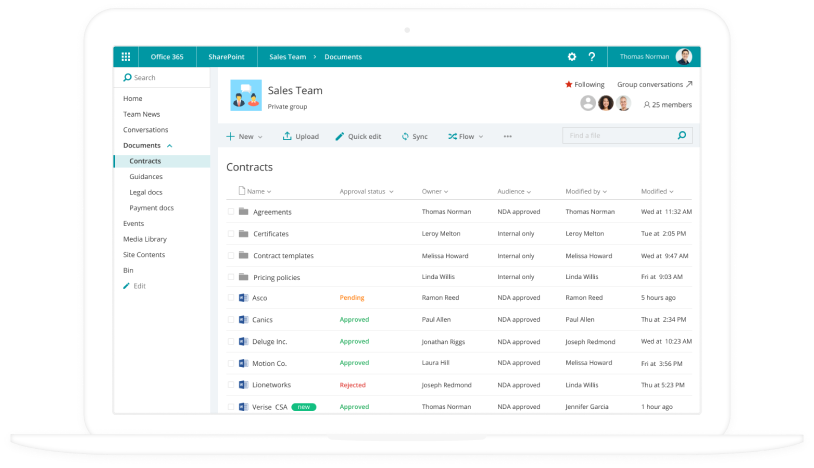 SharePoint Document Management Demo
With our interactive demo, you'll learn how to use SharePoint DMS to create, store, approve and share your company's documentation.
Document storage and retrieval
1 TB per org with additional 10 GB per license purchased, and this capacity can be additionally extended if needed.
Multi-type documents support
Multiple document types in various formats can be added to the SharePoint library, from common ones (.docx, .pdf, .pptx, .zip) to rare file extensions, like .odt, .ods, .xlsb .ppsx, and 3D models.
Tagging documents based on their content and filled-in metadata (e.g., a document's title, author, type, modification date) to facilitate their categorizing, archiving, search and retrieval.
Search by name, metadata and full text of employee records, documents, news, events, and more across DMS and integrated systems (e.g., ERP, HRMS) and search results ranking.
Document consistency, security and compliance
Tracking multiple versions of a document to prevent duplication of the same document, accidental or unwanted changes in documents, and enable restoring a previous version if needed.
Locking a document for editing by other users when a user edits it during co-authoring, which helps protect documents from accidental changes or overwriting.
Restoring of documents created during the last 30 days.
Rule-based automated identification of sensitive data in documentation (e.g., ePHI in health records) and blocking against accidental sharing of such documentation.
Permission-based access with permissions ranging from only viewing a document to full control: a user can create, upload, modify, delete, and share documents.
BitLocker offers two-level encryption of data at rest: it encrypts all data on a disk and provides a unique key for each file. And data in transit is protected due to SSL/TLS protocols.
Two-factor authentication
Additional protection layer (apart from a password) that consists of entering a code from an email or a text message.
Tracking all document-related activities performed by users: creation, accessing, modification, sharing, printing out, deleting, and more.
Retention and deletion policies
Scheduling document retention and automatic elimination of unnecessary files after a certain period, as required by government and industry-specific regulations (e.g., GDPR, GLBA, SOX, HIPAA, PCI DSS).
SHAREPOINT DMS CAPABILITIES
KEY SHAREPOINT DMS INTEGRATIONS
Integration of a Microsoft document management solution based on SharePoint with third-party enterprise systems allows for better data consistency across the company. Such integrations help avoid data re-entry and duplication of documents in different systems and optimize software costs (e.g., by saving on storage space in CRM).
To improve cross-departmental collaboration (e.g., Finance, Production, Procurement, Legal departments) due to centralized storage of all the company's documentation, document co-authoring and approval workflows enabled by SharePoint DMS.
To convert paper documents into readable and searchable electronic documents or electronic documents in various formats into unified formats like PDF, which facilitates storage and search across a document repository.
SharePoint DMS + e-signature software
To accelerate document-driven business processes due to an automated e-signature workflow.
To enable easy creation of eLearning materials and their centralized and structured storage as well as effective search via SharePoint DMS and arrange trainings based on these materials via LMS.
SHAREPOINT DMS CUSTOMIZATION CAPABILITIES
SharePoint is a customization-friendly platform that that can serve as DMS tailored to the needs of small, mid-size and large businesses from various industries. For instance, additional custom tools can be developed to meet users' document control needs. Among such examples is a DMS for a chemical manufacturer that was augmented with a tool for document structuring and search based on 12,000+ rules. Another example is a custom tool developed for template-based document creation and processing UML diagrams for an atomic energy organization.
What is more, the SharePoint platform has extensive branding capabilities, so SharePoint DMS can offer a unique look and feel to users.
| | | |
| --- | --- | --- |
| | | |
| | | With 700 employees on board and 14 years in SharePoint development, ScienceSoft helps organizations streamline document-driven business processes with cost-effective SharePoint document management solutions. |
| | | |
1. Analyzing document-driven business processes, transforming document management needs into technical requirements, and creating specifications for a SharePoint DMS solution.

2. Document workflow analysis and design (e.g., approval, e-signature workflows).

3. Workflow customization in SharePoint or development of custom workflows.

4. SharePoint DMS UI and UX customization.

5. Integration of SharePoint DMS with required software (e.g., ERP, LMS, HRMS).

6. Solution deployment, including data mapping and migration from the former document management solution to SharePoint DMS.

7. QA and user acceptance testing.

8. Post-implementation support and evolution.
Costs
Below are ballpark cost estimations for SharePoint DMS based on the functionality scope. The estimation includes such services as discovery, development, customization and testing but excludes continuous support that can add up to $10,000-15,000 annually.
Scalability of SharePoint Online DMS to accommodate an increasing number of documents, so it can be equally viable to small, mid-size and large companies.
SharePoint customizability to adapt it to meet industry- and company-specific document management requirements.
24/7 access to documents from any device and any location with internet access, as well as offline access with subsequent synchronization to the cloud.
Full automation of the document lifecycle due to the capability to create workflows of any structure and complexity.
Out-of-the-box integration with other Office 365 services (e.g., Teams, Outlook, Exchange, OneDrive, Power Automate) and document processing tools (e.g., Word, PowerPoint).
No out-of-the-box role-based personalization, when permissions are assigned to user roles depending on their activities (e.g., users who can view and edit contracts are granted the role of Editor), which can be mitigated via customization.
Non-intuitive UI and UX out of the box, which needs essential customization.
SharePoint customization (e.g., deploying custom master pages or web parts) require SharePoint professionals with relevant skills.
Limited number of stored document versions in SharePoint DMS. Also, in SharePoint, you can't open two document versions simultaneously in order to compare them, so you need Microsoft Word for this purpose.
Steep learning curve for non-technical users, which makes user training a necessity.
| | |
| --- | --- |
| | 100% regulatory compliance due to strong security features. |
| | +20% employee productivity due to quick access to and effective search through documents, document templates, document co-authoring and using a mobile version of SharePoint DMS. |
| | -60% document management costs due to e-signature workflows. |
eFileCabinet
Description
Strengths:
Mobile-friendliness.
Intuitive UI.
One-click access with a desktop icon created by the Sidekick widget.
Integration-friendliness due to open API.
E-signature.
Built-in OCR tool.
Weaknesses:
Lack of training materials on apart from articles on the vendor's website.
It can't meet the document management needs of large enterprises out of the box.
Best for
Healthcare, manufacturing financial, and insurance orgs.
Pricing
Starting from $1,200/year.
Free trial is available.
Dokmee
Description
Strengths:
Multi-language support.
Integration with Workday, SAP, PeopleSoft, Salesforce, QuickBooks, Oracle and more.
E-signature.
Built-in reporting tool.
Weaknesses:
No real-time collaboration on documents.
Best for
Healthcare, legal, educational, accounting, and real estate orgs.
Pricing
Available by direct request to a vendor.
Free trial is available.
Laserfiche
Description
Strengths:
User-friendliness.
Customizability.
Templates of electronic forms for travel requests, purchase orders, expense reports, and more.
Weaknesses:
Creating more complex forms may require essential JavaScript coding.
Non-convenient document search.
Expensive implementation.
Best for
Governmental, educational, financial, and healthcare orgs.
Pricing
Available by direct request to a vendor.
Free trial is available.
Document Locator
Description
Strengths:
Remote web access.
Email archiving.
E-signature.
Integration with Adobe, Dynamics 365, eCopy, SharePoint, AutoCAD, and more.
Weaknesses:
No real-time collaboration on documents.
No capability to upload files from mobile devices.
Best for

Governmental, educational, financial, engineering, and healthcare orgs.

Pricing

Starting from $260 user/year.

Free trial is available.

<![endif]--> <![endif]--> <![endif]-->