<![endif]-->
<![endif]-->
SharePoint Document Management
An astounding business pace constantly raises the bar for requirements to enterprise document management. That's why today's software solutions should not just ensure document storing, reuse and maintenance, but also enable extensive employee collaboration on documents in an unpredictable business environment.
To help organizations keep in step with business requirements, ScienceSoft develops custom document management solutions leveraging SharePoint On-Premises, SharePoint Online and Office 365 capabilities. Involved in SharePoint consulting and development since 2007, we assist businesses in structuring enterprise-wide document flows and supporting uninterrupted document circulation. We also provide employees with a variety of tools to access and manage documents they need at any time and in any location.
Our Competences
Microsoft Gold Collaboration and Content Competency
12 years of SharePoint consulting and development
20+ Microsoft-certified SharePoint experts
Successful projects with SharePoint On-Premises, SharePoint Online and Office 365
Our portfolio includes several projects on SharePoint document management solutions:
SharePoint Document Management System Demo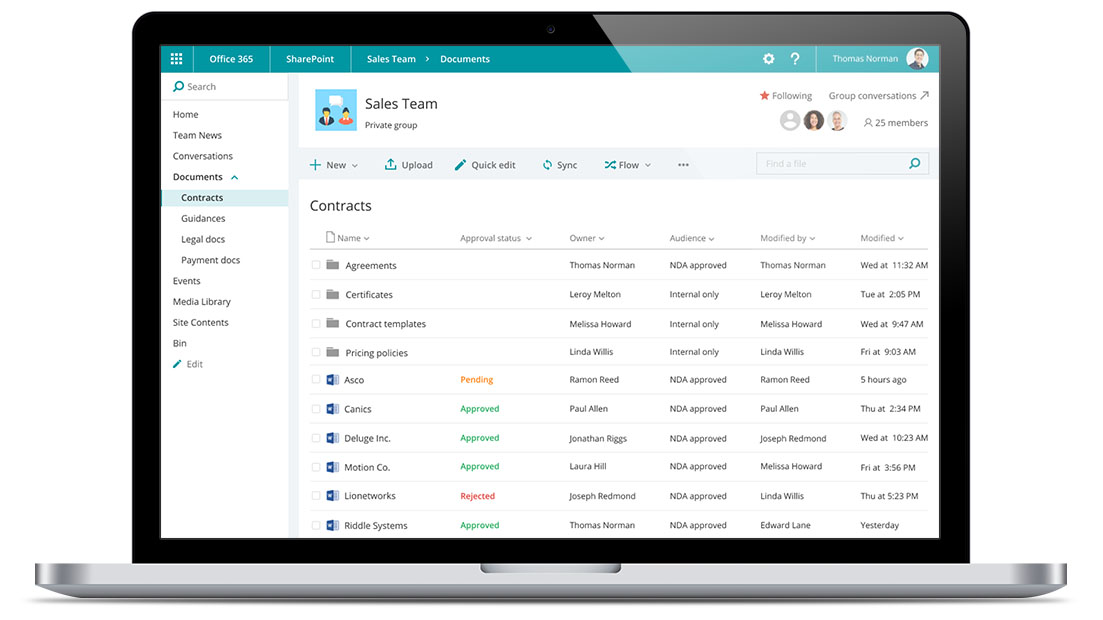 Why Choose SharePoint to Build Your Document Management Solution?
A leader in the Forrester Wave for Enterprise Content Management 2017, SharePoint provides a vast set of features that ensure quality document management:
Single storage for enterprise documents

Document storing and structuring. SharePoint helps you arrange multiple documents into a clear system of folders and lists. This allows you to find and reuse the documents you need at any moment.
Support for various file types. The platform not only supports the most common file types (.docx, .pdf, .pptx, .zip, etc.), but also works with rare file extensions, such as .odt, .ods, .xlsb, .ppsx and more. As a SharePoint Online and Office 365 subscriber, you will get the opportunity to collaborate on 270+ content types, including 3D models.
Multilingual support. If your company works in different parts of the world or collaborates with customers in different languages, SharePoint will allow you to manage multilingual content and documents nicely.

Dynamic and secure collaboration on documents

Easy document sharing. You can share documents with both internal and external users from various devices. All users logged on the same SharePoint site can collaborate on the shared documents securely.
Real-time co-authoring. You can collaborate with your colleagues on Word documents, Excel spreadsheets and PowerPoint presentations in real time. All edits apply to a single document, which prevents you from document replication.
Document versioning. With SharePoint, you can follow document versions and track all the changes made in a document, as well as view and restore previous document versions when needed.
Secure work with sensitive data. Owing to built-in data loss prevention features, the system will alert you if you create or share a document containing sensitive data, thus preventing you from exposing it.

24/7 document availability

Access to documents from different devices. Using SharePoint for document management you can handle files from your PC, tablet or smartphone equally well. Mobile versions of your DMS can support the entire array of desktop features.
Offline access to documents. You can keep working on documents even if there is no internet connection. Using OneDrive storage, you can create and edit documents offline. All changes get synchronized automatically to SharePoint when you are online again.

Easy document discovery

Rich document metadata. Each document located in SharePoint gets multiple attributes, which allows creating comprehensive document profiles, as well as ensures smooth searching and filtering.
Pervasive search. When in SharePoint, you can find documents via Google-like search queries. You can refine and modify search parameters through metadata to get precise results.
Long-term document archiving. SharePoint can be your reliable document archive. All the valuable documents will be securely stored in document repositories until you need them.
If you want to know even more about SharePoint document management features, please address your questions to our SharePoint developers.
Choose the Service You are Looking For
As a Microsoft Gold Collaboration and Content Competency partner, ScienceSoft provides the entire spectrum of SharePoint services. We can assist you in handling the following challenges:
Developing a fully-functional SharePoint document management system from scratch. This includes planning and architecting your on-premises or cloud system in line with the internal business processes and employees' needs.
Designing and implementing document management features into your SharePoint or Office 365 solution. If you have been using SharePoint or Office 365 as your social collaboration platform or as an HR management tool, we can always enrich your solution with document management features and make them available across the entire enterprise.
Customizing your existing SharePoint document management system. As your organization grows and new document management challenges arise, you may need to customize your existing solution to align it with the changed business conditions. And we are here to help you!
Migrating your document management solution:

From a third-party document management system to SharePoint. We ensure a smooth migration from Alfresco, Box, OpenText, IBM Connections, Dropbox, M-Files or any other platform-based or custom solution to SharePoint 2013, 2016, SharePoint Online or Office 365.
From an on-premises deployment to the cloud. We can assist you in your cloud movement to adapt your on-premises document management features to the cloud specifics.
Create a Document Management System with Added Value
Apart from implementing core document management features, we also put our effort into extending your solution's feature set to make it even more capable, user-friendly, secure and compliant. To achieve that, we enable:
Collaborative document management. We couple document management features with collaboration capabilities of SharePoint and Office 365 to ensure productive teamwork regardless of members' physical location.
External document management. We enable your partners and customers to access your document management system to centralize internal and external document flows and make document processing secure.
Document workflows. We activate document workflows to ensure correct and effective document circulation across the enterprise.
Compliance with internal policies. We can help you to implement branded document templates so that users create new standardized documents in a click.
Regulatory compliance. Ensuring relevant security controls within your document management system, we help you stay compliant with industry standards and ensure safe management of sensitive content.
Wave Goodbye to Document Management Challenges
Delivering SharePoint-based document management solutions, we aim at addressing several challenges related to uncontrollable and disorganized work with documents.
Sporadic document storages. We deliver SharePoint solutions to centralize employees' work with documents and to prevent random document accumulation in various document repositories.
Time-consuming document workflows. We help organizations to switch from tiresome manual document management to efficient automated document circulation throughout the entire enterprise.
Complicated document reuse. ScienceSoft's solutions provide employees with relevant features to find needed documents quickly and collaborate on them with their peers in real time.
Business mistakes due to improper document usage. We build structured document workflows that make the entire document cycle transparent and allow avoiding document duplication, corruption or loss.
<![endif]--> <![endif]--> <![endif]-->