IT Help Desk Services
IT help desk services by ScienceSoft are backed with 16-year experience and include responsive support (L1, L2, L3), as well as preventive infrastructure monitoring and maintenance, according to customers' needs.
16 years of experience in help desk services.
34 years of entire experience in IT.
Microsoft Partner, AWS Select Services Partner.
750+ IT professionals on board.
IT team holding a range of certificates, among which are AWS Certified Solution Architect, Red Hat Certified System Administrator (RHCSA), Microsoft Certified Professional (MCP), AWS Certified SysOps Administrator (SOA).
Established ISO 9001-confirmed quality management system based on quality-dedicated people and mature processes at the company and project levels.
Guaranteed safety of the customers' data we access proved by ISO 27001-certified fault-proof security management system.
What Our Customers Say

Joe Summers
Cyber Manager
Delap LLP
To alleviate some of the burden on our inhouse engineers, we sought out a professional team of Tier 1 support staff with a technical background. We partnered with ScienceSoft, and it turned out to be an excellent match. Within just two weeks, their support agents seamlessly integrated into our processes and became an invaluable asset to our team. Thanks to their assistance, we can now process any Tier 1 issue within 15 minutes.

Ofer Alphabet
CEO
HVG Systems
We went with ScienceSoft as our help desk partner and didn't regret it. ScienceSoft's team demonstrates high technical competence, a proactive and responsible approach to IT support services, and full compliance with HVG's SLA. After a year of working together, we requested a ticket package twice as large as the initial one, and now they reliably handle Tier 1 support for many of our clients.

Alex Gudkov
Chief Information Officer
TruConnect
I would happily recommend ScienceSoft to anyone looking for a transparent, reliable IT support vendor. They helped us deliver several projects and provided L3 support for our web services. They're very effective and consistently meet all the required KPIs: we were guaranteed hotfix rollouts in under 24 hours, and they delivered on the promise.
Jarod Joyce
Creative Director
Dot It Restaurant Fulfillment
ScienceSoft has been vital to our company's growth in ecommerce over the last 3 years. We rely on the team for a variety of Magento support tasks, and they always deal with our problems fast. This really helps us move on with our business, and no technicality holds it back. They are a very versatile company in terms of the number of services they provide.
View all customer reviews
Help Desk Services by ScienceSoft
IT help desk services aim at resolving and preventing IT-related issues encountered by company's employees or customers and ensuring the overall stability of the IT infrastructure.
We provide full-fledged advisory help. We start from conducting feasibility study. Then we advise you on a sourcing model, help desk team lineup and costs breakdown. You also get recommendations on a best suited help desk toolkit.
We are eager to efficiently and promptly resolve users' issues (L1 help desk) and technical issues (L2, L3 help desk) of IT infrastructure or its parts.
We also provide white label help desk services, when issues are resolved under a customer's trademark.
We establish a single point of contact for your product/service consumers.
Brining in coordinated case management, rich self-support opportunities and multi-channel communication, we can effectively and quickly resolve thousands tickets a day.
We provide 24/7 infrastructure monitoring and L2, L3 tech support to efficiently and quickly handle your IT infrastructure issues, as well as prevent defects.
We ensure quick and cost-effective incident resolution, and proactive problem management that relies upon the issues' root cause analysis and continuous monitoring of your IT infrastructure.
We are ready to take over the entire help desk function from establishing the process, handling L1-L3 issues to continuous help desk monitoring and improvement.
What IT Components We Cover
We ensure the stability of your IT infrastructure or its components:
On-premises data centers.
Desktops, laptops, mobile devices, Windows, MAC and Linux operating systems.
Cloud services (IaaS, PaaS, SaaS).
Development infrastructures (CI/CD, development and testing environment).
Network and cybersecurity (SIEM, IAM, firewalls, etc.).
Data storage: databases, data warehouses, data lakes.
Customer-facing software: applications, websites, web portals.
What You Get with IT Help Desk Services
L1. User support team to solve usage issues and minor problems and escalate more complex issues.
L2. Technical support to resolve incidents by means of configuring, account administration, service restarts, etc.
L3. Team of engineers that tackles issues on the code and database level and introduces hot fixes.
Thought-out user guidance
A self-service knowledge base.
FAQs.
User manuals.
Improved customers' satisfaction and user adoption
Surveys and assessment results.
Action points.
Regular service level reports.
Reports of incidents with root cause analysis.
The Financial Times Includes ScienceSoft USA Corporation in the List of the Americas' Fastest-Growing Companies 2023
For the second year in a row, ScienceSoft USA Corporation ranks among 500 American companies with the highest revenue growth. This achievement is the result of our unfailing commitment to provide high-quality IT services and create best-value solutions that meet and even exceed our clients' expectations.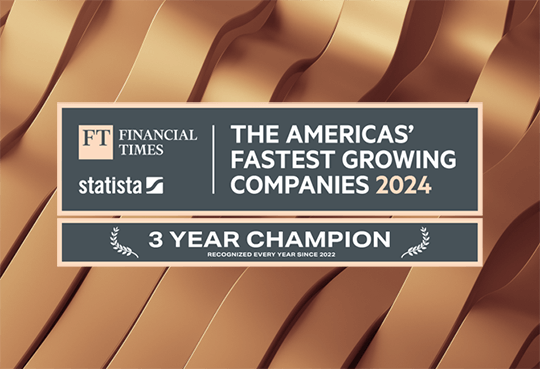 Answering Frequent Questions about Help Desk Services
How can we check the quality of your services?
We are ready for test tasks, and you can take a trial service period to see our workflows. In case of white-label servicing, you can evaluate how ticketing apps and visuals will be adapted to your brand format.
How can we be sure that IT help desk support will entail reduced infrastructure costs?
Before service provisioning, we will assess your IT infrastructure and processes to find the potential for improvements, then we will juxtapose your current TCOs of interest versus the anticipated TCOs with our services engaged.
What is to guarantee against unexpected support termination?
As a rule, our support contracts with customers last for several years, 10 years in some cases. Besides, our contracts are safe and have substantial transition periods which exclude sudden support wind-ups.
We have clients from different regions of the world. Will your help desk services be able to cover a wide range of time zones?
ScienceSoft provides IT help desk services 24/7 to cover all time zones (North and South America, Europe, the Middle East, Asia, Australia and Oceania).
Tools and Technologies We Work With
Languages Our Help Desk Teams Speak
English
Spanish
German
French
Polish
Czech
Turkish
and more
Our Selected Help Desk Projects
How We Remedy Your IT Pains
High costs for in-house IT help desk team
IT help desk services provided by experienced L1, L2, L3 support engineers, on a subscription or a fixed-price basis
See how we nail it
Inability to handle the varying demand for IT support
Scalability of IT support due to a large pool of support engineers on board and highly automated processes
See how we nail it
Well-described operational procedures
See how we nail it
Low customer/employee satisfaction
Mature processes for issue resolution + CSAT improvement plan based on user surveys and assessments
See how we nail it
Why Going for IT Help Desk Services Is a Good Bargain
fewer user errors

User Satisfaction Score

help desk cost reduction

fewer help requests from users

faster root cause detection

increased ROI from applications
<![endif]--> <![endif]--> <![endif]-->