Custom Telemedicine Apps
In healthcare IT and mobile development since 2005, ScienceSoft designs and develops user-centric telemedicine apps that are loved by patients and physicians.
Telehealth apps are used to provide remote healthcare delivery via video calls, messages, file exchange, and vitals tracking. With 100+ healthcare IT projects, ScienceSoft builds SaaS telemedicine products and develops custom telehealth apps for hospitals, practices, nursing homes, and more. Custom telemedicine applications offer features tailored to specific medical specialties, SaMD functionality, seamless integration with existing healthcare systems, and compliance not only with global but also with local regulations.
Types of Telemedicine Apps We Deliver
How to Develop a Telemedicine App
The development process of a custom telemedicine app involves several key steps:
1
Requirements gathering and feature set definition
Analyzing the target audience and specific requirements for a telemedicine app to outline its features (e.g., audio/video consultations, appointment scheduling, secure in-app messaging, prescription and refill management), user roles, and integrations.
2
Architecture and tech stack design
Determining the optimal architecture, considering factors like scalability, security, and ease of maintenance; choosing the appropriate technologies for database management, front-end, and back-end development.
3
Project planning
Deciding on the project scope, timeline, deliverables, and resource allocation.
4
Iterative development
Creating the app's user and server side components according to the defined architecture and feature set; integrating the app with other systems (e.g., EHR/EMR, payment gateways) and smart medical devices (e.g., interactive stethoscopes, wearable ECG and glucose monitors).
5
Testing
Detecting and fixing any functional, performance, or security issues; performing unit testing, integration testing, and user acceptance testing to guarantee a stable and reliable platform; ensuring the app's adherence to healthcare regulatory standards, such as HIPAA, HITECH, and GDPR.
6
Deployment
Configuring the necessary infrastructure, i.e., servers, cloud services, and databases; deploying the app to the desired platform, e.g., iOS, Android, or web.
7
Maintenance
Continuously monitoring and maintaining the app to ensure its high performance and stability; performing regular updates, security patches, and bug fixes; providing ongoing user support and addressing any emerging issues or requests.
See How It Works in Real Life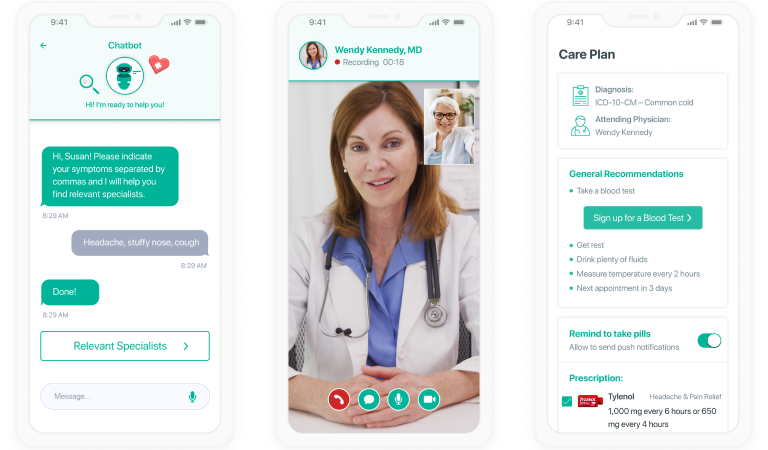 Check Out Our Telehealth App Demo
Explore opportunities that a telehealth app provides to foster continuous and impactful communication between patients and healthcare professionals.
Explore a Telehealth App with Remote Patient Monitoring
In the app demo, we show how the automated collection of health parameters, vitals analysis, and identification of symptom patterns contribute to advanced patient care.
34 years in the IT market.
18 years in the healthcare IT industry.
ISO 13485-certified to design and develop medical software according to the requirements of the FDA and the Council of the European Union.
Rich experience in developing HIPAA-compliant software.
Working experience with healthcare standards (e.g., HL7, ICD-10, CPT, XDS/XDS-I).
UX and UI design aimed at convenience for patients and medical staff.
For the second straight year, ScienceSoft USA Corporation is listed among The Americas' Fastest-Growing Companies by the Financial Times.
Experience with the standards of National Council for Prescription Drug Programs (NCPDP) concerning electronic information exchange (e.g., NCPDP D.0).
ScienceSoft's RPM solution won the Best Healthcare Technology Solution Award 2022 from Health Tech Digital.
ScienceSoft became a finalist for the Health Tech Award 2022 with its laboratory diagnostics software and the HTN Now Awards 2023 in the Excellence in Remote Patient Monitoring category.
ScienceSoft Is a Leader in Healthcare IT Services Market in 2022 SPARK Matrix
ScienceSoft is featured as a leading healthcare IT services provider, along with Athena Health and Oracle Cerner. This achievement is a result of 18 years of tireless pursuit of technological innovation, made possible by ScienceSoft's passionate team of healthcare IT experts who always strive to make a difference for patients and caregivers alike.
Our Selected Telemedicine and Mobile Health Projects
FAQ about Telemedicine App Development
What are the benefits of cooperating with a vendor on telehealth app development?
In cooperation with ScienceSoft, you will get access to healthcare IT competencies, including mobile and web app development, connected medical devices, chatbots, speech recognition, etc.
Will a telemedicine app be HIPAA-compliant?
If you opt for a platform-based telemedicine app, we test it for HIPAA compliance and deliver a report containing measures taken by a vendor to ensure the safety of PHI.
If you choose to develop a custom telemedicine app, we ensure it is HIPAA-compliant by employing necessary data security measures (data encryption, data anonymization, data access control measures, etc.).
Will a telehealth app work in sync with other internal software systems?
We guarantee seamless integration of a telemedicine app with your internal applications, including EHR/EMR, HIS (hospital information system), and LIS (laboratory information system).
Choose Your Service Option
Platform-based telemed app implementation consulting
We help you:
Choose a HIPAA-compliant platform-based telehealth app suitable for your needs.
Configure and customize the app.
Test the app.
I need this
Custom telemed app development and support
We provide end-to-end telemed development services:
Business analysis.
App architecture design.
App development planning, execution, and management.
QA and testing planning (incl. test automation, if feasible), execution, and management.
Integration with existing software.
User training.
After-launch support (2-3 months).
I need this
Telemedicine app support and evolution
We offer:
Continuous L1, L2, L3 support.
Telehealth app maintenance, troubleshooting, proactive monitoring of security and compliance.
Patient app evolution planning and implementation (new functionality introduction, security measures implementation, UX redesign, etc.)
I need this
Our Happy Customers
Todd Nilson
MD
HealthPoint Plus
We were impressed by their code analysis proficiency and in-depth knowledge of telemedicine specifics. ScienceSoft proved to be a reliable vendor with a solid healthcare background, and we recommend them to everyone looking for a telehealth software development partner.

Justin Turner
CTO
Chiron Health
We engaged ScienceSoft to build an Android app that complements our web-based platform for our patients. They advised and successfully lead the way from end to end through the technical challenges and considerations with development of the app. We have also engaged them to introduce a few enhancements to the app and would certainly consider ScienceSoft as a technology partner in further software development initiatives.
Patrick Pakan
Founder and CEO
AKLOS Health
I've had six orthopedic surgeries since playing college football and tried every major digital exercise therapy platform on the market. None of them offer the comprehensive and personalized care they claim. Thanks to ScienceSoft's practical healthcare IT expertise, we created a musculoskeletal therapy platform that can be fully customized and reflect the needs of each program member.
Alexander Riftine
CEO
Intellewave
ScienceSoft designed and developed a native iOS app that offers a quantitative assessment of users' physical fitness. I was impressed with the excellent level of responsibility, communication skills, and mobile competencies of both the management team and developers.
View all customer reviews
The Financial Times Includes ScienceSoft USA Corporation in the List of the Americas' Fastest-Growing Companies 2023
For the second year in a row, ScienceSoft USA Corporation ranks among 500 American companies with the highest revenue growth. This achievement is the result of our unfailing commitment to provide high-quality IT services and create best-value solutions that meet and even exceed our clients' expectations.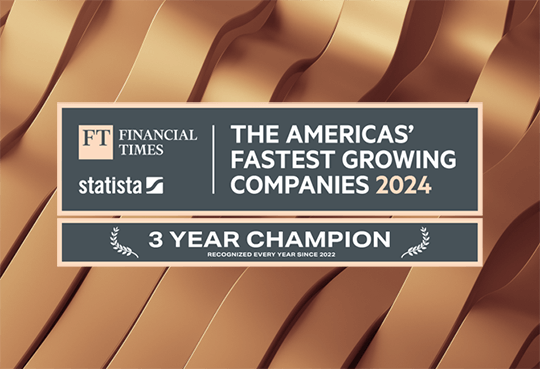 Ready for Your New Telemedicine App?
Virtual care visits are predicted to reach 1 billion by the end of the year. Get your telehealth app now to keep up with the demand.
<![endif]--> <![endif]--> <![endif]-->