<![endif]-->
<![endif]-->
Telemedicine Apps: Consulting, Development, Implementation
Telemedicine app development services are aimed at providing software for remote health care delivery with the help of telecommunications technology.
Based on 15-year experience in healthcare IT consulting and development, ScienceSoft provides hospitals, clinics, nursing homes, assisted living facilities, and other healthcare organizations with both platform-based and custom telemedicine apps.
| | | | |
| --- | --- | --- | --- |
| | 31 years in the IT market. | | Rich experience in developing HIPAA-compliant software. |
| | 15 years in the healthcare IT industry. | | Working experience with healthcare standards (e.g., HL7, ICD-10, CPT, XDS/XDS-I). |
| | ISO 13485:2016 and IEC 62304:2006 certifications. | | UX and UI design aimed at convenience for patients and medical staff. |
Our Selected Telemedicine and Mobile Health Projects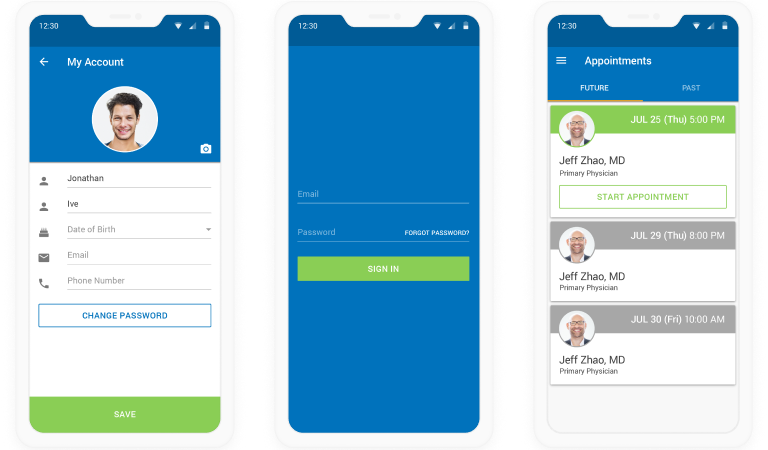 Telehealth Chiron Mobile App Development
ScienceSoft has developed a HIPAA-compliant Android telehealth application, which allows patients to attend online appointments with their physicians through secure video conferencing.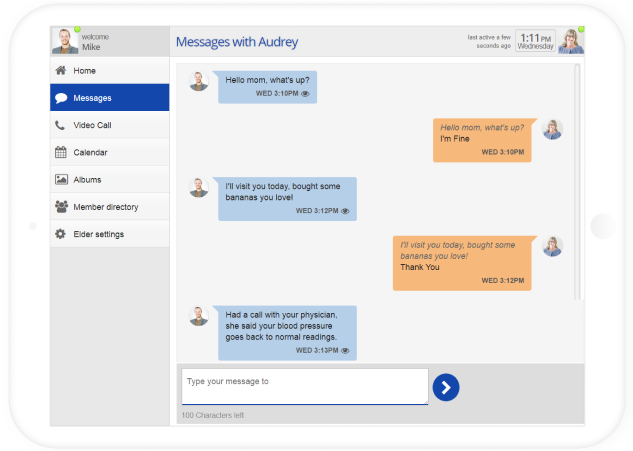 Development of Mobile Communication Software for the Elderly and Caregivers
ScienceSoft has created a mobile communication system, which allows the elderly and their caregivers to connect through video chats across various locations, including home, hospitals, assisted living facilities, etc.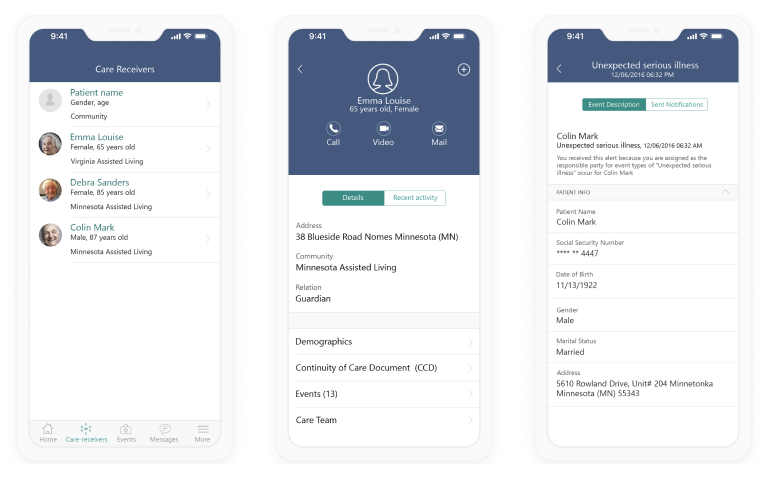 Mobile Care Coordination App Development
ScienceSoft has developed an app that connects patients with their caregivers across organizations and specialties through audio and video chats.
FAQ about Telemedicine App Development
What are the benefits of cooperating with a vendor on telehealth app development?

In cooperation with ScienceSoft, you will get access to healthcare IT competencies, including mobile and web app development, connected medical devices, chatbots, speech recognition, etc.

Will a telemedicine app be HIPAA-compliant?

If you opt for a platform-based telemedicine app, we test it for HIPAA compliance and deliver a report containing measures taken by a vendor to ensure the safety of PHI.

If you choose to develop a custom telemedicine app, we ensure it is HIPAA-compliant by employing necessary data security measures (data encryption, data anonymization, data access control measures, etc.).

Will a telehealth app work in sync with other internal software systems?

We guarantee seamless integration of a telemedicine app with your internal applications, including EHR/EMR, HIS (hospital information system), and LIS (laboratory information system).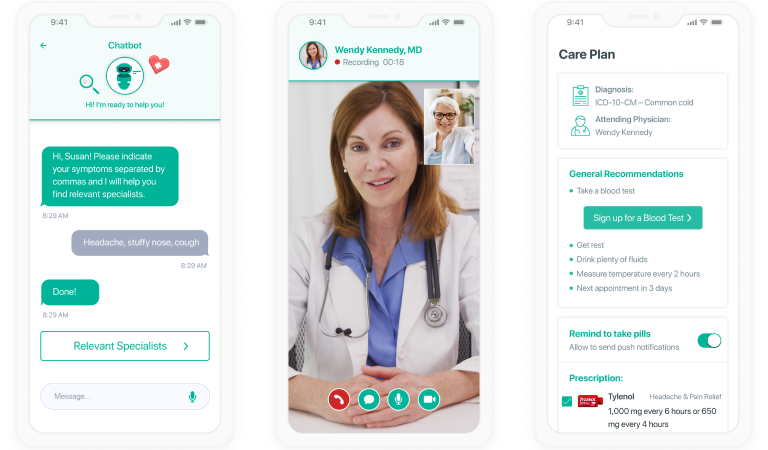 Check Out Our Telehealth App Demo
Explore opportunities that a telehealth app provides to foster continuous and impactful communication between patients and healthcare professionals.
Explore a Telehealth App with Remote Patient Monitoring
In the app demo, we show how the automated collection of health parameters, vitals analysis, and identification of symptom patterns contribute to advanced patient care.
Choose Your Service Option
Platform-based telemed app implementation consulting
We help you:
Choose a HIPAA-compliant platform-based telehealth app suitable for your needs.
Configure and customize the app.
Test the app.
Custom telemed app development
We provide end-to-end telemed development services:
Business analysis.
App architecture design.
App development planning, execution and management.
QA planning, execution and management.
Integration with existing software.
User training.
After-launch support (2-3 months).
Custom telemed app development and support
We deliver a custom telemedicine app and provide its continuous L1, L2, L3 support.
Our Hallmark Projects for Healthcare
Ready for Your New Telemedicine App?
Virtual care visits are predicted to reach 1 billion by the end of the year. Get your telehealth app now to keep up with the demand.
<![endif]--> <![endif]--> <![endif]-->