Microsoft Dynamics 365 Services
Driving the best value from Dynamics 365 apps
Microsoft Dynamics 365 services cover consulting, customization, migration, integration, QA as well as maintenance and support of Dynamics 365 apps. Relying on 15-year experience, ScienceSoft helps build agile and resilient business management processes powered with Dynamics 365.
With Dynamics 365, We Can Transform Any Business Process
Dynamics 365 apps for CRM needs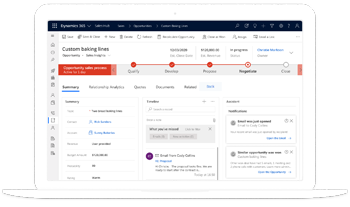 An app for sales pipeline automation, full-cycle lead management, and AI-powered sales assistance.
Read more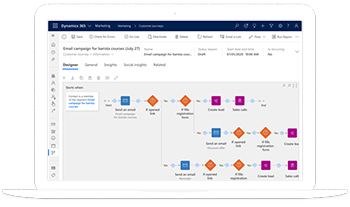 An app for omnichannel marketing implementation, customer journey mapping and automation, and marketing personalization.
Read more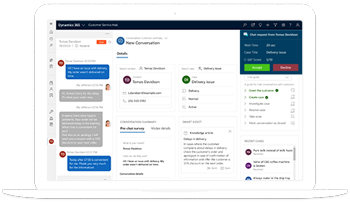 Dynamics 365 Customer Service
An app for all-round case management, an omnichannel service desk, and self-service environment for customers.
Read more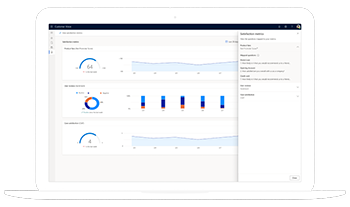 Dynamics 365 Customer Voice
An app to create customer experience surveys and omnichannel feedback collection.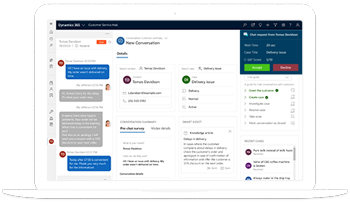 An app to build omnichannel shopping experiences and engage customers on any channel they prefer.
Dynamics 365 apps for ERP needs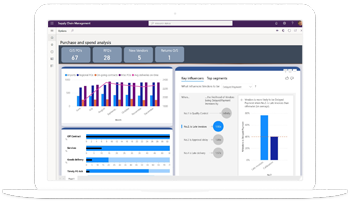 Dynamics 365 Supply Chain Management
An app to monitor and control all processes within a supply chain to make it more transparent, predictable and agile.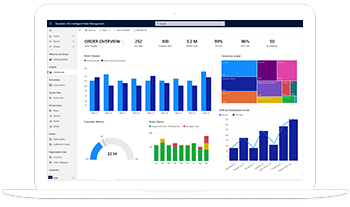 Dynamics 365 Intelligent Order Management
An app to support different order fulfillment scenarios and ensure uninterrupted order delivery flow.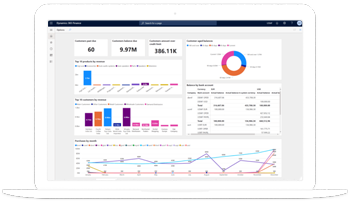 An app to manage financial transactions and perform financial reporting and analytics.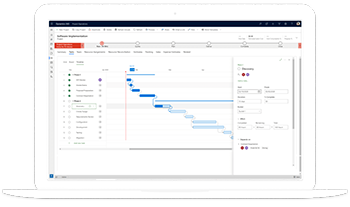 Dynamics 365 Project Operations
An app to manage all project activities, from prospecting and time tracking to project financials.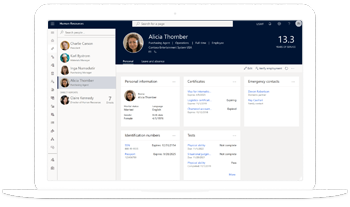 Dynamics 365 Human Resources
An app to handle all human resource processes and build data-driven employee experience.
Launch, Improve or Fix Your Dynamics 365 Apps with ScienceSoft
Our suite of Dynamics 365 services includes everything you may need to successfully digitize your vision of customer relationship management.
We decide how to fine-tune Dynamics 365 apps to maximize their positive effect on your business while avoiding excessive customization. Our Dynamics 365 consultants can join in at any stage of your project.
We find the most efficient ways to support your unique business processes and growing customer base. For these goals, we can enable fast and secure data transfer within the corporate infrastructure, create custom entities, functions, workflows or branded UI.
Dynamics 365 implementation
We fully plan and implement business solutions powered by Dynamics 365 apps. Our service is end-to-end and covers an implementation strategy, data management, security, and integration with business software and tools.
We help you integrate your corporate systems with Dynamics 365, which will enable your employees to access all centralized data they need without switching between applications.
We migrate your business from a legacy system to Dynamics 365 with minimal work disruption. Also, we can transit your Dynamics apps from the on-premises environment to the cloud to increase their security and scalability, as well as minimize maintenance costs and efforts.
Dynamics 365 quality assurance
We provide a full cycle of manual and automated testing services (functional, usability and performance testing) to minimize the risk of technical issues during complex Dynamics 365 implementation, migration, or integration.
Dynamics 365 maintenance and support
We ensure your seamless use of Dynamics 365 apps via 24/7 help desk services, in-depth issue investigation and resolution, prevention of recurrent issues, and change request processing.
ScienceSoft Proves Competent in Dynamics 365
Delivering Dynamics 365 services since 2016 (Microsoft Dynamics CRM services since 2008).
Microsoft Partner since 2008.
10+ Dynamics 365 experts.
25+ completed Dynamics 365/Dynamics CRM projects.
For the second straight year, ScienceSoft USA Corporation is listed among The Americas' Fastest-Growing Companies by the Financial Times.
Customer-Centric Approach to Dynamics 365 Services
We start our cooperation with business analysis to get a comprehensive picture of your needs. In the end, a CRM system is there to help people do their jobs, so our consultants first learn as much as possible about the ways your employees are supposed to use the CRM system or their frustrations with the legacy CRM's features.
Then, our team designs and develops a Dynamics 365 solution that fits your business processes and infrastructure like a puzzle piece. When the CRM system is ready and proven to be of high quality via testing, we complete the cycle of service with user training to ensure quick adoption of the CRM. Finally, we go on with maintenance and support to guarantee your long-term satisfaction with the performance of your Dynamics 365 solution.
Business Solutions We've Built for Our Clients
We Value Positive Feedback from Our Clients
Shorouq Basnawi
Commercial Applications Sr. Analyst
SAL Saudi Logistics Services
We commissioned ScienceSoft to build a Dynamics 365 customer portal to help our sales team streamline communication with B2B customers. We are fully satisfied with the solution and the assistance of ScienceSoft's team. The project continues on the support level, and we are glad to continue our cooperation with ScienceSoft.

Knut Vonheim

Client Partner

Albatross IT Consultants AS

AITC, and me personally, has worked with ScienceSoft on both product development and consulting engagements with a focus on mobile and CRM. We have experienced great cooperation from management in both departments, quick understanding of requirements, deep technical skills from assigned resources, and the company's commitment to time, price, and quality.

View all customer reviews

<![endif]--> <![endif]--> <![endif]-->