Human-Machine Interface Design and Development
Cut operational and unit costs. Boost throughput yield.
With 34-year experience in manufacturing IT, ScienceSoft offers custom HMI design as well as professional implementation, integration, and modernization of HMI software.
Human-machine interface development aims at designing and building software for industrial machinery operation. ScienceSoft delivers HMI solutions that reflect your unique production processes, smoothly integrate with your industrial infrastructure, and speed up operators' reaction time by 3-4 times.
HMI Software Architecture
At ScienceSoft, we make sure your machinery automation system answers the latest architecture standards:
By integrating HMI with your Programmable Logic Controller (PLC) via cloud-based Web APIs, we provide remote access to HMI software, facilitate data collection, enable data analytics in the cloud, and simplify integration with other software, including SCADA and ERP.
HMI Application Features
We analyze your workflows and organize input as one-off actions and data recipes (action sets triggered by a single click).
Based on your existing or planned user roles, ScienceSoft creates data access permission levels and data viewing restriction algorithms.
Our intuitive HMIs promptly deliver key insights in the shape of graphs, animations, logs, pop ups, notifications, etc.
ScienceSoft gives users freedom for as much customization as needed to tailor the workflows to the industry and role needs.
ScienceSoft's Approach to HMI Software Development
When designing HMI software, ScienceSoft makes sure that all the HMIs comply with ISA101. This way, our custom HMI applications provide high situational awareness and intuitive machinery control for equipment operators.
Based on use case scenarios, our interactive PoCs allow you to test what it would feel like to perform key operations and navigate through your custom HMI. Real operators' feedback and requests for tweaks and changes is paramount here.
We integrate HMI apps with PLC (or machinery via Raspberry Pi), MES, and SCADA. What's more, we offer integration with cloud databases (for collection and analysis of production process data) and ERP (for labor efficiency tracking).
Why ScienceSoft
34 years in manufacturing and custom software development.
30+ business analysts and consultants with 5-9 years of expertise.
15+ seasoned UX and UI designers, adherence to ISA101 regulations.
550+ developers, more than 50% of them are Seniors.
ISO 9001 (quality management) and ISO 27001 (security management) certificates.
Quality-first approach and a mature security management system backed up by ISO 9001 and ISO 27001 certifications.
For the second straight year, ScienceSoft USA Corporation is listed among The Americas' Fastest-Growing Companies by the Financial Times.
1
HMI Project Conceptualization
Timing: 1–3 weeks
Our business consultants schedule 2–3 conversations with your representatives to understand your existing or planned workflows and IT infrastructure. Collaborating closely with your stakeholders, they define key requirements for the HMI development project.
3
Timing: 2–4 weeks
ScienceSoft's UX experts conduct user research, create user personas, draft story maps, and perform usability testing to design UX wireframes of the HMI. When reshaping them into UI mockups, our UI designers prioritize color/image coding over text to facilitate operation.
4
Proof of Concept Development
Timing: 3–6 weeks
Using the finalized designs, ScienceSoft's HMI developers can launch implementation of a PoC – a simplified interactive version of your future HMI solution. The PoC allows for effective usability testing and enables fast and risk-free tweaks to both design and functionality.
5
HMI Software Development and QA
Timing: from 3 weeks
After receiving and analyzing your operators' feedback on the PoC, ScienceSoft's HMI developers start implementation of the actual HMI solution. We rely on Agile, Lean, and DevOps processes as well as combine manual and automated testing to ensure speedy and quality HMI software delivery. Our team reports the progress regularly to keep you updated on the completed tasks.
6
Integration
Timing: 1–2 weeks
ScienceSoft's engineers make HMIs an inherent part of your industrial infrastructure and integrate it with your HMI hardware of choice, PCs, smartphones and tablets, or even wearables. We provide all necessary HMI documentation to facilitate solution maintenance and can conduct employee training.
Technologies ScienceSoft Uses for HMI Development
Featured Success Story by ScienceSoft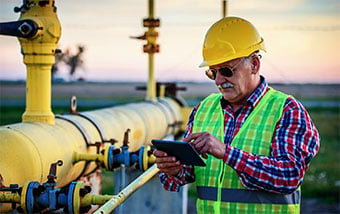 Modernization of a Web-based Oil Well HMI
Web app redesign + responsive design for mobile devices.
Boosted app performance due to data restructuring.
Server-HMI reintegration for a smooth data flow.
Benefits of HMIs Developed by ScienceSoft
less time to uncover industrial system errors

employee training time reduced

more informed actions and decisions by operators
ScienceSoft's HMI Development Service Options
Business case analysis.
UX research, design and testing.
GUI design and testing.
A PoC rollout.
Go for HMI PoC
HMI design and development
Project conceptualization.
UX and GUI design.
HMI programming and QA.
Integration.
Go for end-to-end development
Existing HMI audit.
Modernization plan.
GUI redesign.
Refactoring and reintegration.
Go for modernization

<![endif]--> <![endif]--> <![endif]-->