Human-Machine Interface Design and Development
Human-machine interface (HMI) development aims at designing and building user-friendly software for industrial machinery operation. In manufacturing IT since 1989, ScienceSoft develops and upgrades HMI solutions to up operator work quality, cut operational/unit costs, boost throughput yield.
Need Lean Operational Costs and Honed Production?
Custom HMI software developed by ScienceSoft will reflect your unique production processes, smoothly integrate with your industrial infrastructure, and have an intuitive graphic user interface to speed up operators' reaction time.
33 years in manufacturing and custom software development.
25+ business analysts and consultants with 5-9 years of expertise.
10+ seasoned UX and UI designers, adherence to ISA101 regulations.
370+ developers, more than 50% of them are Seniors.
ISO 9001 (quality management) and ISO 27001 (security management) certificates.
The Financial Times named ScienceSoft USA Corporation among Americas' fastest growing companies-2022.
Thanks to the intuitive and easy-to-grasp GUI designs of our custom HMI solutions, you can reap the following benefits:
less time to uncover industrial system errors
employee training time reduced
more informed actions and decisions by operators
Perks of HMI Programming with ScienceSoft
Proof of Concept
Right after key project requirements are defined, our UX and UI experts work together to create a Proof of Concept – a few sample screens of ISA101-compliant human-machine interface design.
ScienceSoft's UX experts conduct user research, create user personas, draft story maps, and perform usability testing to design UX wireframes. When reshaping them into UI mockups, our UI designers prioritize color/image coding over text to facilitate operation.
Based on realistic use case scenarios, our PoCs are fully interactive and allow you to feel what performing key operations and navigating through your custom HMI will be like in real life.
Smooth integration
Apart from making HMI software compatible with your HMI hardware of choice, PCs, smartphones and tablets, or even wearables, our engineers make custom HMIs an inherent part of your industrial infrastructure.
We integrate your HMI solution with PLC (or equipment directly, via Raspberry Pi), MES, and SCADA. We also offer HMI integration with cloud databases to enable collection and analysis of production process data and ERP – to track labor efficiency by operators' activity logs.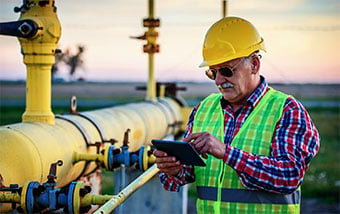 Success Story
ScienceSoft designed and developed an application for remote monitoring of rod pumping equipment in oil wells. Software helped to significantly increase operators' awareness and streamline production processes.
End-to-end implementation of a custom HMI solution
Drawing on your individual needs, we design and develop a unique HMI solution from scratch.
Go for Implementation
Modernization or redesign of existing custom HMI
We upgrade the functionality and/or redesign the UX and UI of the HMI solution you employ.
Go for Modernization
Why to Launch Your Custom HMI Development Now
With an HMI solution designed specifically for your production processes and workforce, you can ensure up to 5x decrease in human error during machinery operation. Minimum errors lead to minimized downtime and result in increased efficiency of all your industrial workflows.
Get Higher Production Results with Tailored HMI!

Reach out to ScienceSoft's consultants who will analyze your case and provide data on how a custom HMI solution can improve your business.

<![endif]--> <![endif]--> <![endif]-->