Custom Ecommerce Development
Custom ecommerce development is designing an ecommerce solution unique for each business and following a thorough analysis of business requirements. At ScienceSoft, we research a target audience and plan customer experience diligently to achieve maximum ROI for custom ecommerce website development.
The Financial Times Includes ScienceSoft USA Corporation in the List of the Americas' Fastest-Growing Companies 2023
For the second year in a row, ScienceSoft USA Corporation ranks among 500 American companies with the highest revenue growth. This achievement is the result of our unfailing commitment to provide high-quality IT services and create best-value solutions that meet and even exceed our clients' expectations.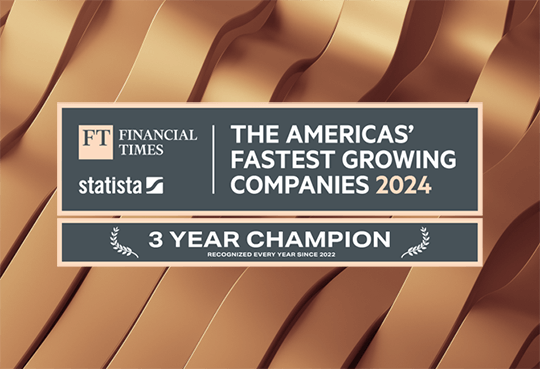 Custom business logic

SEO-friendly website architecture

Smooth website navigation

Checkout optimization

Custom UI themes

On-site personalization

Content advancements

Loyalty and retention tools
Grow to Advanced Technologies and Approaches
To reach your brave business goals, ScienceSoft's ecommerce team delivers custom ecommerce solutions built with microservices and powered by voice recognition, augmented reality (AR), artificial intelligence (AI), Internet of Things (IoT) and a headless ecommerce approach.
Why Jump into Custom Ecommerce Development with ScienceSoft
We are an established player in the software development and IT consulting market with 34 years of experience, 750+ in-house team members and a network of partners with the total of 700 more technology experts located internationally.
We started our way in ecommerce development 20 years ago and have scaled up to a provider of complex technology-driven solutions to businesses worldwide.
We know the retail industry well and boast of diverse portfolio of fulfilled projects.
We offer custom software development across 30 industries.

Jarod Joyce
Creative Director
Dot It Restaurant Fulfillment
ScienceSoft has been vital to our company's growth in ecommerce over the last 3 years. They are knowledgeable, efficient, communicative, and are always able to provide a strong resource for any needs that arise. ScienceSoft is quite possibly the most beneficial outside resource we've ever had.
Bader Alhamdan
Managing Director
Deyarat Trading Co.
Being in the process of an online marketplace launch, we looked for a consulting partner to help us shape a final product vision with strong competitive advantages. We trusted the experience of ScienceSoft in market entry consulting. The consultant did a great job creating a dynamic UX prototype of our marketplace and planning integrations important for fast and effective business workflows.
Given Radingwana
Product and Partnerships Manager
BoxCommerce
With ScienceSoft, we managed to acquire the development resources that we needed and got them fit into our teamwork smoothly. Now that we've been working with ScienceSoft for 4 months, we can say that we are no doubt happy with our choice of development partners. The quality they deliver is consistently high. We believe they've contributed a lot to speed up our product's release.

Allison Lawrence

Business Relation Manager

OnLogic Inc.

We've been collaborating with ScienceSoft for many years now, and it has given us the ability to have stable & consistent support to ensure our Magento site is up-to-date and secure. They are the team who won't need your careful control – you just outline the task, and they deliver on it with stable quality and speed.

<![endif]--> <![endif]--> <![endif]-->