<![endif]-->
<![endif]-->
Custom Ecommerce Development
Custom ecommerce development is designing an ecommerce solution unique for each business and following a thorough analysis of business requirements. At ScienceSoft, we research a target audience and plan customer experience diligently to achieve maximum ROI for custom ecommerce website development.
The Financial Times Includes ScienceSoft USA Corporation in the List of Americas' Fastest-Growing Companies 2022
ScienceSoft is one of 500 companies with the highest compound annual growth rate in revenue. This achievement is a result of our unfailing commitment to provide high-quality IT services and find best-value solutions to clients' needs.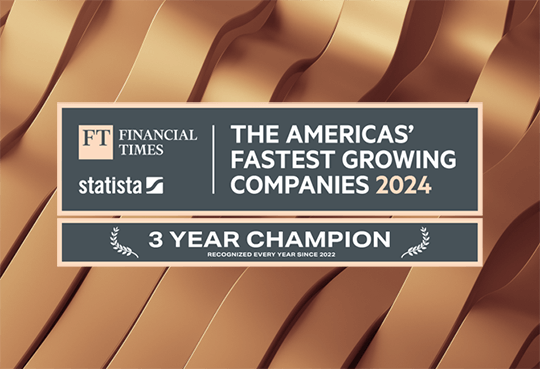 Start with Website Customization
We work within your ecommerce website to provide for the best customer digital experience
Custom business logic

SEO-friendly website architecture

Smooth website navigation

Checkout optimization

Custom UI themes

On-site personalization

Content advancements

Loyalty and retention tools
Do You Need Custom-Built Improvements to Your Website?
We are the team to fully shoulder the custom development process. Let's talk your plans over!
Grow to Advanced Technologies and Approaches
To reach your brave business goals, ScienceSoft's ecommerce team delivers custom ecommerce solutions built with microservices and powered by voice recognition, augmented reality (AR), artificial intelligence (AI), Internet of Things (IoT) and a headless ecommerce approach.
We opt for a microservices development approach if the concept of your ecommerce solution doesn't fit into the format of a ready-made platform. Our experienced solution architects build reliable and scalable microservices-based ecommerce applications.
3 key reasons to choose microservices
Each microservice is custom-built around a particular functional capability, thus it's not limited by any pre-built templates and can bring to life your vision.
In a good microservices-based architecture, separate microservices are isolated as much as possible so that the disruption of one doesn't damage the whole application.
You can evolve your solution gradually, by adding new microservices and modifying existing ones.
On the go and from the comfort of their homes, modern shoppers expect to purchase online hands-free. Voice-assisted shopping may not become a customer's go-to choice when discovering new brands or products, rather it's a convenient alternative to traditional click-and-type experience for ordering everyday essentials or repeat items. If it sounds relevant for your business, stay abreast of changing industry trends.
How we use voice recognition technology in ecommerce solutions
We develop ecommerce applications to work for smart speakers leading the market – Apple HomePod, Google Home and Amazon Echo. As Internet-connected devices designed to process voice commands and return audio feedback, smart speakers work well for online shopping.
We develop web and mobile ecommerce applications with voice-controlled virtual assistants integrated. Here, the big players are Amazon's Alexa, Apple's Siri and Google Assistant.
We design and implement voice user interfaces based on voice frameworks. As for now, our expertise lies within the following solutions – Dialog Flow, Microsoft Bot Framework, Amazon Lex and Watson Conversation.
AR Solutions for Ecommerce
Integrating some gaming experience certainly brings fun into the shopping process. Still, you are right to expect more tangible outcomes when investing in custom ecommerce website development and choosing to bank on AR technology.
Check AR solutions we offer
AR-powered product catalogs give your customers more information for a deliberate choice. When surfing a product details page, they can add an item to the real environment captured by a camera. Switching easily between the product's colors, sizes or configurations available, customers feel safe to purchase. This decision confidence translates into a higher conversion rate and fewer return cases for you.
AR-powered manuals guide your customers through the process of assembling and installing purchased items – an interactive experience for those buying all kinds of equipment, devices or modular furniture. Giving your customers virtual after-sale support, you also give them a reason to feel satisfied with the overall purchasing experience.
Diverse business needs can be covered with a headless approach, and we are ready to elaborate on how such a solution can work best exactly for your business. Besides, there are variations in headless implementation approaches and we can help you to choose the best fit.
How we build headless ecommerce solutions
Employing a headless ecommerce approach, we separate the customer-facing front end from the back end of your ecommerce solution. With the two not relying heavily on each other anymore and communicating via API calls, we get more flexibility to customize the presentation layer and deliver all changes to production faster. The back end can be based on an ecommerce platform or built with microservices.
The possibilities AI brings to ecommerce companies range from automating workflows to personalizing customer journeys. So are our ideas of possible AI application to the advantage of your business.
How we disrupt your business with AI technology
For retailers with a wide product assortment, we can offer to implement visual search. With only a photo of what they want, people will come to find and buy a similar style from you. Not only you provide a unique shopping experience for your customers, but employ an upsell technique wisely. So, for each search request, you can show several relevant offerings ranging in price.
AI-powered chatbots handle an unlimited amount of requests from your customers simultaneously, work 24/7 and never get annoyed at all the same questions over again. On your ecommerce website, they can assist shoppers in navigating across brands and products, remind of current deals, give general information regarding delivery or return policies, collect customer feedback and even make personalized product suggestions based on a customer's purchasing history.
With a predictive recommendation engine integrated, you tailor the shopping experience to every client with no staff effort required. While shoppers make their way through your website – stop by particular items, save some to a wish list, leave reviews, filter blog posts or sign up for new arrivals – the engine aggregates the data to compose a customer profile. From here, targeted promotions, relevant product selections and personalized merchandising pave the way to higher customer engagement and loyalty. Down the road, AI learns from the way customers interact with this content and adapts its behavior accordingly.
Dynamic pricing allows automatically varying product prices based on demand and supply as well as competitors' offerings. AI uses pricing and sales data to predict what and when to discount as well as to calculate the minimum discount needed to ensure the transaction.
IoT-Empowered Solutions for Ecommerce
In a nutshell, the core idea behind this concept implies creating an IoT application that aggregates data from connected Internet-enabled devices and sensors and analyzes it to give insights and trigger response actions proactively.
For ecommerce businesses, IoT opens up interesting opportunities
Streamlining inventory management. You achieve full visibility into inventory if empower your products with RFID tags and your warehouse with interconnected shelf sensors, beacons and video monitoring systems. By having stock levels controlled automatically, your team saves time on stocktaking and gets real-time notifications in case of overstocks or suspected stock-outs. IoT-enabled monitoring of factors affecting the product quality (like temperature or humidity) eliminates the risk of product deterioration.
Facilitating order management. Generating thousands of orders per day is a great win for ecommerce companies, as well as a great investment in order management. Autonomous robots navigating across the warehouse independently and assembling orders minimize the involvement of order pickers, whose tasks boil down to supervision mostly.
Increasing in-transit transparency. Retail companies offering same-day delivery use IoT-empowered solutions for order tracking and accurate delivery time estimation. For that, streams of real-time data about vehicle's GPS position and speed, traffic situation, weather conditions and more are compiled.
Opportunities Are Here. Grab Them!
Don't believe blindly that technology advancements will disrupt your business. Let us win you during our targeted talk.
Why Jump into Custom Ecommerce Development with ScienceSoft
We are an established player in the software development and IT consulting market with 33 years of experience, 700+ in-house team members and a network of partners with the total of 700 more technology experts located internationally.
We started our way in ecommerce development 19 years ago and have scaled up to a provider of complex technology-driven solutions to businesses worldwide.
We know the retail industry well and boast of diverse portfolio of fulfilled projects.
We offer custom software development across 30 industries.
Get Your Custom Solution Shaped for You

We bet you have numerous questions in your mind now regarding the cost, implementation complexity and project life of a custom ecommerce solution.

<![endif]--> <![endif]--> <![endif]-->