Internet of Things (IoT) Services
On a Mission to Build Sustainable Future
At ScienceSoft, we drive value-centered IoT solutions and build multi-level data pipelines for that: from edge computing to cloud data processing and data science.
Driving IoT Innovation across Industries
Internet of Things (IoT) services help elaborate your idea of IoT adoption and set up secure technology infrastructure for advanced data tasks.
Seeing a great and wide-ranging value of IoT, we apply the technology for a number of key purposes.
Preventive equipment maintenance
Remote monitoring of equipment performance metrics and early detection of potential malfunctioning. Prevents equipment breakage and production interruptions.
Used in: Manufacturing.
Remote operation of machinery / appliances
Automating manual actions based on commands sent from control apps to actuators. Applicable to simple actions like switching on/off, opening/closing, and complicated industrial processes, like robotic order picking.
Used in: Manufacturing, Smart home.
Measuring the required environmental metrics (temperature, humidity, pollution, CO2 level, etc.). Helps check the compliance of asset storage and transportation, monitor operation conditions for industrial equipment and at human workplaces, understand the environmental impact of processes.
Used in: Smart city, Production floors, Agriculture.
Optimization of energy consumption
Automated control over the intensity of energy utilization depending on the outside conditions. Applicable to personal (home lights) and public (street lights) surroundings.
Used in: Smart home, Smart city.
Hands-off inventory management
Remote tracking of assets' geoposition and movements. Instant indication of low stock.
Used in: Storage facilities.
Analyzing vital signs measured by wearable devices and informing a supervising doctor on deviations from normal levels. An advanced level of telehealth.
Used in: Healthcare.
Video surveillance and real-time alerts
Instant detection of abnormal behavior within the area under surveillance. Used for crime prevention, early fire detection, traffic incident alerts.
Used in: Smart facility, Smart city.
Product quality management
Monitoring product parameters and process compliance during manufacturing.
Used in: Manufacturing.
Real-time monitoring of cargo in transit to verify its quality and validate the compliance with transportation requirements.
Used in: Supply chain.
Usage-based service pricing
Monitoring the asset utilization behavior and asset conditions to quickly identify risky situations and dynamically adjust the service price.
Used in: Insurance, Rental Services.
The Financial Times Includes ScienceSoft USA Corporation in the List of the Americas' Fastest-Growing Companies 2023
For the second year in a row, ScienceSoft USA Corporation ranks among 500 American companies with the highest revenue growth. This achievement is the result of our unfailing commitment to provide high-quality IT services and create best-value solutions that meet and even exceed our clients' expectations.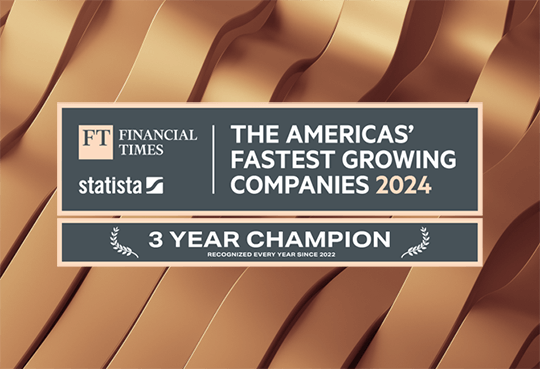 From Planning to Launch - We Hand You a Turnkey IoT Solution
Consulting for the best value from IoT adoption
Investigating your business context and tasks/problems you want to address with IoT implementation.
Defining what data must be collected to meet project goals.
Hardware consulting.
Planning a data center with proper data processing and mining capabilities.
Setting up a data pipeline.
Functionally scoping each solution component: smart things, data warehousing and analytics solutions, control and user-facing apps.
IoT ecosystem setup: data collection, analysis and presentation
We design and implement layered IoT architectures:
Data generation layer: configuring IoT devices and connecting them to the network.
Edge computing: building a decentralized network to keep data processing close to where it originates, which allows for fast local decisions.
Data center setup: modelling a data processing environment for heterogeneous IoT data, applying machine learning and data science algorithms to identify patterns and trends needed for the solution of required problems.
End-user app development: creating different types of apps (web, mobile, VR/AR, smart screens, voice assistants) to serve visualized data insights.
Development of control apps: creating web and mobile apps enabling remote control of IoT devices.
IoT application management for sustainable operation
Technical support and troubleshooting: quick identification of data quality, application availability and usage issues.
Cloud management: monitoring and optimization of cloud resources consumption.
Security management and regulatory compliance: network, server, database, and application vulnerability assessment; infrastructure compliance review; DDoS and APT prevention.
IoT solution evolution: application updates and expansions to support your changing business needs.
Sample IoT architecture
Trust Our Experience to Capture Your IoT Value
34 years in IT and 12 years in IoT.
Data scientists with 20+ years in the field and hands-on experience on IoT projects.
A Microsoft partner since 2008.
Mature quality management system proven by ISO 9001.
Information security management system proven by ISO 27001.
IoT solutions for about 10 industries including manufacturing, construction, oil and gas, and healthcare.
Our Customers Say
Sergey Shleev
Prof. Dr. Department of Biomedical Science
Malmo University
During our cooperation, ScienceSoft proved to have vast expertise in Healthcare and Life Science industries related to the development a desktop software connected to laboratory equipment, mobile application and data analytics platform. They bring top quality talents and deep knowledge of IT technologies and approaches in accordance with ISO13485 and IEC62304 standards.
Mikhail Anfimau
Senior Solution Architect
Leo Burnett
ScienceSoft proved to be a professional service provider from the outset. We appreciate their proactive approach and ability to suggest improvements to a prospective solution on both architectural and business levels. We know we can always rely on ScienceSoft's various competencies when our clients require quality software which would facilitate their business success.

Markku Ursin
CEO
BroadSoft
ScienceSoft is the name we would recommend to every company seeking a committed IT services provider. ScienceSoft professional and knowledgeable staff has the willingness to endeavor best efforts to ensure project success. Every aspect of development is always handled with consideration and care. What we are especially impressed with is the high quality of the deliverables.
Kaiyang Liang Ph.D
Professor
Miami Dade College
ScienceSoft's team showed themselves great consultants. They scrutinized our requirements (both current and future). After a deep research, they provided their recommendations on hardware and software, which we found very useful.
View all customer reviews
IoT Projects by ScienceSoft
All about Internet of Things
<![endif]--> <![endif]--> <![endif]-->