<![endif]-->
<![endif]-->
Ecommerce Web Development Services | Custom Website Design

Ecommerce website design and development covers all the activities aimed at the creation, maintenance, and evolution of a web store. Team up with ScienceSoft to find all the competencies needed for your ecommerce project success under one roof.
About ScienceSoft
| | | |
| --- | --- | --- |
| 700+ IT professionals located internationally in the US, Europe and the Middle East | 18 years of experience in ecommerce | Our reliability is recognized by independent researchers |
Do Ecommerce with Experts
We respond to varied development needs with expertise ranging from high-performing infrastructure setup to user-centric web design and ecosystem implementation.
Personalized experience for an extensive customer base.
Support for diverse product and service types, product bundling opportunities, configurable product attributes.
Pre-order management.
A marketing and promotions suite.
Product comparison and recommendations engines.
Registered and guest checkout.
Automated tax calculation.
Sophisticated buyer segmentation.
Support for complex pricing structures driven by order volume, buyer status, etc.
Streamlined quote management and price negotiation.
Facilitated bulk and repeat ordering.
Multiple ship-to functionality.
Multi-vendor management.
Eased seller onboarding process.
Tiered commission management.
Concurrent checkout process.
Marketplace APIs for the integration with a seller's business systems.
Marketplace-wide and seller-specific analytics.
Multiple storefronts.
Multilingual and multi-currency support.
Role-based permissions for global, website- and store-specific admin users.
Multistore-wide and store-specific reports.
Near-instant website loading.
Offline availability.
Native app-like user experience.
A possibility of mobile home screen installation.
Push notifications.
Highly customizable front end.
Research-based UX and custom business logic.
Dynamic on-site personalization.
Enhanced security.
Ecommerce Development Process
We plan and own an end-to-end ecommerce development project: from the investigation of your business requirements and user experience design to ecommerce solution implementation, integration and launch.
ScienceSoft has been vital to our company's growth in ecommerce over the last 2 years. They are a very versatile company in terms of the amount of services they provide. ScienceSoft is quite possibly the most beneficial outside resource we've ever had.
Jarod Joyce, Creative Director, Dot It Restaurant Fulfillment
Ecommerce Development Services
Custom ecommerce website development
AI-powered digital experience personalization.
Online merchandizing.
Advanced product search.
Promotional pricing tools.
Product recommendation workflows.
Loyalty programs.
User-friendly checkout.
Mobile strategy consistent with business goals and budget.
Mobile-friendly user interface.
AR-driven viewing experience.
PWA development.
Mobile app development.
Mobile payments.
Current solution revision.
New ecommerce technology selection.
Calculation of the total ownership cost.
Custom design changes.
Business and SEO data migration.
Our Approach to Ecommerce Web Development
Our web developers employ a DevSecOps approach to incorporate security practices into the ecommerce development process.
Unfailing website performance
We apply the best practices for hardware and software configuration as well as plan solution architecture to set up a scalable ecommerce website.
Integrated business environment
We enable effective business processes by connecting your business systems and customer touchpoints, and planning an omnichannel customer experience strategy.
Ecommerce Integration Services
We strive for the efficiency of all your business processes and integrate an ecommerce component with your other business systems to achieve automated data transfer. We cover diverse integration scenarios depending on your business specifics and goals, our technology expertise includes (but is not limited to) ERP, CRM, PIM and DAM, CMS systems, payment gateways, and marketing tools.
Ecommerce Website Design Services
Gathering information and forming a vision of your target audience by conducting interviews, creating personas, and simulating personas' behavior in user stories.
Investigating the strengths and weaknesses of your competitors to win over your target audience through digital experience.
Outlining the page functionality and navigational structure in simplified and schematic wireframes of your future website interface.
Testing wireframes and fixing user inconveniences to save on costlier fixes later during the development process.
With critical UI components: fonts, buttons, icons, and more visual elements.
Aligned with your business identity and our design principles of creativity and elegance.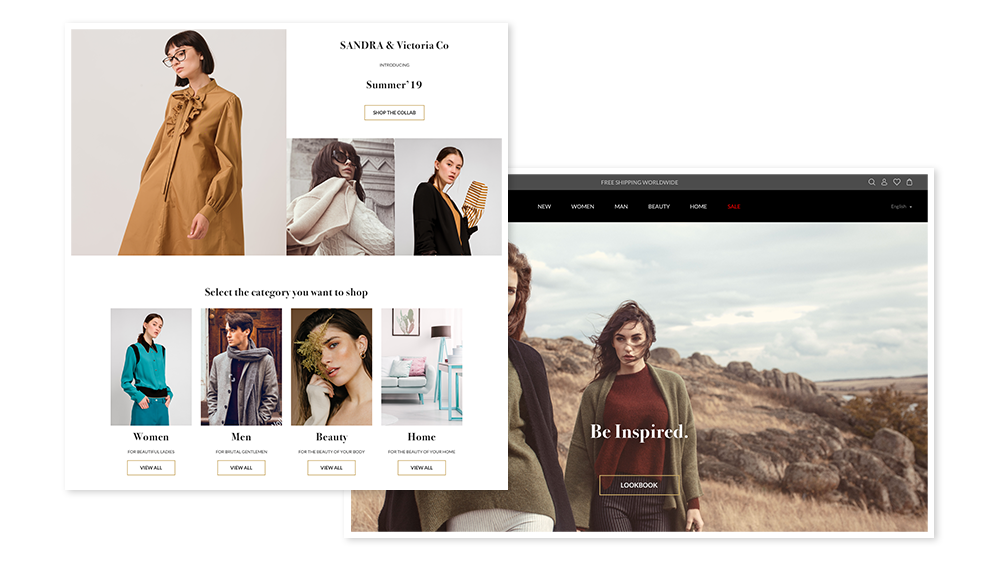 Apparel & Footwear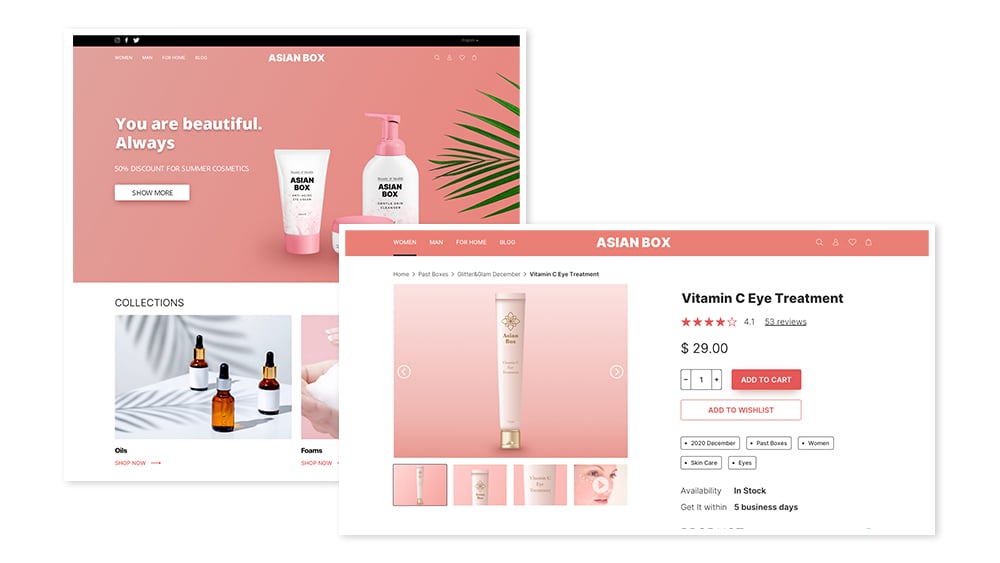 Beauty & Personal care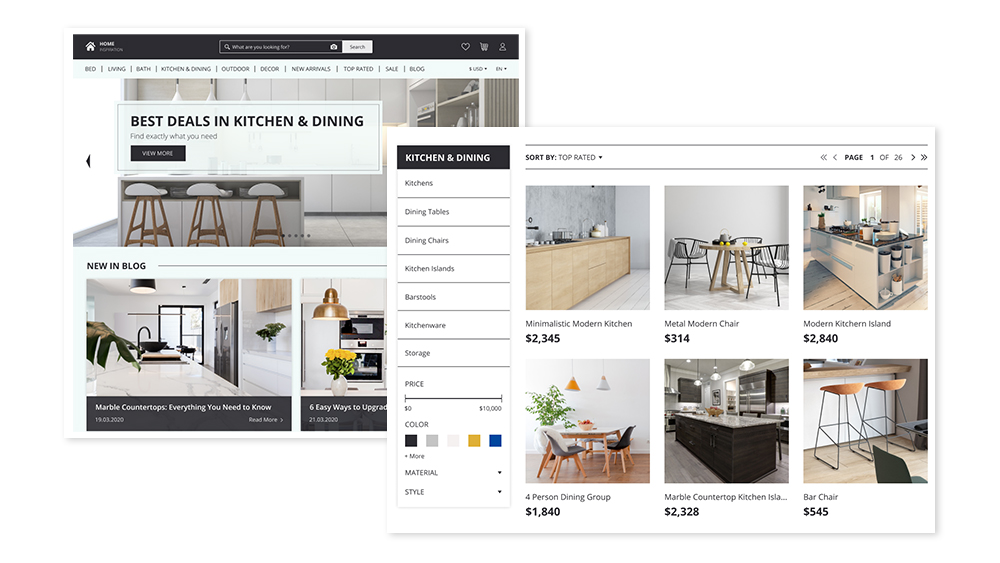 Furniture & Household goods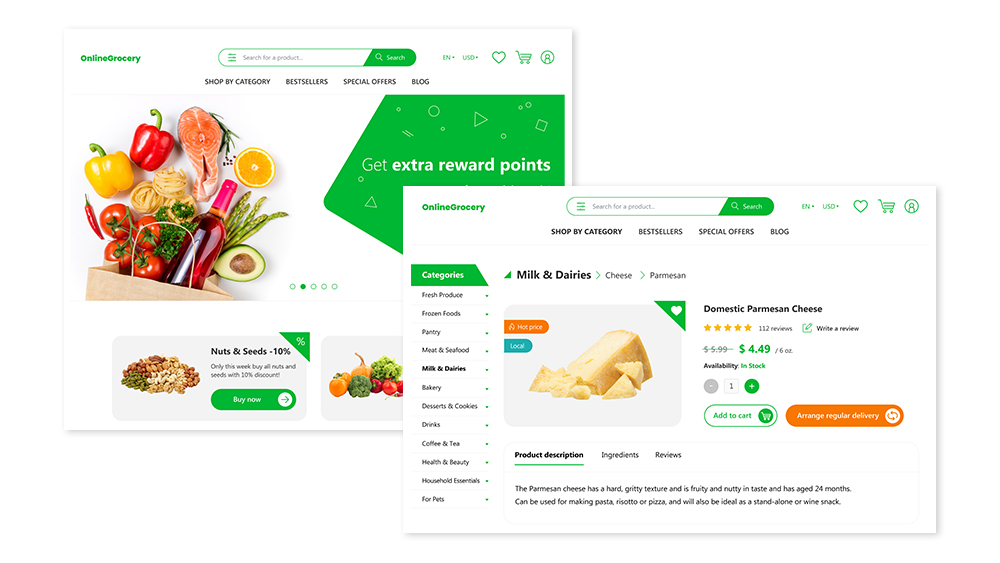 Food & Beverages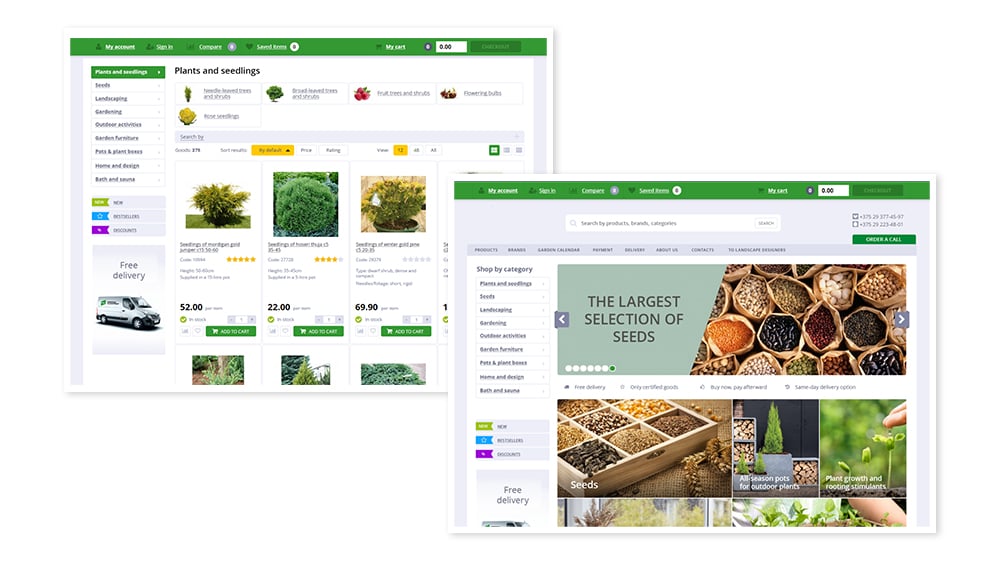 Home & Garden
Why Your Ecommerce Success Largely Depends on Design
visitors judge websites by aesthetics
visitors will leave instantly if they find a website unappealing
users won't return after a single negative digital experience
Convey a Strong Brand Message to Your Audience
With ScienceSoft as your ecommerce web design company of choice, you have your business's digital presence designed beautifully to:
Inspire customer trust.
Increase customer engagement throughout a digital journey.
Communicate your brand's authentic voice.
Bring increased conversions.
To speed up the time to market for our product, we needed to ramp up our development capacity and were looking for front-end developers competent in ecommerce. ScienceSoft proved the expertise we needed, and two of their front-end developers joined our team.

Now that we've been working with ScienceSoft for 4 months, we can say that we are no doubt happy with our choice of development partners. The quality they deliver is consistently high. We believe they've contributed a lot to speed up our product's release.
Given Radingwana, Product and Partnerships Manager, BoxCommerce
Try interactive ecommerce demos

<![endif]--> <![endif]--> <![endif]-->