Dedicated Software Development Team
Hire IT Professionals Dedicated to Your Business Success
With a pre-vetted talent pool of 750+ IT experts, ScienceSoft assembles well-performing and collaborative dedicated teams to help businesses in 30+ industries achieve desired results faster and with minimized risks.
Dedicated development team model is aimed to help businesses speed up their development initiatives and achieve significant cost savings by hiring a reliable team of pre-vetted IT talents. A mature tech partner with 34 years in IT, ScienceSoft assembles tailored dedicated teams that efficiently address skill gaps and deliver high-quality results with no delays or collaboration issues.
Why Partner Up with ScienceSoft
34 years in software development and IT consulting.
Over 3,600 successful projects.
750+ full-time professionals on board, including certified IT consultants, technical architects, developers and QA specialists, support engineers, account managers, PMs and business analysts.
Broad experience in major techs (e.g., Java, .NET, Python, PHP, C++) and IT innovations (big data, blockchain, AR/VR, AI/ML, IoT).
Certified experts with Microsoft, AWS, Google, Oracle, IBM, ServiceNow, Salesforce, Adobe Commerce (Magento), and other platform competencies.
Quality-first approach based on a mature ISO 9001-certified quality management system.
ISO 27001-certified security management based on comprehensive policies and processes, advanced security technology, and skilled professionals.
62% of our revenue comes from clients that stay with ScienceSoft for 2+ years.
Trusted by global market leaders, including:
What Our Customers Appreciate about ScienceSoft's Teams

Vesa Suontama
CTO
Supponor
ScienceSoft's C++ developers have been assisting Supponor in the ongoing development of the software for the past 11 years. ScienceSoft's experience in cross-platform, real-time systems, and computer graphics helps to ensure consistently high performance and wide compatibility of Supponor's products. We know we can rely on ScienceSoft's experts and trust their excellent understanding of what our clients demand from Supponor software.

Morten Øien Eriksen
CEO
Enonic
We have been cooperating with ScienceSoft for 5 years. ScienceSoft's team of five Java developers and one Test Engineer have been working hard to ensure our product - Enonic XP - exceeds our customer's expectations. The team has become an integrated part of Enonic, and we appreciate their efforts and passion for the product. Thanks for a great job so far!

Sean Snider
COO
Upstream Works Software
ScienceSoft's .NET developers have been assisting Upstream Works in refactoring a load testing system and bringing further automation to the load testing process. Their DevOps engineers helped us optimize our infrastructure and set up a continuous software delivery process. The team is very professional, well-organized, and is always on top of the finer details. This is exactly what a long-term, harmonious partnership should look like.

Wadih Pazos
Chief Operating Officer
Paramount WorkPlace
ScienceSoft quickly provided a complete development team that included a BA, developers and QA specialists. ScienceSoft's developers used the microservices approach to ensure the system's scalability, which is critical for us as our user base is growing. The new software module performs stably even under heavy load, which helps provide high quality user experience for our customers.
Simen Løkka
CEO
Travision AS
ScienceSoft ramped up a development team consisting of two C++ developers, two data scientists, and a UI design expert to fulfill the project. The team identified core errors, which didn't allow efficient solution operation, and implemented high-speed convolutional neural networks to fix them. We are satisfied with our cooperation with ScienceSoft and their skilled development team, which smoothly fit into our project.
View all customer reviews
We employ the proven combination of the latest and classic trusted technologies, having the following technology stack as our basis:
5 Reasons to Opt For the Dedicated Team Model
You can forget about the expensive recruitment process.

The cost of hiring a dedicated team is transparent, as you don't have to worry about unpredictable expenses on selecting, vetting and assembling IT specialists in a team – we do that for you.

You benefit from quick and easy ramp-up.

The team's setup takes little time as our IT experts already have a mutual understanding from successfully working together on similar engagements and can focus on quickly integrating into your development process, however specific it is. Our team members also have a cooperative mindset and a friendly attitude that help integrate with external teams easily.

You don't have to adjust your processes to remote collaboration by yourself.

We are flexible to adapt to your existing communication model and help to tune all the needed tools and environment for your team to collaborate with our team without additional efforts.

You keep full technical ownership of the project and get access to ScienceSoft's expertise.

We share our company's best practices and pass on all the project artifacts and knowledge accumulated in the project to your in-house team.

You control the results without spending time on daily management.

Our dedicated project manager controls the day-to-day process and workflows and provides comprehensive reports to your project manager (or product owner) as often as needed to ensure process transparency and alignment with your goals. In such a way, you have more time to focus on the core parts of the project.
The Financial Times Includes ScienceSoft USA Corporation in the List of the Americas' Fastest-Growing Companies 2023
For the second year in a row, ScienceSoft USA Corporation ranks among 500 American companies with the highest revenue growth. This achievement is the result of our unfailing commitment to provide high-quality IT services and create best-value solutions that meet and even exceed our clients' expectations.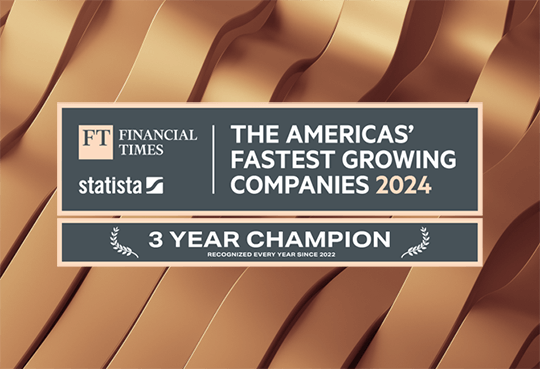 How ScienceSoft Assembles a Dedicated Team
To make sure each of our clients can receive their dream team within the shortest possible time frame, we take the following four key steps:
We scope the project — define the boundaries, objectives, and deliverables of a project. It includes identifying the tasks that need to be completed and the resources needed, estimating the budget and the timeline. This provides a clear understanding of what the project entails and what it aims to achieve.
For projects involving 10+ developers, we recommend to divide a large team into several smaller ones and assign a team lead for each group of 5–7 experts. Our team leads create and maintain a highly productive and creative environment and make sure that their respective teams meet the project goals to the fullest, which can significantly reduce the managerial efforts on your side.
We conduct CV screening of our experts, pick the most fitting candidates, and get back to you with our proposal that includes detailed information about the pre-selected team members and our approach to collaboration. If you are not satisfied with the suggested talents, we adjust the CV screening criteria according to your feedback and offer more options to fully meet your needs.
Team onboarding and SLA negotiation
If you accept our proposal, we assemble the chosen team and go through the final steps to kick off the project. Together, we clearly define the roles and responsibilities of each team member, outline the deliverables (incl. documents, prototypes, finalized solutions), agree on the collaboration format, decide on the KPIs to be used in reporting — all this will be reflected in a Service Level Agreement (SLA).
Once a contract is signed, ScienceSoft's team joins your project in 1–2 days. Usually, it takes our IT talents up to 1 week to fully adapt to your processes and start showing top performance.
All about Our Software Development
<![endif]-->