Internet of Things Consulting
IoT consulting helps take a realistic look at your IoT adoption: feasibility, challenges, opportunities, costs. ScienceSoft provides IoT consulting services to create IoT solutions with high ROI and plan coherent architectures of network-connected devices, data processing layers and apps.
Our IoT Consulting Services
Whether you just embark on your IoT journey or are already making your way through it, our IoT consultants will help you make the best of new technological opportunities and set them in tune with your business strategy.
Strategy planning for high-value IoT adoption
We elaborate the best value proposition for IoT adoption.
Investigating thoroughly your business context, processes, organizational hierarchy.
Finding reasons for inefficiencies noticed by you and detected during our investigation. For example, regular damage of perishables in warehouses may indicate poor temperature control.
Outlining a potential IoT-enabled solution and describing the value it will create for your specific business situation.
We bring a general concept of your IoT solution to life with a working prototype.
Planning major components of an IoT solution responsible for generating, analyzing and visualizing information as well as triggering response actions in smart things.
Describing the functional scope of each solution component: smart things, data warehousing and analytics solutions, control and user-facing apps.
Visually mapping the connectivity of IoT components.
Preliminary estimating a data volume that will be processed by an IoT solution.
We help you select reliable techs for hardware IoT components.
Eliciting and structuring hardware requirements taking into account the use case and multiple environment variables: temperature, humidity, light, vibration, etc.
Compiling the list of hardware to buy following the requirements specification.
Shortlisting 2-3 reliable hardware suppliers.
Data processing automation
We automate each step of collecting, filtering, and analyzing data from smart devices.
Architecting a big data solution.
Setting up big data governance procedures (big data filtering, quality assurance, security, etc.).
Developing machine learning models.
Visualizing data insights in pre-defined dashboards.
We create a realistic understanding of the project scope.
Estimating the project time and budget.
Defining the skills and knowledge needed for project implementation.
Identifying possible project risks (budget changes, emergency expansion of the project scope, resistance in team adoption of new processes, more).
Elaborating a data security strategy.
Full-cycle IoT development
We can take over your entire IoT project.
Placing IoT devices (sensors) to monitor the required conditions (of objects or environment).
Setting up an IoT gateway to transport the collected data to a data storage.
Building a data storage (e.g., a big data lake and DWH).
Setting algorithms for control applications to send commands to actuators.
Designing user application(s) to control the performance of smart things and get convenient analytics results.
Security testing.
IoT Architecture We Build
We architect IoT-enabled solutions covering all the steps of a data flow: aggregation, storage, processing, and visualization.
IoT Solutions We Create
We are ready to bring our knowledge, experience and novel ideas to aid you in planning, designing, implementing and evolving the following IoT solutions.
Machinery utilization monitoring.
Real-time control over inventory status, locations and movements.
Monitoring of work conditions on production floors.
Quality management of production processes.
Product quality management.
IoT solutions for connected factories
Monitoring of inventory levels and automated alerting on low stock.
Warehouse climate control.
Robotic order fulfillment.
Transportation climate control.
IoT-enabled supply chains
Customer experience management in retail
Beacon-enabled loyalty programs for personalized in-store customer experience.
Smart shelves tracking product stock and scheduling replenishment.
Traffic control to restrict the number of in-store visitors.
IoT-enabled retail solutions
Healthcare and Life Science
Patient self-care.
Medical asset tracking in healthcare facilities.
Real-time location tracking of medical staff and equipment.
Automated climate control in hospital wards.
IoT-enabled solutions for healthcare
Monitoring of environmental conditions for the transportation and storage of products sensitive to temperature, humidity, light intensity, etc.
Adaptive cruise control.
Real-time transportation route planning based on a current traffic situation.
Smart cities, smart utilities
Street lighting system automatically adjusting light intensity based on the outer conditions for optimized energy consumption.
Real-time monitoring of traffic and public parking situations.
Informational system for passengers on real-time public transport location.
Fire alert systems.
Crime prevention systems.
Smart city solutions
Monitoring of oil condition.
Remote inspection and preventive maintenance of oil & gas equipment.
Pipeline surveillance and leakage detection.
On-site monitoring of tools and equipment.
Workplace wearables alerting on health disorders and safety violations.
The Financial Times Includes ScienceSoft USA Corporation in the List of the Americas' Fastest-Growing Companies 2023
For the second year in a row, ScienceSoft USA Corporation ranks among 500 American companies with the highest revenue growth. This achievement is the result of our unfailing commitment to provide high-quality IT services and create best-value solutions that meet and even exceed our clients' expectations.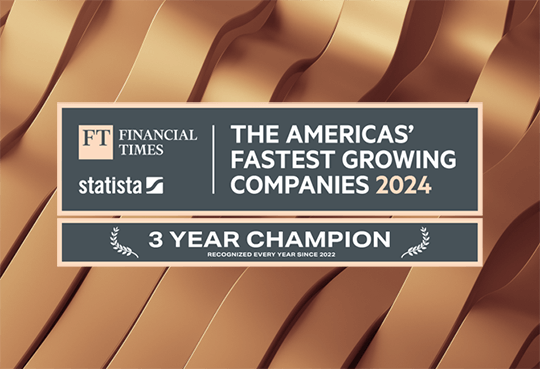 How We Drive Digital Transformation with IoT-Enabled Solutions
1
Digitalization of information collected by smart things
Wearables, sensors, hardware.
2
Automation of data processing
Orchestration of heterogeneous data, data filtering, data transfer.
3
Business process automation
Remote condition monitoring (of machinery, environment, vital signs), asset tracking.
4
Optimized equipment utilization, restructured labor resources, new business models (e.g., telehealth).
What Customers Say About Us

Markku Ursin
CEO
BroadSoft
We have been working with ScienceSoft for 6 years and they have become our long-term technology partner. ScienceSoft professional and knowledgeable staff has the willingness to endeavor best efforts to ensure project success. Every aspect of development is always handled with consideration and care. What we are especially impressed with is the high quality of the deliverables.
Maria Zannes
President & CEO
bioAffinity Technologies
bioAffinity Technologies hired ScienceSoft to help in the development of its automated data analysis software for detection of lung cancer using flow cytometry. In addition to the solid technical expertise shown by ScienceSoft, its developers demonstrated a profound understanding of laboratory software specifics and integrations. I am particularly impressed by the cooperative nature of ScienceSoft's team.
Simen Løkka
CEO
Travision AS
Two years ago, we commissioned ScienceSoft to audit and upgrade our partially developed AI-based software for clay pigeon shooting tracking. We are satisfied with our cooperation with ScienceSoft and their skilled development team, which smoothly fit into our project. In case of further system evolution, we'll continue our collaboration and won't hesitate to recommend ScienceSoft as a reliable development partner.
View all customer reviews
Data-Driven Solutions We Created
All about Internet of Things
<![endif]--> <![endif]--> <![endif]-->