ScienceSoft's Practices for Effective Collaboration in IT Projects
A well-thought approach to collaboration is what differentiates a reliable tech partner able to deliver sustainable long-term value from an over-the-counter IT vendor focused on fast unilateral results. ScienceSoft's mature collaborative culture helps us stand out amongst the competitors, flexibly address our clients' evolving needs, and efficiently manage risks in a highly uncertain environment.
Collaboration in IT Projects: Summary
Having successfully completed over 3,600 IT projects, ScienceSoft knows that a flexible and involved approach is the key to establishing effective collaboration flows. And smooth collaboration is the backbone of meeting customer expectations regarding the project's scope, time, and budget in the best possible way.
We offer tailored, individually-paced communication models for various IT services (development, QA, support, etc.), collaboration aspects (from daily communication to strategic alignment), and project stakeholders (from IT specialists to top management). Our engagements start with detailed collaboration planning at the strategic and tactical levels and involve the ongoing measurement of communication efficiency to resolve potential issues promptly.
Major Collaboration Challenges and Risks
IT vendors pursuing quick wins tend to overlook the value of close collaboration and maintain a detached approach to service delivery. Unwillingness to understand a client's business, rigidity in communication modes, and non-disclosure of arising problems may result in service misalignment with the customer's expectations and compromise project success.
A vendor's failure to properly plan communication and promote joint efforts and knowledge sharing across all key project roles is another obstacle to sustainable collaboration. It results in communication gaps hampering productive teamwork, complicating change management and leading to budget overruns. In fact, a study by the Project Management Institute revealed that roughly a third of all failed IT initiatives collapse due to inadequate communication.
| | | | |
| --- | --- | --- | --- |
| | | | |
| | We at ScienceSoft believe that efficient collaboration propels long-term success and address its challenges with special attention. We maintain open, straightforward customer communication and cultivate the involved attitude toward our clients' endeavors. Meticulous planning, transparency, flexibility, and continuous improvement are the four pillars of ScienceSoft's collaborative approach, sharpened throughout 34 years in IT. | | |
| | | | |
ScienceSoft's Collaboration Principles
| | |
| --- | --- |
| | Respect toward our clients' corporate practices, values, teams, and cultural specifics. |
| | Proactivity in reviewing the collaboration health and tuning the processes for higher efficiency. |
| | Courage to address tough issues and drive ongoing improvements. |
| | Attention to feedback and on-demand adjustment of the collaboration intensiveness to meet the changing requirements. |
| | Transparency across the project flow for all the stakeholders to see the big picture. |
| | Knowledge sharing with the clients' in-house teams and co-sourcers to enhance their expertise. |
| | Honesty about our achievements and challenges. |
| | Prompt, fair, and economically feasible resolution of the arising collaboration issues. |
Setting Up a Value-Driven Collaboration Process
Step 1. Collaboration flow planning
From the beginning of an engagement, ScienceSoft designs a plan of strategic communication activities and operational interaction flows. It helps ensure a steady cooperation start and reduce potential risks.
Here, we share a sample flow for an Agile software development project, where our project manager together with product owners, an account manager, business analysts, architects, and tech leads perform the following steps:
Identify the key business and development stakeholders on a client's and ScienceSoft's side.
Create a stakeholder matrix and communication plan and share the blueprint with all the involved parties. It helps ensure everyone is on the same page regarding the responsibilities and role-specific development aspects to collaborate on.
Make sure all key roles on ScienceSoft's team obtain a unified vision of the customer's as-is business situation and expected outcomes, which is essential to align development with the client's short-term objectives and strategic goals.
Determine the required deliverables. It helps understand the major collaboration aspects and define their tangible outcomes.
Define the project scope and prioritize the scoped tasks based on their urgency, complexity, expected value for the client, and more. This step is crucial for the team leads to reveal the dependencies between the tasks and define the cross-team collaboration touchpoints.
Create the task schedule. It lays the basis for further granular planning of Scrum ceremonies and helps control the teamwork efficiency and progress pace.
Define the task owners and the team members' functional responsibilities under particular tasks.
ScienceSoft's sample RACI-based collaboration model for an Agile software development project looks as follows:
Step 2. Establishing tailored collaboration forms
ScienceSoft offers a wide spectrum of tactical collaboration forms for various IT services and collaboration models (outstaffing, a dedicated team, partial or full outsourcing). We tailor collaboration frequency and forms to meet our clients' individual expectations.
Step 3. Selecting the collaboration toolkit
Reliable collaboration software lays the foundation for smooth, safe, and productive teamwork in the remote environment. Among the proven tools ScienceSoft recommends are:
Step 4. Evaluating the collaboration success
ScienceSoft continuously monitors collaboration efficiency and promotes an open discussion within the teams and with clients. It helps timely spot potential issues and handle them before they negatively impact the IT service flow and decision-making speed.
Our IT team leads regularly collect feedback from the team members to quickly get informed about the arising bottlenecks and precisely define the root cause of the workflow blockers.
Our account manager and team leads keep in close touch with the decision-makers on a client's side to stay up to date on any collaboration flaws that are out of tune with the customer's goals and resolve issues in the best possible way.
Step 5. Ongoing collaboration improvement
ScienceSoft is not just another IT vendor relying on collaboration practices that are "good enough" to prevent barefaced conflicts and meet deadlines without budget leakage. We strive to have a truly meaningful impact on our clients' gains and continuously improve collaboration throughout all levels of engagement. Based on our vision and customers' needs, we may flexibly tune communication intensity and reporting frequency and involve our top management to handle strategic issues.
Bringing a Mature Collaborative Culture to Drive Customer Success: ScienceSoft's Featured Projects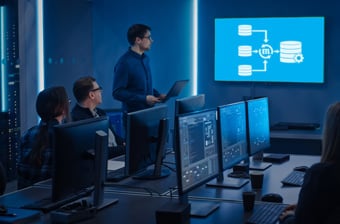 Collaborative Development of a Data Warehouse
Team augmentation with ETL/DWH and Java developers.
Prompt integration into the Customer's Scrum-driven development environment.
Daily collaboration with the Customer's in-house project manager and a data analyst.
Quick ramp-up up to 4 engineers and ramp-down back to 2 engineers to adjust to the changing scope of work.
Digital Transformation of a Phytotherapeutic Business
Consistent communication with the stakeholders on the Customer's side to elicit business pains, needs, short-term and long-term goals.
Collaborative planning of the digital business transformation.
Proactive investigation of the Customer's workflow optimization opportunities and suggestions on the additional areas to digitalize.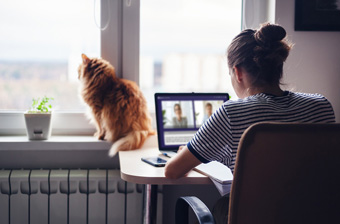 Crisis Management Consulting and Workflow Digital Transformation
Interviewing the Customer's managers to learn the current business processes and elicit requirements for remote teamwork.
Close cooperation with the Customer's in-house IT teams to assess and upgrade the existing IT system.
Training the Customer's teams on the overall smoothness of remote work, its security and compliance aspects, and new digital tools.
Collaboration with ScienceSoft: Through Clients' Eyes

Heather Owen Nigl
Chief Financial Officer
Alta Resources
ScienceSoft's team members proved to be extremely flexible and responsive. They stayed in daily contact with us, which allowed us to adjust the scope of works promptly and implement new requirements on the fly. Additionally, the team delivered demos every other week so that we could be sure that the invoicing system aligned with our business needs.

Alex Gudkov
Chief Information Officer
TruConnect
We've had a pretty big team working for us on ScienceSoft's side, and everyone is always friendly, helpful, and ready to answer our questions. Our daily meetings with the team have been great – they never fail to keep us well-informed. They also regularly ask for feedback to better cater to our needs, and that's how I know this partnership will last.
Michele King
Operations & Planning Manager
The Holdsworth Center
The project took 6 weeks. During that time, ScienceSoft's team was very accommodating to our meeting requests and quick to follow up after a meeting with all of the action items. They provided detailed and informative responses to all our questions, which helped speed up decision making. We really appreciate the team's responsiveness and patience with our questions and concerns.
Bader Alhamdan
Managing Director
Deyarat Trading Co.
We appreciated ScienceSoft's client-oriented approach, consistent collaboration across all the project stages, and flexibility to adjust to changes. ScienceSoft's expert advice helped us reveal cost optimization opportunities and define the functionality to increase the solution's value for all target user groups.

Sean Snider
COO
Upstream Works Software
We've been working with ScienceSoft for almost a year and it has been a great experience throughout. The team is very professional, well-organized, and is always on top of the finer details. We're impressed by their passion for solving problems and implementing improvements. This is exactly what a long-term, harmonious partnership should look like.
Harutyun Melikiyan
CEO
B-NET GmbH
We enjoyed our cooperation with ScienceSoft as they coordinated the efforts and managed their team very professionally. We appreciate the transparency of the project activities, which the team ensured by regular and thorough reporting, and effective communication with the stakeholders. We always stayed tuned on the progress and could anticipate and mitigate potential risks.
Chris Calver

Chief Delivery Officer

Lemongrass Consulting Ltd

The Project encountered a number of unforeseen issues during migration and cutover but, ScienceSoft rose to the challenge and worked closely with the Lemongrass Team to ensure a timely resolution. The ScienceSoft Team were always very professional, demonstrating competency in the required skillset and good communications; despite the remote working relationship.

View all customer reviews

<![endif]--> <![endif]--> <![endif]-->