Data Analytics Services
Even the Most Voluminous and High-Velocity Data Will Be Organized
Data analytics implies building an infrastructure for data aggregation, analysis, and reporting. 34 years in data analytics services, ScienceSoft delivers tailored business analytics solutions and helps companies plan future actions based on historical insights.
Building Data Analytics Solutions for Different Domains
A data analytics company, ScienceSoft helps businesses from 30+ industries integrate, aggregate, and analyze various data types from multiple data sources to address their most ambitious needs at department and enterprise levels.
How You Benefit from ScienceSoft as Your Analytics Partner
We set up automated data management and governance processes and implement self-service BI to ensure you can easily create ad hoc reports without any coding skills, and your IT team doesn't have to manage data manually.
We use various data visualization techniques to highlight the most important analytics insights in each report and make them easy to scan at one glance.
Reliable insights due to trustworthy data
We consolidate your disparate data sources into a DWH to serve as a single point of truth for enterprise-wide analytics. Our robust ETL processes will guarantee your data is always accurate, consistent, and complete to facilitate dependable analytics.
Value-focused data analytics
As an expert analytics consultancy, we don't simply build reports — our goal is to help you fully utilize the potential of your analytics solution and discover new optimization opportunities hidden in your data (e.g., for operational cost reduction, productivity improvements).
Our Data Analytics Portfolio
Quality Services – Happy Customers
Heather Owen Nigl
Chief Financial Officer
Alta Resources
We first contacted ScienceSoft to get expert advice on the creation of the centralized analytical solution. After we got a clear project roadmap, we commissioned ScienceSoft to develop a part of the solution, covering invoicing. The system automates data integration from different sources and provides visibility into the invoicing process. We have already engaged ScienceSoft in supporting the solution and would definitely consider ScienceSoft as an IT vendor in the future.
Maria Zannes
President & CEO
bioAffinity Technologies
bioAffinity Technologies hired ScienceSoft to help in the development of its automated data analysis software for detection of lung cancer using flow cytometry. Our project required a large amount of industry-specific methodology and algorithms to be implemented into our new software connected to EHR/LIS systems, which ScienceSoft's team handled well due to a profound understanding of laboratory software specifics and integrations.

Donat Gaudreau
Electrochemical Cell Design and Test Engineer
Unilia Fuel Cells
We commissioned ScienceSoft to build a flexible database with user interfaces for managing our test data stored as time-based CVS files. ScienceSoft delivered a fully functioning solution regardless of the new requirements that appeared during the project. We are planning to extend the logic of our reports and dashboards and data processing options in our solution, and we'll definitely be considering ScienceSoft as our partner in this initiative.
View all customer reviews
How We Ensure Smooth Sailing of Our Projects
With over three decades of experience in analytics services, we have established mature processes to guarantee that we always deliver on our promises.
| | |
| --- | --- |
| | |
| | We assess project risks in advance to provide realistic time & budget estimations. |
| | We foster cooperation, trust, and respect to achieve effective teamwork. |
| | Being ISO 27001-certified, we guarantee that we collect and store your business data securely. |
| | We maintain and update accurate project documentation to support future software evolution. |
| | We ensure full transparency of project progress with the help of tailored KPIs, frequent reporting, and efficient task-tracking systems. |
| | Having worked with 30+ diverse industries, we speak your language and understand your domain's unique challenges and needs. |
| | To ensure high user adoption and smooth knowledge transfer, we are ready to conduct user training for your team. |
The Financial Times Includes ScienceSoft USA Corporation in the List of the Americas' Fastest-Growing Companies 2023
For the second year in a row, ScienceSoft USA Corporation ranks among 500 American companies with the highest revenue growth. This achievement is the result of our unfailing commitment to provide high-quality IT services and create best-value solutions that meet and even exceed our clients' expectations.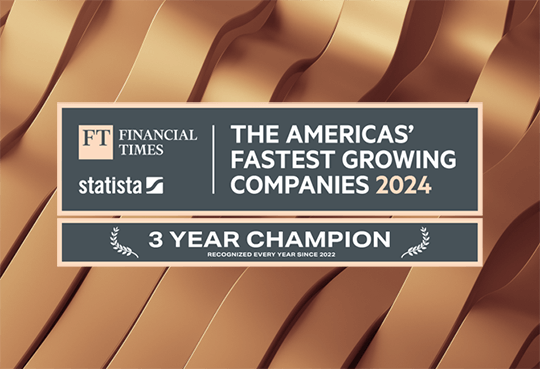 Flexible Service Approaches
ScienceSoft's Solutions – from Automation to Advanced Data Analytics
Latest Data Analytics Insights
<![endif]-->