IT Outsourcing Services
Optimize Current Operations. Launch New Projects.
IT outsourcing services include application development, infrastructure and software support and maintenance, data center management, and other initiatives. With 34 years in IT, ScienceSoft takes over any IT tasks you want to outsource or cooperates with your vendors to provide the services.
IT Outsourcing with ScienceSoft in Figures
revenue growth from new IT-based business initiatives

reduced IT service costs thanks to our best practices

higher business growth due to freed resources
Cooperation Models We Support
Cover resource or skill gaps of your in-house IT team with our experts managed by you directly.
Get a self-managed team led by ScienceSoft's PM or Team Lead to carry out your IT initiative.
We take care of your specific IT function(s) with full responsibility for their quality and related risks.
Our Happy Clients
Luke Walther
Business Development Director
Give Back Wireless
Due to our business growth, we decided to outsource the continuous development, support and maintenance of our proprietary internal systems. We engaged ScienceSoft as our development partner. ScienceSoft coordinated knowledge transfer, discovery of our internal systems, then transitioned into supporting those systems and taking on projects to evolve their functionality.

Vesa Suontama
CTO
Supponor
ScienceSoft's C++ developers have been assisting Supponor in the ongoing development of software for the past 11 years. ScienceSoft's experience in cross-platform, real-time systems, and computer graphics as well as their robust skills in integrations across a wide range of highly specific hardware helps ensure consistently high performance and wide compatibility of Supponor's products.

Markku Ursin
CEO
BroadSoft
We have been working with ScienceSoft for 6 years and they have become our long-term technology partner. Our relationships covered multiple areas such as software development of server-based systems with desktop and mobile clients, software testing, software consulting and system integration for our customer. ScienceSoft professional and knowledgeable staff has the willingness to endeavor best efforts to ensure project success.

Morten Øien Eriksen
CEO
Enonic
ScienceSoft's experience in agile development ensured smooth project implementation and iterative development of our product – Enonic XP. This enabled us to adjust to the changing market requirements and incorporate features that made us stand out from competition. As a result, Enonic XP has evolved into an easy-to-use and scalable platform, which is crucial for our success.
John Andersson
Founder & CEO
Peek-A-Boo
ScienceSoft is a professional and dedicated mobile app development company. Over the past 10 years we've worked on about ten mobile app development projects with them. Their developers performed really well and have rescued us when we were late on delivery. We would certainly recommend ScienceSoft as a highly skilled and reliable service provider.

Bob Penland
CTO
TruMethods
With ScienceSoft, we've been able to reduce our development costs and decrease the timeline on new features and updates. ScienceSoft's attention to detail in how everything is documented and communicated is by far the best of any agency that I've worked with. The communication and agreement process when starting a new project has been by far the easiest to handle and most professional I've seen.
Maria Zannes
President & CEO
bioAffinity Technologies
bioAffinity Technologies hired ScienceSoft to help in the development of its automated data analysis software for detection of lung cancer using flow cytometry. Our project required a large amount of industry specific methodology and algorithms to be implemented into our new software connected to EHR/LIS systems, which the team handled well. They are reliable, thorough, smart, available, extremely good communicators and very friendly.
View all customer reviews
Leo Burnett Worldwide: What Is Working with ScienceSoft Like
For over 4 years, we have been trusted with software development and support projects, including those based on .NET and AWS cloud, from a renowned advertising agency Leo Burnett Worldwide. Sam Gooby, Head of Platform Production at Leo Burnett, reveals his first-hand experience on cooperation with our team.
projects completed

employees onboard

IT experts are seniors
Full-scale Project Management Office to handle projects of any complexity.
16 years in help-desk on ITIL principles.
10 years in DevOps practices.
Mature quality management system proved with ISO 9001 certificate to deliver tangible service value and predictable results.

Solid security management system backed by ISO 27001 certification to protect the customers' data we access.
62% of our revenue from the customers we serve for more than 2 years, such as eBay, IBM, Baxter, NASA JPL, Nielsen, and more.
Consulting expertise in over 30 industries to bridge business and technology.
The Scope of IT Outsourcing Services by ScienceSoft
Support business operations
Plan and implement new IT projects
We Eagerly Put in Use IT Innovations
Click the cards to find the detailed description of our capabilities with each technology.
The Financial Times Includes ScienceSoft USA Corporation in the List of the Americas' Fastest-Growing Companies 2023
For the second year in a row, ScienceSoft USA Corporation ranks among 500 American companies with the highest revenue growth. This achievement is the result of our unfailing commitment to provide high-quality IT services and create best-value solutions that meet and even exceed our clients' expectations.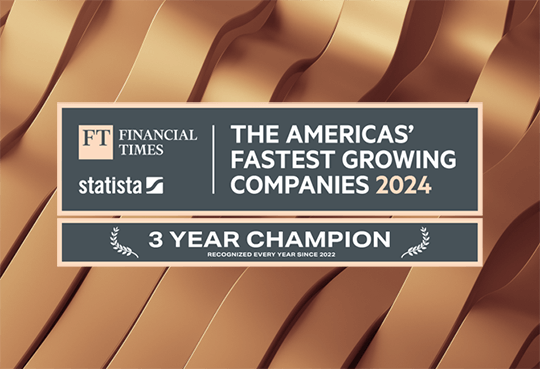 ScienceSoft's Approach to IT Service Delivery
Best for: feasibility study, PoC, small projects.
Time & Material (with a cap).
Best for: advisory; large-scale or flexible projects.
Best for: L1, L2 support.
Best for: L3 support (in-code changes).
Ensured IT cost reduction
Offshore outsourcing.

Advanced techs for best ratio of business value.

Agile, DevOps, shift-left QA approach, test automation.

Cloud resource consumption optimization.

Increased team efficiency due to established project management practices.

Resources with lower rates work on routine tasks; resources with low performance are replaced.
Wide pool of roles – project managers, developers, DevOps, architects, QA engineers, support specialists, data experts, etc.
We're open to co-sourcing.
No vendor lock-in - we're ready to assist with transferring knowledge to a new vendor.
From 0.5 FTE to 150+ FTE.
Cooperation term: 1 month – 10+ years.

All software code is owned by your organization.

24/7 services to cover all time zones from North America to Australia and New Zealand.
Quarterly service improvements
Regular roadmap revision (stated business needs vs. current business needs; value we bring vs. highest possible value, etc.).
Proactive approach: we analyze processes/solutions and suggest adding improvements and possible competitive advantages.
Anticipating, openly communicating and effectively managing potential stumbling blocks in cooperation.
ISO 9001 certification to assure the quality of the services delivered.
ISO 27001 certifications to assure the security of our customers' data.
Compliance with industry-specific regulations: HIPAA, GAMP, PCI DSS, SOC 3, GDPR, etc.
Visibility and KPI-based results
​​​​​​We define the goals you want to achieve and ensure service transparency via reports on:
Use of resources (actual vs. planned).
Current issues & potential risks.
Team productivity and service quality KPIs, etc.
KPIs we use to estimate the work progress and results:
Selected IT Outsourcing Projects
ScienceSoft's IT Outsourcing - Q&A
How do I know whether my IT costs may be reduced?

We analyze the current state of your IT to see the potential for its improvement and then compare the TCO of your IT managed in-house vs. by ScienceSoft. As a rule, our best practices (Agile, DevOps, Integrated Manual and Automated Testing, etc.) help to achieve over 2x effectiveness of your current investments.

Doesn't IT outsourcing pose a threat to corporate data security?

ScienceSoft adheres to strict ISO 27001 data security policies and follows the established in-house safety management systems. We ensure 24/7 security monitoring to prevent unsolicited access and ransomware threats.

Can an IT outsourcing vendor guarantee against premature service termination?

Being a trusted tech partner, ScienceSoft welcomes opportunities to provide IT outsourcing services for as long as 10 years, so you don't have to worry about sudden discontinuation from our side. Still, our contracts always include a substantial transition period to ensure no 'service downtime' for our customers.
Our Outsourcing Service Options
Full-service IT outsourcing
Outsource any IT tasks (development, support, management, etc.) to ScienceSoft - and we will make sure to deliver the best outcomes.
Go for it
Co-sourcing with an in-house IT team
Delegate your IT operations and execution of new IT-related business initiatives to ScienceSoft - and let your team focus on other tasks.
Go for it
Co-sourcing with other vendors
Strengthen your IT vendor ecosystem with ScienceSoft as an experienced professional in any IT domain that may require vendor assistance.
Go for it
Need More Proof Of Our Competence? Don't Hesitate to Contact Us!
Feel free to drop us a line - and we will gladly provide the outsourcing projects and testimonials relevant for your situation, so that you could confirm our reliability.
The Pros and Cons of Outsourcing IT Services
Explore more
Pros:
Reducing IT costs due to leveraging consumption-based pricing for outsourced services, economies of scale, etc.
Quickly obtaining world-class IT resources.
Increased resource flexibility.
Freeing in-house resources for other priority services/tasks.
Reducing management efforts.
Taking the IT function to a level of competence higher than achievable in-house.
Cons:
Risk of selecting an inappropriate IT outsourcing company.
Security risks (breach of confidentiality, regulatory incompliance, etc.).
Less control over an IT processes initiatives.
No ability to change/terminate outsourcing contracts without penalties.
Possibility of communication gaps due to culture differences in case of offshore outsourcing.
<![endif]--> <![endif]--> <![endif]-->