Big Data Services
With practical experience in 30+ domains, ScienceSoft provides big data development, consulting, support and maintenance services. We guarantee a safe project start with a feasibility study and a PoC as well as optimal development costs thanks to our mature processes.
Big data services are aimed at helping companies handle massive-scale data for smooth software operation and reliable analytics insights. With 10 years of experience in big data, ScienceSoft provides full-scope big data services. We also apply our experience in AI/ML, data science, business intelligence, and data visualization to maximize the value of our customers' big data initiatives.
Big data techs allow software to efficiently handle constantly arriving and often unstructured data (e.g., texts, images, audio, videos) to enable advanced analytics and low-latency response to user requests.
Solution examples:
Social media analytics solutions.
IoT systems for remote monitoring and control.
ML-powered software (e.g., fraud detection).
XaaS (e.g., streaming services, dating apps).
Is it your case?
Check our services
Traditional techs help handle structured tabular data (e.g., financial and transactional data, customer demographics) to aggregate disparate data sources into a single point of truth and drive analytical insights.
Solution examples:
BI and reporting apps.
Data management platforms.
CRMs.
ERPs.
Is it your case?
Check our services
During 34 years in data analytics and data science, we have been satisfying companies' diverse analytical needs (including the need for advanced analytics), which makes us fully understand the transformation you're undergoing.
We hold partnerships with Microsoft, Amazon, Oracle, and other tech leaders to keep pace with the technological advancements and the evolution of the data analytics landscape.
An expert team of architects, developers, DataOps engineers, ISTQB-certified QA engineers, data scientists, project managers, and business analysts with 5­–20 years of experience.
A quality-first approach based on a mature ISO 9001-certified quality management system.
ISO 27001-certified security management based on comprehensive policies and processes, advanced security technology, and skilled professionals.
Transparent and flexible pricing.
We collaborate with companies from 70+ countries. Some of our prominent clients include:
ScienceSoft's Big Data Services
Big data implementation/evolution strategies and detailed roadmaps.
Recommendations on data quality management.
Solution architecture design + an optimal technology stack.
User adoption strategies.
A proof of concept (for complex projects).
Big data consulting services
Big data solution architecture design.
Solution development (a data lake, DWH, ETL/ELT setup, data analysis (SQL and NoSQL), reporting and dashboarding).
Setup of big data governance procedures (data quality, security, etc.)
Big data testing and QA.
Software modernization, evolution, redevelopment.
Big data implementation services
Big data support and maintenance
Big data solution infrastructure setup and support.
Solution administration.

Software updating.
Adding new users and handling permissions.

Big data management.

Data cleaning.
Data backup and recovery.

Solution health checks, performance monitoring, and troubleshooting.
Advanced big data analytics services
Designing specialized big data analytics solutions for 30+ domains.
Big data visualization.
Real-time big data analytics.
ML model development and turning.
Natural language processing.
Big data mining.
The Benefits of ScienceSoft's Big Data Services
Industry-centric approach
With practical experience in 30+ domains, we speak your language, understand your unique challenges, and offer pragmatic solutions that fit your processes.
We use our DevOps and Agile expertise to build efficient development processes, apply feasible test automation, and rightsize cloud resources to reduce cloud fees.
High degree of automation
We set up automated data governance and reporting procedures to eliminate manual work for your IT and BI teams and reduce the risk of human errors.
Enjoy the complete clarity of your big data dashboards: we build easy-to-read reports and responsive interfaces that easily adapt to users' needs (e.g., sleek visuals for C-level presentations, in-depth data exploration for analysts).
Clean data for reliable insights
We establish robust big data quality management processes that ensure your data is always accurate, consistent, and complete to serve as a trustworthy source for analytics.
95%+ AI/ML model accuracy
We combine best-fit algorithms and create tailored data sets for model training, apply cross-validation to fine-tune hyperparameters, and enable self-learning for ML engines to deliver consistently accurate AI output.
Estimate the Cost of Big Data Consulting
Please answer a few questions about your business needs to help our experts estimate your service cost quicker.
ScienceSoft's experts will study your case and get back to you with the details within 24 hours.
Big Data Use Cases ScienceSoft Covers
Industry-neutral big data use cases
Storing data about business processes, finances, resources, customers, etc. for analytical querying and reporting.
Corporate performance analytics.
Revenue, cost and investment analytics.
Predicting, forecasting, planning (performance, revenue, capacity, etc.) with all interdependencies.
Read all
Collecting, processing and storing large volumes of operational data (transactional data, production process data, asset data, employee data, plans, etc.)
Detecting deviations and undesirable patterns in a company's operations (production processes, product distribution, etc.)
Recognizing bottlenecks (equipment failure, resource unavailability, etc.), conducting cause-effect analysis.
Forecasting (demand, capacity, inventory, etc.)
What-if scenario modeling and operational risk management.
Read all
Industry-specific big data use cases
The Financial Times Includes ScienceSoft USA Corporation in the List of the Americas' Fastest-Growing Companies 2023
For the second year in a row, ScienceSoft USA Corporation ranks among 500 American companies with the highest revenue growth. This achievement is the result of our unfailing commitment to provide high-quality IT services and create best-value solutions that meet and even exceed our clients' expectations.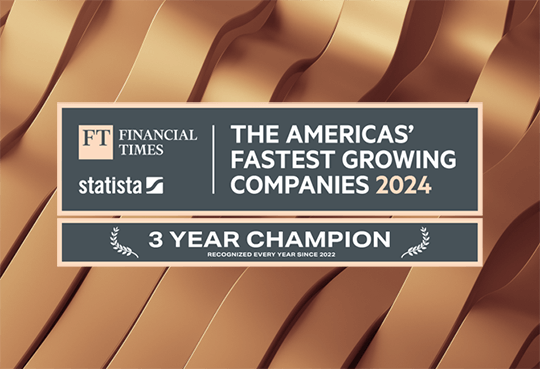 Our Advanced Big Data Competencies
ScienceSoft combines big data expertise with decades-long experience in other advanced technologies to deliver end-to-end big data applications that bring maximum value to their users.
Our Selected Big Data Projects
Big Data Deployment: Cloud or On-Premises?
Nowadays, cloud deployment is the default option for big data: it's cheaper and easier to set up, scale, and maintain. But let's say you operate in a strictly regulated field and have a massive list of privacy requirements — if you need complete control over your data, you'd want to own the physical servers. And on the contrary, some app infrastructures are just too large or dynamic to maintain on your own. If you have unpredictable load spikes or a rapidly growing user base, it's much safer — both financially and operationally — to let Microsoft or Amazon handle them. There are dozens of other essential factors that differ even between the largest cloud vendors (like data availability, processing speed, and redundancy), so the final choice will always depend on your particular needs.
Our Customers Say
Kaiyang Liang Ph.D
Professor
Miami Dade College
We needed a proficient big data consultancy to deploy a Hadoop lab for us and to support us on the way to its successful and fast adoption. ScienceSoft's team proved their mastery in a vast range of big data technologies we required: Hadoop Distributed File System, Hadoop MapReduce, Apache Hive, Apache Ambari, Apache Oozie, Apache Spark, Apache ZooKeeper are just a couple of names. Whenever a question arose, we got it answered almost instantly.
Simen Løkka
CEO
Travision AS
We commissioned ScienceSoft to audit and upgrade our partially developed AI-based software for clay pigeon shooting tracking. As a result, the system could track a flying target in a real-life outdoor environment and faultlessly detect shooter's performance. We are satisfied with our cooperation with ScienceSoft and their skilled development team, which smoothly fit into our project. In case of further system evolution, we'll continue our collaboration and won't hesitate to recommend ScienceSoft as a reliable development partner.
Mark Atkins
CEO
Invention Machine Corporation
ScienceSoft has delivered cutting-edge solutions to complex problems bringing in innovative ideas and developments. ScienceSoft follows specifications very rigidly, requiring clear communication about intended functionality. My final comment about ScienceSoft reflects their dedication to handle any problem that occurs as a result of hardware or software issues; simply put, they will go the extra mile to support their customers regardless of the time of day these issues arise.

Joakim Ohlander
Technical Director
YAGER Development GmbH
ScienceSoft has been a life savior for us and our players when we were about to release our video game The Cycle Frontier and were facing immediate issues in terms of backend scalability. Their combination of expert knowledge at Microsoft Azure .NET and great agile collaboration skills allowed us to start working fast and effectively together in solving problems which allowed us to release.
View all customer reviews
Technical Components of a Big Data Solution We Cover
Data lake
Data warehouse
ETL processes
OLAP cubes
Data visualization
Data science
Data quality management
Data security
ScienceSoft's Big Data Services Success Factors
We develop a tailored QA strategy to ensure smooth software operation and its unfailing performance even under high data load. We also implement a feasible share of test automation, which helps us to reduce testing costs by up to 20%.
Relying on our ISO-27001-certified security management system and 20 years of experience in cybersecurity, we can establish reliable protection of your big data solution and ensure its full compliance with any required regulations.
We design flexible and efficient big data systems that are easy to scale and evolve in the long run. We also provide exhaustive software documentation to streamline software maintenance and are ready to stay with you for long-term solution support or train your internal team.
Big Data Technologies We Use
Here's the list of technologies most frequently used in our big data projects. Click on the icon to find out more about our experience in a particular technology.
Frequent Questions About Big Data Services, Answered
How much does big data implementation cost?
Big data implementation costs may vary from $200,000 to $3,000,000 for a mid-sized organization. The pricing depends on such factors as the number of data sources, data volume and complexity, data processing specifics (batch, real-time, or both), requirements for security and compliance, deployment model.
What are the types of big data?
There are three main types of big data:
Structured data: it can be easily organized in tables, e.g., customer demographics data, financial transactions, and sales. Such data is easy to sort for further queries via BI tools.
Unstructured data can't be organized into any logical structure until it is processed with complex technologies like AI, ML, natural language processing (NLP), and optical character recognition (OCR). The examples of unstructured data include texts, images, videos, and audio recordings. E.g., a company can apply NLP to customer social media posts to understand the sentiment towards the service.
Semi-structured data is in between the two previous types. On the one hand, its elements can be assigned to certain fields or tags, but on the other hand, these elements are not always ready for querying or analytics. An example of semi-structured data can be an email with a subject line and a message body, where the line and the text will go to the correspondingly tagged fields and later be processed with techniques required for unstructured data.
What are the sources of big data?
Internal big data sources: customer-facing apps, ecommerce platforms, enterprise systems like CRM, ERP, EHR.
External big data sources: data from stock exchanges, banks, and credit companies, weather-forecasting services, online marketplaces, web tracking tools, GPS systems and traffic cameras, social media platforms, etc.
Is your data big?
The big data term is tricky, as it is seemingly limited to data volume. Your data can deserve the status due to many other factors. Take our simple quiz to find out!
Do you need to process unstructured data (e.g., texts, images, videos, audios)?
Does your data arrive constantly, at short intervals — up to every 10 minutes?
Should your data be processed as soon as it arrives?
Does your solution feature real-time functionality (e.g., immediate notifications to users, fraud detection alerts, automated IoT action triggers)?
Does your business experience constant data and user volume growth?
Please tell us a bit more about your needs
Answer at least 3 questions to get results.
Looks like big data technologies will be a true value driver for you
It's likely that your solution will significantly benefit from big data techs. Tell ScienceSoft's experts about your needs and goals, and we'll be glad to help you with your IT initiative.
Looks like your data is not "big" yet
Looks like traditional technologies will suffice to enable efficient data management in your case. However, you have landed on a big data page, which makes us assume you are at some step of a demanding IT initiative and are looking for expert knowledge and assistance. ScienceSoft will be glad to help — just drop us a line!
All about Data Analytics and Big Data
<![endif]-->