Ecommerce Consulting Services
Building Supreme Customer Experience – Digital and Beyond
20 years in ecommerce consulting services, ScienceSoft creates ecommerce technology strategies to improve digital customer experience and automate back-office business operations.
Services for Your Ecommerce Technology and Operations Management
Ecommerce consulting services will help you craft a long-term strategy for building a more efficient and agile tech environment or plan immediate improvement for your pain points. ScienceSoft's team, with ecommerce consultants and developers working hand in hand, creates and implements strategies for smart management, troubleshooting and optimization of your customer-facing and back-office software.
Whenever you enter a new market, we can analyze new factors that will impact functional design of your ecommerce software: legal regulations, strengths and weaknesses of your market competitors, and consumer behavior.
Choosing an optimal ecommerce platform
Our goal is to save you from the inevitable growth of ownership cost and complexity that comes with a wrong platform choice. For that, we consider your long-term goals, define the essential platform criteria for your specific business and shortlist the best-suited options.
Planning an ecommerce technology roadmap
You will get a realistic picture of implementation pace, as we will outline all the work that must be done to your ecommerce software, and provide you with time and cost estimates.
Improving digital customer experience
We will conduct a holistic and unbiased review of your customer-facing ecommerce application and suggest improvements to the aspects impacting customer experience, including visual interface, user convenience, app performance, and more.
Optimizing business operations
We fix operational flaws in the processes that stay behind your ecommerce storefront and still have a huge effect on customer experience. One of our key expertise areas is supply chain – with smart digital solutions, we raise the efficiency of each supply chain step, from procurement planning to order fulfillment.
Ecommerce software troubleshooting
Our solid experience in ecommerce development ensures that we know software for online retail from the inside and can get to the roots and fix the most complicated, long-lasting and annoying issues.
Managing large-scale ecommerce initiatives
We will envisage possible risks and fully coordinate such time- and cost-consuming activities as ecommerce re-platforming, cloud migration, ecommerce solution re-architecting, and more.
The list of our technical expertise goes on and on
So, let's save your time and move on directly to the challenges you want to address.
Share your needs
How ScienceSoft Stands Out among Ecommerce Consultants
Since 2003, ScienceSoft provides ecommerce development services, helping businesses choose, implement, migrate, fix, and evolve ecommerce software. Our hands-on experience makes a solid foundation for our consulting skills – we know how to fully use the capabilities of ecommerce software to meet diverse business needs.
ScienceSoft provides its services internationally, with offices and target markets in the US, the Middle East and Europe. This international focus helps us a lot in ecommerce consulting: we know ecommerce laws and regulations and understand the specifics of consumer behavior in different geographical regions
The Financial Times Includes ScienceSoft USA Corporation in the List of the Americas' Fastest-Growing Companies 2023
For the second year in a row, ScienceSoft USA Corporation ranks among 500 American companies with the highest revenue growth. This achievement is the result of our unfailing commitment to provide high-quality IT services and create best-value solutions that meet and even exceed our clients' expectations.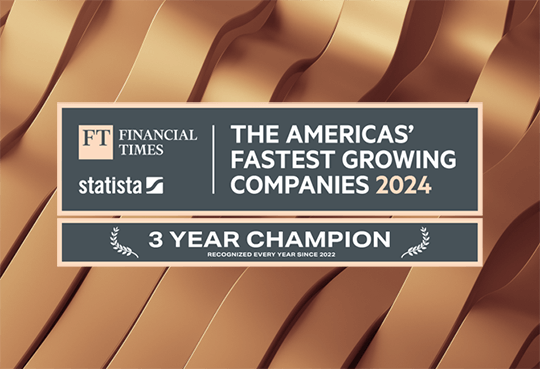 Ecommerce Strategies to Transform the Entire Customer Experience
Ecommerce consulting helps use your ecommerce solution with utmost efficiency. At ScienceSoft, however, we go beyond a narrower concept of digital user experience on your website. We help you effectively manage the entire experience customers have with your company – from awareness to loyalty. You will be amazed at the transformation you can achieve with proper technologies and tools.
Customer acquisition
Integrating digital customer touchpoints to enable contextual commerce.
Setting up digital marketing and advertising channels targeted at unlocking new audiences.
Connecting your social media shops with back-office operations to support your social commerce strategy and win Millennials.
Product discovery
Improving product search experience, even for catalogs with tens of thousands of SKUs, with predictive search functionality, smart filtering, and voice-enabled search.
Enabling real-time inventory visibility and predictive inventory planning to prevent understocking and customer frustration.
Customer conversion
Implementing UX design based on target audience research, describing user personas and typical buying journeys.
Creating UI design that combines aesthetics and your corporate style.
Eliminating frictions in conversion journeys (e.g., by implementing a shipping calculator to add transparency to order cost).
Enabling pre-orders and backorders.
Customer order fulfillment
Supporting omnichannel order fulfillment scenarios.
Implementing automated order distribution algorithms to ensure the fastest delivery time.
Automating order fulfillment workflows never to miss a delivery date.
Customer retention
Integrating analytics tools to track customer behavior and tailor your strategy to different customer segments.
Using customer data for laser-focused upsells.
Capturing and responding to customer feedback coming from any channel.
Setting up a customer support center that manages customer tickets fast and efficiently.
We Work with All Kinds of Ecommerce Solutions
Ecommerce consultants are technologists and business advisors who wisely guide your technology decisions.
FAQ about Our Ecommerce Consulting Services
Are your services platform-agnostic?
Let us put it this way – we do love Adobe Commerce and work with this platform a lot. Also, we are experienced in custom development. But we never force the adoption of Adobe or custom solutions – when tasked to recommend the best-suited ecommerce technology for your business, we go with unbiased market research.
How do you see the key value your services provide?
We give our unbiased technical take on all the ideas, goals and problems you come with. We show you the best ways to implement what you envision in your business plans, explain how much it will cost and what business return you might expect.
Are there any services you won't offer?
Our team is fully focused on ecommerce technologies. Our consultants are eager to provide any software-related help. And our developers can expertly deliver the software that works the way you need. What we don't do is ecommerce business consulting – unfortunately, we can't design a business strategy for you.
Results We Helped Our Clients Achieve
Good Words from Our Clients Is Our Biggest Motivation

Jarod Joyce
Creative Director
Dot It Restaurant Fulfillment
ScienceSoft has been vital to our company's growth in ecommerce over the last 3 years. We rely on the team for a variety of Magento support tasks, and they always deal with our problems fast. Among other things, ScienceSoft's team helped us optimize the website performance and improve digital user experience, which had a positive impact on the conversion rate.
Bader Alhamdan
Managing Director
Deyarat Trading Co.
Being in the process of an online marketplace launch, we looked for a consulting partner to help us shape a final product vision with strong competitive advantages. We trusted the experience of ScienceSoft in market entry consulting. The consultant did a great job creating a dynamic UX prototype of our marketplace and planning integrations important for fast and effective business workflows.
Catherine Roller Tyrrell
Founder
The Beauty Interactive
We turned to ScienceSoft with the idea of creating an all-in-one web platform for all the key beauty industry stakeholders. ScienceSoft's team was proactive, professional, and highly responsive to our needs. They helped us create a clear product vision and prioritize key features. They also created clickable prototypes. Thanks to ScienceSoft, we now have everything we need to raise funding for the project and start MVP implementation.
Given Radingwana
Product and Partnerships Manager
BoxCommerce
With ScienceSoft, we managed to acquire the development resources that we needed and got them fit into our teamwork smoothly. Now that we've been working with ScienceSoft for 4 months, we can say that we are no doubt happy with our choice of development partners. The quality they deliver is consistently high. We believe they've contributed a lot to speed up our product's release.
Jeff Campbell
Director of Technology
EdTech Software LLC
Our company was under the pressure of soon-to-end support for Magento 1, and we partnered with ScienceSoft mainly to migrate our web store safely to Magento 2. They did an excellent job during the investigation stage, which saved us from many troubles during the migration. ScienceSoft also helped us make several optimization decisions.

Allison Lawrence

Business Relation Manager

OnLogic Inc.

We've been collaborating with ScienceSoft for many years now, and it has given us the ability to have stable & consistent support to ensure our Magento site is up-to-date and secure. They are the team who won't need your careful control – you just outline the task, and they deliver on it with stable quality and speed.

View all customer reviews

<![endif]--> <![endif]--> <![endif]-->