Ecommerce App Development Services
Ecommerce app development services help deliver apps that boost mobile conversions, facilitate pre-purchase research, and increase customer satisfaction. Having successfully implemented solutions that support eBay and Walmart, ScienceSoft is ready to apply its expertise in your project.
Scope of Our Mobile Commerce App Development Services
Our Mobile Projects for Ecommerce and Beyond

Given Radingwana
Product and Partnerships Manager
BoxCommerce
Now that we've been working with ScienceSoft for 4 months, we can say that we are no doubt happy with our choice of development partners. The quality they deliver is consistently high. Given that the whole project team is international, we have no communication problems, and the reports are on time. What we appreciate is their ability to work independently, with no need for our careful guidance.
Bader Alhamdan
Managing Director
Deyarat Trading Co.
Being in the process of an online marketplace launch, we looked for a consulting partner to help us shape a final product vision with strong competitive advantages. We trusted the experience of ScienceSoft in market entry consulting. The consultant did a great job creating a dynamic UX prototype of our marketplace and planning integrations important for fast and effective business workflows.
Michael Fatzi
Head of Business Development
VAPC interactive solutions AG
We have cooperated with ScienceSoft in several projects, including development of secure and feature-rich iOS applications. ScienceSoft proved to be a professional and committed partner, their developers performed exceptionally well. We would certainly recommend ScienceSoft as a highly skilled and reliable service provider.
View all customer reviews
Mobile Shopping Apps We Develop
Drive mobile conversions by complementing your web store with a world-class mobile app.
Use high-quality visuals, 360° product preview, and AR try-on to increase purchase confidence.
Retain customers by offering them digital coupons, bonus point accounts, and maps with chain- and/or partner stores.
Guide clients through product installation/ maintenance with videos or AR and support them via chatbots/messaging.
Our Featured Mobile Designs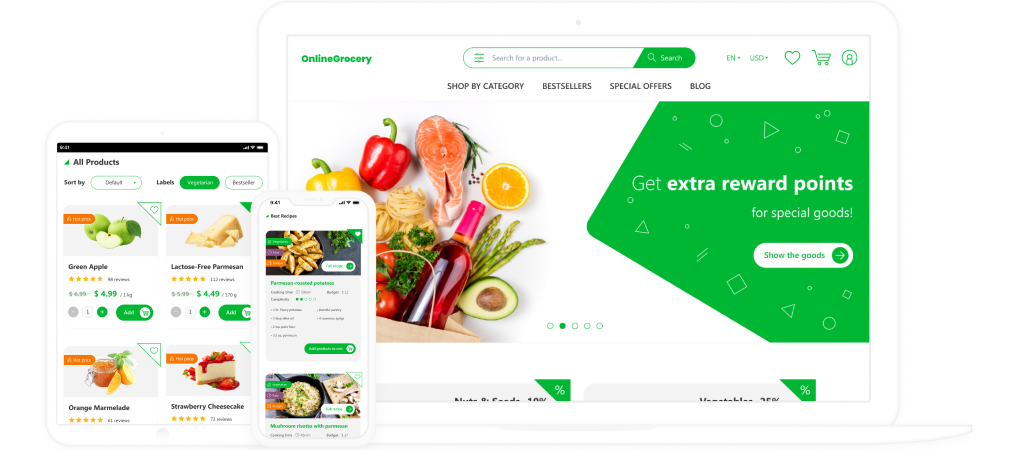 Grocery Mobile and Web Ecommerce Solution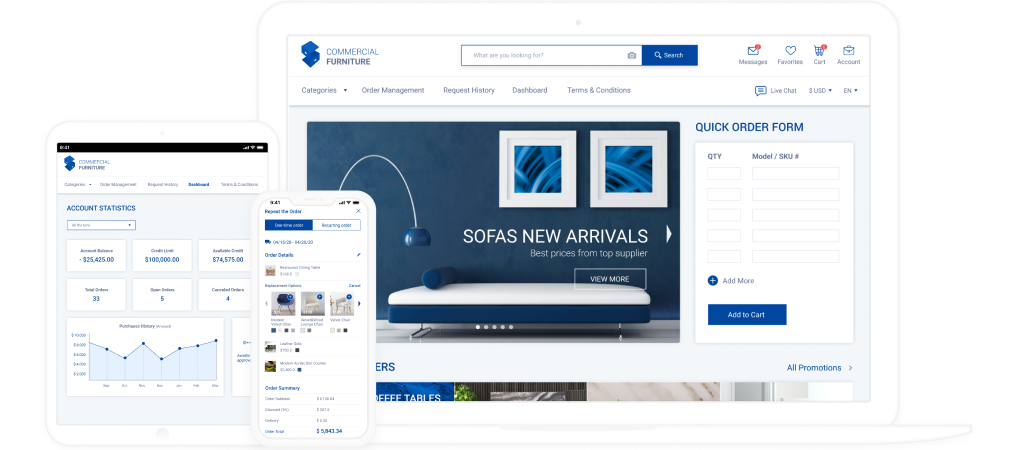 B2B Mobile and Web Ecommerce Portal
Multi-brand Mobile and Web Online Store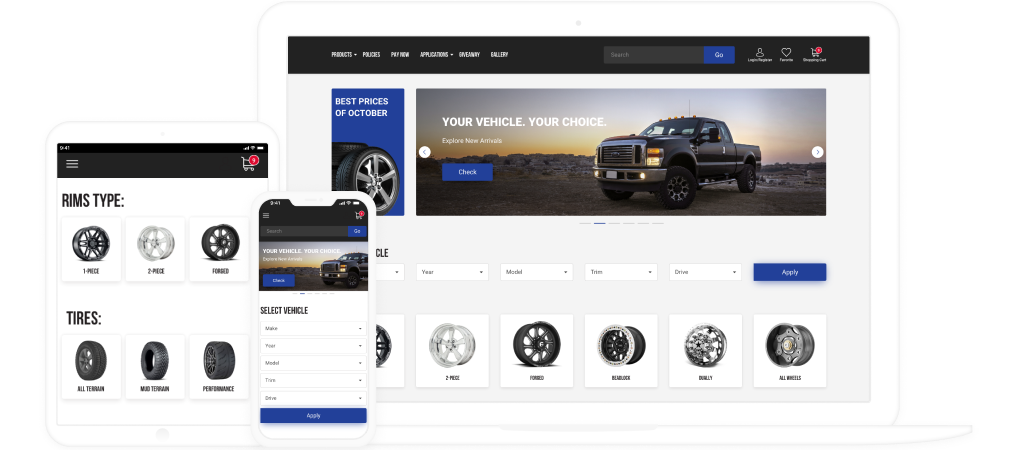 Automotive B2B and B2C Store
Why ScienceSoft
Developed 350+ mobile apps, including Rakuten Viber (1.17B users) for Android and an audit app that powers workflows at KFC, Friday's, and Burger King.

130+ testimonials from our valued clients.

Delivered ecommerce solutions that brought 5-6x lead rate growth.
750+ IT experts on board, including consultants, designers, developers, and QA engineers.
Mature DevOps, Lean, and Agile processes.
For the second straight year, ScienceSoft USA Corporation is listed among The Americas' Fastest-Growing Companies by the Financial Times.
Our Approach to Ecommerce Application Development
As any ecommerce solution deals with sensitive customer and payment data, we employ ISO 27001-approved security processes to guarantee full integrity of protected data.
ScienceSoft makes sure that your web and mobile solutions are aligned in functionality and design. If you don't have a web solution yet, we're ready to develop it from scratch.
Out-of-sync ecommerce channels aren't just frustrating but also detrimental to business. We build robust APIs for smooth and fast data exchange within ecosystems.
Costs of Ecommerce App Development
Mobile stores for small retail businesses.
Product catalogs with customer reviews.
Simple loyalty apps.
Product support apps with text guides.
Pricing model: Fixed price, T&M with a cap.
Mobile stores for mid-sized retail businesses.
Catalogs with AR items.
Loyalty apps with in-app gamification.
Support apps with AR and chatbot features.
Pricing model: T&M, T&M with a cap.
Mobile stores for large marketplaces.
Web + mobile ecommerce solutions.
Apps with multiple custom payment gateway integrations, including cryptocurrency.
Pricing model: T&M, T&M with a cap.
Ecommerce Mobile App Development Timelines
| | |
| --- | --- |
| | Mobile store with all key features (catalog, account, cart, wishlist, delivery tracking) – from 1,800 hours to implement. |
| | Secure online payment modules (Visa, MasterCard, PayPal, Stripe, etc.) – 80 hours to implement. |
| | Loyalty features (coupons, partner store maps, bonuses, etc.) – 160 hours to implement. |
Choose Your Ecommerce App Development Option
Mobile-only app development
Assistance with feature prioritization.
ROI calculation.
Mobile tech stack definition.
Back-end architecture design.
Research-based UX and on-brand UI design and implementation.
Development of native/cross-platform mobile apps and PWAs.
Integration with all your back-office software and 10+ payment systems.
Assistance with app distribution on all major app stores.
Continuous maintenance and support.
Go mobile
Mobile + web application development
Full ecommerce solution conceptualization.
Mobile and web tech stack choice according to your budget and needs.
Solution architecture design (including headless) and development.
Research-based UX and on-brand UI design.
Development of native/cross-platform mobile apps, PWAs, responsive web apps, customer web portals, etc.
Integration with all your back-office software and 10+ payment systems.
Continuous maintenance and support.
Go for mobile + web

<![endif]-->