Healthcare Mobile App Development Services
Mobile healthcare apps save patients' and doctors' time and improve care quality due to facilitated visit scheduling, patient examination and treatment. With a team of healthcare software developers, ScienceSoft is an IT company offering medical mobile app development services since 2005.
Customers Say
We engaged ScienceSoft to build an Android app that complements our web-based platform for our patients. ScienceSoft developers proved themselves to be Android experts. They advised and successfully lead the way from end to end through the technical challenges and considerations with development of the Android app. The estimate and timeline that they committed themselves to at the outset proved to be very accurate.
Read Original

Justin Turner
CTO, Chiron Health
During our cooperation, ScienceSoft proved to have vast expertise in Healthcare and Life Science industries related to the development of a desktop software connected to laboratory equipment, mobile application, and data analytics platform. They bring top-quality talents and deep knowledge of IT technologies and approaches in accordance with ISO13485 and IEC62304 standards.
Read Original
Sergey Shleev
Prof. Dr. Department of Biomedical Science, Malmo University
ScienceSoft designed and developed a native iOS app that offers a quantitative assessment of users' physical fitness. I was impressed with the excellent level of responsibility, communication skills and mobile competences of both the management team and developers. All the tasks were completed accurately, promptly and efficiently.
Alexander Riftine
CEO, Intellewave
Types of Mobile Health Apps We Develop
Patient-centered apps
Appointment scheduling applications.
Patient portals (featuring access to personal health records and lab tests results, prescription refill requesting, appointment scheduling).
Telemedicine applications (e.g., primary care telemedicine, teleneurology, telerehabilitation).
Fitness and wellness apps (including IoT-based solutions):

For vital signs monitoring, e.g., blood pressure, pulse, blood glucose.
For healthy habits monitoring, e.g., water intake tracking, calories calculator, activity tracking.
For menstrual cycle and pregnancy monitoring.

Mental health apps (e.g., meditation apps, stress management apps).
Medication intake tracking applications.
AI symptom checkers.
Apps for medical professionals
Appointment management applications.
Remote patient diagnosing applications.
Remote patient monitoring applications (e.g., for diabetes, COPD, cardiac diseases management).
Medical networking and education applications (e.g., tele-education, VR-based simulation of patient examination).
Apps for healthcare providers
EHR software (with guaranteed interoperability).
Clinical assistance apps with EMR/EHR access.
Timetable scheduling applications.
Medical HR software.
Billing applications.
Inventory management apps.
Drug inventory tracking applications.
Digital workplaces for doctors and nurses.
Healthcare Mobile App Development Services by ScienceSoft
Healthcare mobile app development
Elicit healthcare mobile app requirements and draw up a feature set.
Plan medical app architecture.
Design UX and UI.
Develop and test the medical mobile app with a focus on HIPAA compliance and security.
Implement integrations with third-party software (e.g., EHR, CRM).

Launch and support the app (if required).
Go for mobile app development
Healthcare mobile app support and evolution
Analysis of the existing medical mobile app, your business needs, workflows, etc.
Mobile app maintenance, troubleshooting, proactive monitoring of security and compliance.
L1, L2, L3 support.
Planning of mobile medical app evolution.
App evolution (security measures implementation, HIPAA cloud migration, new functionality adding, etc.)
Go for support and evolution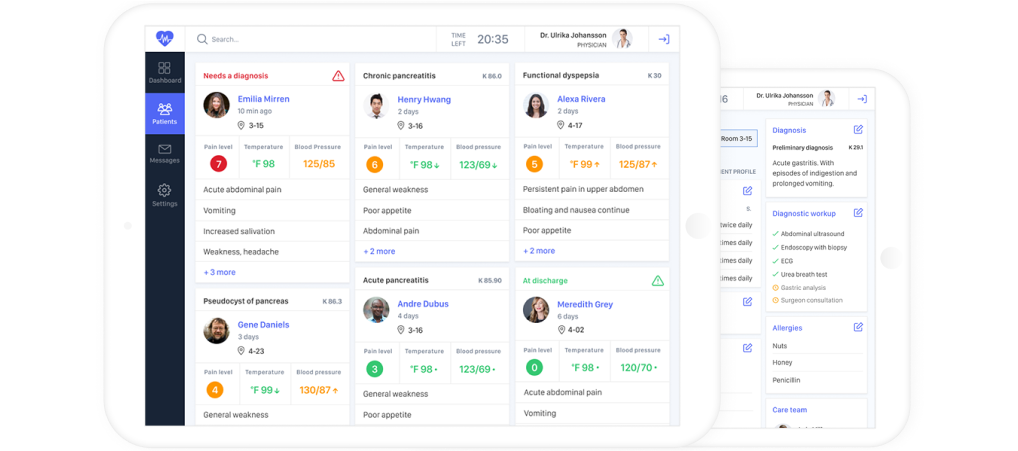 Doctor App Demo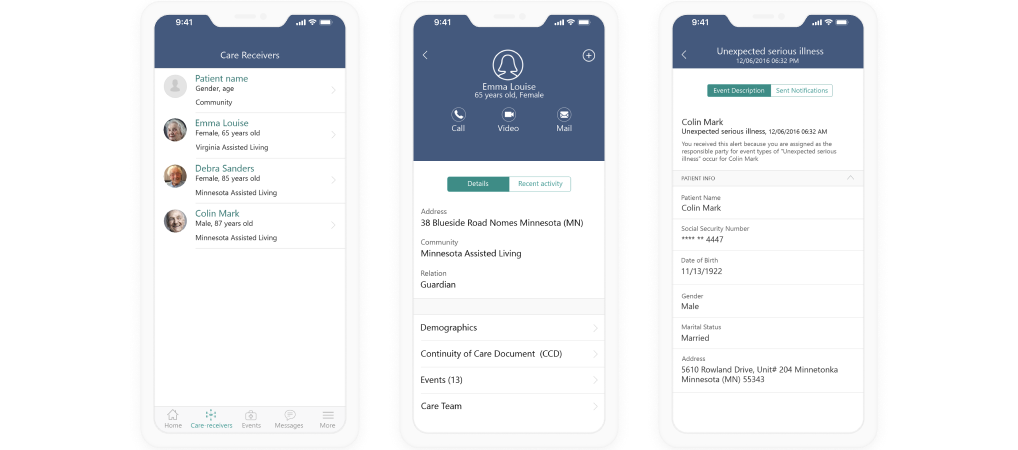 Mobile Care Coordination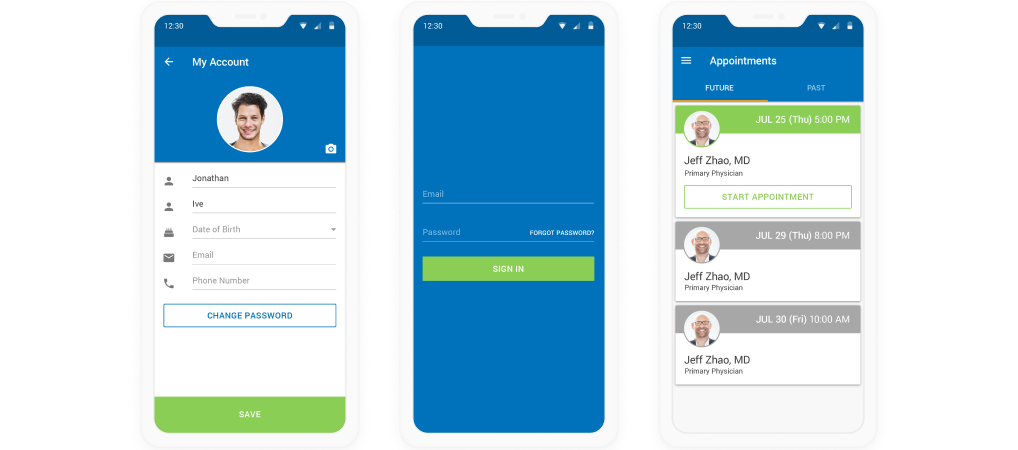 Android Telehealth Chiron App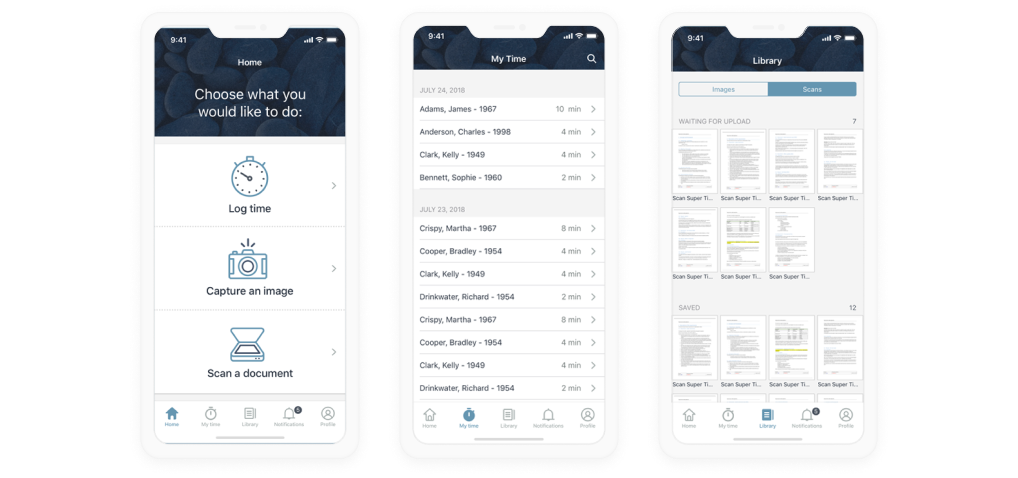 Hospital Mobile App for Nurses and Physicians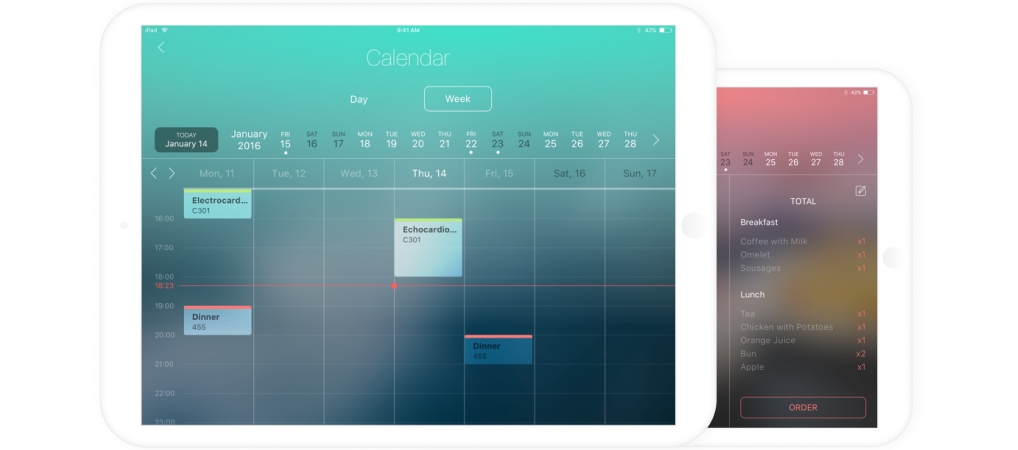 Inpatient Care Mobile App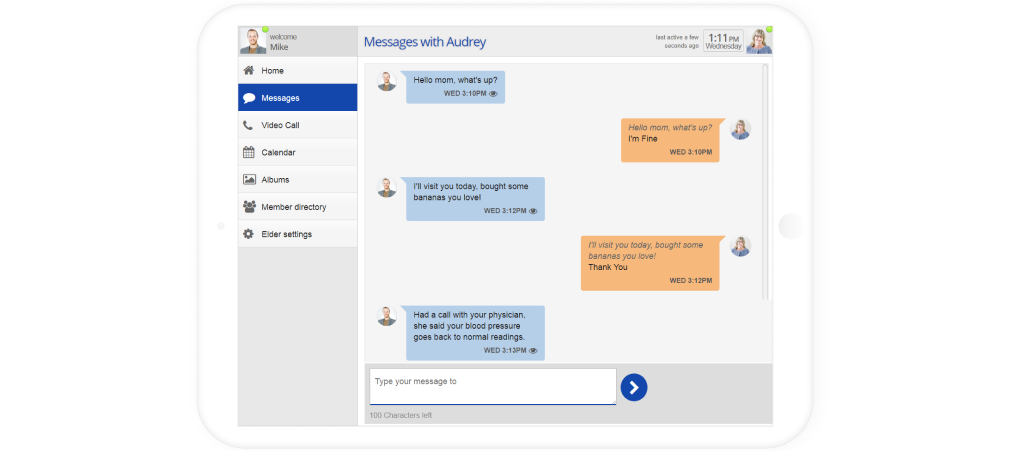 Mobile Communication System for Elderly and Caregivers
Several vendors of packaged medical solutions present mobile versions of their software, yet often these applications just replicate their large-screen brothers, coming out heavy and inconvenient. Instead, our custom software offers you the following benefits:
To deliver easy-to-use software, we pay a special attention to every app's purpose. Having in mind the requirements of every particular department, we create customized solutions to help your staff fulfil assignments more efficiently.
User-friendly UI/UX design
As healthcare app developers, we create elaborated UX patterns. Thanks to a comprehensive interface and smooth navigation, your employees will perform the needed tasks without going through multiple screens, which is exhausting and time-consuming.
Integration with multiple internal systems
To bring additional value to your organization, we make the mobile application a gateway to other solutions in your infrastructure, including EHR, practice management, scheduling, revenue cycle management and other systems.
As a healthcare mobile app development company, we understand the importance of data protection in healthcare mobile app development. We make sure that only authorized personnel access clinical information – within the scope of their authority.
| | |
| --- | --- |
| Holding ISO 13485 certification, we organize our workflows and quality management system in line with the requirements of the FDA and the Council of the European Union. ScienceSoft covers the full-stack medical app development services, including: | |
1
Business analysis and project planning
To analyze a customer's needs and elicit the app requirements, define medical app features, healthcare app project scope, and delivery plan.
2
UX and UI design
To map patient and doctor journeys and make them intuitive, as well as design appealing interface components.
3
Front-end and back-end development
To create the user and the server side of the application based on an iterative approach (the development process is split into 2-4-week iterations). Our healthcare mobile app developers create a first working software version or MVP in 2-4 months.
4
HL7 integration with healthcare systems
To ensure smooth integration between the mobile application and your internal infrastructure, including EHR/EMR, RIS (radiology information system), LIS (laboratory information system), RCM (revenue cycle management), etc.
5
Mobile application testing
To identify defects in mobile medical applications, ensure patient data security, application usability, compliance with healthcare industry regulations (e.g., with HIPAA, HITECH, NCPDP D.0, FDA regulations).
6
Implementation of a mobile healthcare application
To release a mobile medical application into the IT environment of a healthcare organization or a software product company.
7
App maintenance and evolution
To maintain and update the medical application based on the user feedback, create new patient and doctor-facing features, and fix bugs.
We will help you choose a technology adequate to the goals of your mobile healthcare application development project:
To develop native applications for iOS or Android devices with outstanding user experience and usability.
Cross-platform development
To create applications that run on devices regardless of their operating systems:
Xamarin offers high app performance and near-native UI.
Cordova allows relatively fast development and deployment.
| | |
| --- | --- |
| | ScienceSoft recommends: Focus on your users when choosing technology for a healthcare app. For example, if you develop an app specifically for hospital nurses who use Android tablets in their work, it's better to opt for Android-native development. |
Advanced Technologies We're Skilled In
Frequently Asked Questions About Mobile Apps Development
Should every medical app be compliant with HIPAA and FDA requirements?

In the US, all healthcare applications processing patients' data are required to meet a set of Health Insurance Portability and Accountability Act (HIPAA) requirements, like patient data access control, audit controls, ePHI integrity, etc.

FDA registration is applicable for mobile apps with Software as a Medical Device features (e.g., heart rate monitoring using a smartphone). ScienceSoft's regulatory consultants and health app developers will help you identify and implement all the necessary compliance components.

What is the cost and timelines for medical app dev?

The costs and timelines differ depending on the required application functionality and complexity of integrations. A simple patient or telemedicine application for a hospital (featuring appointment scheduling functionality, PHI access, remote consultations) will cost $150,000 and can be delivered within 4 months.

What benefits does the mobile health app bring?

Mobile health applications help both patients and doctors to access the necessary information fast and on the go. Moreover, mobile applications can utilize built-in functionality of smartphones and tablets to help monitor patients' health (e.g., count steps using a gyroscope), deliver care (e.g., use a camera for telemedicine appointments), improve care efficiency (e.g., using sound alerts to the doctor in case of abnormal vitals), etc.

What functionality should be included in an mHealth app?

For mHealth, the most relevant features are vitals and symptoms tracking, medication planning and tracking, and patient-doctor communication (e.g., message-based and audiovisual communication), offline appointments scheduling.
Let's Discuss Your New Medical Mobile Application

To start off, we will deliver a prototype of your new software in 1-2 weeks. So, push the button and let us know about your needs, and ScienceSoft medical software specialists will meet you halfway. 

Try Out Interactive Demos

<![endif]--> <![endif]--> <![endif]-->