Integrated CRM Component Development for Automated Meeting Follow-Ups to Oil & Gas Clients
Technologies
Dynamics CRM
Customer
The end Customer is a global provider of HVAC (heating, ventilation and air conditioning), mechanical steel and structure, electrics, refrigeration, and maintenance services for offshore and marine installations like oil drilling platforms and deck cranes. Established in 2004, the Customer has since worked with such clients as ExxonMobil and Shell.
Challenge
Due to the essence of the Customer's business, online meetings are a crucial part of the workflow. Communicating with high-profile end clients on a day-to-day basis, the Customer wanted to ensure all the participants would receive timely and comprehensive follow-ups with no details missing.
Looking for a solution, the Customer chose to introduce an extra component to its CRM system that would automate most of the manual tasks and facilitate distribution of meeting minutes.
Solution
ScienceSoft's team of Microsoft Dynamics CRM consultants was sub-contracted to upgrade the default functionality of the Customer's CRM system with an advanced redistributable component on top of Microsoft Dynamics CRM Online. The newly available features included a custom calendar, alerts, and automatic distribution of meeting follow-ups to the participants.
Additionally, the component can automatically export the participants' profile data and insert them into custom forms that may be required in the course of the Customer's interaction with end clients.
Results
In line with the requirements, the new component was seamlessly integrated with the B2B CRM system to enable easy and time-efficient management of meeting minutes via a clear and intuitive user interface.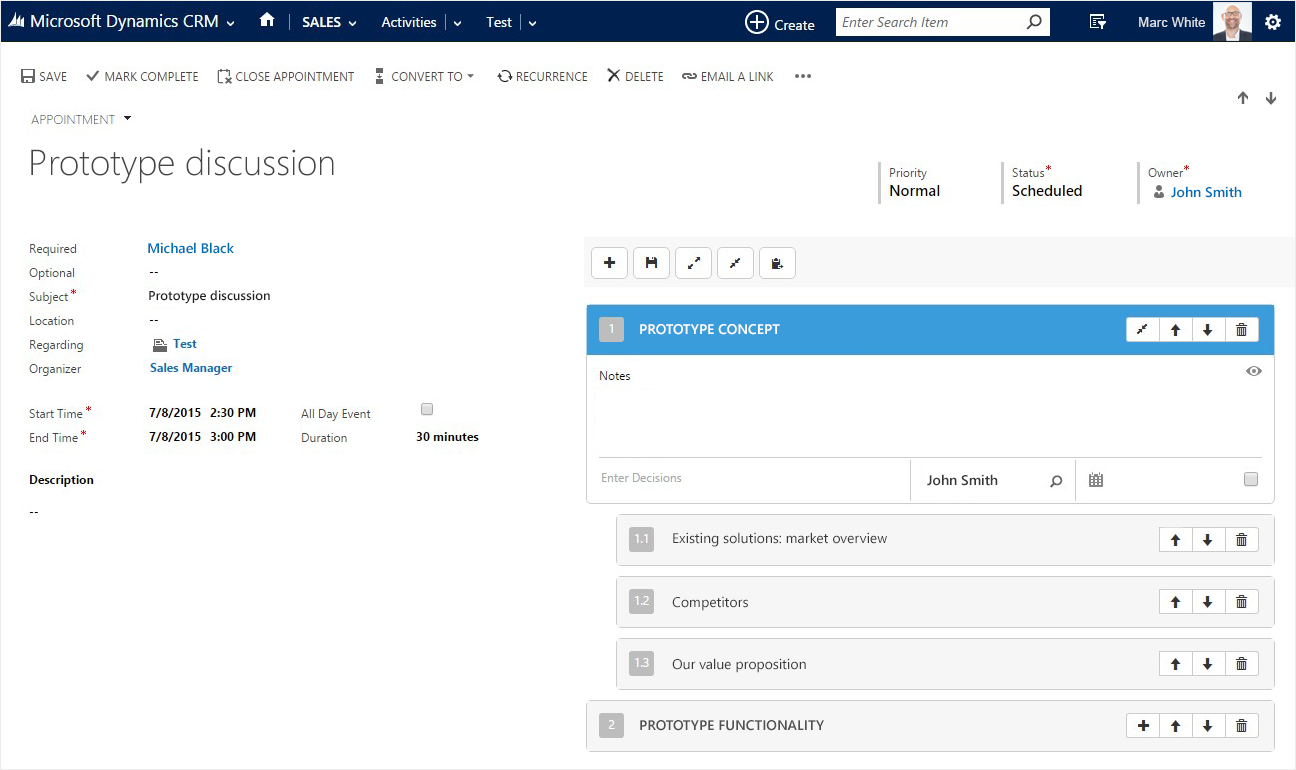 Now that it was also possible to draft and automatically distribute follow-ups in real-time to all the meeting participants thanks to Dynamics CRM customization, no business-critical information could be lost in remote communication.
Technologies and Tools
Microsoft Dynamics CRM Online 2013, 2015, HTML5, CSS, JavaScript, AngularJS, WebStorm, .NET C#

Need help with a similar project?

Drop us a line, and our rep will contact you within 30 minutes to arrange an initial discussion.

<![endif]--> <![endif]--> <![endif]-->