Custom Enterprise LMS | Live Demo
Custom enterprise LMS helps automate eLearning processes from course enrollment to knowledge assessment. It offers a rich toolset for enterprise managers to track employee learning progress and makes eLearning engaging due to social and gamification features.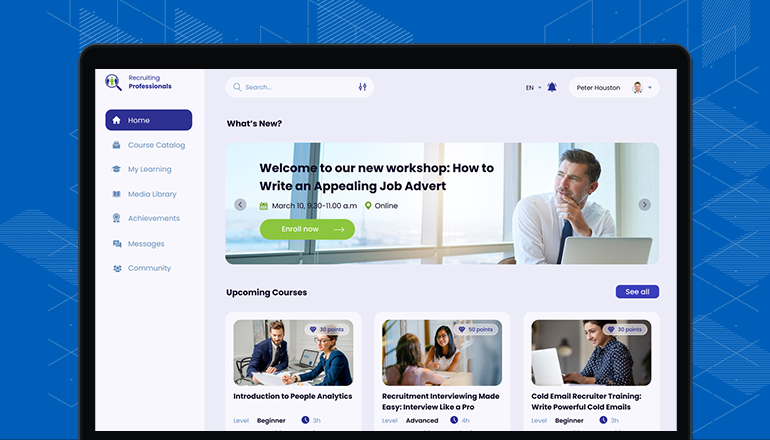 EXPLORE THE CAPABILITIES OF CUSTOM ENTEPRISE LMS
Notifications about important learning events and updates
Learners see the list of upcoming trainings, workshops, and certifications on the LMS home page and get automated notifications about newly created courses or other learning content.
Personalized learning suggestions
Enterprise LMS offers AI-based personalized suggestions of courses based on employees' roles, skills, and learning history. The employee can view detailed information about the suggested course in the course catalog and enroll in this course right from the catalog.
Comprehensive learners' profiles
Learners' profiles store complete learning records of enterprise employees, including courses they're enrolled in, received certificates, and more.
Course scheduling
The L&D team can use the course calendar to schedule self-learning courses or instructor-led trainings for employees. The employees receive reminders of upcoming and overdue courses, training deadlines, exams, etc.
Knowledge assessment
The employees get an electronic certificate about the course completion after passing an exam. The certificate is available in the learner's profile.
eLearning administration and analytics
With learning dashboards, managers can track learning activities of their subordinates, assign tasks and courses to them, and more. Due to the LMS analytics capabilities, the managers can get a full view of their subordinates' learning statistics, such as learning progress, exam scores, time spent training, and more. The L&D team can collect more comprehensive data on corporate learning, including learning costs per trainee, average course completion rate and time, and more.
Policy management
Managers can assign corporate and external regulations to employees for studying. Policies can also be assigned automatically, for example, new hires can get a task to study data security policies during onboarding. After a policy is assigned, the employee will receive a notification about it.
Social and gamification toolset
The enterprise LMS supports social learning by offering diverse social features, such as communities where employees can discuss learning-related issues, Q&A where learners can ask questions and get advice from instructors and fellow learners, chats, blogs, and more. All these features help increase learners' engagement.
Gamification features like achievement points, badges, and leaderboards encourage competitiveness and encourage high motivation among learners. For example, after completing each course, an employee gets achievement points. Based on the number of these points, the employee takes their place on a leaderboard and gets a specific badge (e.g., Expert).
<![endif]--> <![endif]--> <![endif]-->