Editor's note: Andrew describes the key features of enterprise CRMs, provides a brief guide on how to choose one, and reviews the four best CRM solutions. If you want to implement similar software for your company, feel free to contact ScienceSoft for CRM consulting services. Our specialists will gladly share their expertise and help you implement a system that best fits your unique needs.
Enterprise CRM is a core tool for midsize and large companies that need to establish unified customer relationship management from prospect nurturing to deal closure and follow-up. Enterprise CRM systems extend the basic sales functionality of standard CRMs with versatile tools designed to keep multiple enterprise departments and teams (sales, marketing, customer and field service, and more) in the loop.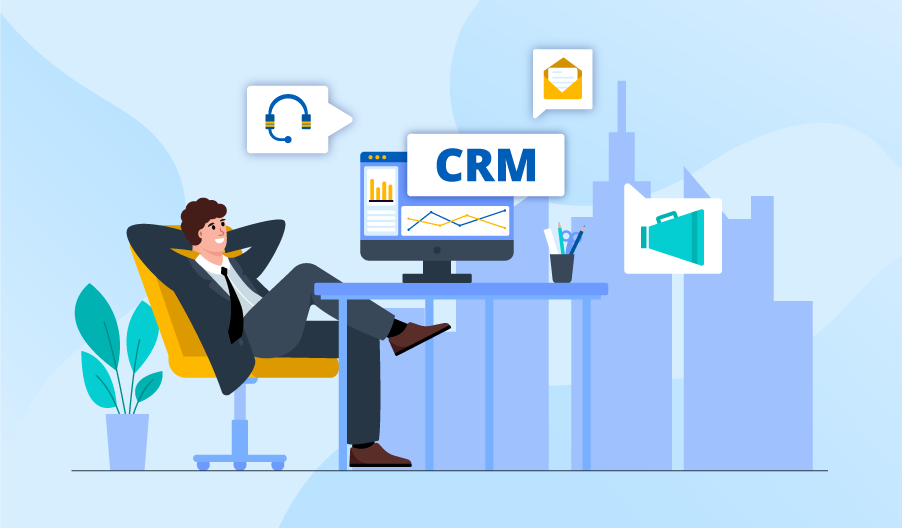 Features to Look For in an Enterprise CRM Solution
Comprehensive customer profiles to instantly access customer data, including contact details, communication history, legal documents, subcontractors, etc., via one centralized hub and provide a 360-degree customer view for all involved teams and departments.
Lead capture to build a stronger pipeline by capturing, automatically registering, and scoring quality leads from multiple lead-generating sources.
Sales pipeline management to create effective sales cycles by tracking all lead movements, establishing standardized sales processes, monitoring sales pipeline metrics, and more.
Marketing automation to better engage customers and prospects by responding to their online actions (e.g., automatically sending an email with a product demo and the relevant pricing options after a prospect converts via a specific product page).
Workflow automation to save time and reduce human error on routine administrative tasks such as manual data input, emailing, reporting, assigning leads, or scheduling.
Reporting and analytics to turn the accumulated data into sales metrics, team KPIs, etc., to constantly improve the sales process and facilitate enterprise-level sales and revenue forecasting.
Benefits of Enterprise CRMs
Advanced high-scale functionality designed to support enterprise-wide operations across multiple countries, business units, product lines, etc.
Streamlined sales workflows with sales force automation (SFA) and cross-team collaboration in a single workspace to boost sales performance.
A shorter sales cycle thanks to efficient tracking of sales information and personalized customer outreach that help accelerate the prospect-to-deal process and increase deal volume.
Improved customer retention due to instant access to centralized customer data and communication history, which helps deliver compelling and tailored customer experience.
Enhanced internal collaboration with instant notifications, updates, and document sharing to keep disparate teams and departments on the same page.
Choosing the Right Enterprise CRM Platform: Questions to Answer
Why do you need an enterprise CRM? Define the tasks you want to manage with an enterprise CRM, then divide your priorities into "must-haves" and "nice-to-haves." This will help you identify the CRM features that are non-negotiable and pick the options that best fit your primary goals.
What is the size of your business? Look at how many customers you have, how many product types you deal with, the teams that will be using the CRM, and the variety of your customer communication channels to understand the volume and nature of the data you need to manage.
What applications do you have in place? To provide the most value, an enterprise CRM should be compatible with the other core business systems you currently use.
Which limitations are you ready to put up with? Make sure your chosen CRM has no limitations for the features and parameters that are critical to your operations (e.g., omnichannel communication with the ability to add more channels in the future).
Is your chosen CRM solution scalable? Does it have broad customization options? It would be best to have a flexible enterprise CRM that can grow with your company and adapt to your changing business processes.
Is there a free trial or demo available? Before you make a purchase, it is essential to see a trial or a demo of a CRM system to understand if it is a good fit for your business. Involve the key stakeholders in the demo review process to identify any potential pain points early on.
Top 4 Enterprise CRM Solutions
Microsoft Dynamics 365
Best for: enterprises that need a sales automation solution with broad customization capabilities & native integrations with other Microsoft products or Dynamics modules.
Key Benefits:
Efficient lead, contact, and event management.
Integrated multichannel communications.
AI-powered predictive sales forecasting.
Customizable, easy-to-access sales playbooks to help your agents follow the corporate best practices.
AI and machine learning-based risk and opportunity recommendations for customer engagement.
Customer relationship health and risk scoring.
More about Microsoft Dynamics 365
Salesforce
Best for: B2B and B2C companies with multiple sales departments.
Key Benefits:
Full visibility into customer interactions and lifecycle.
AI-powered business insights.
Customer self-service capabilities.
Improved marketing campaign performance tracking and forecasting.
Easy integrations with third-party software, including ecommerce platforms, accounting systems, ERP software, and more.
SAP Sales Cloud
Best for: enterprises and SMEs looking for an intelligent and highly automated sales management solution.
Key Benefits:
Sales automation with intelligent lead scoring and routing, automated interaction capture, and call scripting.
Sales Assistant/Activity Advisor feature that enables prescriptive step-by-step guidance for agents.
Infinite scalability thanks to SAP's cooperation with hyperscalers (Microsoft, Amazon, Google, Alibaba).
Dynamic field visit planning.
Predictive and real-time sales analytics.
A multi-purpose knowledge base and AI-powered chatbots for customers.
Oracle Sales
Best for: multi-divisional companies looking for sales automation software to unify their sales force.
Key Benefits:
Guided sales processes with AI-driven recommendations.
Automation of routine sales activities.
A unified ecommerce platform with B2B and B2C capabilities.
Pricing and discounting optimization.
Customer self-service functionality with subscription management options.
Partner relationship management.
Help Your Business Grow with Enterprise CRM Software
If you want to understand your prospects better, streamline the lead-to-deal process, improve customer retention, and increase your sales, you need an advanced CRM solution that can scale up along with your business. ScienceSoft is ready to help you select and customize a market-available enterprise CRM or develop a custom solution that fully meets your needs. Contact us to learn more.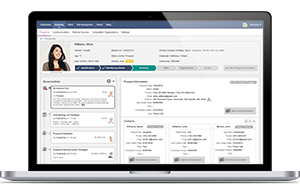 A CRM consulting vendor with 15 years of experience, we will help you choose and implement a CRM that suits your business best.