Enterprise Learning Management System
Overview
With 8 years in LMS consulting and development, ScienceSoft provides end-to-end consultancy and implementation services for enterprise-level LMS.
Enterprise LMS: the Essence
Enterprise LMS serves for the administration and delivery of corporate training to employees to build professional knowledge and skills, maintain certifications, and comply with government and state regulations. The system is also used for educating non-employees (e.g., partners, sales representatives, customers) on an enterprise's products and services.
Enterprise LMS Platform Functionality
Based on ScienceSoft's ample experience in learning management solutions, we can shortlist the core functionality of enterprise-level learning management system.
Learning content management
Multi-type content (text, images, video, audio, animation, VR/AR/MR).
Multi-format content (Word, PowerPoint, PDF, HTML).
Content authoring tools.
AI-driven learning content search.
Support of eLearning software standards (SCORM, AICC, xAPI).
Automatic translation and localization.
Image analysis (OCR, emotion recognition).
Learning process administration
Unlimited number of learners and multi-device LMS access.
Enrolling learners to training.
Tracking training activities of employees.
Events scheduling (e.g., training sessions, certification).
Alerts and notifications for learners and trainers.
Learning performance assessment.
Creation and issuing of course completion certificates.
Learners' feedback gathering (polls, surveys).
Immersive learning (VR, AR, MR).
Custom reports for an L&D team and managers.
Scheduled report delivery.
Skill gap analysis.
Dashboards (LMS usage, time spent on courses, learners' performance and satisfaction).
Multi-tenancy (sub-portals for employee, customer and partner training).
AI-based personalized learning paths.
Ecommerce integration to sell courses.
Multi-factor authentication.
Permission-based access to learners' records.
Auditable compliance reports.
eLearning data backups.
Data security compliance (GDPR, HIPAA, SOX).
Social features and gamification
Learning communities.
Discussion boards, chats, forums.
Blogs and wikis.
Interactions with eLearning content via likes, shares, comments.
Gamification (simulations, storytelling, leaderboards, badges).
Key Integrations for Enterprise LMS
ScienceSoft recommends integrating enterprise LMS with relevant corporate systems to facilitate learning for sales teams, streamline learning content creation, and improve learners' experience.
CRM - making training for sales teams, customers, and partners accessible directly from CRM via a separate tab or a separate page.
LCMS - facilitated eLearning content creation and its assembly into courses via LCMS and management of trainings via LMS.
HRIS - automated updating of HRIS employee records based on the learning history (e.g., passed assessments, finished courses, received certificates) and adding new training based on the changes in HRIS (e.g., acquisition of a new job role).
Ecommerce software - streamlined purchasing of third-party courses or selling your own courses.
Collaboration software - convenient scheduling and holding training sessions right in LMS as well as streamlined trainee-trainer and trainee-trainee communication and file sharing.
Success Factors for Enterprise LMS
With LMS implementation experience since 2015, ScienceSoft's consultants have defined the key factors, which if covered, help maximize ROI of enterprise LMS.
To meet the learning needs of thousands of employees as well as other members of an enterprise's network like customers and partners.
To enable learners to access LMS at any time and any place using any device, including offline mobile access.
To collect various metrics from learners' performance to engagement and visualize them via charts and graphs, which creates full visibility into corporate learning.
Customizable training paths
To diversify corporate training and adjust it to various groups of learners based on their specific learning needs.
Enterprise LMS: Cost and ROI
The implementation costs of enterprise LMS range from $90,000 to $300,000+ depending on software complexity, number of users and their locations, multilingual support, historical eLearning data migration, scope of integrations, use of AI and immersive technologies, and more.
30–60% employee productivity due to improved knowledge and skills, policy awareness and on-demand access to learning.
-40-60% training time as compared to traditional training methods.

+25-60%

knowledge retention due to diversity of eLearning content and higher learning impact.

+20%

learner engagement due to personalized, interactive, and immersive learning.
Enterprise LMS implementation can show the following economic impact:
Payback period

Annual ROI
When Custom Enterprise LMS Is the Right Choice
ScienceSoft suggests opting for a custom enterprise LMS solution when you need to:
Nurture the sense of integrity and credibility in your employees, customers, and partners via custom branding.
Meet the specific learning needs of your diverse learner groups, for example:

Adjusting training to different learning styles (e.g., blended learning for employees and microtraining for customers).
Creating personalized eLearning scenarios for training specific practical skills (e.g., repairing manufacturing equipment, communication with customers, using or promoting your goods).

Implement extra-level security (e.g., AI-driven security) if your enterprise is bound by compliance regulations like GDPR or HIPAA.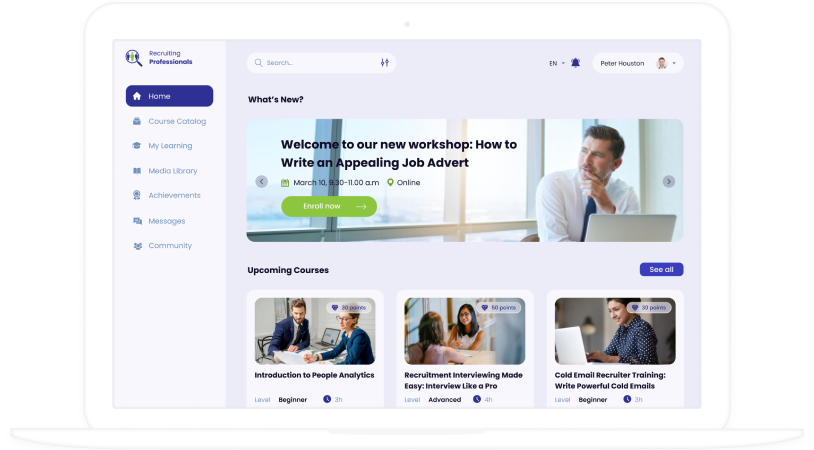 Custom Enterprise LMS Demo
See how a custom enterprise LMS can facilitate eLearning processes from course enrollment to learners' knowledge assessment.
Enterprise LMS Implementation with ScienceSoft
With 34 years in software development and 8 years in LMS consulting and development, ScienceSoft offers enterprise LMS consulting and implementation services.
Enterprise LMS consulting
Analyzing your enterprise's learning needs.
Defining LMS features and a tech stack.
Designing LMS architecture.
Defining key LMS integrations with CRM, LCMS, HRIS, etc.
Advising on UX and branded UI.
Helping comply with regulations like GDPR and HIPAA.
Go for consulting
Enterprise LMS implementation
LMS consulting and project planning.
Architecture, UX and UI design.
Web and mobile LMS development.
LMS branding.
Integration with CRM, LCMS, HRIS, etc.
Implementation of advanced LMS functionality (e.g., AI, VR).
Quality assurance and user training.
Continuous LMS support and evolution.
Go for implementation
ABOUT SCIENCESOFT

ScienceSoft is a global IT consulting and IT service company headquartered in McKinney, TX, US. We offer enterprise LMS consultancy and an array of LMS-related services from implementation to support and evolution. Being ISO 9001 and ISO 27001 certified, we guarantee high-quality IT services and security of our customers' data. If you are interested in an enterprise LMS project, feel free to check our LMS consulting offer.

<![endif]-->