Adobe Commerce (Magento) B2B Development Services
Adobe Commerce (Magento) B2B development implies the need to take into account the specifics of business-to-business interactions to provide ecommerce companies with the right digital tools. For B2B ecommerce projects, we use an Adobe Commerce B2B functional module to build a winning digital experience for business buyers.
Why ScienceSoft
For the second straight year, ScienceSoft USA Corporation is listed among The Americas' Fastest-Growing Companies by the Financial Times.
Included in the Global Outsourcing 100 list by IAOP

19 years in ecommerce development
11 years in Adobe Commerce development
Certified Adobe Commerce developers in the team
The Power of Our B2B Solutions
With top priority on your relationship with customers, we ensure that rich functionality and strong customer focus serve as a base for a long-term and trust-based cooperation. Starting with outlining a strategy and moving to designing and developing your B2B solution, we implement the following features to reach the goal:
Enhanced security

The back end of your B2B website is a well of business information. Customer data, reports, marketing campaigns are several parts of the whole picture. To protect sensitive information, we assign different user roles to your employees. Depending on the position and a set of duties, they will have access only to the information they need.

Comprehensive customer's account

Your customers benefit from a comprehensive account that stores complete company information, including billing and shipping preferences, newsletter subscriptions, wish lists and more. Faster checkout and a possibility to reorder directly from the account make a customer journey across your web store time-saving and convenient.

Intuitive product catalog

The more time your customers spend to find a desired item, the less likely they purchase. We help you create a catalog that makes it easy for them to search, filter, view and order goods. As an additional time-saving option, they will be able to use SKU codes to add products to a shopping cart and order directly from a catalog page.

Custom catalogs

We give you the power of a personalized approach to sales. Bringing out the best of Adobe Commerce B2B potential, we create different versions of catalogs for your customer segments. Admins can further vary the display of product assortment and set custom prices.

Effective product page

Let your customers make thought-out purchasing decisions. They don't have a salesperson sitting nearby and competently assisting them in shopping. A product page with technical details, instructions, product varieties, stock statuses, how-to videos is our viable substitute to a 360-degree live consultation.

Flexible payment options

We develop Adobe Commerce B2B websites with a range of secure payment options to provide customers with a choice. Along with bank transfers, money orders, checks and credit cards, we offer to incorporate other B2B-friendly options such as paying by a purchase order number.

Pre-order

To make you outstand among competing companies and offer top-notch service, we engage a pre-order feature. By giving your customers access to out-of-stock and coming-soon goods, we optimize their buying process and build trust to your web store.

Bulk orders

Choosing Adobe Commerce for your B2B experience, you allow your customers to order in bulk. Offering special discounts for bulk ordering with robust catalog and cart price rules, you encourage customers to purchase from you.

Recurring orders

Your customers don't have to go through the entire shopping process again to repeat a previous order. Having entered their account, they easily reorder with just several clicks.

Negotiable quotes

With this feature, you and your customers can negotiate prices and purchase terms before an order is placed. You can set special discounts or decrease shipping rates for large orders.

Flexible shipping

Add to excellent customer experience a possibility to set multiple shipping addresses within one order. This will meet the needs of customers who have several warehouses or offices.
B2B Ecommerce Portal Demo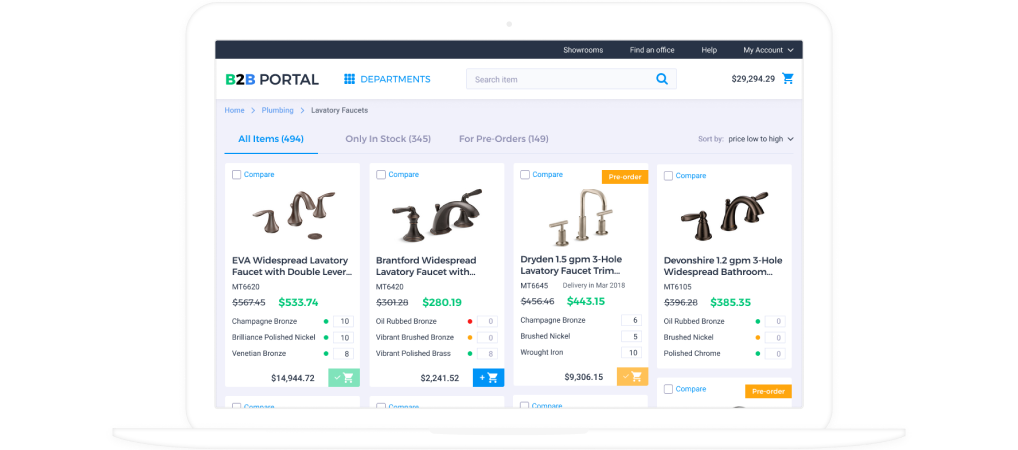 What We Offer
Involved in a full-cycle Adobe Commerce B2B development, we take care of each stage of your ecommerce website implementation. As a result, we ensure that:
Your B2B solution functionally meets all your requirements. Though Adobe Commerce is rich in B2B capabilities, you don't need to stay within the default functionality only. Unveiling your true vision, you inspire us to customize the platform accordingly. With 11 years in Adobe Commerce development, out team feels confident about achieving the desired result in full accordance with your needs.
Your B2B solution goes in line with your corporate style. For success, visual presentation is no less important than functionality. As your customers need several seconds to stay with you or decide to leave, every detail matters. We engage UX and UI designers to make your Adobe Commerce B2B solution both appealing and intuitive for buyers. Feel free to bring your corporate vision so that we could adhere to it in the process of design development.
Your B2B solution scales with your business. You need to adapt your website to changes as the company evolves. Whether incorporating new features or adding custom integration along the way – we are always here to reconcile current business goals and functionality.
Your B2B solution always has an expert support team standing behind your business. Once your B2B website goes live, our Adobe Commerce maintenance and support services come into play. You don't need to care about technical aspects of your business and may entrust this task to a team of experts. What you get as a result is sustained follow-up maintenance, regular website testing and monitoring for malfunctions as well as prompt fixing of performance issues. Meanwhile, you can focus on your business strategic development.
<![endif]--> <![endif]--> <![endif]-->